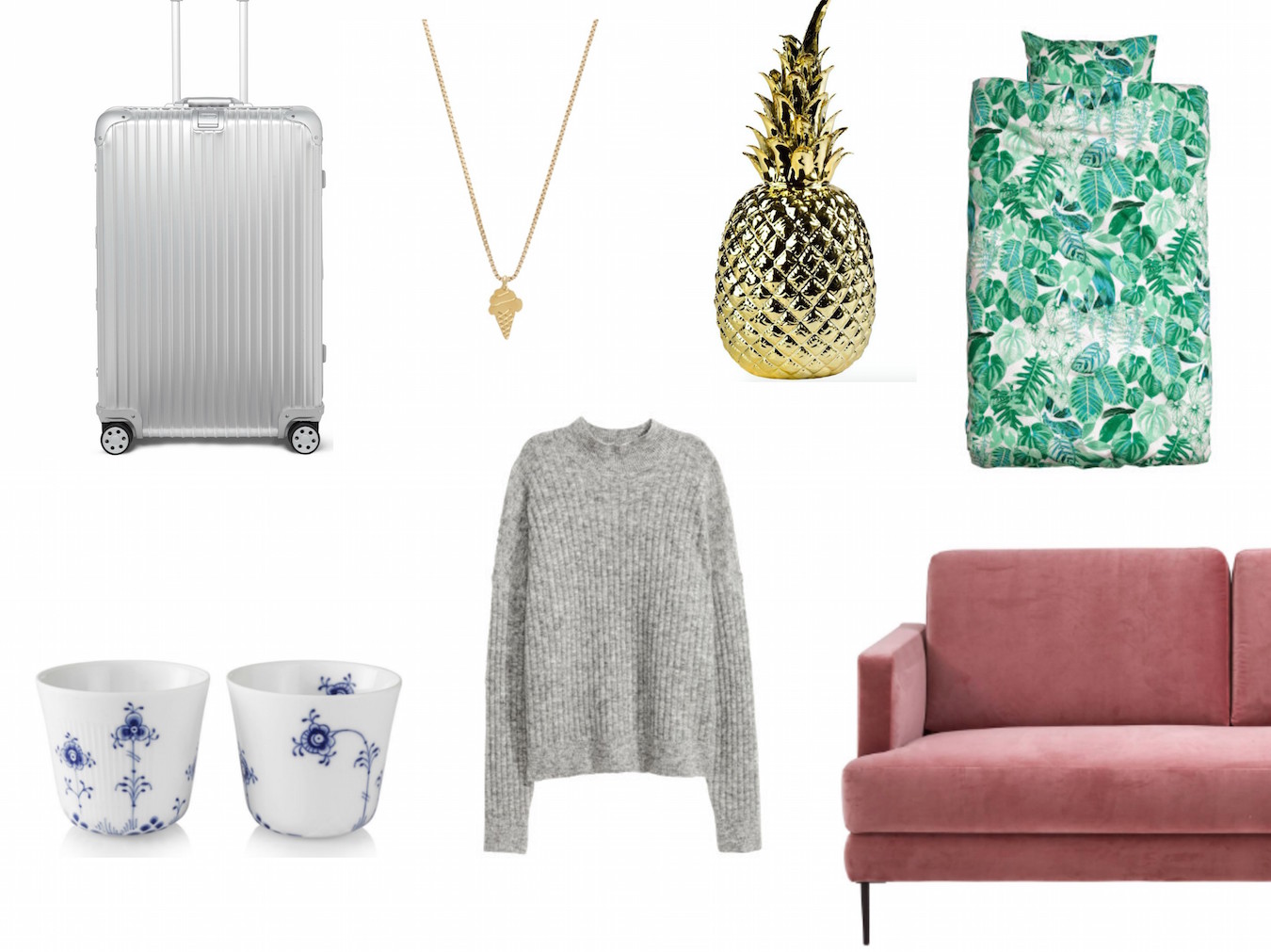 Suitcase from Rimowa, cups from Royal Copenhagen, necklace from Malaika Raiss, sweater from H&M, golden pineapple, bedding from H&M and couch from ILVA.
ENGLISH: Autumn has arrived, and while that means cuddling up inside with tea, blankets, sweaters and good movies while it rains outside, it also means that it is my (and my twin brother's) birthday! On Thursday, so in two days, I'll be turning 22. It feels very grown up to be 22 and it feels terrifying how fast time goes or should I say flies?
A year ago I celebrated my birthday in Berlin with my boyfriend and you can see what I did in this blog post. It was a good day. A few days before that I made this blog post with my birthday wishes. It was so much fun looking back at both of the posts, and this lucky girl here actually got most of her wishes from last year's wishes besides from the Rimowa suitcase which is also kind of a (very!) expensive suitcase.
This year will be my first time celebrating my birthday with friends and family for three years, and I am excited. I will start my birthday with an 8 am lecture on economics. What a way of celebrating! Then meeting up with some friends and my boyfriend for a good lunch, probably some cake and fun. Later in the evening, my brother and I have invited our family to dinner at my parents' house. Next week I have invited my closest friends to another dinner. That means there will be lots of celebrating this time around.
_________________________
Dansk: efteråret er virkelig kommet. Det betyder, at vi skal til at tilbringe en masse tid inden for med tæpper, hygge, te, varme sweatre og gode film, mens vinden rusker og mørket overtager mere og mere. Det betyder også, at det er min (og min tvillingebrors) fødselsdag! Om to dage bliver jeg 22 år. Det føles meget voksent at være 22, og jeg synes næsten, det er uhyggeligt, hvor hurtigt tiden går. Eller nærmere flyver af sted.
For et år siden fejrede jeg min fødselsdag med min kæreste i Berlin. Det har jeg beskrevet nærmere i dette blogindlæg. Det var en dejlig dag. Et par dage før min fødselsdag sidste år, lavede jeg dette indlæg om min ønskeliste. Jeg kiggede de to indlæg i gennem, og synes de var ret sjove at se igen. Derfor blev jeg inspireret til at lave en ønskeliste på samme måde i år. Jeg er så heldig, at jeg faktisk i løbet af året fik eller selv købte de ting på den anden ønskeliste udover Rimowa-kufferten. Den er derfor også røget med på dette års ønskeliste, selvom den altså er en ret dyr affære.
I år er første gang jeg fejrer fødselsdag med mine gamle venner og familie i tre år, for når man beslutter sig for at flytte til udlandet, er det altså lidt mere omstændigt at invitere familie og venner til fødselsdag. Derfor har jeg i år tænkt mig at fejre lidt mere igennem. Jeg starter derfor min fødselsdag med en erhversøkonomi-forelæsning klokken otte om morgenen. Det skal nok blive en fest! (Spøg til side). Derefter har jeg simpelthen fri, så det passer jo perfekt. Så skal jeg mødes med min kæreste og spise frokost og så kage med nogle veninder. Om aftenen har min bror og jeg inviteret vores familie til middag. Næste uge fejrer jeg videre. Jeg har inviteret mine gode veninder til middag. Det bliver altså mange dages fejring! Skønt!