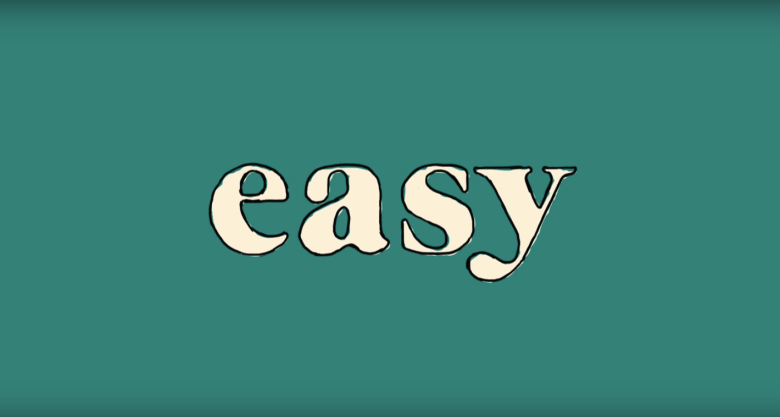 Danish version beneath! Fall is here for real. There might be lots of negative side effects of it such as the darkness and cold, but there are also advantages. We finally have a good excuse to stay inside, wrap up in blankets and binge-watch shows. It is kind of a jungle to figure out what movies and shows to watch. There are endless opportunities, so we sometimes end up spending more time finding something to watch than actually watching it. Therefore I am here with three TV shows you should watch this fall! They are smart, funny and most of all – real. There are no zombies involved, no blood, dead or exaggerated film drama. Instead, there are real feelings, relationships, conversations and questions to the world we live in. You have to watch Easy, Master of None and Divorce. hree TV shows you should watch this fall!
Three TV shows you should watch this fall
Easy (Netflix – pic source indiewire.com): Easy is another Netflix creation that came out this September. In eight episodes, we follow different people from Chicago and their relationship in good and bad. We have the young, lesbian hipster who wants to become a vegan because her new girlfriend is. Then there is the married couple with kids. They are bored, so they try to spice up their sex life, plus six other couples.
Every episode follows a new couple, so it is the perfect show to watch on and off, as one does not have to follow the show closely to understand the meaning. It is also easy to watch because it is so real. It literally feels like you are turning on a TV show of the normal people you see or meet in your own everyday life. It is perfect to binge-watch because watching the whole show will only take you four hours. There are eight episodes and they are 30 minutes long. Easy has a great cast with talented actors, and it is a mix of famous actors such as Orlando Bloom, Emily Ratajkovski, and Dave Franco to less known, but great actors.
Master of None (Netflix) Master of None has the same characteristics that I like as Easy does. It is very real, it is very down to earth – again, no twist plots or unnecessary movie drama. Aziz Ansarri, an American/Indian stand-up comedian has not only written the show, he is even the main character in it. He also had his parents join the casts, and guess what – they even play his parents in the show. That shows that Ansarri is a pretty funny and real guy. It also helps the show to seem even more real, as it feels like everyone is just playing themselves. The show takes places in NYC and mostly Brooklyn, and it is hilarious yet deep. We simply follow Dev (played by Aziz) and his everyday life.
Although Master of None disguises itself by being this down to earth, funny show, it actually sheds light on some pretty serious issues such as how Indian actors are used for stereotypes in American TV and film productions, feminism and cultural differences. The episodes are short just like Easy, so you will be tempted to watch the whole season at once. Let's hope we will get a season two!
Divorce (HBO) This show is brand new, and actually, there is only one episode out so far. And I am so happy there is. The first episode was so good that it feels painful to have to wait a whole week for the next one. One of the main reasons, I wanted to watch the show at first was that Sarah Jessica Parker plays the main character. Although I found out what a bad and annoying person Carrie (Sex and the City) actually is, I am still a fan at heart. Divorce depicts Frances and Robert and their marriage, and as the title of the show kinda spills, their marriage is not good. But! Things are not what they seem, and this show is full of twists and I can't wait to see more.
____________________________
Dansk: Efteråret har ramt os for good, og selvom der er mange negative sider af mørket og kulden, blæsten og regnen, så er der også fordele. En af dem er, at vi virkelig har en god undskyldning til at blive inden for og hygge os med te, tæpper, godt selskab og timevis af binge-watching af TV-serier. Der er lidt en jungle, for efterhånden findes der så mange film og serier til rådighed, at man nogle gange bruger længere tid på at finde en ny serie end på at se den. Derfor har jeg skrevet om tre serier, jeg netop har set, som er skudsikre! De er både kloge, sjove og mest af alt er de ægte. Der er ingen zombier, blod, død eller overdrevet filmdrama. Der er derimod følelser, mennesker, samtaler og spørgsmål om den verden vi lever i. I skal se Easy, Master of None og Divorce!
Easy (Netflix – pic source indiewire.com): Easy er endnu en af Netflixs kreationer, som kom ud i september. I otte episoder følger vi forskellige mennesker og deres forhold i medgang og modgang. De har det tilfælles, at de bor i Chigaco. Udover det, ser vi altså personer som den lesbiske hipster der går på universitetet. Hun prøver at blive veganer, fordi hendes nye kæreste er det. Vi følger også ægteparret, der har været gift i 15 år og har børn, og deres sexliv er altså ikke, hvad der har været. Udover de to nævnte, er der seks andre par, som man følger i hvert deres afsnit.
Serien giver dig altså mulighed for at hoppe ind og ud af handlingen og ikke at se alle episoderne slavisk. Det jeg er allermest vild med er, at serien føles så ægte. Der er ingen twist plots, ingen overdrevet drama. Det føles mest af alt som, at vi iagtager en halv time af helt normale folk og deres liv. En anden fordel ved Easy er også, at der kun er otte episoder. De varer hver en halv time. Det vil altså sige, at hvis du bliver bidt af showet, så vil det kun tage dig fire timer at se hele sæsonen. Easy er spækket med et stjernecast, og nogle af hovedrollerne er spillet af Orlando Bloom, Emily Ratajkovski og Dave Franco.
Master of None (Netflix). Denne serie har alle de samme kendetegn, som jeg er vild med i Easy. Det er meget ægte, meget nede på jorden, og igen – ingen twist plots eller unødvendig filmdrama. Serien er skrevet af Aziz Ansarri, og det er også ham, der spiller hovedrollen i Master of None. Showet er så ægte, at han endda har taget sine forældre med som – sjovt nok også – spiller hans forældre i serien. Dette får serien til at føles endnu mere ægte, da det virker som om, at alle bare spiller sig selv. Master of None finder sted i Brooklyn, NYC, hvor vi følger Dev (Ansarri), hans liv og hans struggles, når han forsøger at blive skuespiller.
Serien er hylende morsom men samtidig meget dyb. Selvom at Master of None udgiver sig for bare at være sjovt, så kaster det faktisk lys på nogle ret seriøse problemstillinger, som har betydning for vores hverdag. Det er i den anledning fokus på feminisme, racisme og racistiske stereotyper og kulturelle forskelligheder, som især er relevant i en by som New York. Episoderne er korte, så du vil vil hurtigt blive grebet og blive fristet til at se hele serien på en gang. Lad os håbe, at vi får en sæson nummer to!
Divorce (HBO) denne serie er netop udkommet på HBOgo. Faktisk så ny, at der kun er udkommet én episode indtil videre. Første episode så jeg sidste uge, og det var næsten ubærligt at skulle vente en hel uge på et nyt afsnit. Den største grund til, at jeg begyndte at se serien var, at Sarah Jessica Parker spiller den ene hovedrolle. Selvom jeg i efterhånden har fundet ud af, hvor dårlig og irriterende en person Carrie til tider er, så er jeg stadig SATC-fan at heart. Derfor måtte jeg selvfølgelig se hende i Divorce, og det fortryder jeg ikke. Divorce handler om Frances og Robert og deres ægteskab, og som titlen på serien meget godt tegner et billede af, så er deres ægteskab ikke helt godt og fungerende… Men det er alligevel ikke helt, som det ser ud, og det mærker vi allerede i første afsnit, hvor der sker nogle tvists af handlingen, som var helt uventede. Derfor kan jeg slet ikke vente til at se andet afsnit!