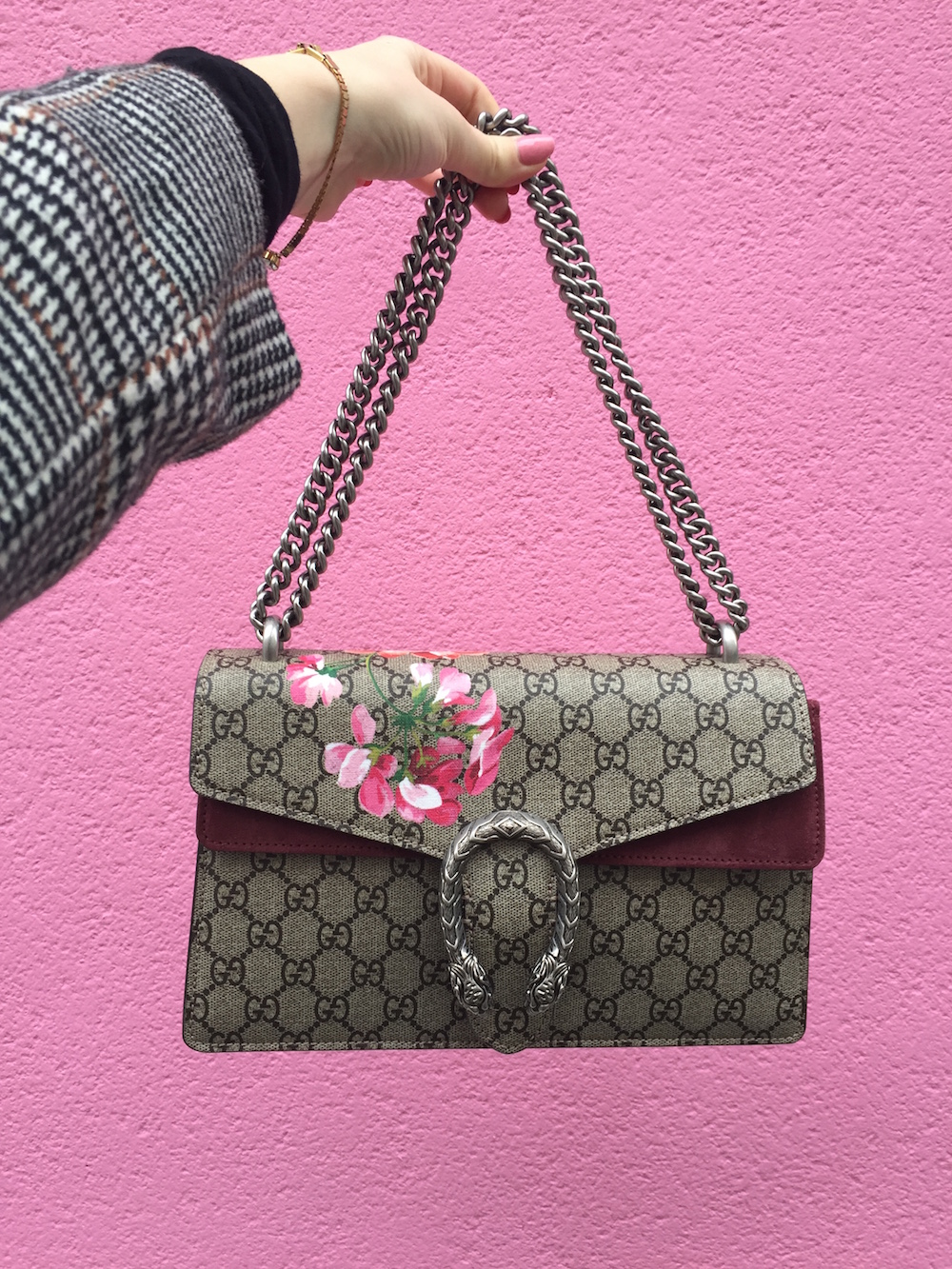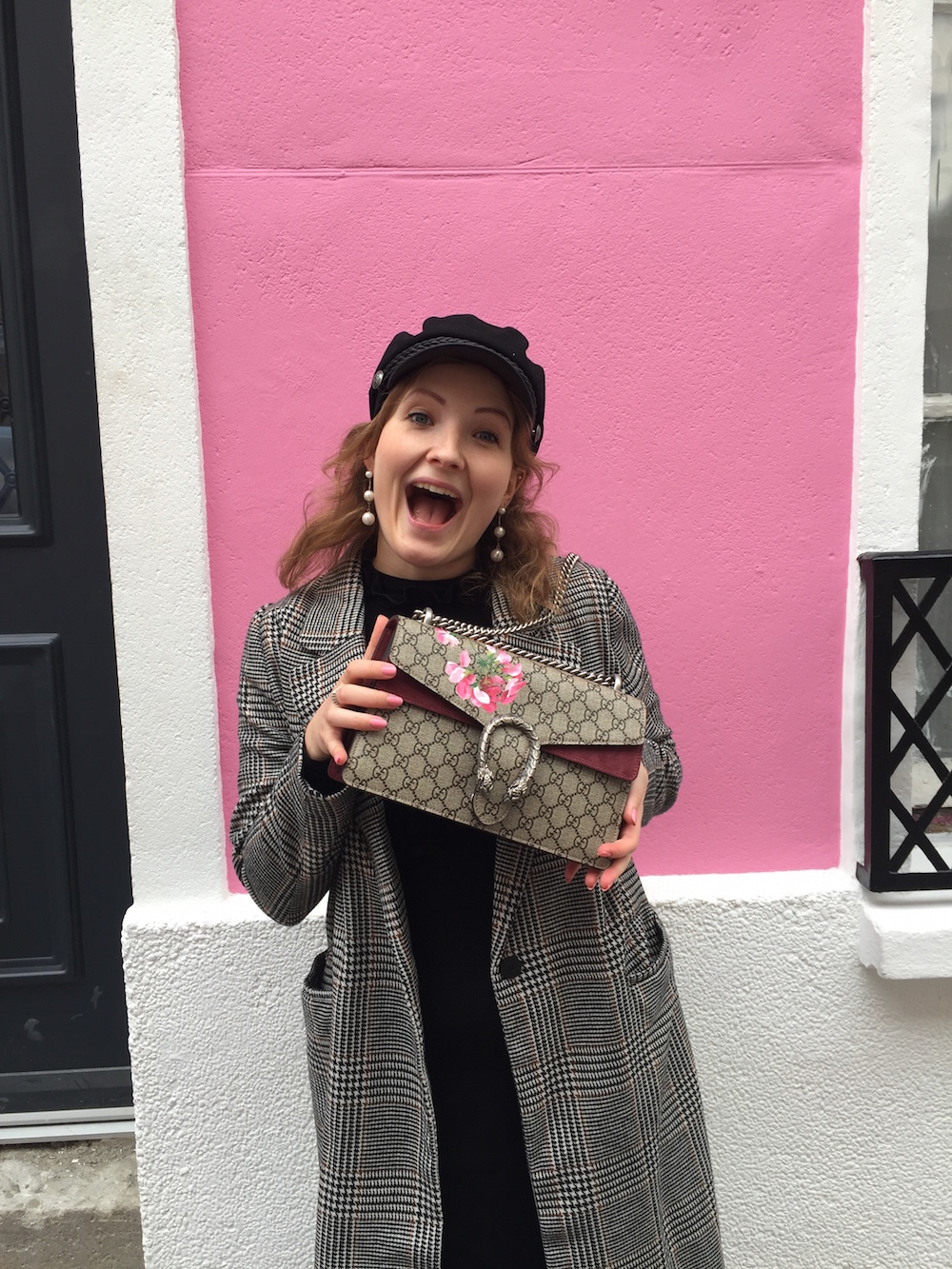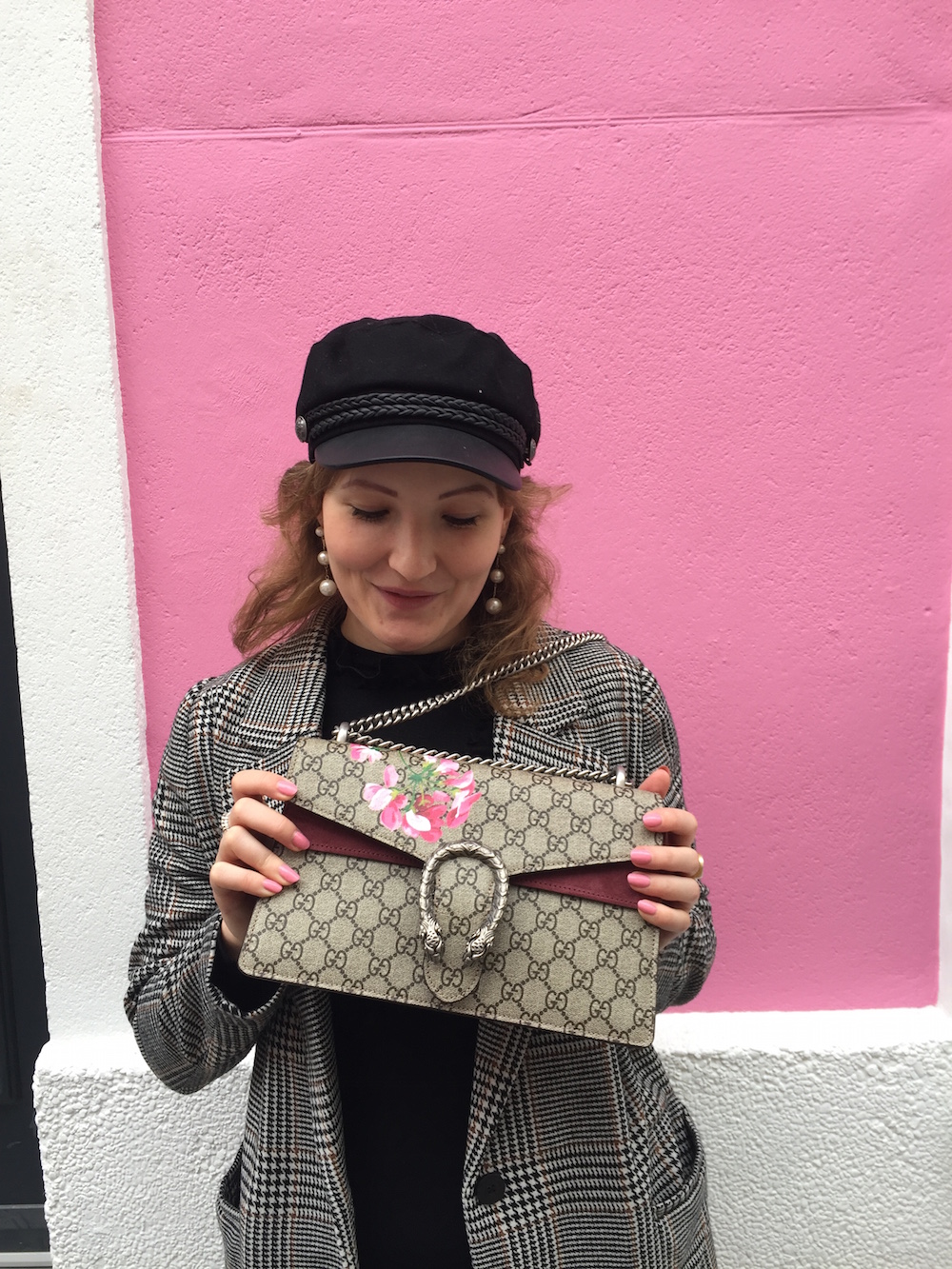 ENGLISH (DANISH VERSION BELOW): I am sure you have all been super excited to see what is hiding in the Gucci shopping bag that I showed you on Instagram a few days ago. You've probably hardly been able to wait. No, I am just kidding, but nonetheless, do I think that is it time to finally show you what I got from Gucci.
To me, going to Gucci and buying a bag is not something I have done before. I have been thinking and dreaming about this bag for more than half a year. I have had multiple conversations with my boyfriend, my friends and my parents talking pros and cons and if I should spend that amount of money on a bag.
A part of me thinks that it is completely insane to spend that much money on a bag. And no, I am not just trying to justify myself. With all the bad things going on in the world right now, there are many good things I could do with the money. Then, the other side of me, my girl boss side, says that of course, I should treat myself with something I've dreamt of for so long. I have worked hard, saved up, thought about for a long time to make sure that I really wanted it and it wasn't just a spontaneous purchase.
A friend of mine works at the Gucci store in Copenhagen. She told me that they didn't have any more of this bag left and that they wouldn't be able to order it. Therefore, in Paris, I kept an eye out for the bag and just like that there happened to be a Gucci store right next to our hotel in Le Marais that had one bag left. It seemed like a sign that I had to get it. That is at least what one of my friends said 😉
After thinking for two more days while the two people in my head were still fighting, I finally went for it. They gave me champagne, I got a little tipsy and swiped the card. Now I am the proud owner of a Gucci Dionysus bag with pink details and flowers on it. No one was surprised that this was the bag I liked. The sales assistant, the very sweet Olesia (yes, we almost became friends!) even said "you know that we have it in other versions and colors too, right?", and I told her: "Yes, but this is the one!" haha. What do you think about my new bag?
______________________________________
DANSK: Jeg er sikker på, at I slet ikke har kunnet vente med at se, hvad der gemmer sig i den Gucci-shoppingpose, jeg viste frem på Instagram i sidste uge. Nej, jeg joker bare! Men jeg synes nu alligevel, at jeg har teaset længe nok, og at det er på tide, at jeg viser min nye baby frem. Her er den!
At bruge så mange penge på én ting, der ikke er en MacBook-computer er ikke noget, jeg er vant til. Da jeg gik i 7. klasse sparede jeg op og købte et par lange New Zealand boots til 2000 kr. Det var rigtig mange penge for en 13-årig. Da jeg gik i 1.g, købte jeg en Mulberry rejsetaske. Men en Gucci-taske er alligevel i en anden liga. Jeg har tænkt på og drømt om tasken siden sidste sommer, men jeg havde alligevel svært ved at tage en beslutning om at bruge så mange penge på en taske. Jeg har haft lange samtale med både mine forældre, min kæreste og mine veninder, der har givet mig råd og snakket plus minus omkring købet.
Der var to personer i mit hoved omkring mit Gucci-dilemma. Den ene sagde, at det jo er fuldstændig absurd at bruge så mange penge på en taske. At der er så mange mennesker i denne verden, der ikke har noget. Hvorfor må jeg så gå ud og købe en så dyr taske? Den anden person, girl-bossen, sagde, at det er mine penge, min bankkonto, mit valg. Girl-bossen mente desuden, at har jeg i mange år arbejdet hårdt, sparet op. Jg fortjente denne oplevelse og taske. At kunne forkæle mig selv, som en form for præmie for at "hard work pays off".
Girl-bossen endte med at vinde! Min veninde, der arbejder i Gucci-butikken i København fortalte mig, at den model jeg drømte om, var udsolgt og at de desuden ikke fik den igen i butikken. Jeg havde derfor føleren ude efter den i Paris. Først, så jeg den i Galeries Lafayette men valgte at gå igen. Jeg havde brug for mere tænketid. Der var stadig skænderier mellem de to personer i mit hoved.
Da vi så skiftede hotel til Marais, var der en Gucci-butik lige ved siden af hotellet. Det var næsten helt skæbnesvangert. Jeg gjorde det. Gucci vandede mig med champagne, og halv-snalret swipede jeg kortet. At shoppe på den måde kunne jeg godt blive vant til. Nu er jeg den heldige ejer af en smuk Gucci-taske, og det føles rigtigt. Det er vel heller ingen overraskelse, at tasken har blomster og lyserøde detaljer på sig. Salgsassistenten spurgte mig, om jeg vidste, at tasken også fandtes i andre farver og mønstre. Jeg sagde, at den med blomster i lyserød var den helt rigtige. Ingen diskussion. 😉 Hvad synes I om min nye taske? <3