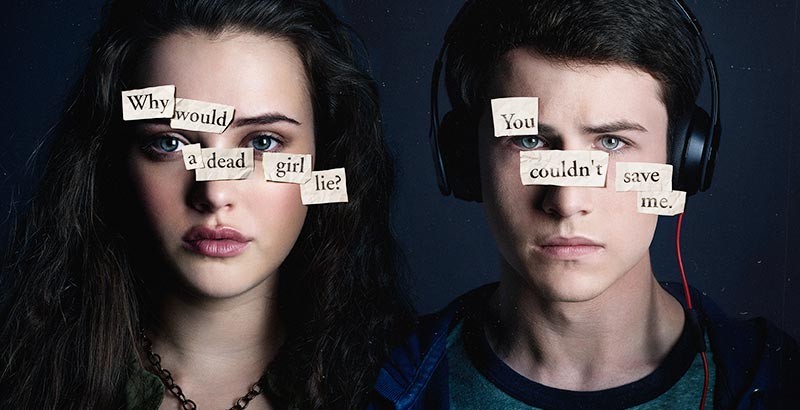 ENGLISH (DANISH VERSION BELOW!) It is weekend and one thing is certain. Weekends are for sleeping in, chilling and binge-watching TV shows. Doctor's order. I have previously shared some good TV shows you should watch and I am back again with even more suggestions for the next TV show you need to watch. More specifically, two different Netflix shows.
SEE ALSO: TV SHOWS YOU NEED TO WATCH #1 and THREE TV SHOWS YOU NEED TO WATCH 
13 REASONS WHY: A show with 13 episodes each in the length of an hour. Although this show has gotten a lot of critique both on the quality of the acting and that some mean that it glorifies teenage suicide, which I can agree to, I binged this show. It is touching, it is hardcore, it is exciting and at times, nerve-wracking. In order to not spill anything, in case, you haven't watched the show yet, 13 Reasons Why is about the high school student Hannah Baker and her "friends". In 13 episodes, we find out 13 reasons that explain why Hannah killed herself.
GIRLBOSS: Another Netflix show based on the book that goes under the same name written as a self-biography by Sophia Amoruso. Back in 2006, the anarchistic young Sophia didn't now what to do with her life. That was only until she came up with the idea of starting a business on eBay where she would sell handpicked vintage clothes which later turned into Nastygal, a huge online store success. The show follows her life in the start-up face of the business with all the ups and downs that go with it. It is entertaining, especially if you are into fashion and #girlboss(ing).
So, there you go! Have you seen these shows yet? If yes, let me know what you think!
_____________________________
DANSK: Det er weekend, og det betyder én ting. Det er helt lovligt at sove længe, og at bingewatche tv-serier i sengen uden dårlig samvittighed. Jeg har tidligere delt nogle indlæg her på bloggen, der tippede til, hvilke tv-serier, du bare må se, og de var ret populære. Derfor tænkte jeg, at det var oplagt at dele endnu et på denne lørdag. Godt nok skinner solen smukt udenfor, men så kan I bare starte i aften eller i morgen 😉 I dag handler det om to nye serier, der begge ligger på Netflix og endda begge er produceret af Netflix.
LÆS OGSÅ: TV-SERIER DU SKAL SE & TRE TV-SERIER DU ER NØDT TIL AT SE
13 REASONS WHY/DØDE PIGER LYVER IKKE: Denne serie indeholder 13 episoder, der hver varer omtrent 50-60 minutter. Her er altså mange timers underholdning. I mine øjne er denne serie over alles læber, men den har også fået meget kritik med på vejen. Miriam beskriver det spot on i dette indlæg, hvor der også er kommet et hav af læserkommentarer, der diskuterer problemet med denne serie. Serien er baseret på en bog, og kort sagt (og uden at røbe for meget), handler den om gymnasieeleven Hannah Baker, der begår selvmord. Serien kommer så ind på de 13 grunde til, hvorfor hun gjorde det.
Den er spændende, rørende og til tider nervepirrende. Jeg var selv vild med serien. Samtidig er jeg splittet over, at jeg fuldt ud forstår kritikken. Kritikken går blandt andet på, at serien glorificerer selvmord. Jeg kunne skrive en masse om dette, men som nævnt ovenstående, synes jeg, at Miriam har ramt problemet og kritikken på sømmet med sit indlæg. Se serien og læs så Miriams indlæg. Ikke den anden vej rundt! 😉
GIRLBOSS: Endnu en Netflix-serie med 13 episoder, der dog kun varer cirka 25 minutter. Serien er også baseret på en bog, mere specifikt bogen "Girlboss", en selvbiografi skrevet af Sophia Amoruso. Serien handler om hendes liv, fra hun er en ung, anarkistisk kvinde, der ikke rigtigt kan finde ud af, hvad hun skal gøre med sit liv. En dag finder hun på, at hun vil sælge håndplukket vintagetøj på eBay. Det bliver så stor en succes, at det ender med onlineshoppen Nastygal. Serien er god underholdning, hvis du bare har behov for at slå hjernen fra. Du kan desuden sagtens scrolle Instagram igennem samtidig, for serien kræver ikke konstant opmærksomhed. Ren underholdning men ikke så meget mere end det – hvis man da lige ser bort fra, at serien viser, at med passion og drive, så kan man komme ret langt. Selvom man er kvinde. Heraf titlen Girlboss.