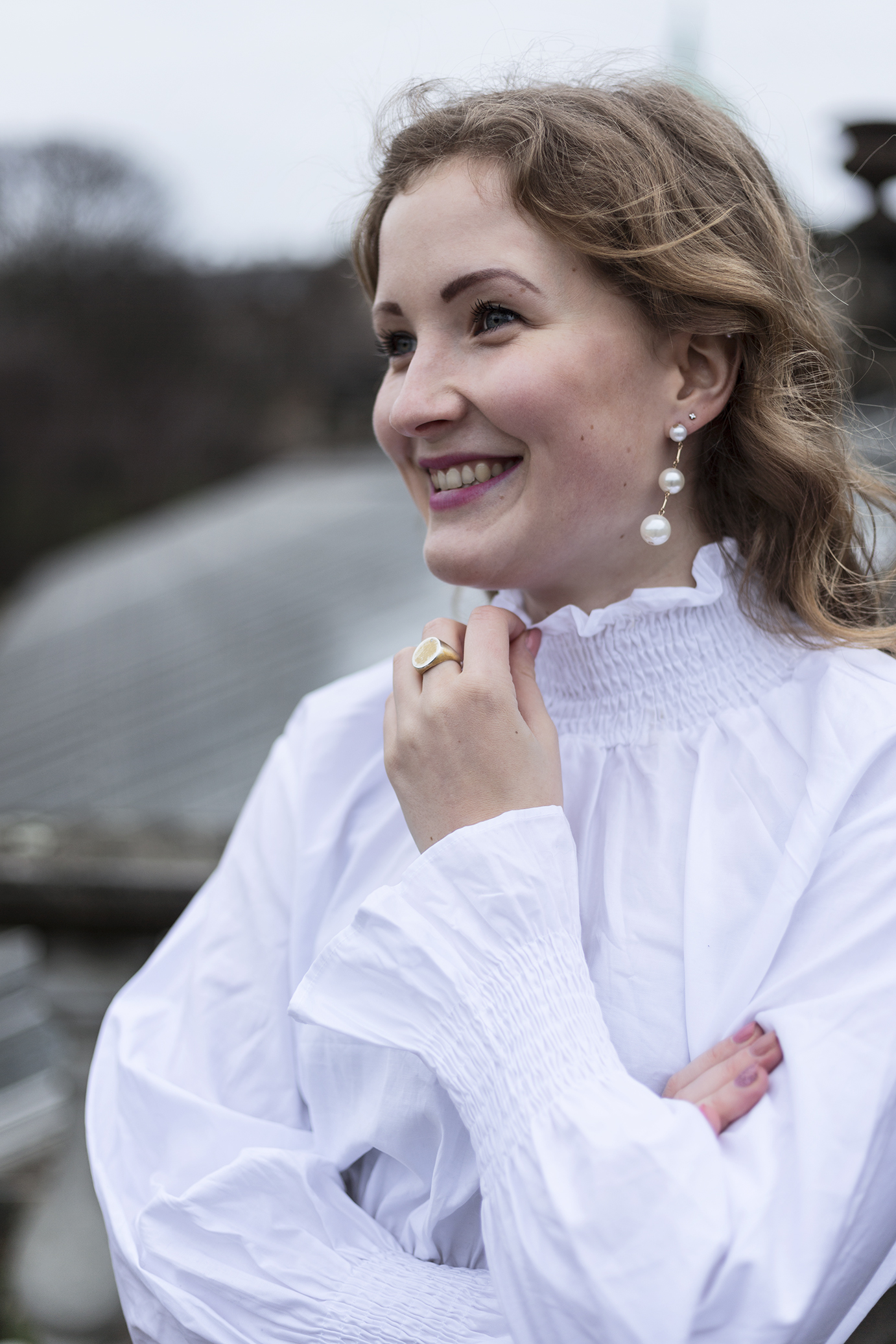 Me being very busy – busier than everyone else! Photography by Martina Lanotte.
ENGLISH (DANISH VERSION BELOW: If I got a dollar, every time I am told, I hear or read that someone is busy, I would be very rich. Being busy is the new black. And very well, while you might think that you are busy, why do you think that everyone else cares? Why do you need to say it out loud? And if you really are busy, don't you think that saying it out loud will actually end up making you feel even busier? Of course, if you are actually busy on the verge of feeling stressed, of course, you should talk to someone about it, but this is not the kind of busy I am talking about here.
The busy I am talking about here is when the 19-year-old blogger writes a blog post about how she totally forgot to find a winner of her giveaway that she did on Instagram four months ago because she has simply been too busy. So extremely busy. Yet you see her having fun, going shopping, drinking coffee and going out on a regular basis.
The other kind of busy I am talking about is when your friend at school constantly reminds you that she is tired because she had to get up at 6 in the morning because she is oh so busy. She has to work out, she has to work, she has to go to school and of course, hang out with her friends. Well, wake up and guess what? We all do! We need to stop using "busy" as an excuse or a way to communicate with people around us.
The third kind of busy is this woman I encountered over text a few days ago. I am selling a top to her so we were texting about when to meet, so she could get the top. I wrote her that I would be in her neighborhood from 9-5 on the day and if she would have time to meet. An hour later I got the answer: "I work completely standard working hours – and as I mentioned I have two kids to take care of after that." I never wrote her back after that.
The problem with always saying out loud that you are busy is not only that it will probably make you feel worse. It is also that by telling other people you are busy, you insinuate that you are way more important than other people. That your time is more valuable. And let's be straight. If you are a grown up person, no one is forcing you to do anything. No one is forcing you to go to the gym. No one is forcing you to have kids. And, no one is forcing you to go to school. Or at least, I hope not. So to set this straight: keep your priorities right and stop complaining. No one is interested in listening to how busy you are. Unless they are your mom. But, probably not even she is…
If one is really feeling busy in a bad way, try getting help by saying "I feel too busy and I need help", or "I feel overwhelmed".  And for anyone that I have ever told that I was busy: I am sorry. From now on, I will ban that expression from my vocabulary.
*Disclaimer: don't take this post too seriously 😉
___________________________________________
DANSK: For at sige det kort ville jeg være meget rig, hvis jeg fik en krone, hver gang jeg blev fortalt, hørte eller læste, at nogen har travlt. At have travlt er det nye sort. Og det kan godt være, at du har travlt. Det er bare ikke lig med, at der er nogen, der er interesserede i at høre om det. Og mon ikke at hvis du går dag ud og dag ind og giver udtryk for, hvor travlt du har, vil ende med faktisk at få dig til at føle, at du har endnu mere travlt? Sådan er det nemlig ofte, når man siger ting højt. Så begynder man også at tro på dem. Velkommen til dagens sure opstød fra mig: stop med at tro at du har mere travlt end alle mulige andre.
Selvfølgelig, hvis du virkelig har for travlt, og det er på grænsen til at hedde stresset, så skal du tage det alvorligt. Det er bare ikke den form for travlt, jeg beskriver her. Den slags er, når den unge blogger skriver på sin blog, at hun simpelthen har haft så travlt, at hun ikke har udvalgt en vinder til sin giveaway. Som hun postede for flere måneder siden. Samtidig har hun travlt med at dokumentere sit fede liv med shopping, kaffe med veninder og gå-i-byen-snaps. Jeg kender ikke til hendes virkelig liv, men mon ikke der indimellem de dokumentationer ville være tid til lige at finde en vinder?
Den anden slags travl er, når din studieveninde konstant og dagligt fortæller dig, hvor travlt hun har. Hun er træt, fordi hun har så travlt, at hun står op kl. 6 om morgenen. Hun skal træne. Hun skal arbejde. Så skal hun læse. Hun skal i skole. Og nå ja, hænge ud med sine venner og kæreste. Vågn lige op: det skal vi sgu allesammen. Vi er nødt til at stoppe med at bruge "travlhed" som en slags konkurrence og måde at kommunikere med folk på.
Den trejde slags travlhed er en, jeg oplevede for et par dage siden over sms. Jeg har solgt en top til en kvinde, og vi skulle aftale at mødes. Jeg skrev til hende, at jeg var i hendes bydel en dag fra kl 9-17, og om det passede hende at mødes. Hun skrev tilbage: "Jeg arbejder helt almindelige arbejdstider – og har som sagt to børn at passe resten af eftermiddagen". Måske, jeg læser for meget ind i det, men jeg blev ret provokeret. Jeg kender ikke kvinden, men alligevel føler jeg, at hun dømmer mig og mit liv over en sms. Jeg har ikke svaret hende endnu.
Problemet er, at når du fortæller andre, hvor travlt du har, så insinuerer du, at du er vigtigere end dem. Din tid er mere værdifuld end deres. Og lad os lige være real. 1. alle har sgu travlt på den ene eller anden måde. 2. Hvis du er et nogenlunde voksent menneske, så er der ikke nogen, der tvinger dig til at træne. Der er ikke nogen, der tvinger dig til at gå i skole. Der er ikke nogen, der tvinger dig til at få børn. Det håber jeg i hvert fald ikke. Du råder over din egen tid. Du kan altså prioritere, hvad du vil. Måske du ikke føler, at du har tid til at træne, men du gør det, fordi det gør dig glad. Så stå ved dit valg om at bruge din tid og husk på, at ingen tvinger dig til det.
Lær at vælge hvordan du bruger og prioriterer din tid. Hold op med at brokke dig. For i virkeligheden, er det faktisk ikke nogen, der gider at høre på, hvor travlt du har. Måske din mor, hvis nogen… men jeg tror ikke engang, hun er interesseret…
Hvis du føler, at du drukner i travlhed, og det ikke føles godt, så sig det højt og få noget hjælp. Der er en forskel. Og til alle dem, jeg tidligere har fortalt, at jeg har tralvt; jeg undskylder. Fra nu af er alle undskyldninger med "jeg har travlt" samt umotiverede forklaringer til min omverden om, hvor travlt jeg har bandlyst fra mit ordforråd. Måske også fra jeres?
Disclaimer: Tag ikke dette indlæg alt for seriøst 😉