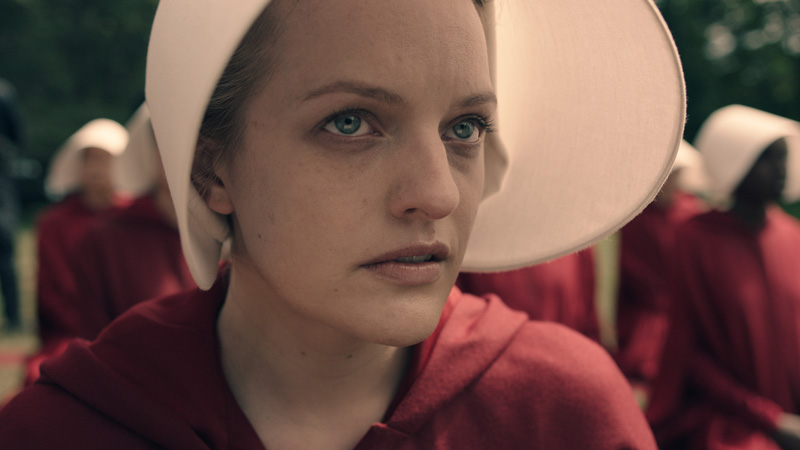 ENGLISH: As any millennial, I watch a fair amount of TV shows. The latest one I started watching is Hulu's The Handmaid's Tale. I am obsessed! And if you ask my friends, I have told them all that they have to watch this show and now it is time to share with you. My friends have all come back to me and said that it is amazing!
The Handmaid's Tale is based on a novel from 1985 by Margaret Atwood. It depicts a dystopian near-future in the United States, where a military dictatorship has taken over. Women are not allowed to work, read or spend money and the society has become overly religious and divided into social classes. A big issue in the society is infertility.  The main character Offred (Peggy Olson from Mad Men <3) has become one of the handmaids. The handmaids are like slaves, given out to each of the important families in order to bear children for them.
The TV show is moving as many parallels can be drawn from the depicted society to our own.
READ ALSO: TV-SHOWS YOU HAVE TO WATCH #1, #2 AND #3
I can't really elaborate much further without spilling the whole plot. However, I do assure you that you will love this show! It is sad, thrilling, beautiful, and nerve-wracking. The only issue is that it is not on Netflix, but on Hulu and HBO which means that I have to wait a whole week for a new episode to come out. The good news is that there are already eight episodes out for you to start watching.
Have you already watched The Handmaid's Tale? What do you think? 
_______________________________
DANSK: Som enhver anden millennial ser jeg en del tv-serier. Ikke sådan overdrevet mange, jeg er stadig ikke hoppet på Breaking Bad eller Game of Thrones-bøgen, men stadig en fair share. Lige for tiden er jeg helt besat af The Handmaid's Tale, som i at jeg er så begejstret, at jeg har talt om serien og anbefalet den til alle mine venner. Og folk jeg har mødt på min vej. Nogle er vendt tilbage til mig og bekræftet, at det virkelig er en vild serie. Min veninde skrev endda i morges, at det var min skyld, hun var træt, for hun havde siddet oppe hele natten og slugt det ene afsnit efter det andet.
Men hvad handler The Handmaid's Tale så om? Nu skal I høre: Vi befinder os i USA i en dystopisk nær-fremtid. Et totalitært, diktatorisk militærstyre har taget over, og de er kvindehadske og dybt religiøse. Samfundet er delt op i socialklasser, og et af samfundets største problemer er stigende infertilitet. Vi møder Offred (eller Peggy Olsen fra Mad Men). Hun har fået tildelt rollen som Handmaid eller trælkvinde, og fordi hun er fertil, er hendes rolle i det nye samfund, at hun udsendes som slave til en vigtig familie. Hendes job er her at bære et barn for ægteparret.
LÆS OGSÅ: TV-SERIER DU SKAL SE #1, #2 OG #3
The Handmaid's Tale er rørende, fordi den rammer, hvor det gør ondt. Der kan drages paralleler fra samfundet vist i serien til vores eget. Da jeg var i Belgien sidste uge, rørte det mig dybt, at der stod soldater med maskingeværer på gadehjørner, seværdigheder og stationer.
Mere kan jeg ikke røbe uden at ødelægge det hele. Jeg kan dog sige, at serien både er nervepirrende, uhyggelig (men ikke på gysermåden!), smuk og spændende. De dårlige nyheder er, at serien ligger på HBO, så der kommer kun et afsnit om ugen. De gode nyheder er så, at hvis du begynder i dag, så har du hele otte afsnit, du kan se, før du skal vente til på onsdag for det næste afsnit. Sæt igang!