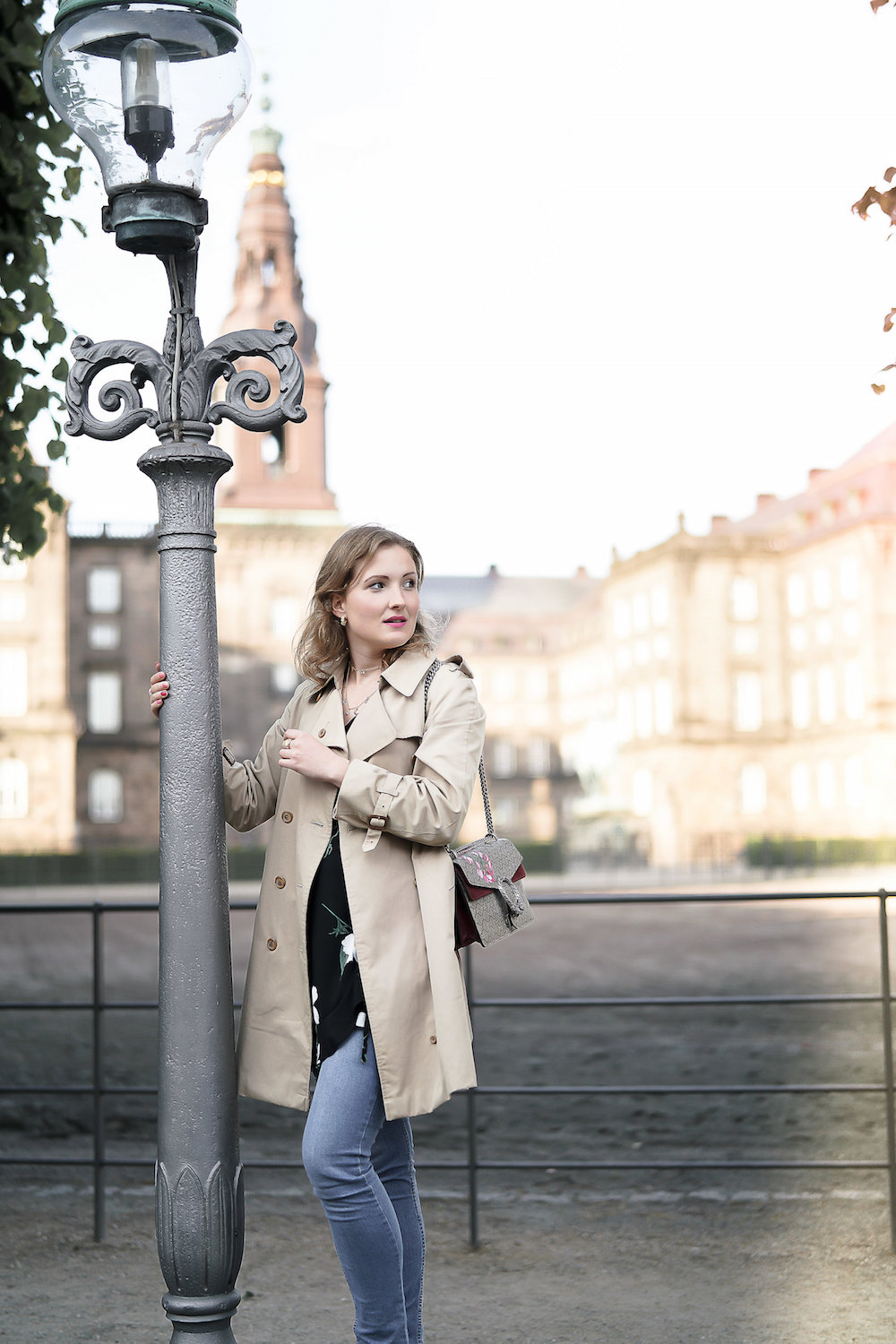 Photo by Amour and Lace. It is off topic, but maybe one could argue that I look a little confused here….
ENGLISH (DANISH VERSION BELOW) I wish I could say that the caption is a joke or a lie, but no. Someone stole 500 euro from me. Here is what happened. Wednesday night I took a flight to Berlin and arrived at Schönefeld Airport. From there, I walked to the train station at the airport to take the express train to my apartment. I stop at the ticket machines to get a train ticket, and I pay it with my German visa card.
I put my card back in my wallet, back into my shoulder bag and rush to the train that is approaching. As I am walking up the stairs to the platform, I feel something in my back. I turn around and look back right away but I don't see anything. I am all alone on the stairs. So, I brush it off and run to the train. I sit down and look into my bag. My wallet is missing. I panic and jump off the train.
I run down the stairs to see if I dropped the wallet. It is nowhere to be found. A train conductor walks by me, I ask her what to do while being very sad and chaotic. She tells me to go to the police station in the airport. Walking back, I pass the train ticket machines. A guy reaches out his arm toward me and he is holding my wallet waving it at me. I am perturbed, don't know what to do. I just ask him where it was. He simply points down next to the ticket machines as a way of showing that I dropped it there.
I open the wallet and see that all my cards are in a completely different order as if they had all been taken out and put back in all together. I usually have a strict system in how I keep my cards in my wallet. However, I see that all my cash and my credit cards are still there. I think that everything is fine, but I am very shaken by the experience. I have a very uncomfortable feeling inside, as I am sure someone took my wallet and that I didn't drop it.
Two days later, I check my online bank to see that 500 euros were taken out of my account exactly four minutes after I bought the train ticket myself. I panic and call my bank right away. They say that I have to go to the police to file a police report. I do so, and luckily there is a station by my house and they take me in right away. The police officer is very friendly. It takes more than an hour for me to give him all information multiple times (I am sure he kept asking me the same questions to make sure I wasn't lying and to get all the details).
Long story, very long: it is most likely that someone saw my pin code while I was buying my train ticket. They followed me to the stairs, stole my wallet, took exactly two minutes to take out 500 euro at an ATM and left the wallet. Another conspiracy is that the guy that gave me back my wallet, was also the guy that stole it firsthand. Otherwise, how would he have known to give it back to me without hearing that I lost it or asking me something?
It was a deeply uncomfortable experience and it made me feel very unsafe. That someone would watch me and steal from me like that. As my parents said about the money, it doesn't really matter, as the most important thing is that nothing happened to me. But, of course, it sucks to lose 500 euro, so I am naturally hoping to get them back… Robbery and card fraud like this is always something you hear about, but I never thought it would happen to me. Have you ever experienced anything like this?
___________________________________
DANSK: Ih, hvor ville jeg ønske, at jeg bare kunne skrive, at overskriften er en joke. Desværre er den dog så sand, som den er skrevet. Der er en, der har stjålet knap 4000 kroner fra mig. Lad mig uddybe… Onsdag aften fløj jeg fra København til Berlin. Da jeg landede i Berlin, gik jeg mod togstationen. Her købte jeg en billet til toget ved billetautomaten, som jeg betalte med mit tyske kort. 
Jeg puttede mit kort tilbage i min pung og ned i min skuldetaske. På trappen mod peronnen mærkede jeg noget ved min taske. Jeg vender mig om med det samme, men jeg ser ingen. Jeg skynder mig ind i toget, der holder og venter. I toget sætter jeg mig ned, og jeg opdager, at min pung mangler. Panikken rammer mig, og jeg skynder mig ud af toget. 
Jeg løber ned af trappen for at se, om jeg har tabt min pung. Her støder jeg ind i en togkontrollør, og med tårer i øjnene siger jeg til hende, at nogle har stjålet min pung. Hun fortæller mig, at jeg skal gå til politiet i lufthavnen. På vej tilbage mod lufthavnen, ringer jeg meget fortvivlet og lidt i panik til min kæreste. Da jeg går forbi billetautomaterne, er der en fyr, der uden videre rækker min pung frem mod mig. Uden at sige noget, uden at spørge mig om noget. 
Jeg ved ikke, hvad jeg skal gøre. Jeg er paf, tager imod min pung og spørger ham, hvor han har den fra. Han peger bare mod jorden ved automaten, som for at vise at den lå der. Som om, jeg havde tabt den. Jeg åbner pungen for at tjekke, om alt er der. Med det samme lægger jeg mærke til, at alle mine kort ligger i en anderledes rækkefølge end før. Jeg har normalt et meget sirligt system i min pung.
Dog studser jeg ved, at mine 200 kroner stadig er der. Jeg ser også, at både mit danske og tyske kort er der. Derfor tænker jeg, at det er let sluppet, for jeg har fået alt tilbage. Jeg har dog en meget ubehagelig følelse i kroppen, for jeg er blevet bestjålet. Nogle har haft hånden nede i min taske og taget min pung. Jeg ved, at jeg ikke tabte den ved hæveautomaterne. 
To dage senere tjekker jeg min netbank. Jeg ser, til min store forskrækkelse, at der, samme dag, er blevet hævet 500 euro fra min konto. Jeg kan dog se, at hævningen er foretaget præcist fire minutter efter, at jeg købte min togbillet, på trods af at netbanken først viser hævningen to dage efter. Fuck! Jeg ringer med det samme til min bank, der fortæller, at jeg er nødt til at gå til politiet og anmelde det først. 
Heldigvis ligger der en politistation tæt på min lejlighed. Politimanden er venlig, og der er ingen ventetid. En time efter har jeg en politirapport og anmeldelse på mit tyveri. Politimanden endevendte min historie og stillede mig de samme spørgsmål flere gange. Jeg tænker, at det er hans måde at belyse sagen fra forskellige sider og være sikker på, at jeg fortæller sandheden. I den time er jeg meget glad for, at jeg kan tysk, for det havde været svært uden. 
Lang historie meget lang: det der er sket, er højst sandsynligt, at nogle har set min pinkode, mens jeg betalte for min togbillet. De har så fulgt efter mig mod peronnen, stjålet min pung. Fundet mit kort med det samme, brugt det i en hæveautomat med min pinkode og hævet 500 euro.
Her kommer så det mystiske. Har de smidt pungen, og er ham fyren, der rakte pungen til mig, en venlig sjæl, der så, at jeg så fortvivlet og søgende ud? Eller er han faktisk tyven, der uden videre rakte pungen ud til mig, fordi han vidste det var min, da han netop få minutter inden, havde stjålet den fra mig? Han stillede mig jo ingen spørgsmål, før han bare rakte pungen til mig, som om det var helt naturligt. 
Som mine forældre sagde, så er pengene ikke jordens undergang. Det vigtigste er, at jeg ikke kom til skade. Men, selvfølgelig er det da røvirriterende at miste knap 4000 kroner. Nu håber jeg bare på, at banken vil erstatte det. 
I hvert fald var det en dybt ubehagelig oplevelse. Nogle har overvåget mig, fulgt efter mig, haft hånden i mine personlige ejendele, stjålet fra mig. Jeg føler mig ikke sikker med mine ejendele, fordi jeg nu har oplevet, hvor let det er at stjæle. Jeg har ofte hørt lignende historier og tænkte bare, at det var lidt urban myth, og nej, det ville ikke ske for mig, for jeg har styr på og passer altid på mine ting og mister aldrig noget. Men se så der. Har du oplevet noget lignende?