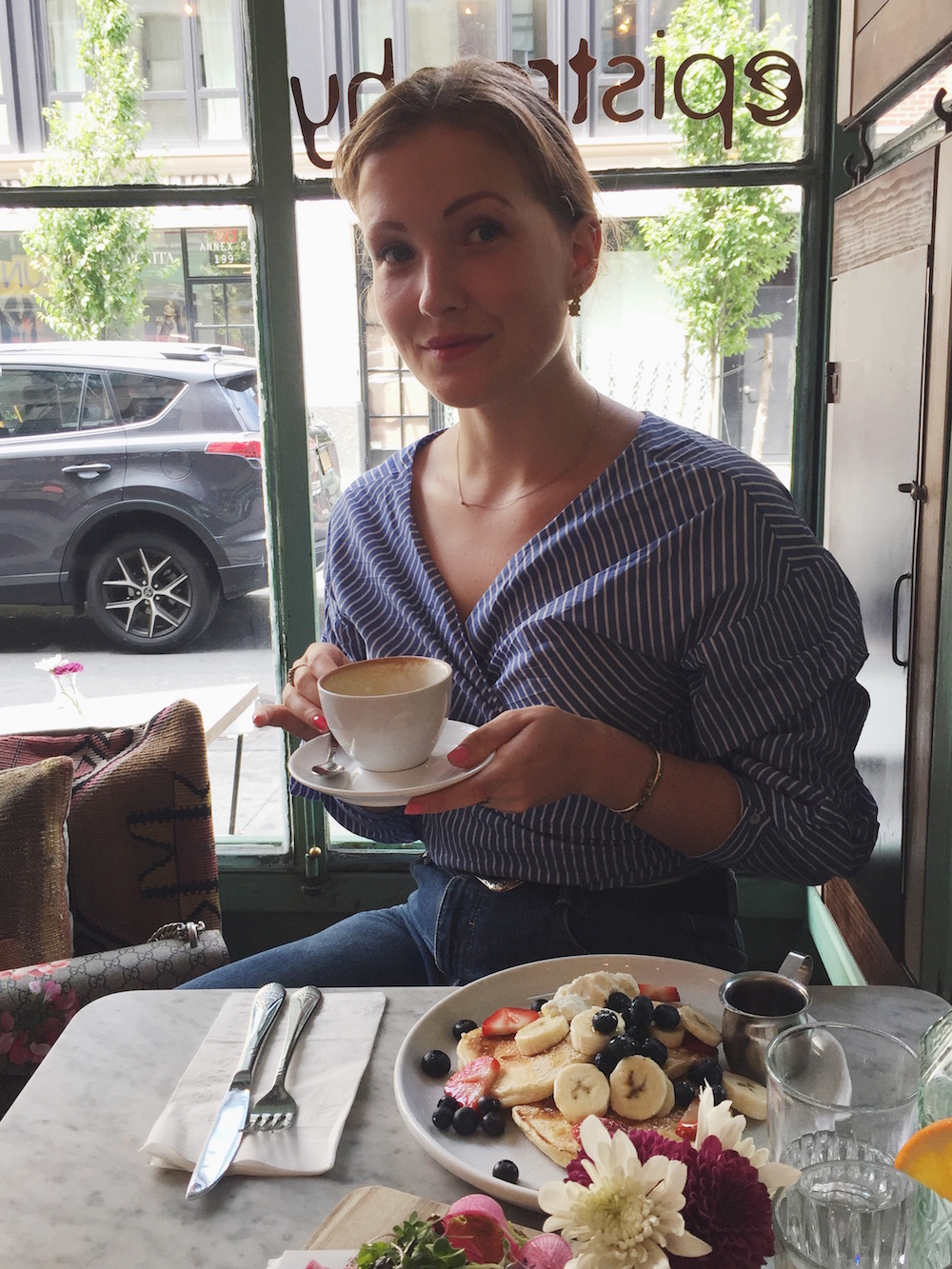 ENGLISH (DANISH VERSION BELOW) What am I up to at the moment? I am sure, you are all dying to know 😉 I mean, I've said it before! I love reading personal blogs and I also consider Silver Stories a personal blog. However, I've thought about that I am not that good at writing small, random blog post. You know, the posts without a real subject? Some bloggers are really good at that like "this is what I did today, then I had coffee with a friend, walked around and now I am laying in the couch, relaxing".
My take on a post like that today is a little recap of what I am up to at the moment. 
Back at university, third semester at Copenhagen Business School. And I have been back to lectures and classes for three weeks now. It doesn't completely suck, it is not all amazing either. As a change, I am trying to be a good student this semester, which ultimately means a lot of reading and note taking compared to what I did last year.
New blog design. I am currently in the process of having a whole new design made for the blog and I am so excited!
Work for Spiir. Work, work, work, work, work! A few months back, I was hired by Spiir to contribute to their content blog which is one of the best personal finance blogs in Denmark. I write for them a few times a week, and it is great.
Translating a whole app from Danish to English. Which is also exciting and time consuming! But above all, it is really cool to get a job to translate a whole, popular app.
Work for Ny i Byen. I also still write for Ny i Byen, whom I did an exciting project with back in August. I forgot to show you, but it is actually up now, so I'll do a blog post about it in the weekend.
Work for CBS Wire. And last but not least, I also write articles for CBS Wire, which is the independent online magazine of my university, Copenhagen Business School.
So all in all, everything is on track and most of the jobs I have are remote, meaning I can sit in the comfort of my couch and work. Together with the reading, it doesn't leave a ton of time left for fun, but that's everyday life for you, right? I am hoping to travel in October, but nothing is planned yet!
_____________________________________
DANSK: Hvad går jeg og laver for tiden? Jeg er sikre på, at I er vildt nysgerrige for at finde svaret på netop det spørgsmål 😉 Spøg til side. Jeg har tænkt lidt over noget. Jeg holder selv mest af personlige blogs. De små hyggelige, og med den slags indlæg ala "Så stod jeg op. Så gik jeg en tur. Så drak jeg en kaffe. Nu sidder jeg på min sofa". På trods af at jeg synes de små hverdagsindlæg, der ikke opfinder den dybe tallerken er hyggelige, er jeg dårlig til selv at skrive dem.
Det er som om, at jeg ikke kan skrive et indlæg der ikke har et specifikt emne med kød på. Det betyder så, at der sagtens kan gå et par dage mellem jeg får blogget, fordi jeg ikke har hovedet fuldt af gode emner. Derfor, vil jeg altså gerne blive lidt bedre til bare at skrive de der små, lidt ligegyldige, men hyggelige indlæg. Det prøver jeg så lidt på nu. Det skal altså handle om, hvad jeg går og laver for tiden.
Jeg er tilbage på CBS, tredje semester. Og så har jeg taget en stor beslutning. Eller, det gjorde jeg for fire uger siden, inden jeg startede op på tredje semester. Jeg vil være en god elev. Det vil sige, at jeg på tre uger har læst mere og skrevet flere noter, end jeg gjorde sammenlagt på de to sidste semestre. Det er meget tidskrævende. Men det værd! For hvad sjov er der i at tage en uddannelse uden at lære noget og bare gå til eksaminer? Nu skal jeg bare lige lære, hvordan jeg rent faktisk får noget ud af at læse…
Jeg er ved at få lavet et nyt blogdesign. Det er så spændende, og det bliver så flot. Det tager bare lidt tid. Jeg arbejder med en fra Miami, så det besværliggører kommunikationen en del. Vi venter i spænding!
Jeg er ved at oversætte en hel app. Det er med en mega stram deadline, og jeg skal holde tungen lige i munden, men jeg synes, det er så sejt at have fået et sådant job!
Jeg skriver for Spiir. Og hvis du ikke ved hvad Spiir er; så er det en mega-nice app, der fungerer som en personlig assistent til din privatøkonomi. Jeg er selv blevet hooked, og jeg er ellers typen, der ikke har styr på min økonomi, jeg ved bare, at jeg ikke bruger mere, end jeg har, og så er det vel godt nok. Appen har imidlertid givet mig et andet syn på mine penge. En anbefaling herfra: download den! Nå, Spiir har også en blog, der handler om økonomi, og den blog skriver jeg indlæg for et par gange om ugen. Det er fedt. Tjek den her!
Jeg er freelancer. Det er fortsat for Ny I Byen, som jeg har skrevet for i nogle måneder. Det er også for fedt. Jeg lavede faktisk et projekt med Ny I Byen tilbage i august, som jeg stadig skylder at vise her på bloggen. Det gør jeg i weekenden. <3
Og sidst men ikke mindst, skriver jeg for CBS Wire. CBS Wire er CBS's uafhængige onlinemagasin, og her er jeg tilknyttet som freelancer. Jeg får lov at skrive relevante indlæg såsom SU-venlige restauranter i København og ytre personlige meninger i indlæg som "karakterer betyder ikke alverden". Det er mega fedt.
Alt i alt, så kører det rimelig godt. Hverdag med drøn på og ikke så meget tid til rejse, sjov og ballade. Men det er også okay. Jeg føler mig heldig over, at de jobs jeg har, inklusiv bloggen, kan gøres fra mit eget hjem, så jeg kan planlægge min tid, næsten som jeg vil. Det kan også være svært til tider, men heldigvis er jeg rimelig struktureret og organiseret.
Nu er det snart weekend, men i min verden betyder det stadig arbejde og læsning, dog uden forelæsninger og undervisning, så mon ikke der bliver tid til noget sjov? Jeg har uhyggeligt få planer, og det passer mig perfekt. God fredag <3