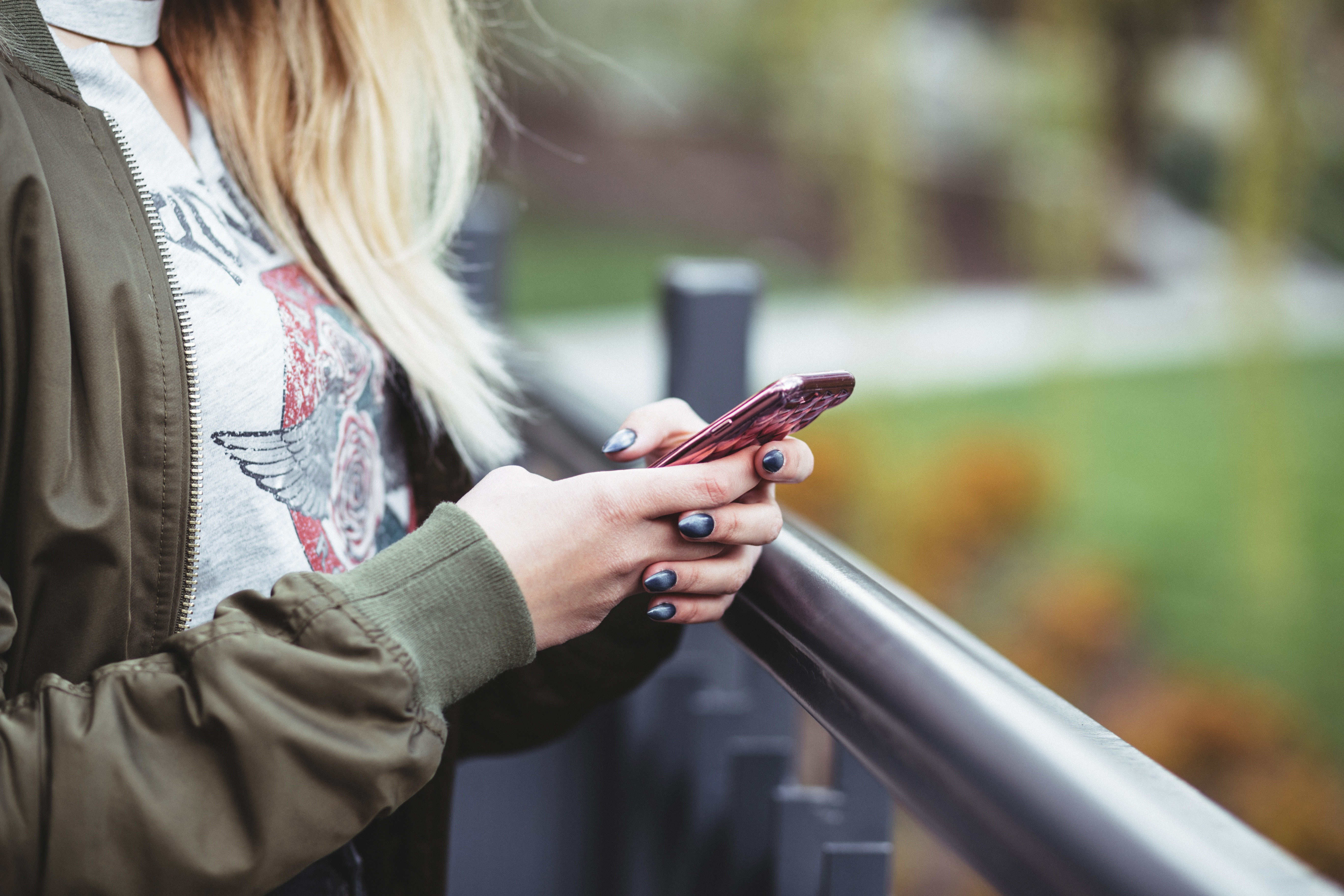 If you are in the age between 15-37 years, the answer is most likely yes. You are addicted to your phone. We all are. Millennials will come up with excuses to stay in to watch Netflix and go through social media instead of going out. It is also completely normal to meet up with your friends, but every 20 minute, everyone is on their phone instead of talking to each other. They phone is always there, either in your hand, on the table ready to notify you on something way more important than what you are currently doing or the real, living person you are actually with.
It is bad, and according to doctors, phone addiction has made it hard for us to focus. We used to being able to focus on a project for many hours. Speaking for myself, I find it hard to focus and do one thing only for 20 minutes! As I introduced on the blog yesterday, I will be writing four articles about phone addiction. This is the first phone. It is about finding out – and admitting – if you are addicted to your phone.
How to know if you are addicted to your phone
You might think that you are not addicted to your phone at all. That you are not like the rest. Try and answer and think about these questions and pointers below, and be honest with yourself:
♥ How would you feel about deliberately leaving your phone at home and go out for a few hours?
♥ Is your phone the last thing you check before going to bed and the first thing you check when waking up in the morning?
♥ You tend to have your phone right with you at all time, preferably in your hand or in your pocket.
♥ You feel a tad uneven if you are out and your phone is running low on battery.
♥ You take your phone to the bathroom.
♥ You worry about losing your phone.
♥ You feel a need to check your phone even for no reason.
♥ You have your phone out in social settings.
♥ Or, you hide in the bathroom to use your phone at social settings.
♥ You have a hard time focusing while doing other things because you constantly check your phone.
♥ You would sometimes prefer to stay at home with your phone (and laptop) than going out with friends.
♥ And, if you go out, you might wishing that you were just home with yourself and your phone.
♥ Whenever you can, your pull your phone out. Like when waiting for the bus, waiting for an appointment. You can never just be bored.
Ok, so are you addicted? I know, I am. I am definitely not the worst (and that is not even a lie!). It has even gotten to a point where I am telling my dad to get off his phone at dinner, or my boyfriend to move over in bed so the light from his phone won't bother me.
I've given this a lot of thought and taken precautions because I think it had gotten out of hand. I will get into that later on. I can't control other people but hopefully I can inspire. Take some time and give it some thought: are you addicted to your phone? Will you admit that you are? And do you want to do anything about it? Next Thursday, I will do a follow up blog post with concrete advice on how to tackle phone addiction. Stay tuned.
______________________________
DANSK: Hvis du er mellem 15-37 år gammel, er svaret højst sandsynligt at ja, du er afhængig af din telefon. Det er de fleste af os. Millennials (også kaldet Generation Y'ere) samt Generation Z er dybt afhængige, og faktisk er det kommet så vidt, at især Generation Z'ere, som ikke husker en verden uden smartphones og sociale medier, har dårligere sociale kompetencer end andre generationer havde i den alder.
Generationerne vil hellere være hjemme, online på deres computere og telefoner, end at gå til fest eller ud med deres venner. Måske du selv kan nikke genkendende til det? Bare en gang i mellem? Telefonen er altid med, og selv når du er sammen med venner eller familie, tjekker du også din telefon, bare fordi.
Det er en sørgelig udvikling. Ifølge læger har telefonafhængighed ikke bare givet os dårlige sociale kompetencer.  Telefonen er også ved at ændre vores hjerne. Vi er så afhængige af det lille skud feel-good-hormon oxytocin og dopamin, der ryger gennem vores hjerner, hver gang vi kigger vores telefon, at vi har svært ved at koncentrere os om de vigtige ting såsom arbejde, lange samtaler med venner og familie, for ikke at nævne at skrive opgaver og læse til studiet.
Så, er du afhængig af din telefon? Her er nogle tegn på telefonafhængighed: 
Og du tænker sikkert, at nej, så gal er den slet ikke. Dine veninder er meget værre. Men prøv lige at læs denne liste igennem. Tænk over det. Vær ærlig med dig selv.
♥ Hvordan ville du have det med, frivilligt, at lade din telefon ligge derhjemme og gå ud i et par timer uden den?
♥ Er din telefon det sidste du ser på, inden du falder i søvn, og det første du ser, når du vågner om morgenen?
♥ Har du din telefon med dig overalt? Ofte i hånde men ellers i lommen?
♥ Synes du, det er ubehageligt, hvis du er ude, og din telefon er ved at gå ud?
♥ Tager du din telefon med på toilettet? Også derhjemme?
♥ Frygter du at miste eller få stjålet din telefon?
♥ Tjekker du din telefon uden en egentlig grund?
♥ Har du din telefon fremme i sociale sammenhænge?
♥ Eller, går du på toilettet i sociale sammenhænge alene for at tjekke din telefon?
♥ Har du svært ved at koncentrere dig, fordi du hele tiden tjekker din telefon?
♥ Tænker du nogensinde, at du hellere vil blive hjemme med din computer og telefon i stedet for at gå ud?
♥ Og, hvis du er ude, tænker du så nogensinde, at du egentlig hellere vil være hjemme med din telefon?
♥ Tager du din telefon frem hver gang, du ikke laver noget? Så som at vente på bussen, venter på din tid til lægen eller venter på nogen? Du kan aldrig bare kede dig og stirre ud i luften?
Du har læst punkterne. Er du afhængig af din telefon? Jeg er. Jeg er helt sikkert ikke den værste, jeg kender (og det er faktisk ikke engang en løgn). Det er kommet så vidt, at jeg beder min far om at lægge sin telefon væk, når vi er til middag. Eller, at jeg beder min kæreste om at vende sig i sengen, fordi lyset fra hans telefon generer mig.
Grunden til at jeg måske ikke er den værste jeg kender, er udelukkende fordi, jeg har tænkt meget over det her emne. Og problem. Og jeg har sat en række forholdsregler, netop fordi jeg ikke ønsker, at det går for vidt for mig. Det vil jeg dele mere om i de næste indlæg om telefonafhængighed. Jeg kan ikke styre andre mennesker, men forhåbentlig kan jeg inspirere.
Tag noget tid og tænk lidt over, hvad du har læst. Er du afhængig af din telefon? Tør du indrømme det? Og vil du gøre noget ved det? Næste torsdag vil det netop handle om konkrete råd og forholdsregler du kan tage for at styre afhængigheden. Stay tuned.