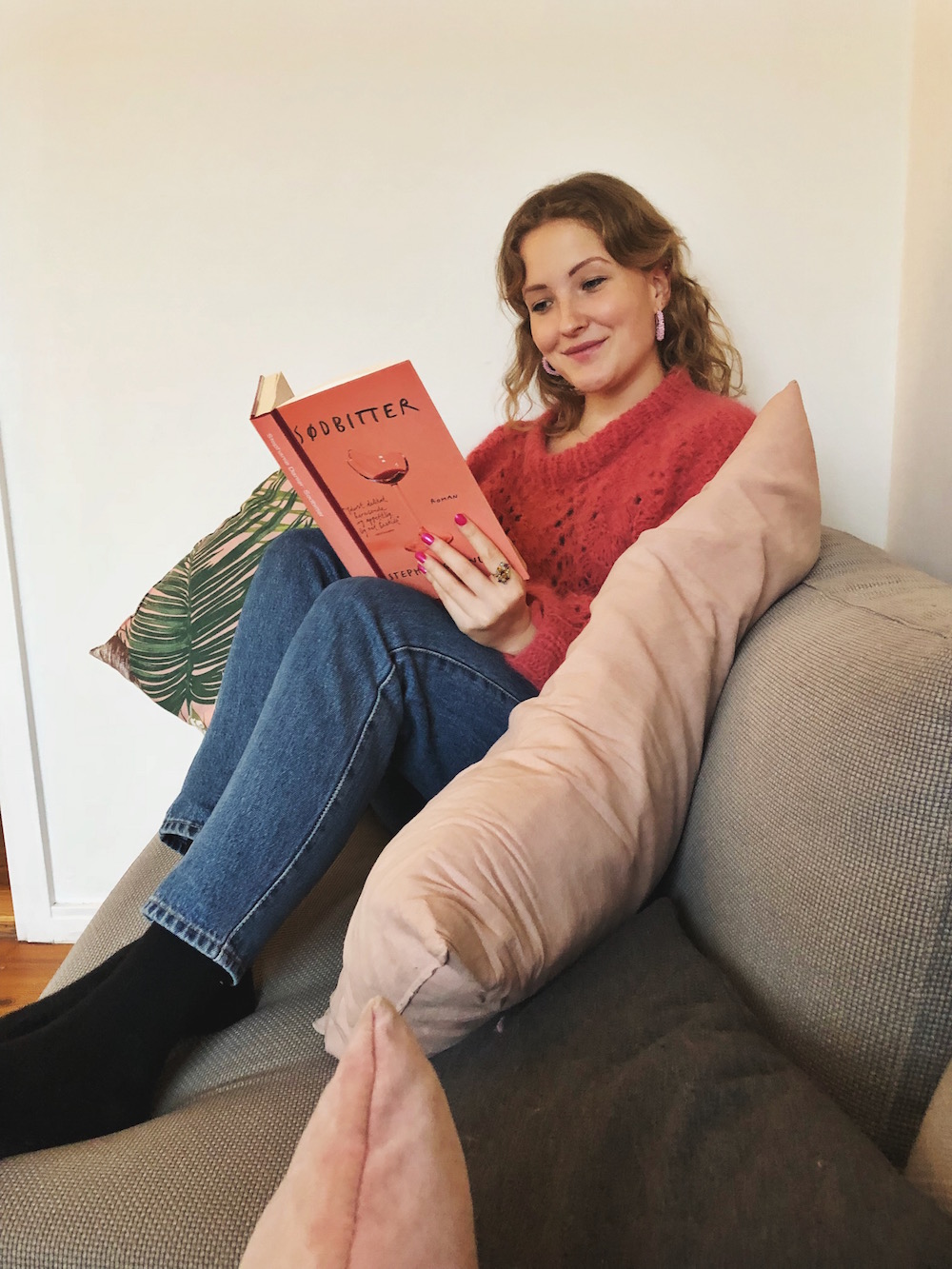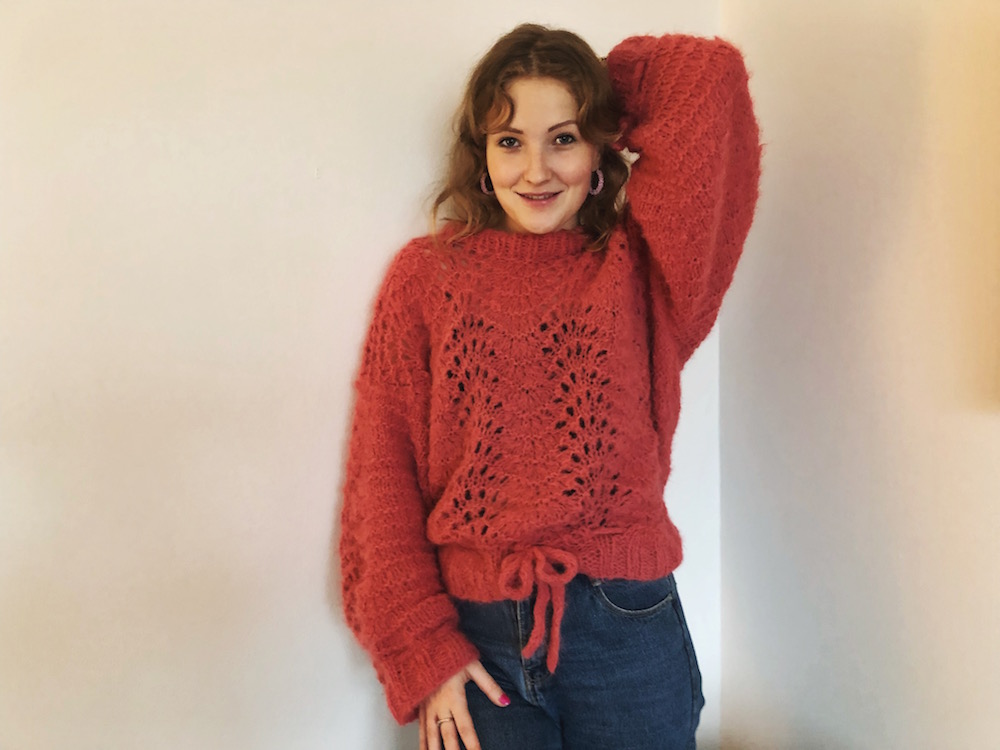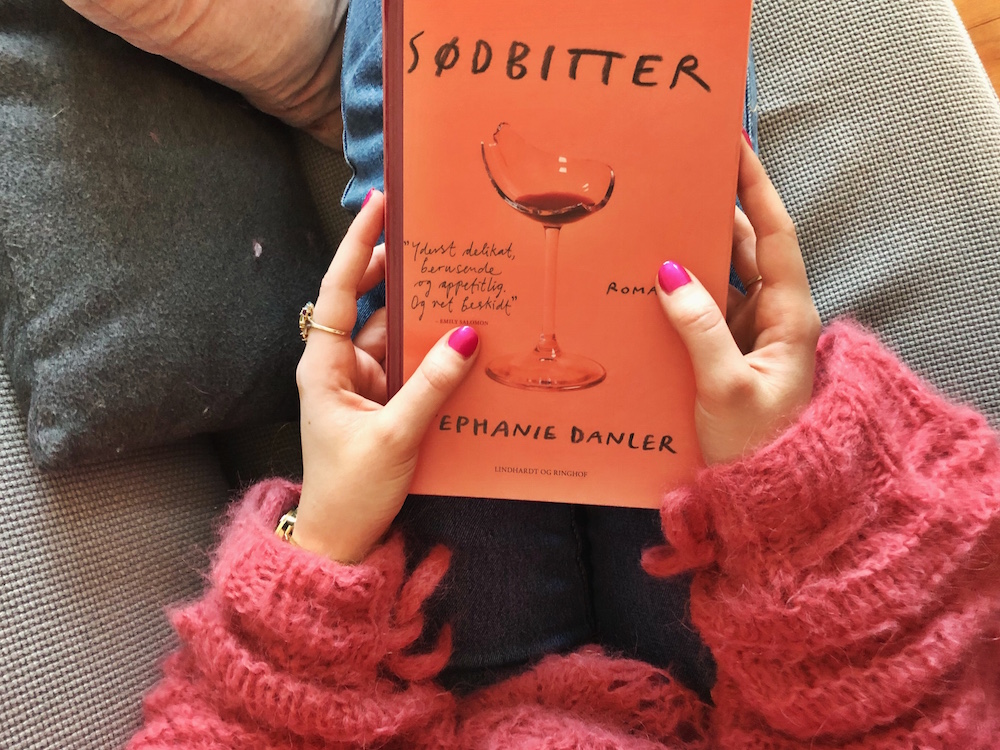 ENGLISH: Happy Sunday night! I hope you had a great weekend. I did. I did have some studying to do with my study group, but besides from that, I've had a relaxing weekend with my boyfriend who is here from NYC until tomorrow. Copenhagen is cold, so we've mostly stayed indoors which I enjoyed, even more. wearing my new pink sweater finally finding time to read, which is something I love. And that brings me to this post; three things I like right now:
My pink sweater that my mom knit for me. Can you believe it? I can't! She is so talented. She didn't knit for many years but recently took it up and this beautiful sweater is the outcome. On Instagram as well as in real life, I got so many compliments on it.
The novel Sweetbitter which took me three days to read. That states how good and well-written this book is and I can really recommend it. The book takes place in NYC in 2006, where young girl Tess moves to Williamsburg before it was entirely hip and gets a job at a fancy restaurant. The book takes you behind the scenes of how a restaurant works with all its drama, gossip, and hard work, as well as how the life of young Tess in NYC plays out. The book is currently being turned into a TV show and I can't wait for it!
The pink pearl earrings that my childhood friend got me for my birthday. I can't even share a link as they are handmade by my friend's friend, but they are so cute and match perfectly with everything else I have that is pink 😉
_______________________________________
DANSK: God søndag aften! Jeg håber, at du har haft en god weekend. Det har jeg. Udover studiegruppe-eksamens-skrivning (farvel til life as I know it de næste to måneder, eksamensperioden er skudt i gang!), har jeg hygget mig, mest indendørs, med min kæreste, der er på besøg fra New York. Så tiltrængt og jeg har det meget, meget bedre end sidst, jeg tjekkede ind <3
Det var været koldt, så tiden indendørs har jeg brugt på at læse Sødbitter (Sweetbitter oversat fra engelsk), lånt fra biblioteket. Der var lang venteliste på den, og jeg skal aflevere den om et par dage. Jeg gik så i krig med den i et forsøg på at få den læst færdig inden deadline. Det viste sig ikke at være noget problem overhovedet. Jeg slugte den på tre dage. Og det bringer mig til dette indlægs tema: tre ting jeg er vild med lige nu.
Min lyserøde sweater, som min dygtige(!) mor har strikket til mig. Hun har ikke strikket i mange år, men pludselig besluttede hun sig for, at hvis hun ville se fjernsyn om aftenen, skulle hun strikke imens. Det er der kommet mange gode sager ud af, og senest min fantastiske sweater, der er inspireret af Gannis men så twistet med min mors kreativitet og talent. Jeg elsker den! Den er lyserød, blød, varm, anderledes og lavet med kærlighed. Og jeg har fået så mange komplimenter samt en lang bestillingsliste af venner fra nær og fjern, der drømmer om en lignende sweater.
Romanen Sødbitter, som jeg altså slugte på tre dage. Udover at den har den fineste forside, så er indholdet altså ligeså godt. År 2006: Tess på 22 år, flytter til NYC hvor hun får et værelse i Williamsburg, der endnu ikke er blevet hipt. Hun er lost, men får arbejde på en fin, kendt restaurant, og så går det ellers løs med intriger, drama, sex, stoffer og New York. Du kommer med bag scenen på restauranten, hvor Tess får lektioner i vin, mad, smag og i livet. Så god! Bogen er ved at blive lavet til en tv-serie, og jeg glæder mig! Jeg tænker umiddelbart, at den vil minde om "Girls", og det er klart positivt.
Mine lyserøde perleøreringe, jeg fik i fødselsdagsgave for en måned siden af min barndomsveninde. De er så fine og anderledes end de perle-tassel-øreringene, der er gået inflation i. De er lavet af min venindes veninde, og de passer perfekt til alt, jeg har i lyserødt 😉