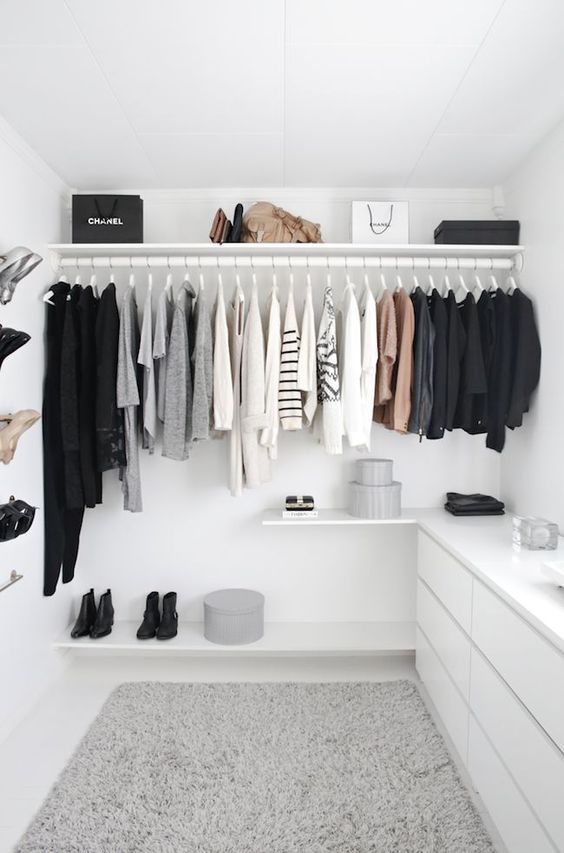 Dream closet! Picture from Brit.co 


Does it spark joy? This will be your new favorite (or hate) sentence. Have you heard about Marie Kondo? She is the Japanese writer behind the bestseller book The life-changing magic of tidying up and now has her own show on Netflix, Tidying up with Marie Kondo.
I get that her book is a bestseller. The basics of it is that it teaches you how to get rid of things in a simple way. Pick up every single item you have and ask yourself "does it spark joy?". If yes, keep it, if no, toss it, and if maybe, leave it in a pile for a week. If you have missed the item, keep it. Or maybe that week will show you that you actually don't need it.
Pretty simple! Or at least it sounds simple. It is, of course, tougher to toss your own things when you actually have them in your hand. However, I did go through this process when moving into my new apartment in Copenhagen a little over two years ago. It is a rather small apartment and I really wanted to minimalize my stuff, and really only bring into my new apartment the stuff I really needed or cared about. And I am so happy I did!
It is true what they say. Having a lot of stuff weighs you down and it is really so much easier to clean up and keep your apartment clean if you don't have a lot of things. In the end, owning a lot of stuff takes mental capacity. The Marie Kondo/Konmari method will save you time, stress and money.
Four simple steps on how to implement the Marie Kondo Konmari method in your home
Start small but go through everything. Kondo tells you that in order to not get overwhelmed with her method, you need to start small. You make a plan to go through everything but only do one thing at a time. That means that you can plan that you will take one day to go through all your books. Another day to go through your kitchen. A third day to go through your toiletries. A fourth day to go through your clothes.
Be critical. And then it begins. Start with your books for example. You pick every single book up in your hands, and you ask yourself "does it spark joy?". If yes, and you are sincere about that you still need this book in your life, you keep it. If "maybe", because you can't really make up your mind about it, put it in a pile. However, if the item leaves you with a "no", you get rid of it. Sell it or give it away to friends or charity. The "maybe" pile of books or items, you leave for a week and go through them again. Maybe, in the meantime, you changed your mind about them and now know if you want to keep them or not. This method works for all your stuff, whether it is clothes, books or makeup.
Make sure that everything has their own spot. The lucky things that you keep in your apartment or room need a designated spot that is theirs. A spot you always place them when you don't use them. This way you won't lose your things or spend time searching for them when you need them.
Fold your clothes with the Konmari method. This point is definitely the one that has made the biggest change in my home and life. I did this to all of me and my boyfriend's clothes and now we were actually able to share a small two-door closet together. I have also gotten my friends and family hooked on this method. It is hard to explain in writing how you do it, but this link will show you how it is done! Folding your clothes this way makes room for a lot more plus it gives you the ability to see what you have in your closet so you will wear all your clothes more.
I hope this post is useful to you. I can say that the Konmari method and cleaning out my apartment and things, trying to live a more minimalistic life with less stuff and less clutter has definitely improved my happiness and causes me to feel less stressed!

For lidt over to år siden flyttede jeg ind i min nye lejlighed på Vesterbro, som ikke er verdens største lejlighed. Jeg havde planlagt, at jeg kun ville tage de ting med, der betød noget for mig for at undgå rod og kaos i min nye lejlighed. Det skulle være en frisk start. I den sammenhæng faldt jeg over Marie Kondo og hendes bestseller-bog The Life Changing Magic Of Tidying Up og de dertilhørende Konmari-metoder. Jeg slugte den, tog nogle af hendes metoder med et gran salt, men implementerede også et par af dem, der næsten må siges at have ændret mit liv. Nu har Marie Kondo fået sit eget show på Netflix i perfekt timing med det nye år, og hun må siges at være 'the talk of the town'.
Bogen er blevet en kæmpe succes, fordi den i få, meget simple steps lærer folk, hvordan de skal rydde op i deres ting og sager for at få mere plads, energi og overskud i deres hjem (og liv!). Jeg har selv taget de bedste tips og tricks fra hendes bog, brugt dem i mit nye hjem, og det spiller altså bare. Jeg har nu et hjem, der tager få minutter at rydde op og gøre rent, og det giver mig så meget energi og overskud i min hverdag. Alt har sin plads, og derfor bliver mine ting (næsten aldrig) væk. Derfor tænkte jeg at jeg dele tre tips med jer, som I måske kan få glæde af.
Fire måder du kan bruge Marie Kondos metoder i dit hjem
Start i det små – Kondo siger, at for at denne oprydning i ens hjem ikke skal blive for overvældende, skal man planlægge og tage en kategori ad gangen. Det vil sige, at du kan planlægge, at du starter med at gå alle dine bøger igennem en dag. Den næste dag går du dit køkken igennem. Den trejde dag din make up, og den fjerde dag dit tøj.
Vær kristisk – hvis du eksempelvis starter med at gå dine bøger igennem, er metoden, at du tager alle dine bøger fra hele dit hjem og samler dem ét gulvet. Du skal nu tage hver en bog (genstand) op i hånden, kigge på den og spørge dig selv "does it spark joy?" – altså giver bogen dig glæde. Hvis svaret er et stort, rungende ja, så skal du selvfølgelig beholde den. Er det et nej, skal den gives væk, sælges eller andet. Er det et måske, skal du samle alle dine "måske-bøger", lade dem ligge og gå igennem bunken igen ugen efter. Måske har du i mellemtiden ændret mening, og nu ved hvad du skal gøre med bogen. Ideen er selvfølgelig, at du er kritisk over for dig selv, så du kan beholde de ting, du virkelig er glad for.
Sørg for at alt har en plads – Når du nu har fundet alle de vigtige og heldige sager, der får lov at blive i dit hjem, skal du starte på en frisk. Du skal rydde op og give alle genstande en specifik plads i dit hjem. Du skal skabe et system, så du har styr på alle dine ting og ved, at hvis du har brugt dem, så skal de lægges tilbage igen bagefter. Så ved du til næste gang, hvor du finder dem, hvis du har brug for dem. Dette gør, at du undgår rod, du undgår at miste ting og du undgår bruge værdifuld tid på at lede efter dem.
Fold dit tøj med Konmari-metoden – dette er klart, hvad der har gjort den største forskelfor mig. Med denne metode kunne min kæreste og jeg dele et to-dørs-IKEA-skab, hvilket vi ikke havde kunnet uden metoden. Jeg har endda fået flere veninder og mine forældre med på denne tøj-metode. Metoden er svær at forklare på skrift, men det går ud på, at man folder sit tøj sådan her. Det giver plads til meget mere tøj i skabet. Det gør også, at du kan se, hvad du har i dit skab, fordi dit tøj ligger vandret i stedet for i en bunke, hvor du ikke kan se, hvad der ligger nederst. På den måde kan det være, at du begynder at gå med mere af dit tøj!
Jeg håber, at du kan bruge min tips til at implementere Konmari-metoderne i dit eget hjem. Især måden at folde dit tøj på er en sikker vinder, som jeg sværger til! Good luck 😉