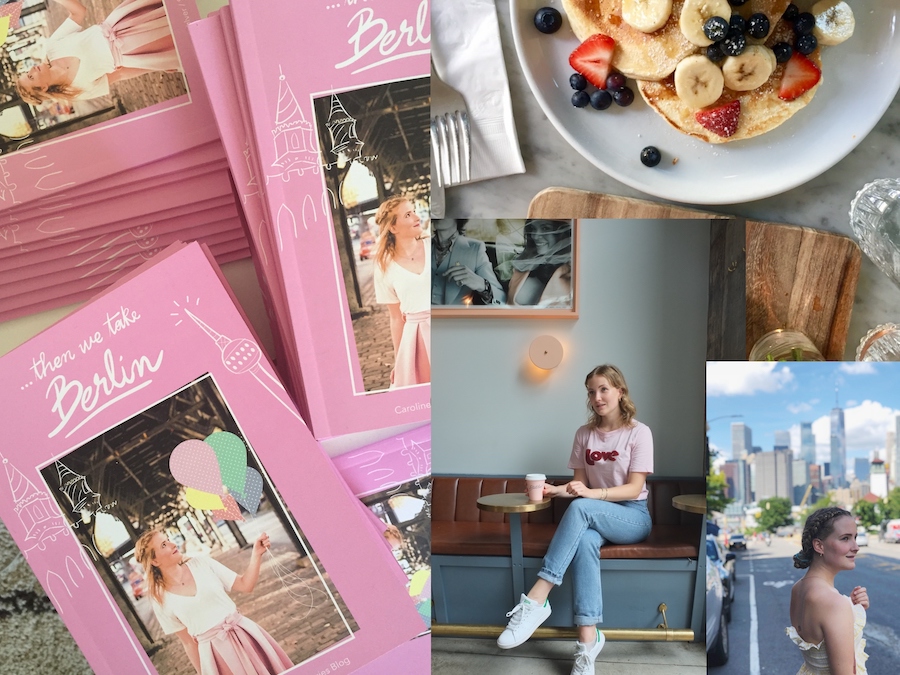 Jeg har gået og pønset på, om jeg mon skulle dele det der meget hemmelige projekt, jeg har nævnt et par gange på det sidste. Og nu besluttede jeg mig for at gøre det, 1. fordi så fanger bordet! 2. fordi det sgu er så irriterende med hemmeligheder. Lang historie kort, så har jeg besluttet mig for, at det er på tide, at jeg udgiver endnu en guidebog! I 2016 skrev jeg en guidebog til Berlin, som jeg arbejdede længe og hårdt på, og som jeg er så stolt af. I mellemtiden har jeg brugt en masse tid i New York, og derfor begyndte jeg at lege med ideen om at udgive endnu en guidebog, der selvfølgelig skulle handle om New York. Jeg turde ikke helt kaste mig ud i det, for jeg kan love jer for, at det er et tidskrævende projekt. Men nu blev jeg bachelor, planlagde en måned i Berlin alene, og her faldt det hele ligesom på plads. Det var jo oplagt, at jeg skulle bruge noget af min tid, alene i Berlin og med god mulighed for koncentration og fordybelse, på at skrive nummer to guidebog.
Og det er jeg således i fuld gang med. Jeg skriver på livet løs, og indtil videre er jeg så tilfreds og glæder mig helt vildt. Der er en masse detaljer, jeg mangler at planlægge, men det hele skal nok falde på plads. Jeg arbejder på, at guidebogen skal være færdig inden det nye år.
Den kommer til at have samme personlige stil som Berlin-udgaven. Jeg guider til mine egne yndlingssteder samt de skjulte perler og hippe butikker, caféer og restauranter. Guidebogen skal både kunne bruges af folk, der allerede har besøgt NYC og fået krydset Frihedsgudinden og Times Square af listen og gerne vil dykke dybere ned i byen, samt dem, der er helt grønne og besøger The Big Apple for første gang. Jeg glæder mig helt vildt, og det håber jeg, at I også gør ♥


For the past few weeks, I've teasingly mentioned an exciting project I was doing. I've come to the conclusion that's it's time to reveal the secret project. Firsty, because what is done cannot be undone, and by sharing it, I'm fully comminiting to finishing, and also because it's so annoying when people keep teasing about a project, yet not revealing it.
In 2016, I published a Danish guidebook on Berlin. It took blood, sweat, and tears to finish it and publish it independently, but it was so much fun and has been a good success. Since then, I've spent a quite big amount of time in NYC, and been playing with the idea of publishing a second guidebook, this time about NYC.
Having graduated from Copenhagen Business School, now finding myself with more time on my hands than ever, I figured it was the perfect timing to start a second book project. And as I planned to spend a month alone in Berlin, the timing was more right than ever.
So yes, that's what I've been spending a lot of time working on the past two weeks. So far, so good, and I am so excited to take on this project. There are still multiple crucial details that haven't been figured out yet but I'm hoping that I will be able to publish in just a few months. The sad part is that the book will be in Danish – solutions would be to start learning Danish or to buy the book anyway and look at the names of places and pictures 😉
The good news is that who knows – if everything goes well the second time around, I might just take on an English guidebook project next. 😉
Either way, I am super excited to share theis news ♥