Blogindlægget er skrevet i samarbejde med sprogskolen Sprachenatelier i Berlin. 
Da jeg flyttede til Berlin som 18-årig, var det blandt andet med målet om at lære tysk. Jeg havde tysk på A-niveau i gymnasiet og var stor fan af både sproget og Berlin. Jeg havde også en ung, romantisk og over-optimistisk ide om, at jeg, helt automatisk, ville lære at snakke tysk på flydende niveau, så snart jeg flyttede til byen.
Virkeligheden var lidt en anden. Selvfølgelig snakkede jeg mere tysk i Berlin, end jeg gjorde i København. For eksempel da jeg skulle købe et sim-kort og internet til lejligheden, og fyrene i internetbiksen ikke kunne et ord engelsk. Eller når jeg var i supermarkedet, og når jeg bestilte döner. Men meget tysk, og lange, dybe samtaler på sproget blev det ikke til. Både fordi jeg hurtigt fik mange danske venner i byen, frem for tyske, men også fordi Berlin er spækket med tilflyttere fra hele verden – Spanien, Italien, Australien, USA. Så kan omgangssproget hurtigt ende med at blive engelsk. Og de tyske venner jeg fik ville hellere end gerne tale engelsk, for så kunne de jo også finpudse deres engelske.
Inden for et halvt år fik jeg et job på et tysk PR-bureau. Dog var jeg for nervøs og intimideret til at forsøge mig på tysk. Hvad hvis jeg lavede fejl? Grammatikken driller altid, og engelsk er jo meget nemmere, tænkte jeg. Så hurtigt blev det til, at mine kollegaer talte engelsk til mig, nogle gange tysk, men lige meget hvad, så svarede jeg på engelsk.
Nye boller på suppen
Inden jeg så mig om, var der gået et år i Berlin, og jeg var slet ikke nær statussen som flydende tysk-talende, som jeg optimistisk havde troet, jeg ville opnå. At kunne snakke tysk var ikke magisk og automatisk faldet ned i min turban. Jeg besluttede mig for, at der skulle andre boller på suppen.
♥ 1. Jeg skulle droppe at være nervøs og for intimideret til at tale tysk. Hvad så om jeg lavede fejl? I det mindste forsøgte jeg, og en tysker ville jo godt kunne forstå mig, ligemeget om jeg satte der, die eller das foran Auto. (Hint: det hedder DAS Auto).
♥ 2. Jeg skulle booke et intensivt tyskkursus, så jeg ville få gang i mit tyske og forsøge at komme min nervøsitet for at tale tysk til livs i praksis.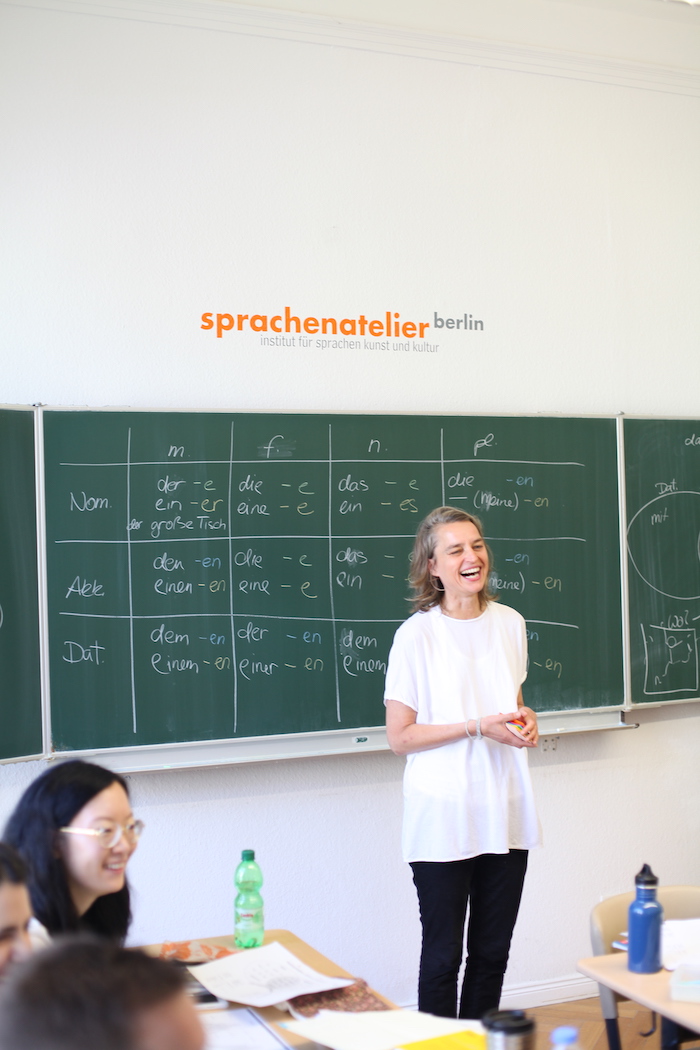 Tid til tyskkursus
Således tog jeg et par ugers tyskkursus, og det satte virkelig gang i, at jeg fik lært og talt mere tysk. Derfor gav det også mening at samarbejde med sprog- og kulturinstituttet Sprachenatelier, der ligger tæt på Boxhagener Platz i bydelen Friedrichshain i Berlin, hvor jeg også boede. Sprogskolen tilbyder ikke blot kurser på tysk men også i 45 andre sprog samt kreative kurser og workshops.
Mit kursus var intensivt, hvilket betød, at jeg gik i skole et par timer hver dag i tre uger. Det var effektivt og selvfølgelig hårdt, men det at jeg kunne mærke, at det virkelig battede, var super motiverende. Dog er det selvfølgelig ikke alle, der har tid og mulighed for at gå til sprogkursus hver dag. Derfor tilbyder Sprachenatelier en lang række kurser. Man kan blive optaget på et kursushold, der passer til ens niveau, hver eneste mandag, og du kan være med i alt fra en uge til så længe, du ønsker.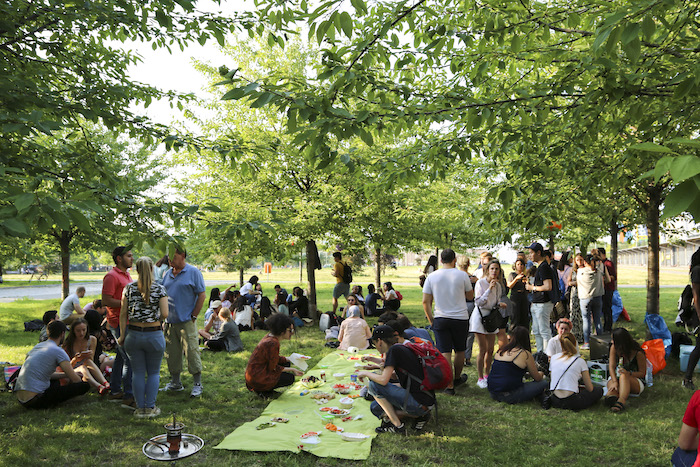 Den bedste tid i Berlin alt efter dit skema
Kurserne ligger både om formiddagen, eftermiddagen eller om aftenen, så du har mulighed for vælge det kursus, der passer ind i dit skema. Jeg havde også mange danske venner, der arbejdede i Berlin og gik til tyskkursus en eller to aftener om ugen. Desuden taler underviserne på Sprachenatelier tysk som modersmål og er uddannede i tysk som fremmedssprog, så undervisningen er af høj kvalitet. Det hjælper også, at sprogholdene er små og består af 6-14 studerende. Der er altså plads og tid til koncentration, og til at underviserne kan fokusere på hver elev.
Sprachenatelier får også min anbefaling, fordi skolen går et ekstra skridt for eleverne. Skolen er der for at hjælpe og kan eksempelvis assistere eleverne i at finde bolig i Berlin. Du er sikkert også i Berlin for at møde nye mennesker og få fede oplevelser. Skolen arrangerer masser af kulturelle og sociale aktiviteter såsom museumsbesøg, koncerter, udstillinger og foredrag. En fordel er også, at du på den måde kan øve dit tyske uden for klasselokalet. Du får også et helt særligt indblik i Berlin, og er du rigtig heldig, kan tyskundervisningen og Sprachenatelier være med til at skabe nye bekendtskaber og minder for livet.
Det, at du selv kan bestemme, hvor længe dit tyskkursus skal vare, gør også, at du kan bruge en sommerferie i Berlin og gå på intensivt tyskkursus, eller du kan bruge et helt sabbatår – det er helt op til dig. Jeg havde en dansk veninde, der tog til Berlin i halvanden måned for at nyde byen over sommeren. Her tog hun et tyskkursus, og det passede hende perfekt, at hun kunne hygge sig og nyde byen men stadig havde et fastlagt program, så hun ikke dasede alt for meget. Inden jeg så mig om, havde hun næsten ikke tid til mig mere, fordi hun havde fået så mange venner fra hendes tyskkursus. De var alle i samme situation – i Berlin for at snakke tysk og snuse til alle de fede oplevelser, Berlin byder på.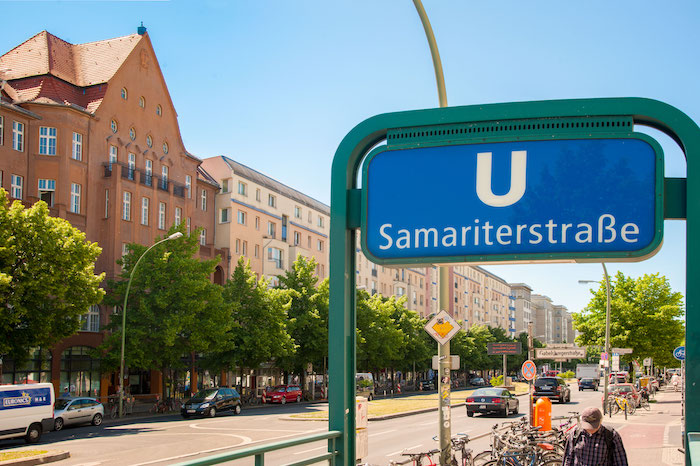 At kunne tysk er en kæmpe fordel
I dag taler jeg ikke perfekt, 100% grammatisk korrekt tysk, men jeg kan have lange, dybe samtaler på tysk og forstå endnu mere. At gå til intensivt tyskundervisning var helt sikkert med til at gøre mig tryg i at tale mere tysk. I dag, når jeg kigger tilbage på mine år i Berlin, er jeg så glad og taknemmelig for, at jeg flyttede og også for, at jeg gjorde en aktiv indsats for at lære sproget. Det er så nemt at flytte til Berlin uden at tale et ord tysk – det gjorde flere af mine venner for eksempel. Men for mig har det betydet en hel del at kunne sproget. Jeg har muligheden for at forstå tysk kultur og historie og indfødte berlinere på et helt andet niveau gennem sproget. Desuden har min tysk-kunnen også åbnet en masse døre for mig karrieremæssigt. Jeg har nemlig hørt en lille fugl synge om, at det danske arbejdsmarked i høj grad mangler tysktalende, og det er jo en kæmpe fordel for sådan en som mig. Jeg er altså kæmpe fortaler for, at man tager sig tid og energi til at lære sproget, selv hvis du ikke var mønsterelev til tyskundervisning i folkeskolen eller gymnasiet – du kan nå det endnu.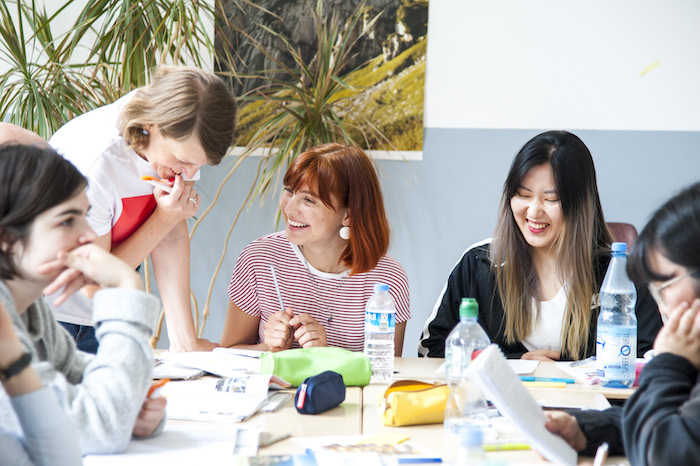 Blog post collaboration with Sprachenatelier in Berlin
When I was 18 years old and moved to Berlin, one of my goals was to learn German. I'd already had German on high levels through high school and mastered the language, however not fluently. I was young and had an overly optimistic and romantic idea that moving to Berlin, I would automatically become fluent in German.
The reality proved to be different. Of course, I spoke more German than I had in Copenhagen. For example when I had to buy a phone plan and internet for my apartment and the salespeople didn't speak a word of English. Or when I ordered my favorite döner down the street. But I didn't have long, intense and deep conversations in German. Partly because a lot of my friends in Berlin were Danish instead of German and because Berlin is filled with expats from all over the world – Spain, Italy, Australia, USA. Because of that, I ended up speaking more English and Danish than German. Even the few German friends I had wished to speak English to improve their skills.
Within half a year, I got a job at a German PR company. But I ended up being too shy and intimidated to actually speak German. What if I messed up the grammar?
A year with no German passed…
Soon, a year of living in Berlin had passed! And I hadn't yet reached my goal of speaking fluent German. I decided that something had to happen to fulfill my goal and dream.
♥ 1. I needed to quit being too shy and intimidated to speak German. So what if I made mistakes? At least I made an attempt. A German-speaker would understand me perfectly well regardless of what gender I added in front of Auto (Hint: It's DAS Auto, not der or die)
♥ 2. I would join an intensive German course that would spark my German and assist in getting rid of my fear of speaking German.
Time to step up my German game!
With that, I signed up for a couple of weeks of intensive German classes. Which is exactly why it was a match made in heaven to collaborate with the language and cultural institute Sprachenatelier, located close by Boxhagener Platz in Friedrichshain in Berlin – my neighbor! Sprachenatelier doesn't just offer German classes but classes in more than 45 languages, as well as creative courses and workshops.
My course was intensive, meaning that I did classes for a couple of hours every day for three weeks. It was highly effective and a lot of work. But it was super motivating that I felt I got better and better every day. Of course, not everybody is able to do German classes every day. Luckily, Sprachenatelier offers a long list of courses taking place in the morning, midday or evening, so they fit into different schedules. Every Monday, you're able to join a course that fits your level, and you can continue for as long as you'd like. In that sense, it's a very flexible school that will cater to individual needs and schedules. Some of my friends with fulltime jobs would attend classes in the evenings once or twice a week.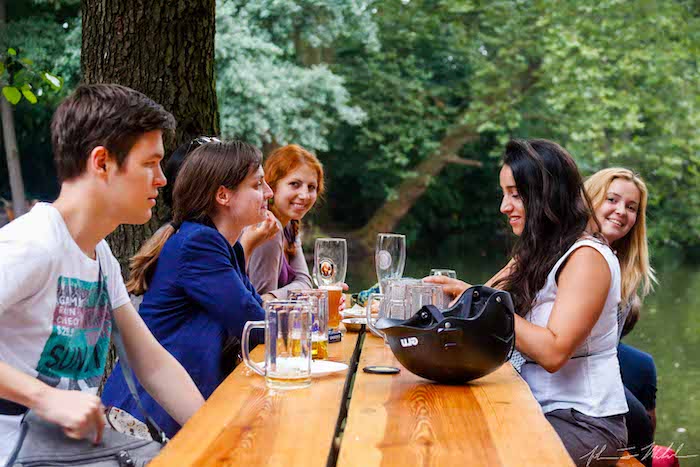 The best time in Berlin
All teachers at Sprachenatelier are native German speakers. They are educated within German as a second language, which means that the classes are of a very high level. The classes are small and consist of 6-14 students. This makes room for every student's difficulties and allows the teacher to focus on individual students.
I recommend Sprachenatelier because the school goes the extra mile for their students. The school assists in finding places to live in Berlin for the students. The school hosts lots of cultural and social activities such as museum visits, concerts, exhibitions, and lectures. That allows for the students to network and make friends but also for them to practice their German outside the classroom. Maybe, you'll make friends and memories for life!
Another possibility is that you go to Berlin for your summer break and enroll in an intensive language course. This way, you don't have to move to Berlin permanently but still get the opportunity to enjoy the city and the language. A friend of mine went to Berlin for six weeks during the summer. She took German classes in the daytime and explored Berlin after the classes. It was a great mix of having something to do every day, yet leaving time for her to enjoy the city. She met lots of friends through the German course that she would hang out with as they were all in the same position.
Mastering several languages is a huge bonus
Today, I don't master a perfect, 100% free of grammar mistakes-German. But I have the skills to participate in longer conversations in German and I understand even more than I speak. My German classes definitely played a central role in giving me the confidence to speak German. Today, looking back on my three years of living in Berlin, I am so happy and grateful that I made an effort in learning German. Many of my international friends lived in Berlin without speaking any German at all – it's totally possible as the city is very international. But that doesn't mean that it's right. For me, it's been very meaningful knowing the native language where I live.
This way, you get a deeper insight into the culture and history and get to understand native Germans at a deeper level. Another bonus is that my language skills have opened doors within my career. The Danish labor market lacks people who speak German – which is a huge benefit for someone like me. I am a huge advocate for taking the time and energy to learn languages, even if you feel like you missed out through high school. There's still time for you to learn!