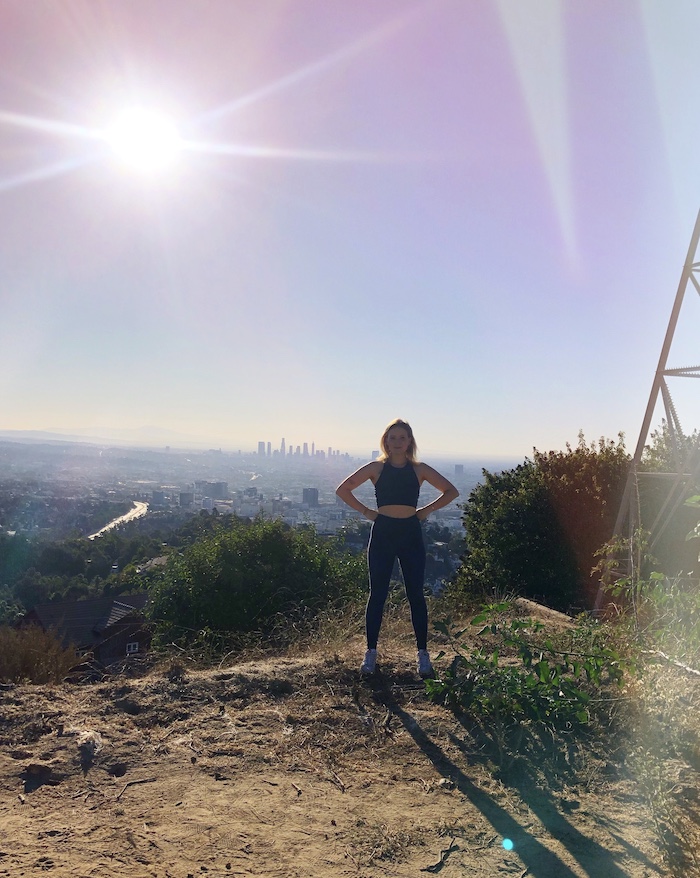 I will power pose throughout 2020 (If you don't know what I am talking about, watch this!)

Hold da op. Kan I forstå, at lige om lidt siger vi farvel og tak til et årti og byder et nyt velkommen? Det er helt vildt, synes jeg. Men hvis jeg tænker tilbage på 2010 og hvad der er sket siden, så giver det meget god mening. I 2010 blev jeg færdig med folkeskolen og startede i 1.g på Christianshavns Gymnasium. Tre år efter blev jeg student. Så flyttede jeg til Berlin. Startede på CBS og blev færdig med min bachelor. Flyttede til New York. Startede en blog og gjorde den til et deltidsjob. Så jo, på den måde er der sket en masse på et årti, og så giver det vel meget god mening. Disse tanker gør også, at jeg er helt vildt spændt på, hvad 2020'erne mon byder på. Det er næsten helt surrealistisk at skrive.
Hvad er mine mål så for det nye år, 2020? Det er jo faktisk ikke så lang tid siden, at jeg delte et blogindlæg med samme emne. Det holder stadigvæk stik – og jeg kan allerede sætte kryds ved to af punkterne "Rejse til et land eller en stat, jeg endnu ikke har besøgt (Vietnam, Serbien, Portland, Californien…)", for nu har jeg været i Californien. Tjek! Andet tjek er at være med i et interview på min yndlingsblog, Rockpaperdresses, for nu har Cathrine skam interviewet mig, og det bliver snart udgivet på hendes blog. Yes, altså! <3
Så det ser meget godt ud med mine mål og planer for det næste år, inden jeg starter kandidat i september 2020. Jeg kan også tilføje et ekstra punkt til min liste. Et spændende punkt! Det er selvfølgelig min nye podcast, som jeg regner med at udgive i januar og et par måneder frem. Jeg håber, I vil lytte med. Det er spændende og lidt udfordrende at skulle begå mig i et helt nyt medie, så ønsk mig held og lykke.
Derudover håber jeg også på, at jeg får udgivet to bøger. En guidebog på dansk til New York og en guidebog på engelsk til Købehavn.
Jeg kommer altså ikke til at ligge til den lade side. Men det gør mig heller ikke noget. Jeg har erfaret, at når jeg sætter mig mål og skriver dem ned, så lader jeg mig selv op til succes. Har du sat mål for 2020?


Damn. Can you wrap your head around that in just a few weeks we bid farewell to a decade and welcome a new one? That's kinda crazy. But if I think back to the beginning of the last decade, so much has happened. I ended secondary school, began high school, moved to Berlin, studied for my Bachelor's Degree at Copenhagen Business School, moved to NYC. Started my blog and made it a part-time job. With all this in mind, I am so excited to start a new decade,  and I can't wait for what's in store for me.
So, what are my goals for the new year, 2020? Actually, it hasn't been too long since I shared a blog post about my goals. Those are still valid. However, I can already check off two of the bullets.
Travel to a country or state I haven't yet been to (Vietnam, Serbia, Portland, California?) Done! I visited California in October 2019.
Being in an interview published on my favorite blog, Rockpaperdresses. Done, as Rockpaperdresses interviewed me a few weeks ago. I can't wait for it to be published.
It's looking bright for my goals and plans for the next year before I start studying for my Master's at Copenhagen Business School in September 2020. I can also add one extra bullet to my list of goals. An exciting one! That, of course, is the new podcast that I expect to publish from January 2020. It will be in Danish. It's a mouthful and quite challenging taking on a new media format, so fingers crossed that it won't be too challenging.
I also have my fingers crossed that I'll be able to publish my two books before September 2020. My guidebook in Danish for NYC and my guidebook in English for Copenhagen. I hope you're excited to read them.
With that, 2020 won't be a lazy year. And I don't mind! My experience is that when I set goals and actually write them down and share them, I set myself up for success. Have you set any goals for 2020?