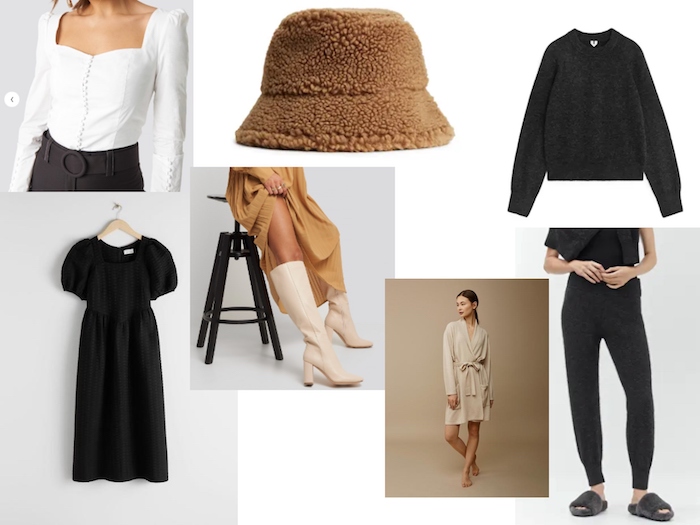 Affiliate links – Teddy bucket hat, Knee-high boots with a heel, white blouse, alcapa jumper, alpaca trousers,
a cashmere robe, black bubble dress

Jeg bliver spurgt om julegaveønsker af mine nærmeste, som jeg skal have julegaver fra i år. Selv har jeg allerede klaret de fleste gaver udover dem til min bror og til Jesus. I år køber jeg gaver efter to principper – en oplevelse og forkælelse. Gerne noget som gavemodtagerne ikke selv ville gå ud at købe. Selv ønsker jeg mig nogle praktiske ting – en mikrofon til at optage podcast og videoer med og en stor kuffert. Den må gerne være fra Away.
Derudover ønsker jeg mig bløde pakker – sådan var det ikke, da jeg var lille, der var hårde pakker sagen. Legetøj over kashmir 😉 Kashmir er den største luksus, og hvis jeg kunne iføre mig kashmir 100% af tiden, så gjorde jeg det. "Joggingsættet" fra Arket er i alpacauld, der er næsten ligeså godt som kashmir, og det er så pænt. Jeg ønsker mig et par lange støvler til at være fin i. En bucket-hat går altid an, og den her holder endda måske varm.
Har du brug for inspiration til, hvad du skal give dine nærmeste i julegave i år? Se min gaveguide her. Hvad ønsker du dig i julegave?


My wishlist has been requested from my close ones, so here we go. I've already purchased most of my gifts, I just need to find something for my brother and for Jesus. This year I'm purchasing gifts with two things in mind – experiences and indulgence – something that the receivers wouldn't otherwise buy for themselves. I wish for a few practical items – a microphone to record podcasts and videos with and a large suitcase.
Besides the more "boring" and practical gifts, I wish for everything soft. Cashmere, alpaca, wool – how pretty and cozy is this alpaca set from Arket?
Would you like some inspiration for what to give your loved ones this Holiday? Check out my gift giving guide right here. What are your Christmas wishes this year?