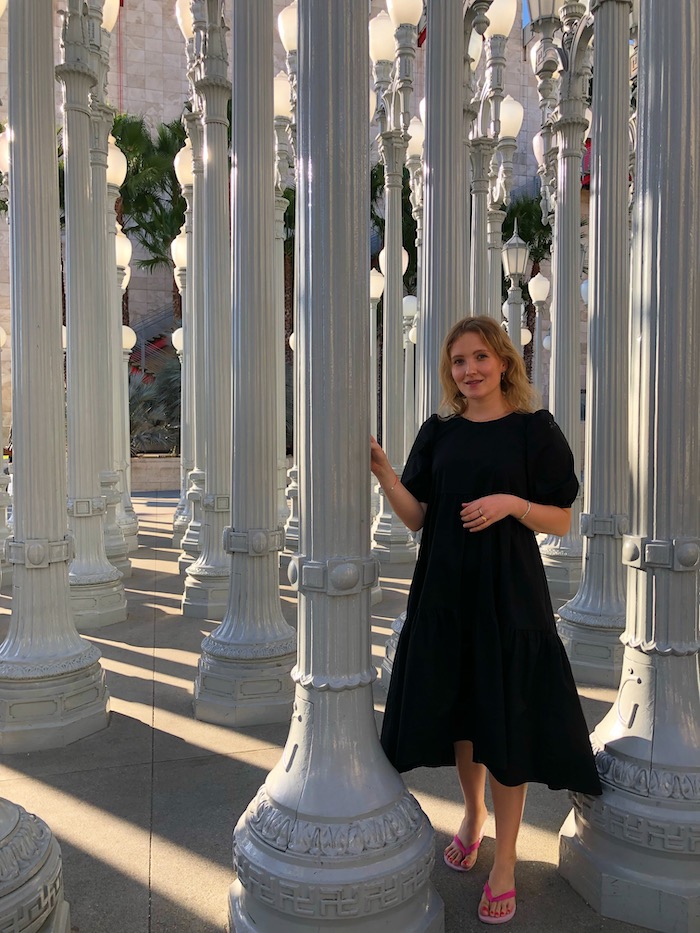 Kalenderen skriver den 28. december, og der er lidt over tre dage tilbage af 2019. Jeg kan ikke helt forstå, hvor tiden er fløjet hen, og det gør mig en smule nostalgisk. Tiden går for hurtigt, og jeg føler ikke, at jeg kan følge med. Jeg trækker vejret dybt. På den anden side er jeg taknemmelig over, hvor godt et år det har været. Jeg er også spændt som en flitsbue på, hvad 2020 kommer til at byde på. Indtil videre har jeg planlagt spændende sager for året (lidt bogudgivning, podcast-optagelse og filmning til Youtube), og jeg glæder mig til at dele!
Nedenfor er en kort opsummering af  det bedste ved 2019, fra den bedste serie til den bedste beslutning jeg tog i år. Og så vil jeg gerne benytte muligheden for at ønske dig et godt nytår! Jeg håber, at du får skålet det nye år ind præcist, som det passer dig <3
Den bedste serie jeg så i 2019: When they see us på Netflix. Stærkt efterfulgt af Euphoria og The Morning Story.
Den bedste film jeg så i 2019: Three billboards outside Ebbing, Missouri. Den udkom godt nok i 2017, men jeg så den på et fly i 2019, og shit, den var god.
Det bedste musik jeg lyttede til i 2019: Can you feel the love tonight af Donald Glover og Beyonce. En helt perfekt kombination i mine øjne – de to sangere, Disney og musical 🙏🏼
Den bedste bog jeg læste i 2019: Mit år som dansker af Helen Russell. *adlink
Den bedste rejse jeg var på i 2019: Da jeg besøgte LA for første gang.
Det bedste køb i 2019: En slå-om-kjole i gråblå fra Reformations lagersalg.
Den bedste beslutning jeg tog 2019: At stoppe med at spise kød. Det har jeg ikke fortrudt på noget tidspunkt. Lige bagefter kommer min beslutning om at tage et års pause fra studiet mellem min bachelor og kandidat, og derefter at sætte mig for højst at købe 10 stykker tøj fra ny i 2019 (en update på hvordan det er gået kommer snarest!)
Det bedste jeg opnåede i 2019: Ok, to ting. At blive bachelor fra CBS. At omsætte svarende til en god fuldtidsløn gennem bloggen og freelance! Hvilket er lidt af en milepæl, og jeg håber, at jeg kan blive ved på den måde det næste halve år frem til, at jeg starter på min kandidatuddannelse.
Det bedste jeg lærte i 2019: At løser sig på den ene eller anden måde.
Det glæder jeg mig til i 2020: Ih, så mange ting, men især at udgive mine guidebøger til NYC og København. Og nå ja, så også at udgive min podcast og komme på banen på YouTube. Kryds fingre for mig og jeg håber selvfølgelig, at du vil lytte og se med!


2019 is officially running out with only a little more than three days left of this year. I'm partly excited, partly nostalgic. This year passed by so quickly! On the other hand, I am very excited about what 2020 has in store for me. So far, I've planned some great projects – from publishing two guidebooks, doing a podcast and start filming for Youtube, to mention a few.
In this post, I've collected my "best of 2019" – from the best tv show to the best decision I made this year. I'd also like to take the time to wish you all a happy new year and thank you for checking in on my little online diary! <3
The best TV show I watched in 2019: When they see us on Netflix. Oh, and Euphoria + The Morning Show!
The best movie I watched in 2019: Three billboards outside Ebbing, Missouri. Although it aired in 2017, I watched it on the plane this year, and what a movie!
The best music I listened to in 2019: Can you feel the love tonight with Donald Glover and Beyonce. A combination of everything I love – the two artists, Disney and musical 🙏🏼
The best book I read in 2019: Definitely The year of living Danishly by Hellen Russel.
The best travel I did in 2019: LA – visiting California for the first time. 
The best purchase I did in 2019: A wrap dress in a greyish blue from a Reformation stock sale. 
The best decision I made in 2019: To quit eating meat. I haven't looked back and it feels great.
The best thing I achieved in 2019: Ok, two things: Getting my bachelor's degree. Making a decent full-time wage by blogging and freelancing.
The best thing I learned in 2019: Everything will work out one way or the other.
What I am looking forward to in 2020: Publishing my NYC & Copenhagen guidebooks!