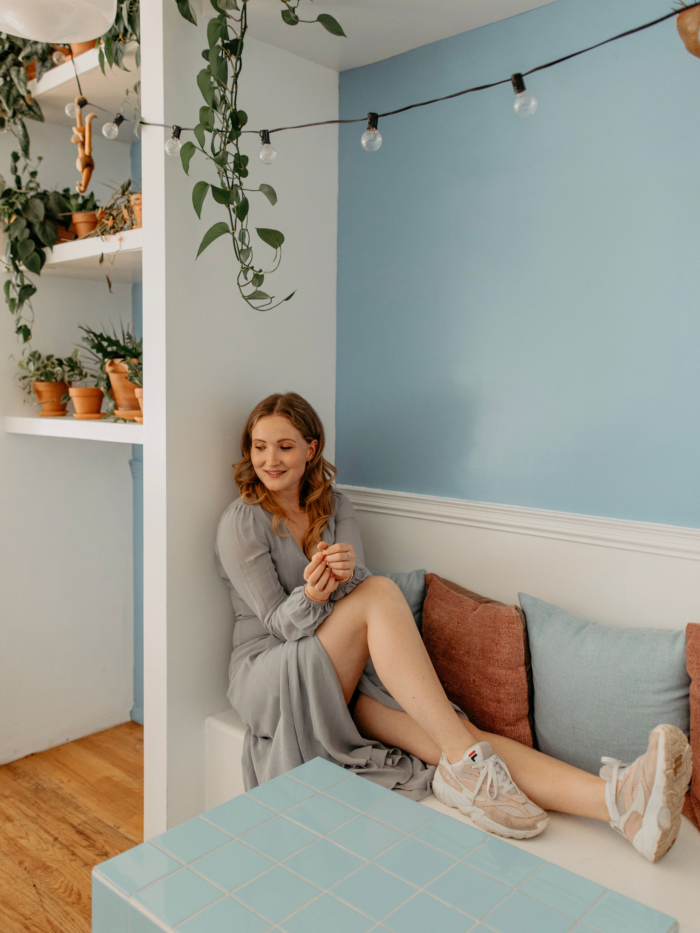 My new year's resolution. This is the year for learning to enjoy where I am at.


Velkommen til det nye årti, tyvetyve. Hvor vildt er det lige? Jeg skød året ind i Malmø og tog derefter til Berlin, hvor jeg har nogle løse ender. Sikke en skøn start på 2020, som er et år jeg glæder mig helt vildt til. Af store projekter står den på bogskrivning og udgivning (mine guidebøger til New York og København), en podcast-udgivelse og så kandidatstart på CBS. Udover spændende projekter har jeg også sat mig mål og drømme – også kendt som nytårsforsætter. Der er de klassiske – leve sundt og godt, være aktiv og glad, og vigtigst af alt – at leve mere mindfuldt.
For nogle uger siden havde jeg en dyb samtale med min veninde. Det ene taleemne førte til det andet, og pludselig endte vi i en snak om, hvor dårlige vi (læs: jeg) er til at nyde, hvor jeg er. Jeg sætter mål, og når jeg så opnår det givne mål, er jeg straks videre til det andet mål. Jeg glemmer at huske på at nyde, hvor jeg er, hvad jeg har opnået og at fejre de mål.
Det er som om, at jeg glemmer mit mål, så snart jeg har opnået det og allerede er i gang med at gå videre til det næste mål. På den måde føler jeg altid, at jeg halter bagud og egentlig aldrig opnår noget.
Når jeg når et mål, er det videre til det næste
Se bare med min guidebog som jeg udgav for tre år siden. Min drøm var at udgive én bog. Da jeg så opnåede det, var det selvfølgelig ikke nok – jeg skulle skrive og udgive flere bøger og sælge dem i større antal. Det samme gælder – for fem år siden skrev jeg en bucketlist over, at jeg gerne ville være succesfuld med bloggen. Under det mål stod der, at jeg skulle omsætte for 5.000 kroner på bloggen og gennem forskellige freelancejobs per måned. Det har jeg nu opnået af flere omgange – og i stedet for at være glad, stolt og tilfreds over, at "have nået det mål", sætte hak ved det og læne mig tilbage, sætter jeg mig straks for, at jeg først er god nok, når jeg omsætter for langt mere end det. Mer vil ha' mer.
Mit 15-årige jeg ville være stolt
Det samme gælder, når jeg render rundt i New York og er bekymret for, hvordan jeg og min kæreste mon skal overleve fremtiden. Vil vi nogensinde have ét fast hjem sammen, hvor vi kan skabe en familie og leve et "normalt" og "rigtigt" liv? Ja, det giver jo vildt meget mening, at jeg går og bekymrer mig i stedet for at nyde, hvor jeg er. Kunne jeg gå tilbage til mig selv som 15-årig og se mig selv nu, ville jeg være dødhamrende stolt over mig selv – jeg lever jo mit ultimative drømmeliv, som jeg bare kunne dagdrømme om for ti år siden. Citatet her passer perfekt:
"I feel like I am constantly worrying about the next part of my life without realizing
that I'm right in the middle of what I used to look forward to."
Jeg dykkede ned og besluttede mig for at undersøge denne følelse nærmere. Denne artikel kalder følelsen for goalpost syndrome, som især forekommer hos ambitiøse mennesker, der drives af at sætte mål – det er mig! "De glemmer at fejre deres mål og istedet for at fejre og reflektere over det opnåede mål, skynder de sig videre til det næste mål. Det er som at løbe et kapløb, der ikke har nogen ende".
Jeg fandt også denne artikel, der ret præcist beskriver, at min følelse er helt biologisk bestemt. Som person er jeg ambitiøs og målrettet. Når jeg er så fokuseret på at opnå mit mål, udløser hjernen dopamin, der giver glæde og motivation, fordi jeg forventer belønning, så snart jeg når mit mål. Når jeg så endelig når målet, falmer glæden og dopaminen stopper. For at opnå en "high" igen, sætter jeg et nyt mål, for det opnåede mål var ikke godt nok længere.
Jeg skal nyde, hvor jeg er og fejre mine mål
Jeg må nok indse, at min verden ikke er skruet sammen på den måde, at jeg kan læne mig tilbage for good og stoppe med at bevæge mig fremad, så snart jeg kan sætte hak ved et af mine mål. Med det sagt kommer jeg nok ikke til at være den slags person, der blot er glad og tilfreds med livet, som det er, selvom jeg nogle gange ville ønske det. Men jeg vil gerne blive bedre til fejre mine mål og være stolt af mig selv og sige, at det er godt nok. Det er ikke et uendeligt mål-marathon, jeg løber. Så når jeg har udgivet min New York-bog, skal jeg fejre det uden straks at tænke over, hvordan jeg kan gøre det endnu bedre, samt hvad mit næste mål skal være.
Mit nytårsforsæt er således, at jeg skal huske at stoppe op. Klappe mig selv på skulderen. Trække vejret og nyde, hvor jeg er nu og her og være stolt over, hvad jeg har opnået, i stedet for at være min egen værste fjende.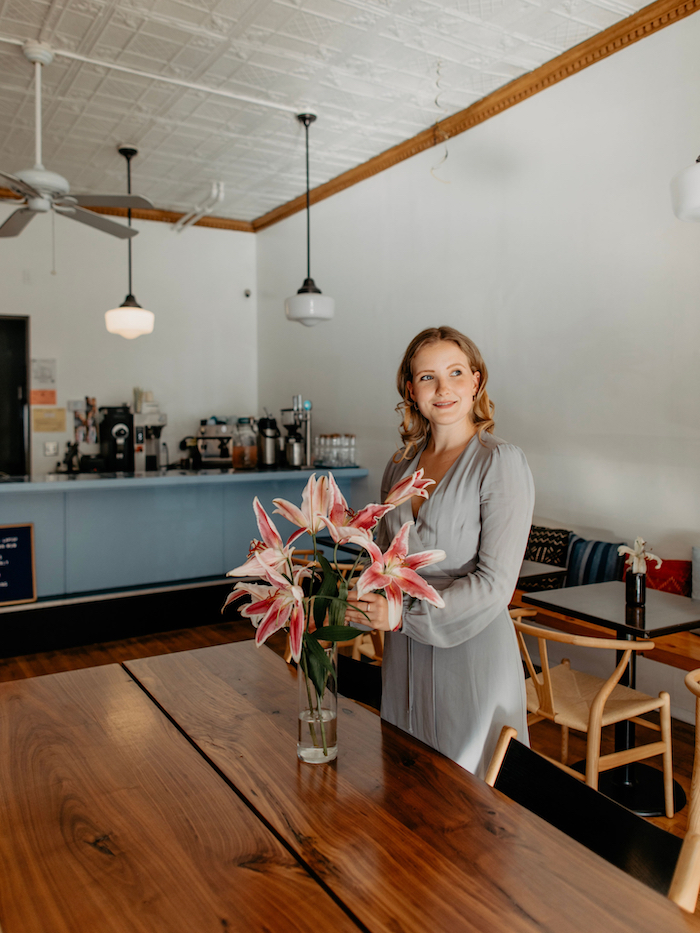 Welcome to the new decade, twenty-twenty. How crazy is that? I began the year in Sweden and then went to Berlin. What a wonderful way to ring in the new year. A year I am really looking forward to! This year, I have some big projects scheduled – from publishing an NYC guidebook in Danish and a Copenhagen guidebook in English, releasing my podcast, do more video for YouTube and begin my Master studies. Besides this year's projects that I am looking forward to, I also set some New Year's resolutions for myself. Of course, the standard "be healthy and happy, stay active, read more books" etc. are included. But the most important one for me is bringing more mindfulness to my life.
One goal done, off to the next one
A few weeks ago, I had a quite deep conversation with my friend. One subject led to the other and suddenly we were talking about how bad I am at enjoying where I am at. I set goals and the minute I reach them, I am on to reaching the next goal, never mindful about reflecting over the goal I just reached. I forget to enjoy where I am at, what I've reached and to celebrate that.
It's like a curse. By not celebrating the goals I reach before I am on to the next one, it's like I am always falling behind and too short making it seem like I never really fulfill my goals.
The moment I reach a goal, I am already on to the next one
Just look at the guidebook I published three years ago. My lifelong dream was to publish a book. Now that I did that, it's not enough. It's the curse of goals – once you reach them, you just want more – bigger and better! That's exactly the case with me. Publishing one book is not enough after doing it – now I want to publish more books in more and print more numbers. Another example is this five-year-old bucket list of mine that I found recently. One of the bullets was being successful with the blog, earning $800 in a month. That's no longer a dream but a reality! But instead of being proud of having achieved that, I want more! In that sense, I'm never good enough.
The dream life
The same goes for me living my dream life in NYC. I find myself wandering the streets worrying if my boyfriend and I are ever gonna be able to settle down and have a "normal" life with a family. Yeah, perfect timing to be worrying instead of enjoying my magical dream life. I know that if my 15-year old self saw my 25-year old self, she would be hella proud! This quote says it all:
"I feel like I am constantly worrying about the next part of my life without realizing
that I'm right in the middle of what I used to look forward to."
I decided to dive down and investigate what I am feeling – that empty feeling of never being good enough although I am actually reaching all my goals. This article describes the feeling as goalpost syndrome.
"You see, highly driven people diminish their wins (sometimes they don't even acknowledge them.)
Rather than take a moment to celebrate and reflect on the journey,
they rush right into working on their next goal.
It's like running a race that doesn't have a finish line."
Another article describes my feeling as a biological process.
"The brain releases dopamine, a hormone associated with both motivation and happiness,
in anticipation of reward. So when you plan and know you're going to work for something,
you're in a biological position to feel good. Each milestone gives you another dopamine hit,
which makes you want to keep going with the job. But when you reach your goal,
that release of dopamine drops. It's harder for you biochemically to have joy." 
I need to remember and enjoy where I am at and celebrate my goals
I think I need to realize that my world is not put together in a way where I can just enjoy where I am at and not strive for more. But I do want to become better at celebrating my goals and telling myself that I am good enough – that I don't constantly need to strive for bigger, better, more. I am not in an infinite marathon without a finish line. That means that once I publish my NYC guide, I need to celebrate it. Give myself some credit without immediately thinking about how to do the next one bigger and better.
That's my New Year's resolution! Remembering to sit back, enjoy where I am at and celebrating my goals instead of being my own worst enemy.