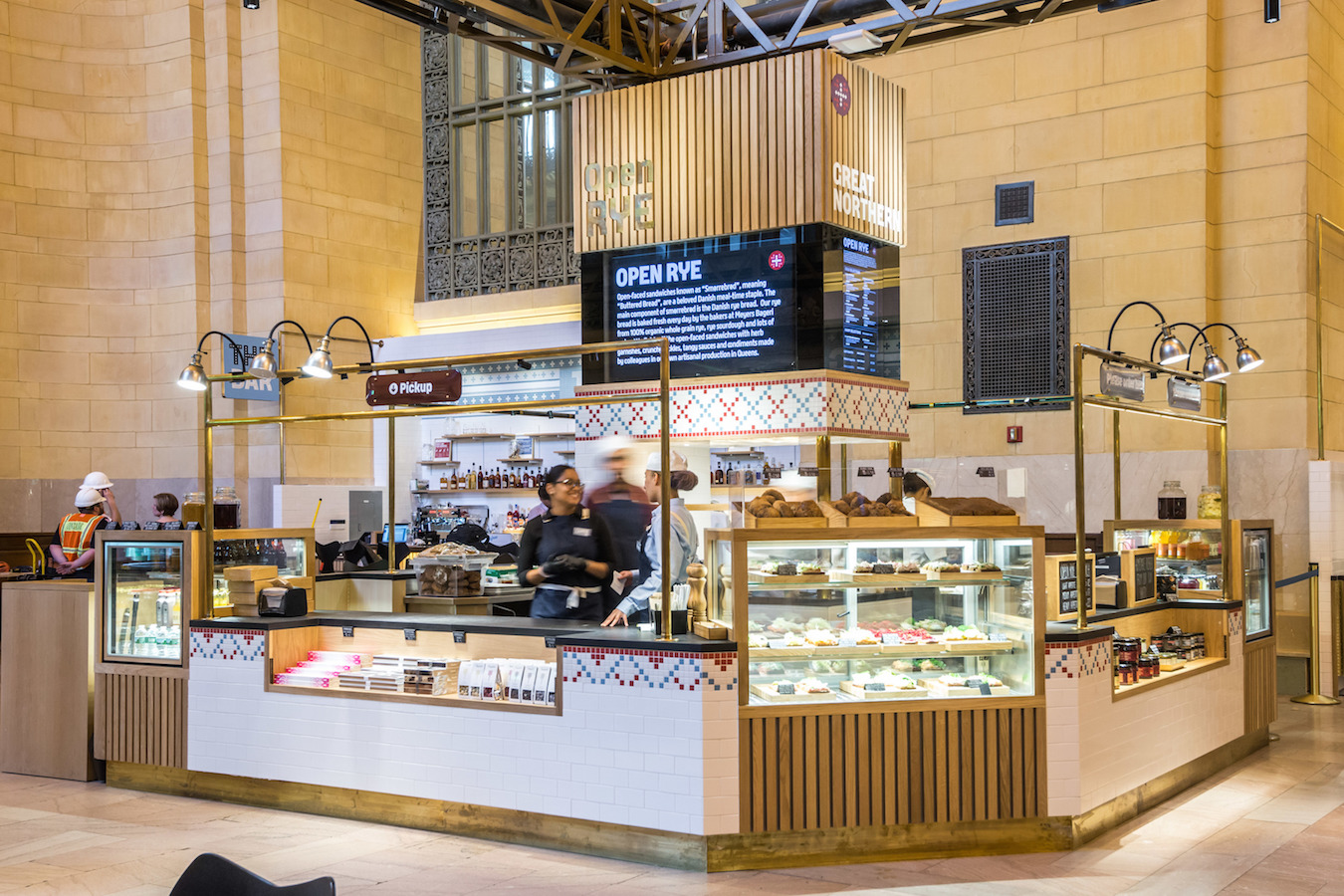 (pic from timeout.com)
ENGLISH (danish beneath) He is a food hero, he is the co-founder of one of the world's best restaurant Noma amongst many, he is Danish, and now he is also in NYC, where he has brought a whole food mecca to the city. More precisely, I am talking about Claus Meyer who has recently left Copenhagen, Denmark to reside in NYC. In the end of June 2016 he opened the doors to his food market and restaurant inside the iconic Grand Central Station in Manhattan.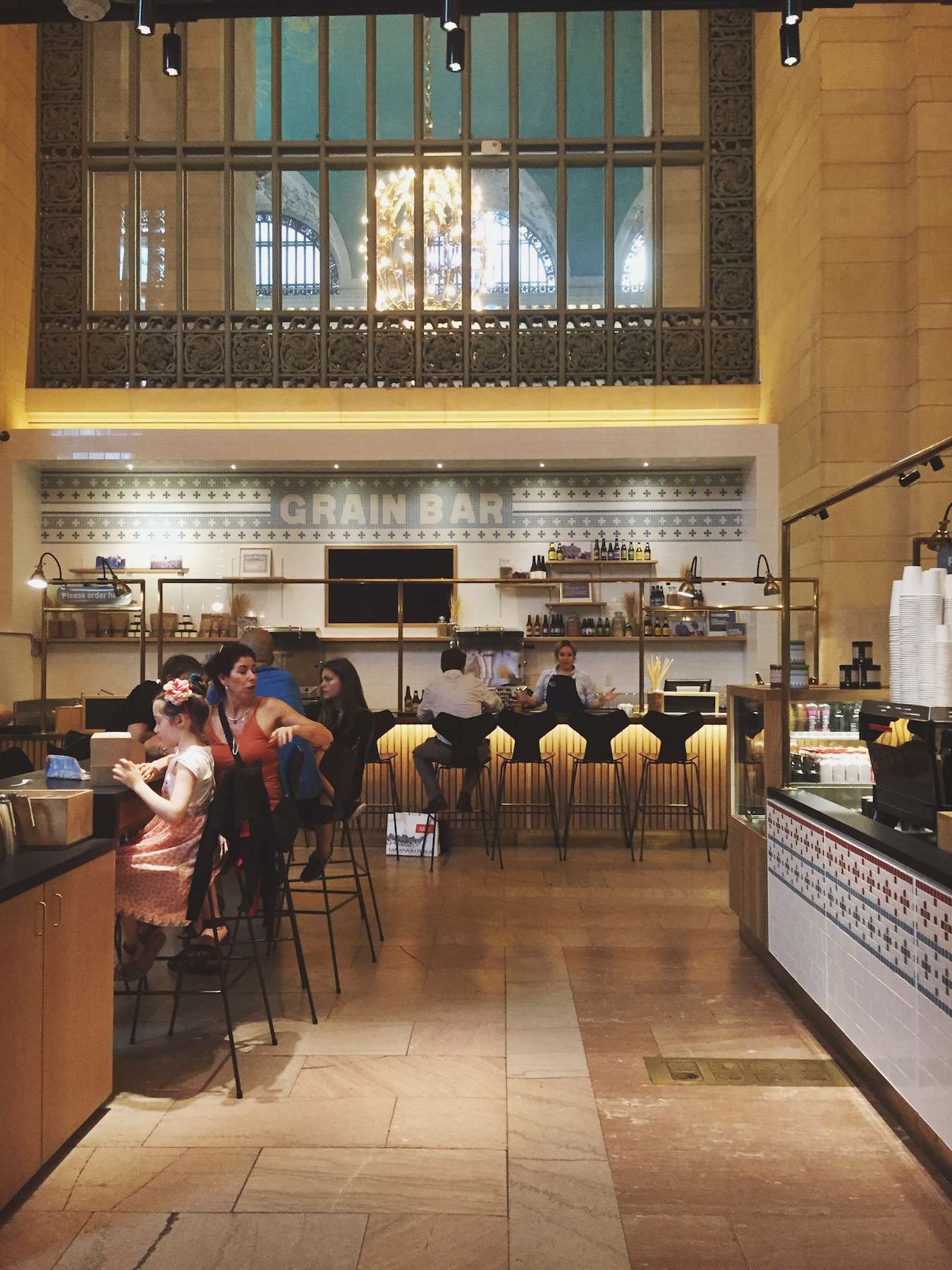 As a Dane (some say we Danes tend to be rather patriotic) I naturally went to see what Meyer had managed to perform this time, and that was a lot: a food hall with five pavilions serving different things: a bakery serving coffee, Meyer's classic bread and cinnamon buns, a bar, a grain station serving granola and porridge, an open rye station (serving the iconic Danish smørrebrød) and a deli serving meats and cheese, smoothies and salads. We had a home made apple juice and two open rye sandwiches – one with salmon and fennel and another one with chicken liver paté with rhubarbs.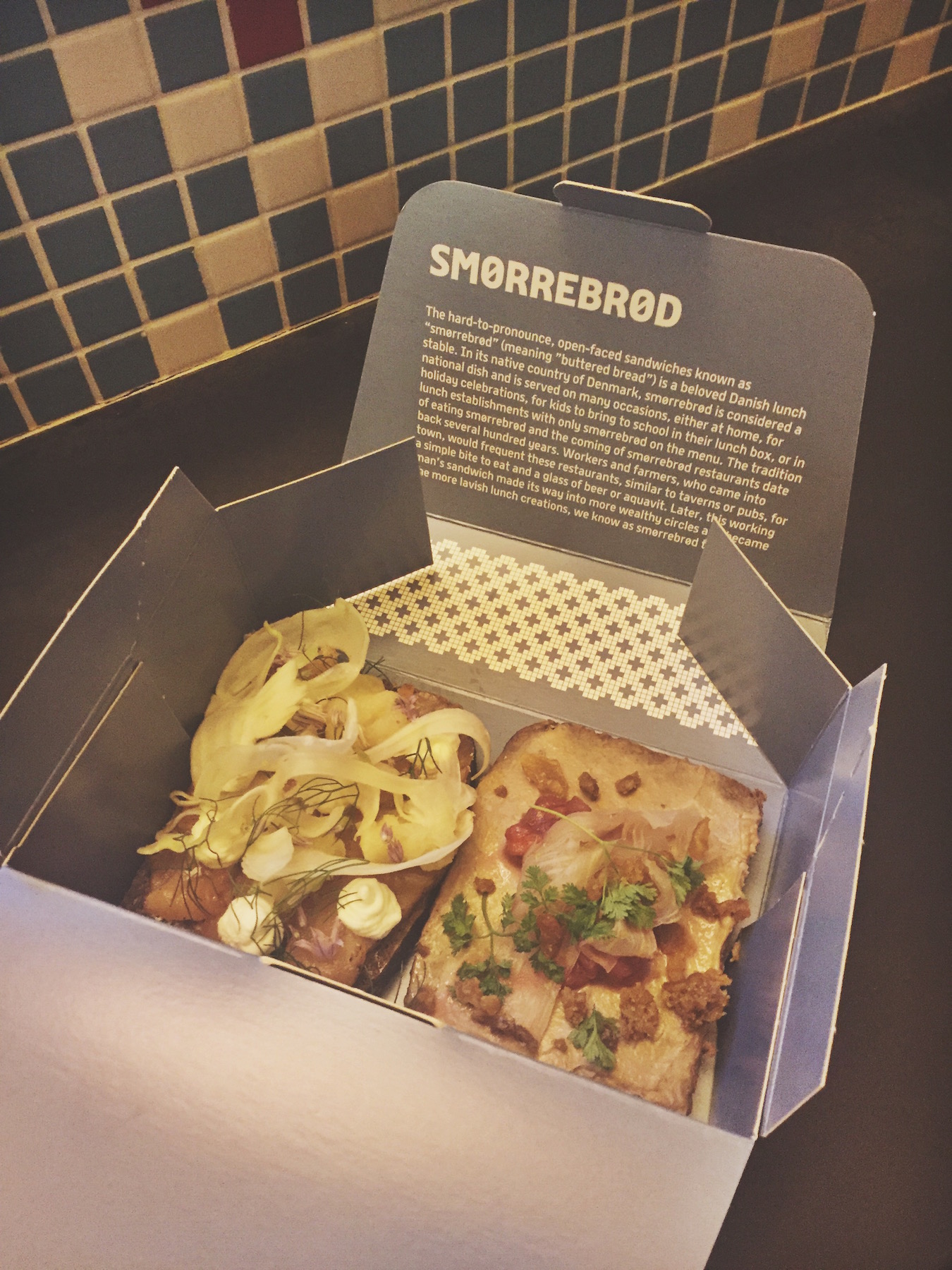 The whole vibe and look of the Great Northern Food Hall were great. Guests seemed interested in trying the different foods, the pavilions had to offer, and even better: the workers were so sweet and welcoming. They offered us to try another open rye sandwich and we had a long talk with them. They explained that they were so happy to work there and were also telling us how they had great benefits and wages, and that Claus Meyer wasn't only a chef, but also an ideologist beyond what evolves around food. It is very admirable that he brings the Scandinavian-style worker benefits to his new employees in New York. 
Besides from the market in Grand Central Station, Meyer is also working on other projects. One is a bakery in Williamsburg, and a bigger project is opening a culinary school in Brownsville in Brooklyn. The place in Brownsville will include many different things. It will be a coffee roasting site roasting coffee beans for the food hall. It will also be a restaurant serving classic recipes in a healthier version, but more importantly the Brownsville location will be a culinary school where former prisoners and marginalized youth can learn how to cook. Best of it all: the managers explained to us that opening the project in Brownsville is not about gentrification. It is about helping and including the locals, serving the classic recipes of the locals but in a healthier way. 
I think it is unnecessary to say that the food at the Great Northern Food Hall was good, and I predict this place to become very popular. I can't wait to the next time I am in NYC, so I can get to try the Brownsville location!
__________________________________________
Nogle gange er jeg stolt af at være dansker. Da jeg besøgte den nyåbnede Great Northern Food Hall i sidste uge, var en af de gange. Måske I har hørt om stedet, måske ikke. Men Claus Meyer (som I nok har hørt om), flyttede for nogle måneder siden til New York for at åbne et mad-mekka på den anden side af åen. Det mad-mekka er nu åbnet i den ikoniske Grand Central Station.
Madmarkedet, der hedder Grand Northern Food Hall, består af fem stationer, der hver især serverer forskellige (danske) sager. En af stationerne er det klassiske Meyers Bageri, som vi kender det derhjemme fra. Sjovt at se, at new yorkerne nu kan købe tebirkes og kanelsnurrer. Overfor bageriet bliver der serveret Brownsville kaffe, og kaffebønnerne blive ristet i Brooklyn. Derudover findes der en bar, hvor der tilmed bliver serveret Akvavit, og så findes der tre madstationer – den ene "Open Rye", der har alle de gode, klassiske smørrebrød, som vi kender dem, og den anden ved navn "Almanak", hvor man kan bestille salater og smoothies. Sidst men ikke mindst finder man "Grains", der giver mulighed for sund morgenmad på farten – grød og hjemmelavet müsli kan man få. 
Det er selvklart, at maden smager skønt, men det bedste ved min oplevelse i Great Northern Food Hall var, hvor glade arbejderne var for at arbejde for Claus Meyer selv efter to uger. Jeg faldt i snak med dem, og de forklarede om alle de fordele og frynsegoder, de havde på deres arbejde. De får god løn (dobbelt så meget som mange andre steder i byen), forsikring og mulighed for at gå på barsel. Dette gør, i mine øjne, Claus Meyer til en beundringsværdig forretningsmand. 
Projektet på Manhattan var ikke åbenbart ikke nok for Claus Meyer, der også er igang med at åbne et Meyers Bageri i Williamsburg og et større projekt i Brownsville. Brownsville er en af de fattigste bydele i New York, hvor over 40% af befolkningen lever under fattigdomsgrænsen. Her vil Claus Meyer åbne en restaurant, et kafferisteri og en kulinarisk skole, hvor tidligere indsatte og marginaliserede unge kan lære at lave god og sund mad. En manager forklarede mig, at projektet ikke handler om at gentrificere bydelen og servere dansk mad til lokalbefolkningen. Det handler om at hjælpe og inkludere dem. Derfor vil restauranten servere de klassiske "grandma's recipes" fra den afrikanske og karibiske arv, selvfølgelig i en sundere udgave.  
The Great Northern Food Hall er klart et besøg værd, om det er for morgenmad, en kaffe og et stykke dansk brød eller kage, et stykke smørrebrød til familien eller måske endda middag på restauranten "Agern". Jeg hørte allerede mange danskere, der havde fundet vej til det danske madmarked midt i New York, og det var næsten lige før, at jeg kneb en tåre for fædrelandet.