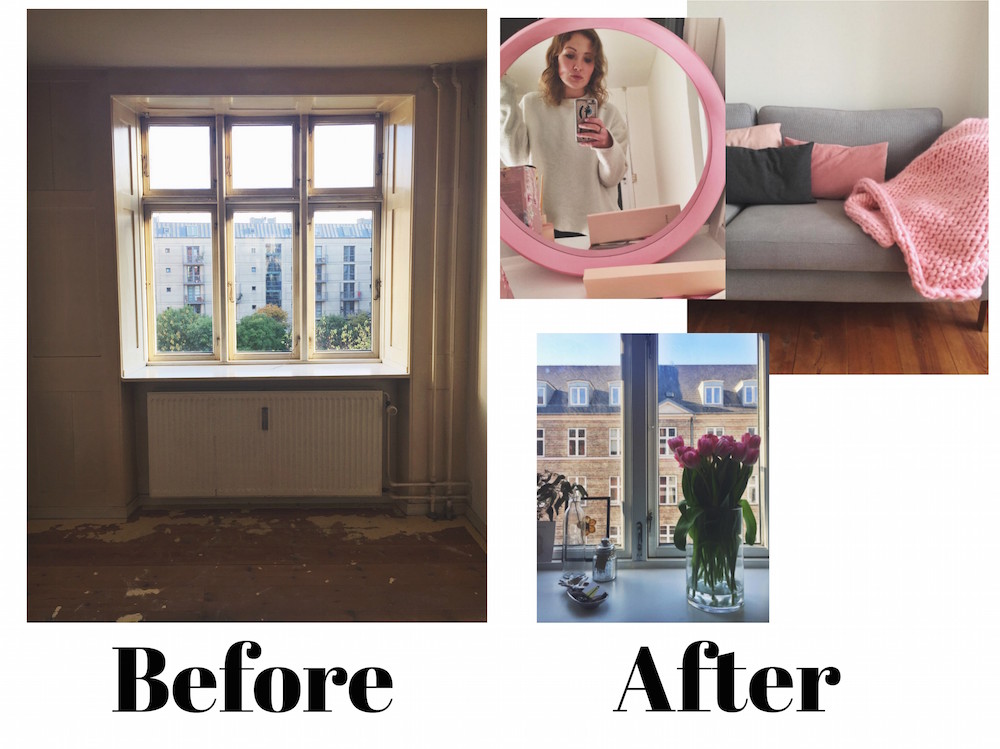 ENGLISH – (Danish version below): Back in October, I bought my very own apartment in the center of Copenhagen. In the end of November, I moved into it after a complete renovation. The apartment was in a very bad shape when I took it over. My boyfriend and I weren't able to move in before renovation was done. The guy that had lived in the apartment before us, had smoked a hefty amount of cigarettes inside. Everything was yellow, smelly and disgusting. That meant that we couldn't just start painting right away. 
READ ALSO: I HAVE BOUGHT AN APARTMENT IN COPENHAGEN
First, we had to wash all walls and wood with a special soap. Then, we had to wash everything with disinfectant. Then soap all over again. Rinse it off with water. Seal the walls with a sealing paint that made sure that the nicotine wouldn't come back out from the walls. And then we could finally start painting. 
Besides from painting the walls and the ceilings, we had to: 
Paint a whole lot of floor panels, windows, and other wood. If you have experience with this, you will know that painting wood sucks!

Paint the kitchen. Which is all wood too… And it was a dark grey color so it took several layers to turn that kitchen white. 

We had to remove strips of glue all over the floor as the previous owner had had carpets all over the floor. This was hard work too. 

Paint the radiators. This was pretty simple – done with a can of white spray paint. 

Remove an insane amount of limescale from the bathroom. It was all over all walls and floor. 
Depending on how much experience you have with renovating, you might not think that this sounds like a lot of work, and maybe it isn't. But for us, it ending up taking more than a month before we could finally move into the apartment. I think what made the apartment renovating project even harder was the fact that I know absolutely nothing about how to do these kinds of things.
The funny thing is that you learn by doing and now I know a whole lot about how to paint apartments 😉 I can't count the times we had to drive to hardware stores. Røverkøb and another local paint store kind of became our best friends. When we were smart and knew what we needed, we ordered it from Engelbert Strauss that had pretty much everything we needed for the renovation and cleaning of the apartment. A loyal reader knows that I love online shopping and not only it is so easy to shop online, but also tends to be cheaper. A loyal reader also knows that I tend to have a preference for German things as I just know it always works 😉 
The apartment is not completely done yet. We have moved in and are settled, but there is still a lot of small things missing. I wonder if we will ever get done 😉 I can't wait to show you more pictures of the apartment soon!
_________________________________
DANSK: Jeg har lovet at dele mere omkring min lejlighed og processen med at renovere den. Jeg tænkte, at jeg bare skulle starte helt fra begyndelsen. Tilbage i oktober sidste år var jeg virkelig på spanden. Jeg var flyttet tilbage til København efter tre år bosat i Berlin. Jeg havde taget min amerikanske kæreste med. Vi boede hos mine forældre, fordi det var nærmest umuligt at få en lejlighed i København. Lige som det så allermest sort ud, var jeg så svineheldig at få tilbudt en andelslejlighed på Vesterbro. 
Jeg slog til. På trods af at lejligheden var i rimelig dårlig stand. Den tidligere beboer var en sørgelig skæbne, der havde levet i en svinesti, røget alt for mange cigaretter. Inden for. Med lukkede vinduer. Og tilmed holdt lejerbål et par gange i lejligheden. Det er vist ikke nødvendigt at sige, at lejligheden var decideret klam, da jeg overtog den. Alt var gult. Af nikotin. Og der lugtede så klamt, at det virkede helt umuligt, at vi nogensinde ville få den lugt væk. Og farven, ikke mindst. 
LÆS OGSÅ: "JEG HAR KØBT EN LEJLIGHED!"
Renovationen af lejligheden endte med at tage en måned med hårdt arbejde. Før vi kunne begynde at male, måtte vi vaske alt ned med grundrens et utal af gange. Derefter med disenfektion, så med grundrens og til sidst med vand. Vi stillede stærk eddike ud i skåle over hele lejligheden. Efter et par uger, var røglugten væk. 
Udover at rense og male hele lejligheden, der var gul, skulle vi også: 
Male alt træværket. Og der er en del. Paneler, vindueskarme (hvor hele væggen, hvor vinduet er i, faktisk er af træ). 

Male køkkenet, der ikke nok med at være af træ også var i en mørkegrå farve. Det krævede uhyggeligt mange lag træmaling. Træmaling, fandt jeg ud af, er helt sindssygt dyrt. 

Male radiatorerne, der også havde taget den nikotin-gule farve til sig. 

Fjerne lag af lim fra gulvet. Den tidligere beboer havde haft væg-til-væg-gulvtæppe. Dette var næsten det værste af det hele, for det viste sig at tage os lang tid, før vi endelig fandt ud af, hvordan man fjerner sådan noget uden at skade gulvet og uden at skulle have fat i en gulvmand. Rensebenzin gjorde tricket. 

Fjerne en ekstrem mængde af kalk fra badeværelset. Der er stadig noget tilbage den dag i dag. 
Jeg ved ikke, om ovenstående lyder af meget i andres ører. Jeg ved, at det kunne have været værre. Vi kunne trods alt klare alt dette selv. Det tog os en måned, en masse timer, hårdt arbejde, blod, sved og tårer. Jeg lærte også en masse på vejen. Det der gjorde mig mest frustreret hen af vejen, var, at jeg ikke har erfaring med at renovere lejligheder. Det havde min kæreste heller ikke. Derfor var det altså konstant med musseskridt, at vi fik renoveret, fordi vi konstant måtte søge hjælp fra kompetente personer, internettet og andre hjælpere. 
Røverkøb og en anden lokal maler-shop på Vesterbro blev mine bedste venner i de uger. Og når butikkerne var lukket, måtte vi udskyde projekt lejlighedsrenovering til dagen efter. Et par gange havde vi også mulighed for at planlægge lidt forud og bestille de ting, vi skulle bruge over nettet på hjemmesiden Engelbert Strauss. Jeg er total inkarneret net-shopper, og det gjorde unægteligt projektet lidt nemmere. Og billigere. 
Der mangler stadig en masse små ting i lejligheden. Det kommer hen af vejen. Nu er jeg eksempelvis i gang med at lave læder-håndtag til mit køkken. Jeg tror måske, at jeg laver det til en DIY-guide her til bloggen. Stay tuned 😉