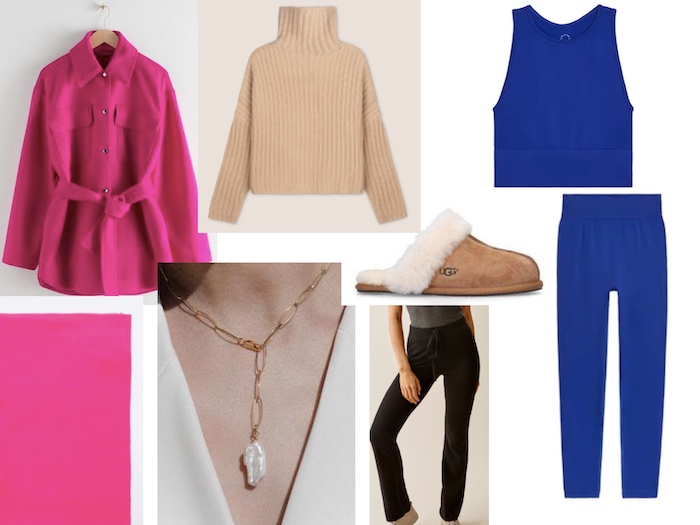 ADLINKS. Pink shirt jacket // Necklace // Blue dress // Pink cashmere scarf // Cashmere pants //
Cashmere sweater // Blue leggings // Blue top // Slippers

Nøglen til at se godt ud i denne sæson ifølge mig? At have det rart, blødt og ikke mindst varmt! Jeg har før skrevet om, at jeg er kuldskær og kold som en istap. Jeg fryser altid. Derfor har jeg i årevis fundet et kompromis mellem at se anstændig ud uden at jeg fryser. Det kræver lag. Det kræver lækre materialer. Comfort før fashion! I dag har jeg et par jeans på, varme strømper, højhælede støvler, en tynd kashmir-rullekrave og en blazer uden på. Det holder maks og viser, at man altså godt kan se fashion ud uden af fryse.
Ovenover har jeg fundet nogle af mine tøjdrømme for denne sæson. Her er nøgleordene også fashion, komfort og lækre materialer. Desuden elsker jeg også at kombinere mit tøj på kryds og tværs – jeg kan sagtens finde på at rende rundt i mit yoga tøj med en kjole eller lang sweater over til hverdag.  Det gør det også meget lettere at komme af sted til træning 😉


The key to dressing this season now that it's getting colder and colder? To feel cozy, warm and soft. I've previously shared how I am constantly cold and have freezing hands and feet. I'm always cold. For many years, I always said 'Comfort over fashion'. But in time, I've found that comfort and dressing warm doesn't have to mean sacrificing fashion.
All it takes is dressing with nice, warm materials, layering up a ton and prioritizing good quality. Cashmere and wool over polyester. Today I dressed up warm wearing jeans, warm socks, high heeled boots, a thin cashmere turtle neck and a belted blazer on top. If I may say so myself, I feel pretty business and fashionable, but best of it all; I am not cold!
Another getting dressed hack that I love and frequently take advantage of myself is to wear my yoga clothes and throwing a dress or long sweater on top of it. It's soft, comfortable, and it makes it so much easier to go workout if I'm already dressed for the occasion 😉