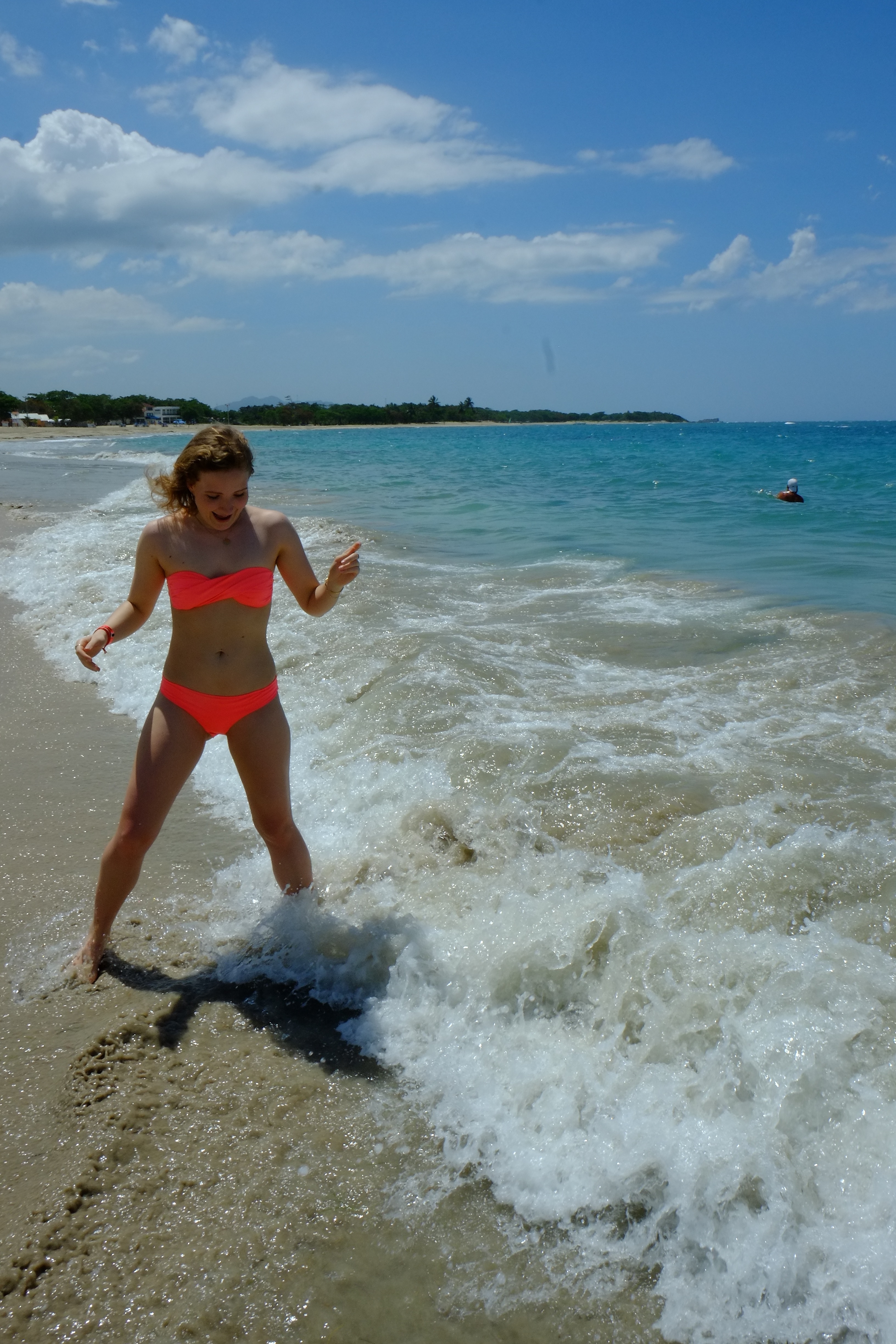 Jeg er i live! Og undskylder meget min manglende opdatering, der simpelthen skyldes, at det hotel vi bor på, har wifi der simpelthen formår at være langsommere, end hvad jeg oplevede sidste år på Cuba. Det må jeg ærligt indrømme, at jeg ikke har været helt tilfreds over, men på den anden side er det faktisk rart, at jeg ikke sidder til middag og pludselig finder mig selv siddende med øjnene på iPhone-skærmen og i stedet kigger på min kæreste eller den fantastiske hav-udsigt. Wifi er nemlig kun i lobbyen, og det virker så langsomt, at det simpelthen ikke er muligt at se hverken Instagram-posts eller Snapchats. 
Nå, udover at der ikke er noget wifi, nyder jeg Caribien fuldt ud. Vi har nu været her i en hel uge, og jeg tror, at dette er den mest "rigtige" og afslappende ferie, jeg nogensinde har været på. Normalt når jeg er på ferie, laver jeg tusindevis af ting og hopper fra museum til sightseeing til restauranter og steder, der skal besøges. Her hopper jeg fra stranden til poolen til buffetten. Det er en meget anderledes måde at rejse på for mig, og det tog mig lidt tid at "lære" bare at slappe af og ikke hele tiden at afvente, at der skal ske noget – de eneste beslutninger, der skal tages er, hvilken bog, jeg nu skal gå i krig med og hvornår vi skal bevæge os hen mod buffeten for at indtage det næste måltid. Det er meget anderledes end mit liv derhjemme og hvordan jeg normalt rejser, og derfor er det måske også meget godt for mig. 
Hvordan rejser I? Hvad synes I om all inclusive? OG hvis I nogensinde har været i den Dominikanske Republik hører jeg meget gerne fra jer – om I har tips og tricks til, hvad man skal lave og se her! Kys fra Karibien! <3 
__________________________________________________________
ENGLISH: I am alive! Which is more than I can say about the wifi and internet conditions here. A part of me likes not having wifi because it forces me to be present and enjoy it and not finding myself at dinner suddenly looking at my phone instead of looking at my boyfriend. But on the other hand I am not to ashamed to admit that it is more than annoying trying to load your Instagram feed and it simply won't work. 
Well, an update from the Dominican Republic. I can hands down admit, after being here for a week that this is the most relaxed and original vacation I have ever been on. We really haven't done anything! Usually when I go away it is mostly on city trips where my days are filled with sightseeing, museum visits and meeting friends, but so far on this trip it is completely different. Or days have been spent with one hour eating, one hour laying in bed, one hour walking on the beach, one hour chilling and then from the beginning again with eating. It is very relaxing, different and new to me, but it definitely took me some time to go down in pace and chill as my daily life at home is always filled with tons of to do's. We are thinking about renting a car to go around the island and try to see and experience something, so if you know anything about the Dominican Republic and things to do and see here holler at me! Due to the missing Internet we haven't been able to do much research here. I am off to bed! (I am still jetlagged and go to bed around 9 pm and wake up very early in the morning!)
Kisses from the Caribbean <3