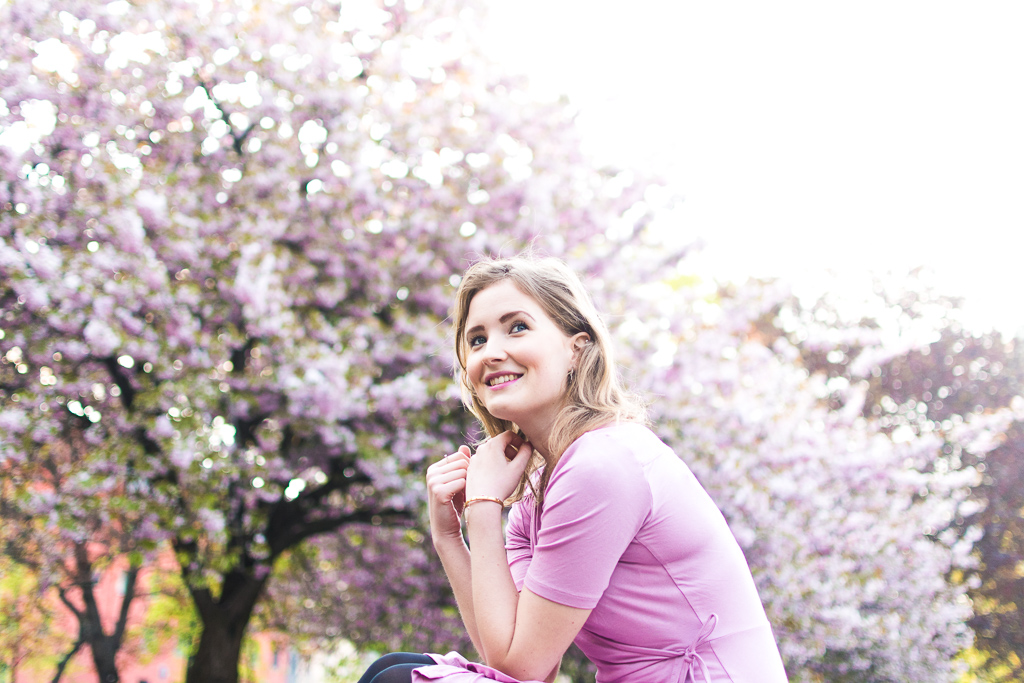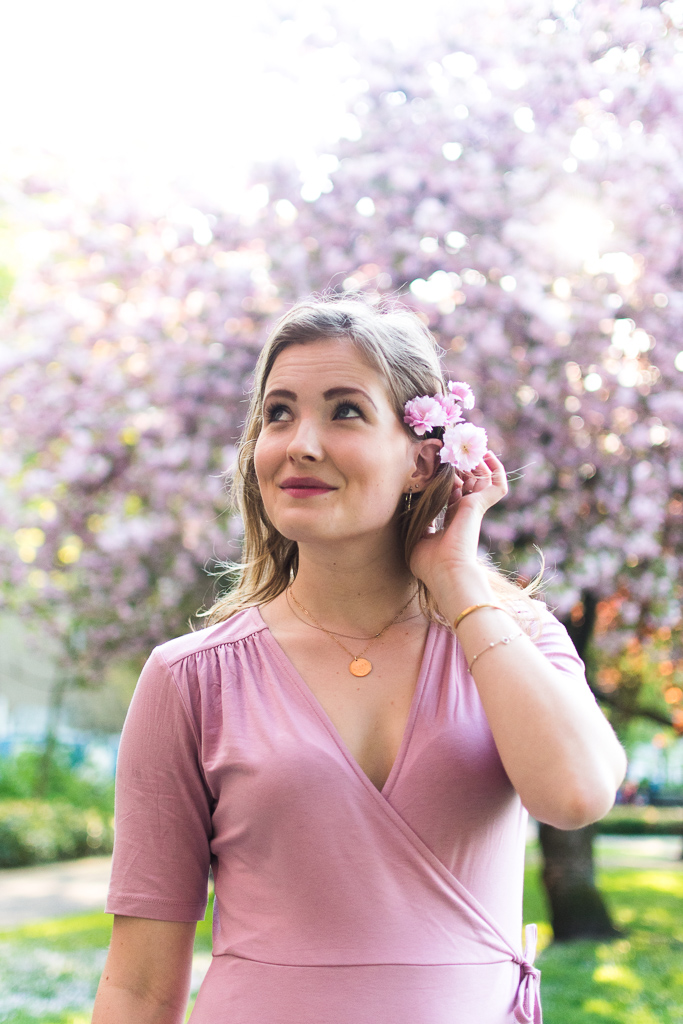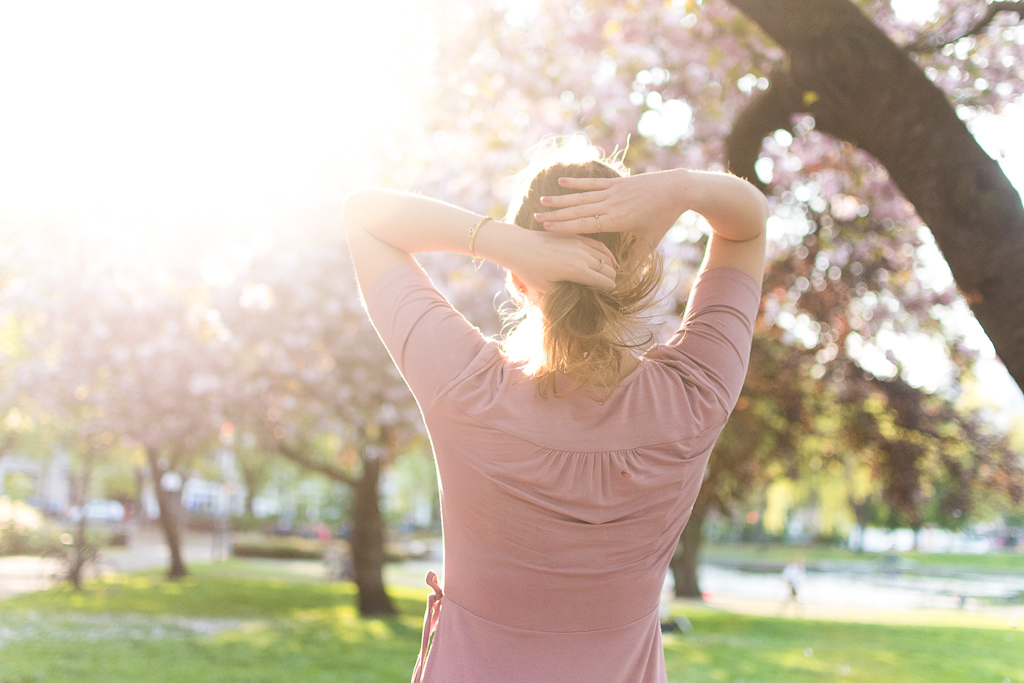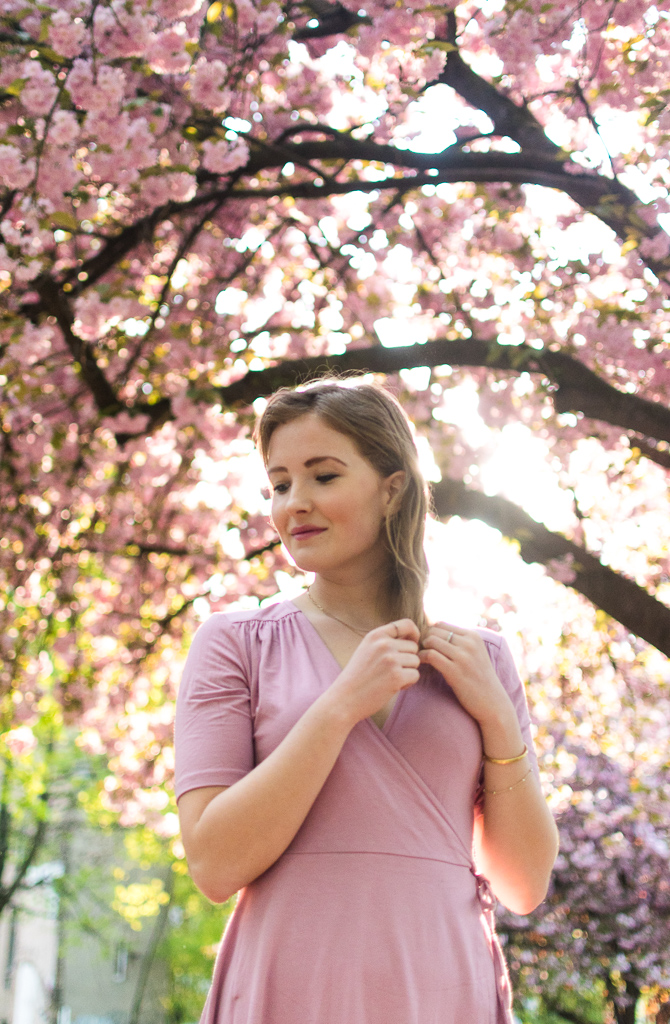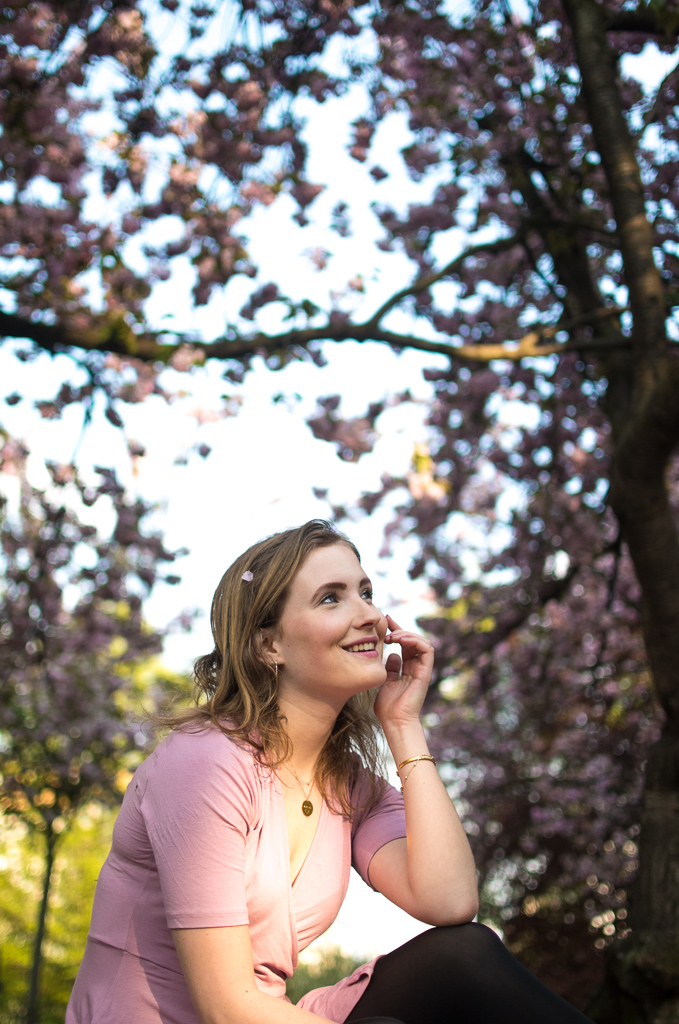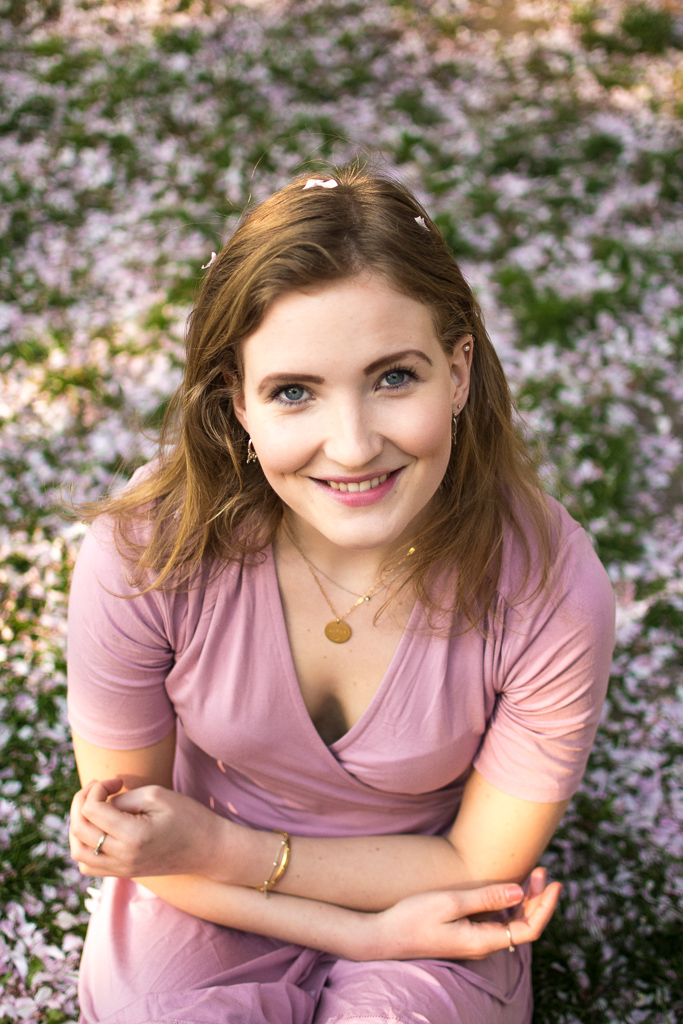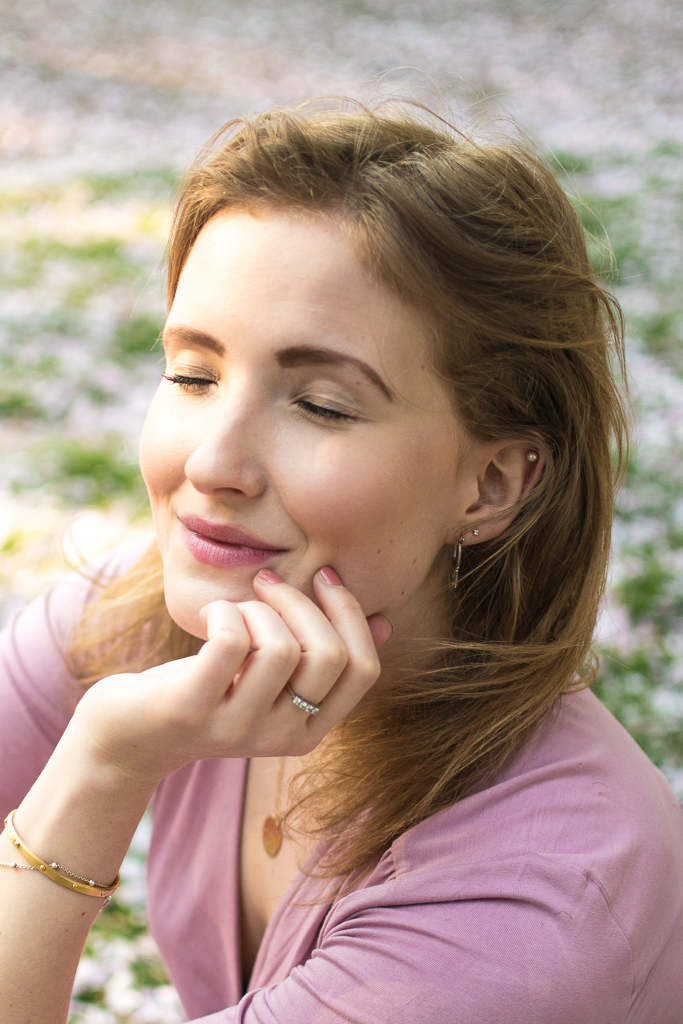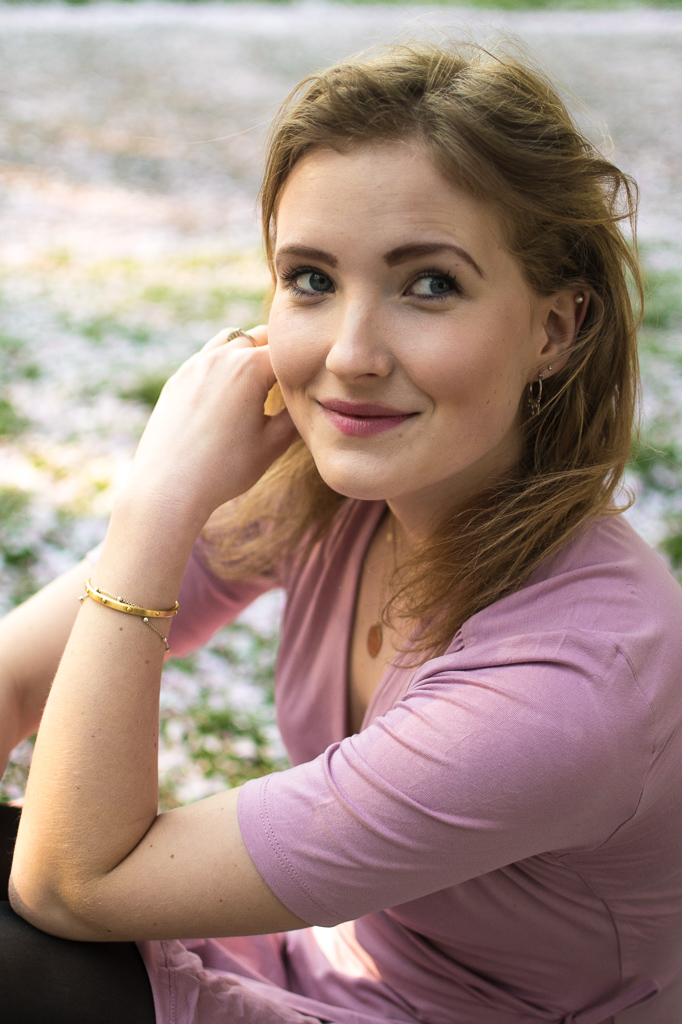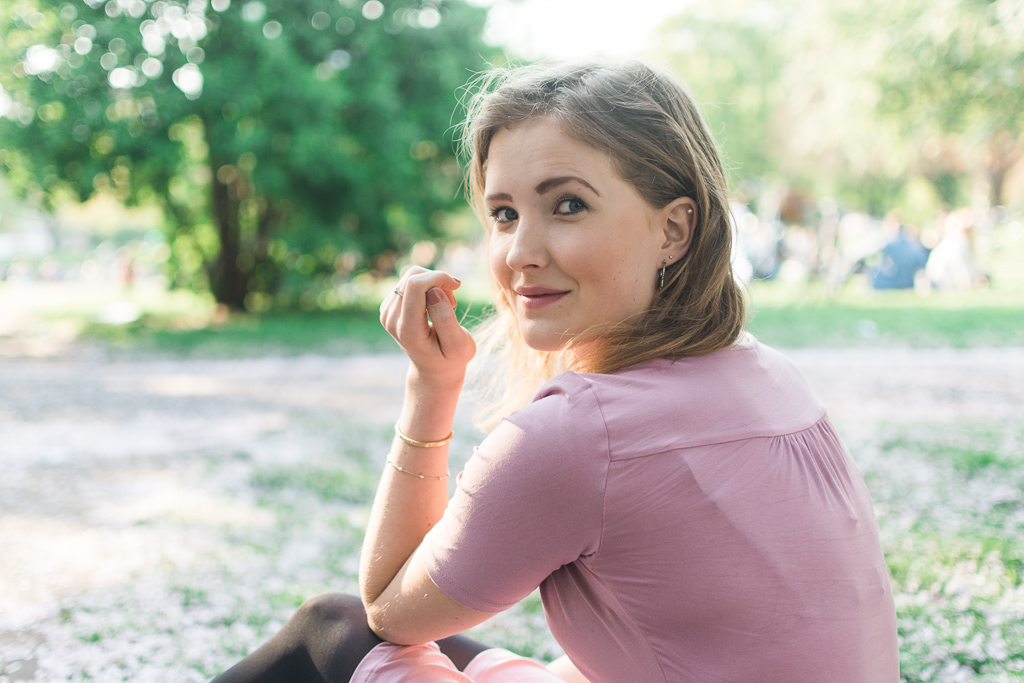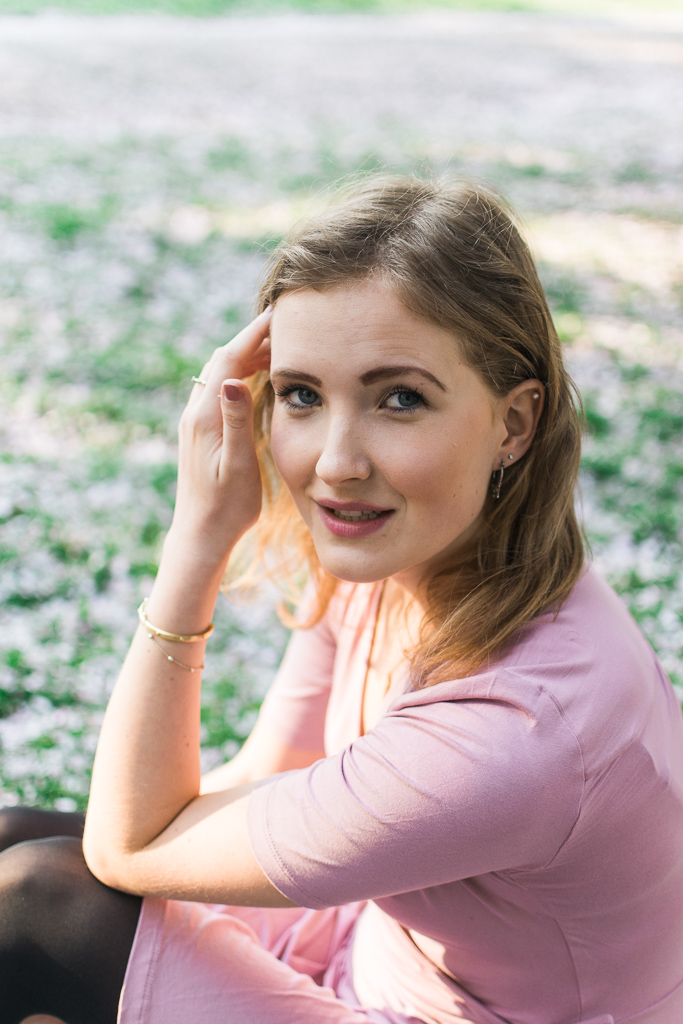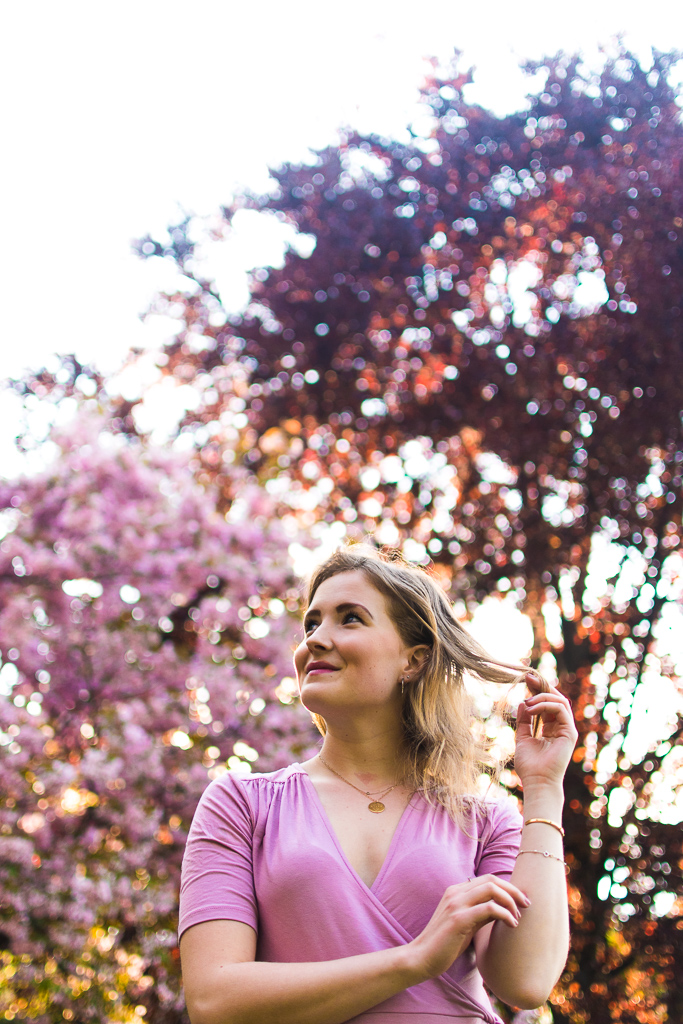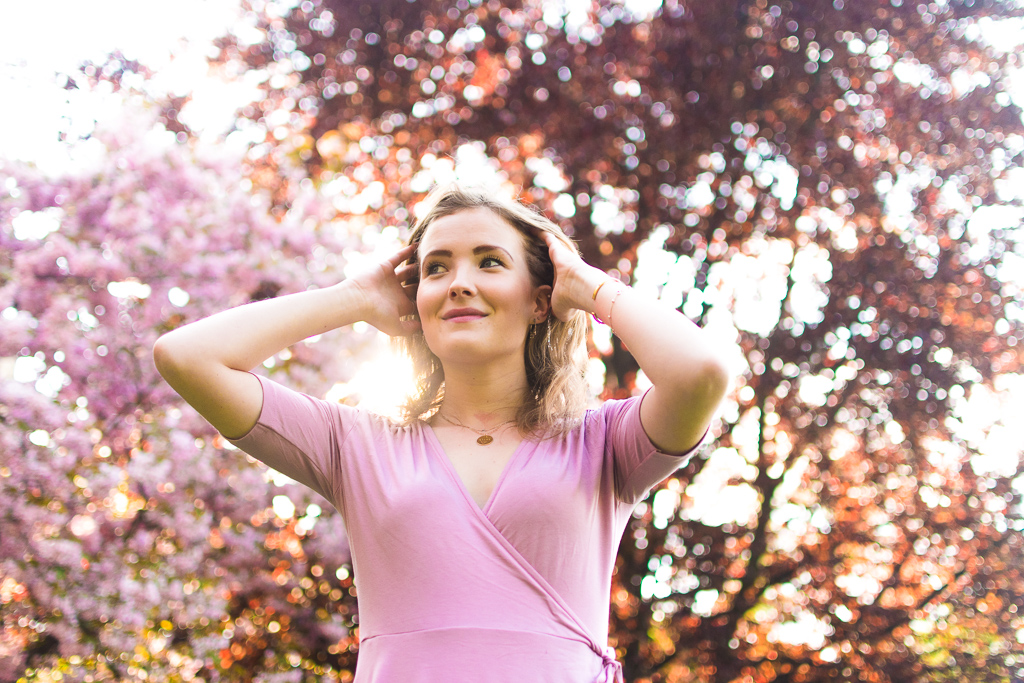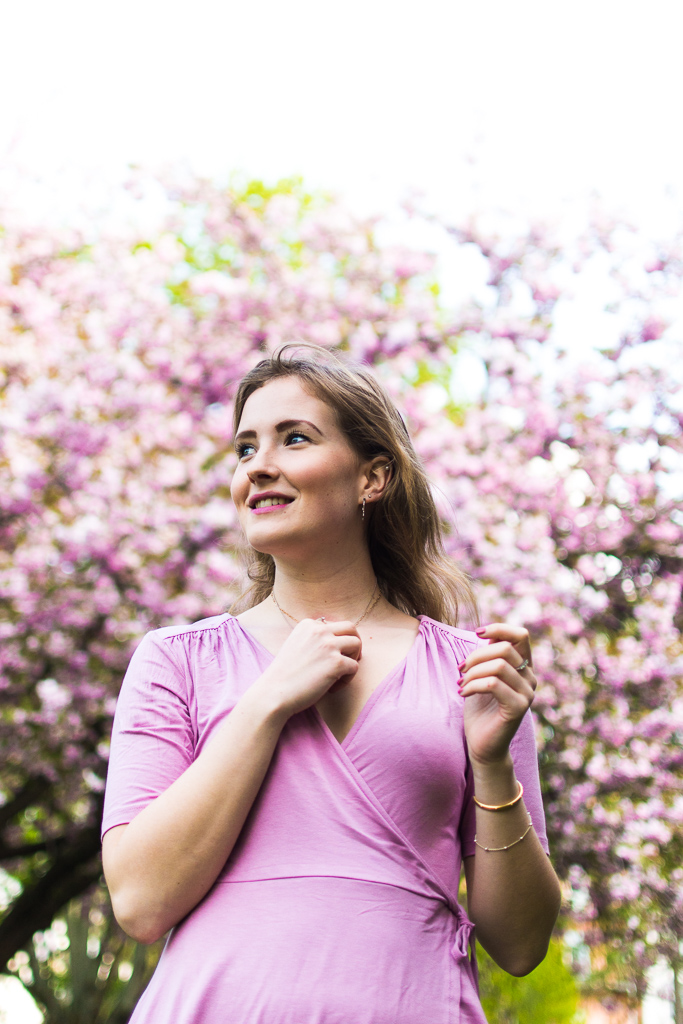 Hvad siger I så? Lyserød for fuld hammer, og dem der kender mig godt, vil nok sige, at mit 5-årige selv, havde været meget stolt af mig som 21-årig-udgave. Jeg havde nemlig som lille en "lyserød plet på hjernen", som mine forældre valgte at kaldte det. Alt skulle være lyserødt, især alle de kjoler, jeg havde, da jeg nægtede at gå i bukser. Det med den lyserøde plet, den sidder vist stadig fast på hjernen. Den var i hvert fald ekstatisk da min dygtige fotograf-veninde Irene Wissel foreslog, at vi tog billeder foran kirsebærtræerne. Jeg var på, og iførte mig glædeligt matchende lyserød kjole, neglelak og læbestift. Vi nåede lige akkurat at tage billederne inden træerne forsvandt (ja, det er jo det smukke ved kirsebærtræerne, at vi kun får dem at se i flor få uger om året), og inden jeg tog på to ugers lang rejse til de varme lande.
Jeg er heldig at have en veninde som Irene. Hun er nemlig en, der forstår, de problemer man får, når man forelsker sig i en by, der ligger et par hundrede kilometer væk fra ens hjemby, venner og familie, og tilmed ikke er et sted, man kan studere. Hun står nemlig i samme situation, og det er rart at have en, der forstår hvilken svær situation man står i, og hvilke store valg der skal træffes. Derudover er hun en fantastisk fotograf. Double win! 😉 Hun har lige lavet en side på FB, hvor man kan følge med i hendes arbejde. Det synes jeg så, at I skal gøre! 😉 Irene Wissel Photography finder I her. Solen skinner i Berlin, det er fredag, og i aften skal jeg til farvel-middag. Min søde veninde og kollega skal nemlig sige farvel til sit job, os og Berlin, og det er sørgeligt. Men solen skinner!
_______________________________________
ENGLISH: How beautiful are these photos?! Anyone who knows me just a little bit, will know that pink is my absolute favorite color. Therefore I was so happy when my (also favorite) photographer Irene Wissel proposed that we did a shoot together before all the cherry trees were gone. Throughout April and some of May, Berlin has been full of the gorgeous cherry trees, but before you know it, they are gone. The cherry trees must be the litteral meaning behind the saying "beauty is a fleeting". Irene and I managed to meet up just before I left for the Caribbean and just before the flowers disappeared. Great timing!
Meeting with Irene is always so inspirational as the both of us are definitely struggling with some of the same issues that come when you are from the generation that has been told "that they can do and be whatever they want". Together we discuss issues like "should I stay in Berlin, the city I love, or move elsewhere to hunt that good job or university or even love?". It is good to have a friend that understands the difficulties that come when you have lost your heart in a city that is not your hometown. And also, she is a great photographer. Double win! 😉 Be sure to head over to her new Facebook page to see more of her gorgeous work.