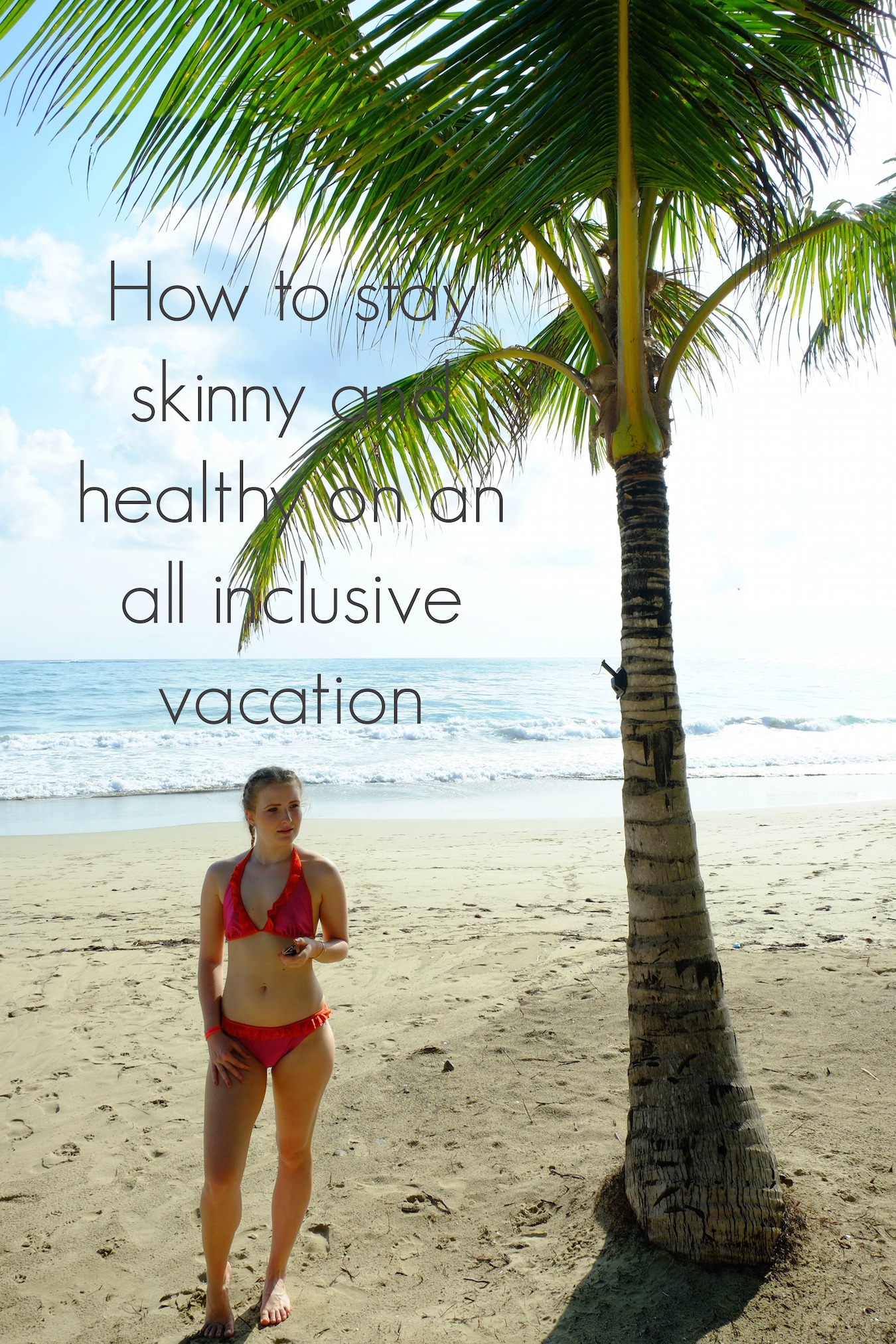 When on vacation you sometimes feel like just letting go and eating all the ice creams, pizzas and cake there are available, because you are on vacation right? Especially if the vacation is one of the all inclusive ones with huge buffets that offer everything that is not allowed to eat at home, 24 hours a day. If so, it can be very hard to control yourself and not indulging in fatty foods and sweet stuff and too much of it, and there is nothing worse coming back from a vacation having gained weight, as we all know how hard it can be to shed those extra kilos. Instead of letting it go so far I am today sharing a few tips with you on how to enjoy your vacation without gaining (too much) weight! I am a firm believer in that with enjoying life and your vacation you should also allow yourself some sort of indulging. But let's go – how to stay skinny and healthy on an all inclusive vacation:
Take a walk by the beach
One of the reasons to go on a vacation is often to enjoy the beach right? Why not combine that with a light work out? By taking a long daily walk on the beach you will get some of your daily steps in (we should all walk 10.000 steps a day!), and by just laying by the pool or the beach the whole day we definitely won't reach those 10.000 steps.
Eat your greens
Most all inclusive now a day offers a great amount of vegetables in the buffet, so instead of overeating all the fatty foods start off by eating a big plate full of vegetables together with water and if you are still hungry afterwards, allow yourself one slice of pizza or whatever you desire. This way you might even end up eating more vegetables than at home as the sortiment is often pretty big at the buffets.
Moderation is key
Being on vacation trying to stay healthy is not about only eating vegetables and being miserable, remember that you are also here to enjoy life and get away from your daily life at home with work and chores and endless to-do lists. This is why you should always remember that moderation is key! It is okay to eat pizza, just eat one slice and enjoy it instead of eating a whole pizza, or instead of eating a whole dessert share it with your partner – moderation is key! Allow yourself to enjoy and indulge and remember to really enjoy it when you do.
Enjoy the exotic fruits
Exotic destinations have many pros – one of them is all the exotic fruits they offer! Pineapple, melon, coconut, papaya, you name it. We all know that they contain a lot of sugar – way more than apples and bananas, but they are still more healthy than cake and candy and full of vitamins and good stuff so feel free to eat the exotic fruits!
Do a 10-30 minutes work out a day
On all inclusive vacations you tend to have a lot of time on your hand – aka no excuse to not spend 10-30 minutes a day doing a work out. If you have wifi, look up a suitable work out on YouTube, download an app such as "7 Minute Work Out" or just do squats, sit ups, push ups, crunches and the plank – you don't need a gym, a trainer or weights to do this, so there are no excuses!
Swim!
Swimming is a great workout, so whenever you are sun tanning and get to hot jump in the water to cool down and do a 10 minute swim lab.
Don't forget to drink water
When on vacation with increased temperatures it is very important to stay hydrated, and water also fills you up, so try to drink 2,5 liters a day. And no! You can't substitute water with sodas or beer.
I hope you like my tips on how to stay skinny and healthy on an all inclusive vacation! What do you do when you are on vacation and do you have any advice you could add to this list? Let me know in the comments.