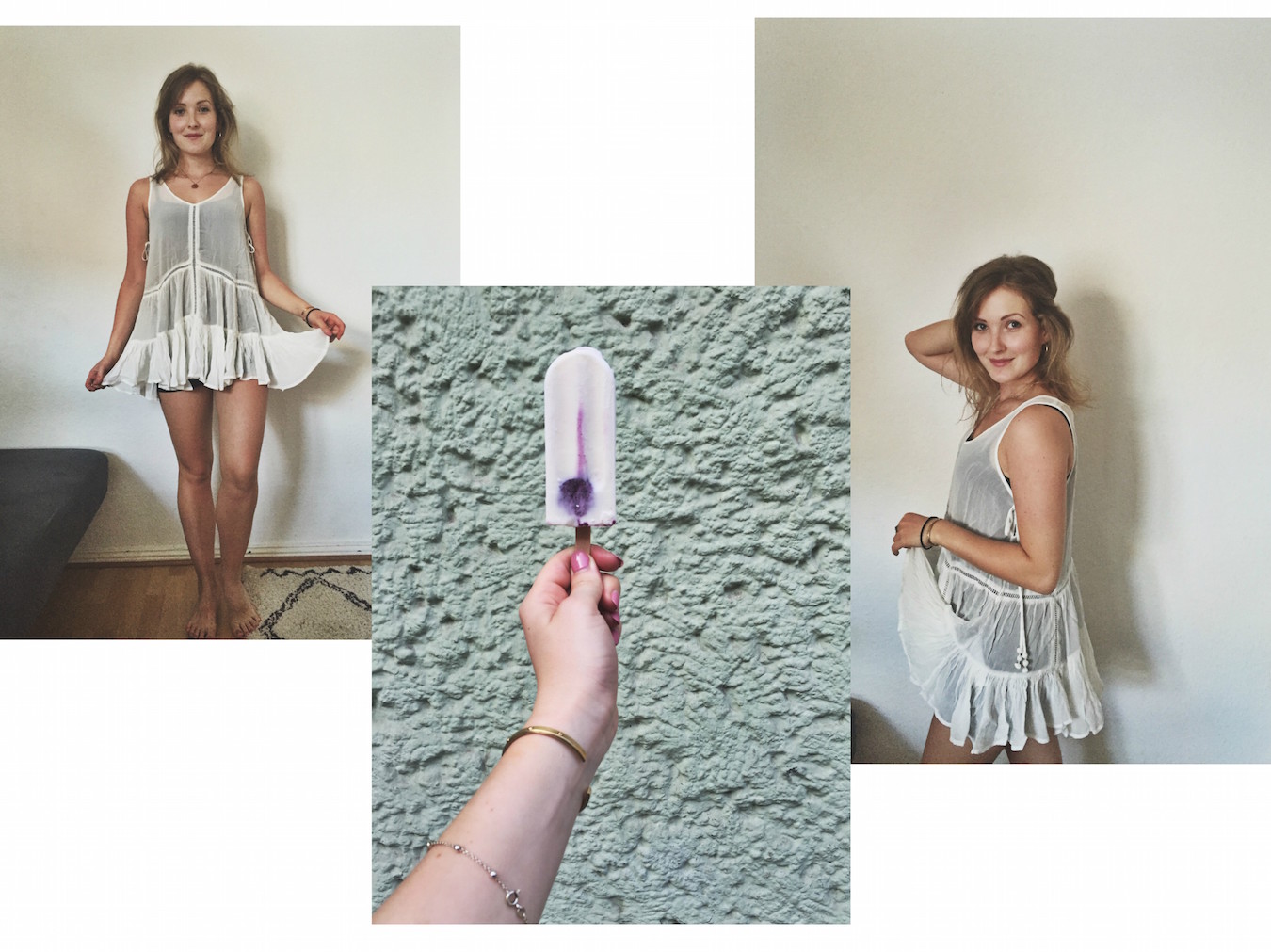 Hvorfor er alting bare tusinde gange bedre, når solen skinner? Det har de sidste mange dage været fuldstændig fantastisk vejr i Berlin, og jeg føler, at jeg ser byen med helt nye øjne. Alting synes frisk og nyt, og i går gik jeg en lang tur i mit område og så mindst en håndfuld af nye caféer og restauranter – jeg ved ikke, om de reelt er helt ny-åbnede, eller om det er fordi, at jeg bare ikke har lagt mærke til dem før. Solen og vejret gør bare, at man lægger mærke til ting, der måske har været der før. Byen er sprunget ud og der er en skøn, glad stemning over byen og overalt sidder folk i godt selskab og hygger sig, og glæden smitter. Tak solskin!
Sidste uge var vejret også fantastisk, men jeg arbejde overtimer – sådan er det, når man er heldig nok til atter at skulle på to ugers ferie, så jeg klager bestemt ikke. Det dejlige vejr gjorde, at jeg, når jeg fik fri om aftenen, mødtes med venner – enten til middag eller bare til en drink, og det er en mega kontrast til mine vinteraftener i Berlin. Når man først får fri kl. 20.30, og det er mørkt og koldt, så orker man sjældent ud efter arbejde. Det har solen og lyset nu også ændret på. Generelt kan jeg mærke at både mit humør, overskud og energiniveau er opfyldt, og det er så rart.
Denne weekend var også skøn. Jeg har en ven, der bor i den vildeste lejlighed. Den lejlighed har selvfølgelig også en kæmpe rooftop, der nok er større end hele min lejlighed, og det skal selvfølgelig udnyttes. Jeg skrev til ham lørdag formiddag: "Hvad skal du i aften?". Han svarede hurtigt, at han ikke havde nogle planer, og jeg skrev lynhurtigt tilbage "så holder vi grill-fest på din rooftop!", og som den gode ven han er, var han frisk. Vi havde derudover noget helt specielt, vi skulle fejre. Nemlig at min kæreste har udgivet sit eget magasin, som I kan se mere om her. Et par timer senere mødtes vi således med alt, hvad man har brug for, for at holde en succesfuld grillaften – pølser, salat, kartoffelsalat, pølsebrød, ketchup, kold hvidvin, kold rosé og selvfølgelig en masse øl, gode venner og godt humør. Det var et af de perfekte eksempler på, at de bedste minder og aftener er dem, der ikke er planlagt, men bare spontane og skønne. Vi blev til kl. 4 om morgenen og cyklede derefter hjem gennem byen, mens det var ved at blive lyst kun iført shorts, t-shirt og klip-klappere. Nu har jeg fri fra arbejde, og i morgen tidlig går turen til Tulum, Mexico, og jeg glæder mig helt vildt!
______________________________
ENGLISH: Why is everything just better when the sun in shining? The weather in Berlin has been absolutely amazing the past many days and I feel like I am seeing the city with new eyes. Everything seems fresh and new, and yesterday I took a long walk around my neighborhood and noticed multiple new restaurants and cafes, and even a new ice cream parlor. I don't know if they are actually all brand new openings, or if it is just because I haven't noticed them before, but one thing I know for sure is that Berlin is amazing, but as soon as the sun starts shining, the city is even more amazing. Everyone is happy and outside enjoying the sunny days in Berlin with laughs, smiles and good company.
Last week the weather was good but unfortunately I was working over hours (that's how it goes when I am lucky enough to leave for vacation once again), but as soon as I got off work in the evening, I met up with friends every single night, some for dinner, some for drinks and catching up. Another thing that is good about this weather and sunny days in Berlin – instead of going home tired after work in the evening, you meet up with friends and stay out late <3
This weekend was a great one too – I have a friend that lives in the sickest apartment. He has his own rooftop that is literally the size of my apartment. I wrote him "what are you doing tonight?" he quickly replied "nothing", and I was fast to write him back "then we will have a BBQ party at your rooftop!" and a few hours later we meet up at his roof with everything you need for a succesfull bbq – sausages, chicken, salads, potato salad, bread, ketchup, cold white wine and of course, lots of beer, and throughout the night more and more joined us. Besides from having a good night, we also had something very speciel to celebrate – my boyfriend has written and published his own magazine that you can see more about here!  It was one of those living proofs that the best memories are the ones that aren't to planned but rather spontaneous. We stayed there till four in the morning and biked home while the sun was almost rising, only wearing t-shirts, shorts and flip-flops. Bliss. I feel like I am once again reminded why Berlin is so amazing (I mean, Berlin is always amazing, but the sun makes it so much better!).