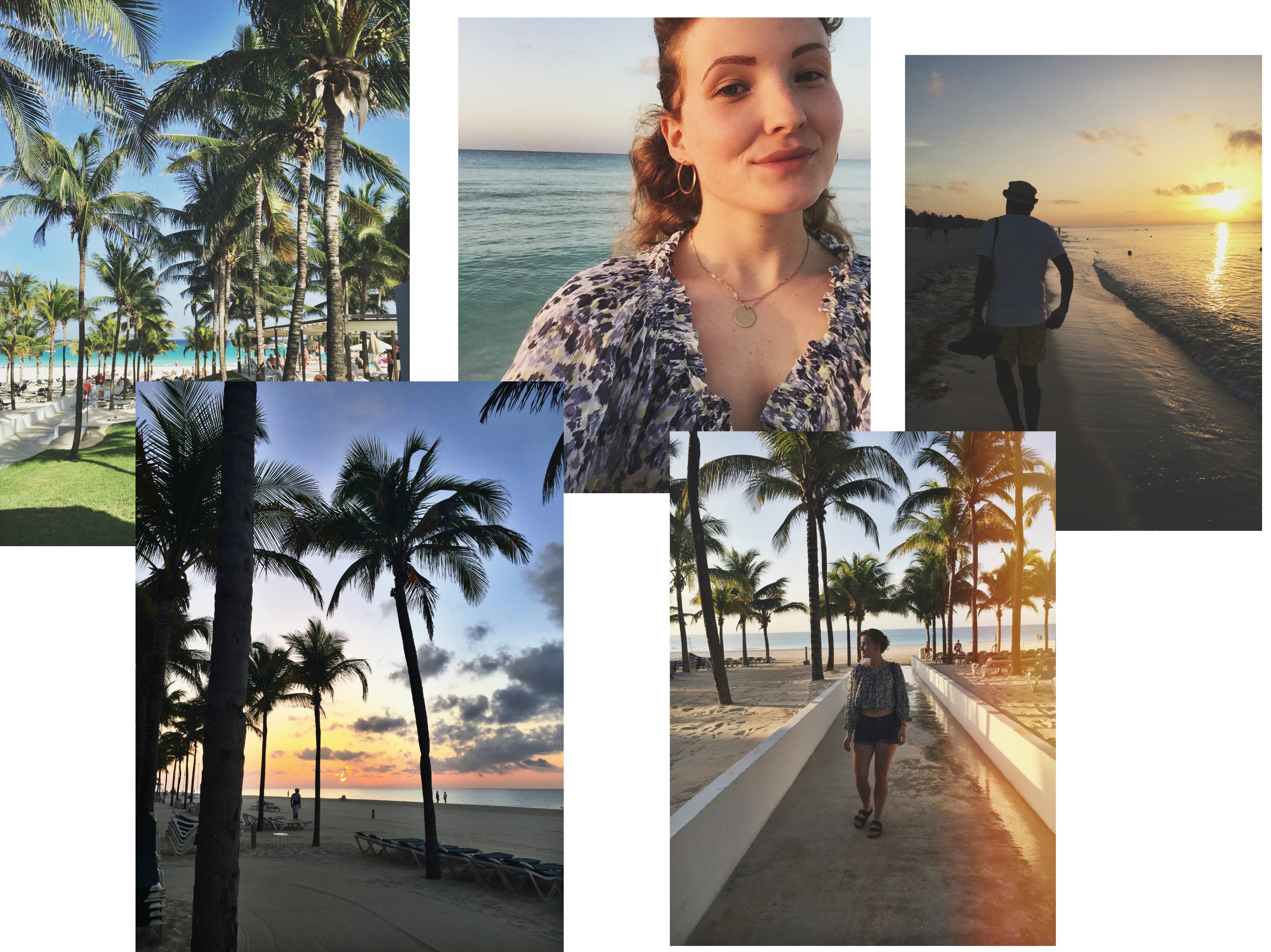 Mexico, Playa del Carmen, touch down! Efter at have stået op klokken fire om morgenen, fløjet fra Berlin til Düsseldorf, så taget en 11 timers flyvetur fra Düsseldorf til Cancun, kom vi endelig til vores længe ventede destination! Vi var overlykkelige over langt om længe at være her, da turen jo som bekendt blev fem dage forsinket. Da vi endelig nåede frem var vi ret udmattede og jetlaggede, for syv timers tidsforskel er altså ikke så lidt. For at holde os vågne tog vi på stranden og gik rundt i vores område, og vi holdt os vågne helt til kl. 22 (kl. 5 om morgenen i Berlin), og i morges da klokken slog fem, var vi spilvågne og klar til at starte dagen. Vi tænkte så at udnytte, at vi for en gangs skyld var tidligt oppe og gik til stranden for at se solen stå op, hvilket var helt fortryllende. Derefter morgenmad og resten af dagen har vi så egentlig bare brugt på stranden. Det er normalt ikke min stil, men den her strand er så fantastisk, at det var helt okay. Jeg elsker jetlag den her vej, for det er så dejligt for en gangs skyld at vågne op helt af sig selv (frisk!) så tidligt om morgenen – noget der normalt aldrig sker for mig. Nu er vi lige vågnet fra en lur (hvilket er obligatorisk at tage på en sådan ferie), og om lidt skal vi på restaurant og spise…. mexikansk mad, surprise! Sammen med italiensk mad er mexikansk min yndlings mad, og det er ingen hemmelighed at man spiser helt fantastisk i denne del af landet, og det skal udnyttes. I morgen skal vi planlægge lidt hvad ferien skal gå med, for der er et hav af ting at lave her i Cancun-området, så vi har ikke tid til at bruge flere hele dage på stranden 😉 Livet er godt – sådan kan det kun være, når man er omringet af palmetræer!
___________________________________
ENGLISH: Mexico, Playa del Carmen, touch down! After getting up at four in the morning, taking a flight from Berlin-Düsseldorf then an 11 hour flight from Düsseldorf to Cancun, we arrived in paradise, rather exhausted and jetlagged. We went straight to the beach and managed to stay awake till 10 pm (5 in the morning Berlin time), and today we woke up at 5 am well rested and ready for the day. We went to the beach to watch the sunrise and it was mesmerizing. We took a long walk by the beach (in the daytime it is too hot to do), and walked around till breakfast was ready at 7 am. I love jetlag this way around because for once, I wake up early in the morning and I feel like the day is so long because at noon you have already been up for hours and done a ton of stuff already. Our first day in paradise was spend relaxing completely. Now we just took a nap (when on vacation, right?) and then we have to get ready for dinner – and of course, we are having Mexican food. Tomorrow we are going to figure out and plan what to do here – there are so many things to do and see!  Life is good – but who am I kidding? Life can only be good when spent surrounded by palm trees.