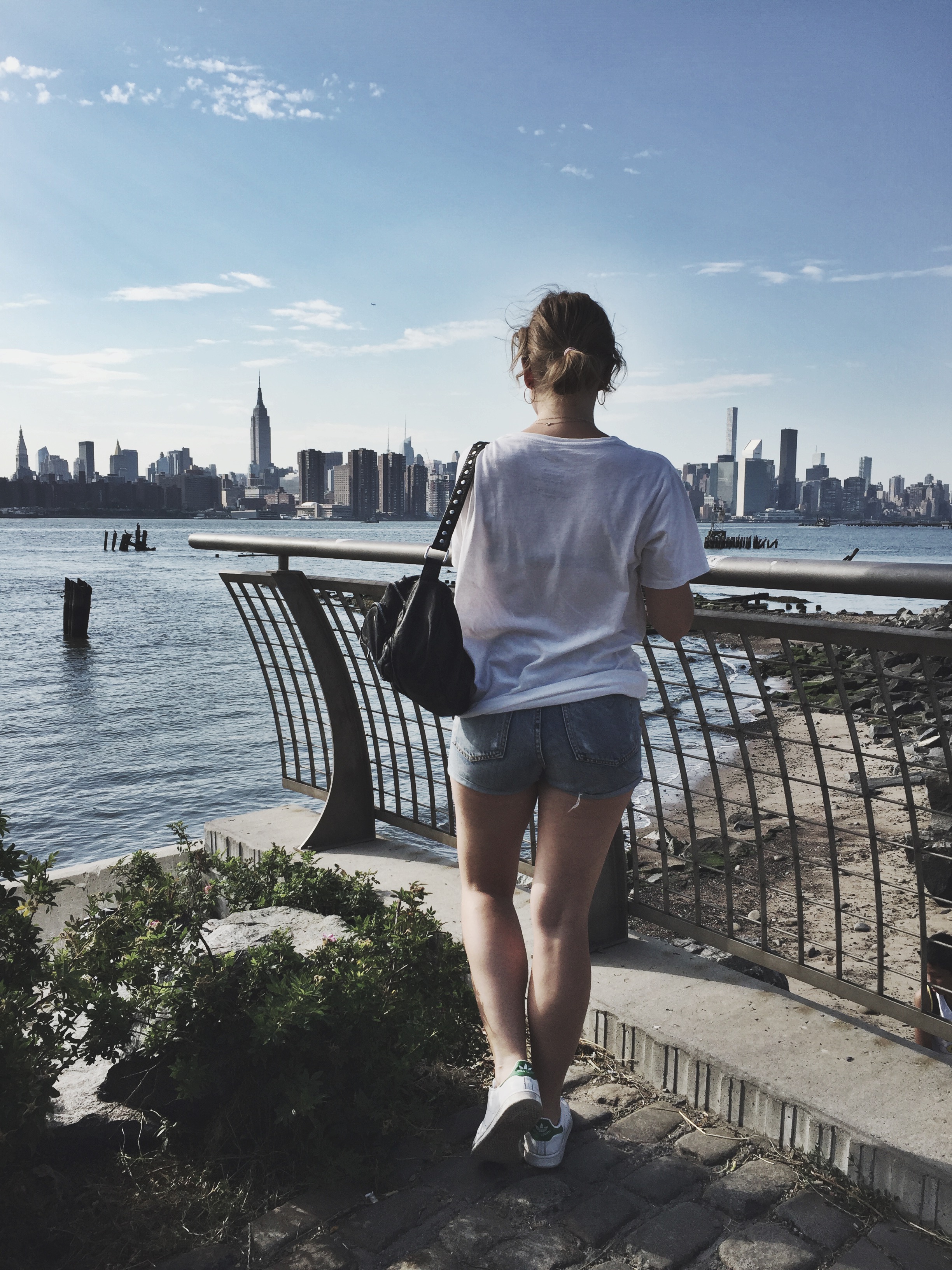 Held i uheld må siges at være sandt. Netop som alt så sort ud, og vi var strandet i Mexico med en-vejsbilleter til Europa tæt mod 10.000 kr, fandt vi ud af, at det var hurtigere og billigere at flyve til New York. Vi havde allerede talt om, at vi burde tage til New York i juli/august og se min kærestes venner og familie. At vi så var heldige at finde væsentligt billigere flybilletter fra Mexico til New York, passede så perfekt. Jeg havde arbejde i juli, men takket være søde kollegaer fik jeg det afsat. Nu er jeg altså i New York og er nogenlunde rolig igen efter nogle stressende kaos-dage i som strandet i Mexico.
New York er som altid skøn. Det er min syvende gang i byen! Jeg var her sidst for et helt år siden, og jeg kan slet ikke forstå, at der er gået et helt år. Det år er virkelig fløjet af sted. Vi bor i min kærestes lejlighed i Brooklyn, som hans kusine bor i til hverdag. Heldigvis er der to soveværelser, så vi alle kan være her. Masser af plads efter New York-standarder. I går var vi til en børnefødselsdag, hvor en lama, et får og en ged var sat op i baghaven på ægte amerikaner-manér. Intet er for meget til børnefødselsdage i USA. Bagefter mødtes vi med min kærestes familie på en bar i Williamsburg for at se fodboldkampen mellem USA og Colombia. Heldigvis var det de rigtige, der vandt 😉 New York er altså noget helt specielt.
___________________________________
ENGLISH: So, being stuck in Mexico turned out to not only being bad. We figured that we could book a plane ticket from Mexico to New York instead of having to spend a crazy amount of buying a one-way ticket back to Berlin. We'd been talking about going to New York in the end of July/August to see my boyfriend's friends and family and spend some time in his hometown. Going straight from Mexico seemed like the best solution. As a result of this, we are now in New York. I am so happy to be back in the city after not being here for a year. I can't believe how fast this year has gone by!
We are staying in my boyfriend's apartment in Brooklyn where his cousin is staying. Luckily the apartment has two bedrooms, and more than enough space, especially for New York standards. So far we haven't been doing much besides chilling, walking around Brooklyn and catching up with friends and family. So, yesterday we went to a kid's birthday party. The party turned into more of a grown up party with dancing and trap music. Then, later on, we met my boyfriend's family at a bar to watch the USA/Colombia football game. Luckily the right ones won 😉 We don't know how long we are staying yet, but we are thinking two-three weeks.