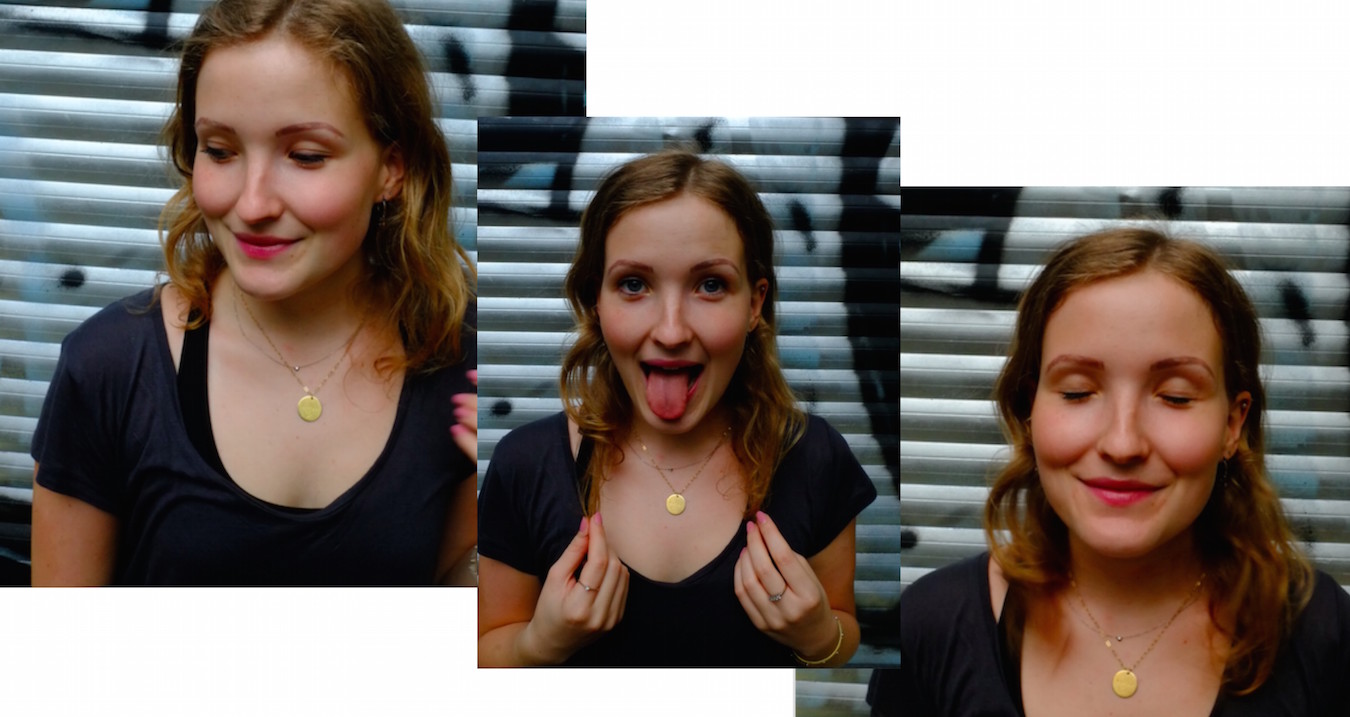 For omkring en måned siden, tog jeg en stor beslutning. Alle dem der kender mig ved, at jeg ser meget anderledes ud med makeup end uden makeup, alene grundet at jeg er født med hår så lyse, at de er usynlige = ingen øjenbryn. Derfor har jeg, siden jeg var 13-14 år gammel, være tvunget ud i, hver morgen at skulle bruge irriterende tid i forsøget på at tegne to pæne, ens, lige øjenbryn på, for ærlig talt var jeg ikke typen, der lige embracede, at jeg var født uden øjenbryn. Det kunne ellers have gjort situation meget lettere for mig, for det kræver tid og koncentration at tegne de øjenbryn op, kan jeg godt fortælle jer, og i de efterhånden mange år, jeg har gjort det, har det heller ikke været lige kønt.
Da jeg var 18 år gammel besluttede jeg mig for at prøve permanent makeup. Min mor var med, og alt var godt. Indtil jeg fandt ud af, at resultatet var lettere uheldigt. Øjenbrynene var alt for tynde (ala Christina Aguilera early 2000's) og de havde en udefinerbar orange tone, der i hvert fald ikke var køn. Håbet om endelig at kunne sove fem minutter længere hver morgen var atter tabt.
De efterfølgende tre år blev jeg altså ved med, hver evig eneste morgen at gå i krig med krigsmalingen, og det var stadig lige irriterende. Så kom dagen hvor jeg fandt ud af en ny teknik kaldet microblading – en semi-permanent makeup teknik, hvor kosmetikeren med en pen og nål tegner bittesmå streger, der ligner hårstrå, og resultatet så virkelig flot ud. Jeg gik i gang med research og fandt kort tid efter en kosmetiker, hvis arbejde jeg kunne lide og bookede en tid hos hende. Da dagen endelig kom, hvor jeg skulle have tatoveret mine nye øjenbryn, brugte vi først noget tid på at aftale, hvordan øjenbrynene skulle se ud. Derefter gik selve tatoverings-session igang, der til min store overraskelse (efter mange timers research på nettet) skulle foregå UDEN bedøvelsescreme. Den hårde sandhed: hold nu kæft, hvor gjorde det ondt! (Smerte og tom mave = lavt blodsukker har aldrig været en god kombination). Jeg gjorde mit bedste og prøvede at være en god kunde, der holdt smerten ud, og efter 20-25 minutter, var det overstået, og omend lidt hævet, meget ømt og ret mørke i farven, var øjenbrynene allerede så flotte.
Som en ægte tatovering skulle øjenbrynene også hele, og den yderste "skal" faldt af inden for et par dage, og nu er øjenbrynene en hel del lysere end før. Om en måned skal jeg tilbage for second round for at få fyldt noget mere farve i, lavet nogle små ændringer og få udfyldt nogle bittesmå huller i øjenbrynene, og jeg tror, jeg medbringer egen tryllecreme dertil!
Det bedste af det hele: jeg er ovenud lykkelig for mine nye øjenbryn. Det er så fantastisk at vågne op hver dag og se godt ud, og øjenbrynene ser tilmed så ægte ud! Og som de siger, man må lide for skønheden, hvilket aldrig har været mere sandt end i dette eksempel! Hvad synes I om resultatet, og kunne I selv overveje at få microblading øjenbryn?
____________________________________
About a month ago, I made a big decision. People who know me well know that my face with makeup on is very different from my face without makeup. I was born with having no eyebrows at all, sure, I have hair, but they are so blond that they don't do as eyebrows at all, so since I was about 13-14 years old I have been drawing my eyebrows on every single morning, and people having to do to that know my struggles. It is not as simple as putting on mascara. It takes time because one needs to make sure they are straight, same sizes and same shade. Hard work I am telling you!
When I was 18 years old, I decided to try permanent make up to put an end to my every day morning struggles. Little did I know, did these eyebrows end up as a disaster. They where thin like a line and had a weird orange color. My days of drawing on eyebrows every morning were not over, as I had dreamt about. 
The next three years I continued to draw my eyebrows on every morning and I still hated it. Then I found out about this new technique called microblading. A semi-permanent make up technique that lets the make up artist draw little strokes on your skin that look exactly like real hair. It was like my prayers had been heard! I found a salon in Berlin that looked nice, and furthermore had budget friendly prices. I went there, and I told the therapist what I wanted. We spent some time drawing on my desired eyebrow with a make up pencil, and when we decided on a shape, she started her work. To my big surprise, she didn't put apply any numbing cream to my eyebrows, and truth be told; it was very painful. The microblading eyebrows are made with a special microblading pen (no machine) with tiny needles, like drawing (really hard) on your skin. I would definitely recommend whoever does this to either apply numbing cream or to have eaten something first (pain and low blood sugar are never a good combination). I did my best to tolerate the pain and the whole microblading tattooing part took roughly 20-25 minutes. Afterwards my eyebrows were very sore and a few tones darker than my wanted color, but they already looked amazing, and trying to forget the pain I could tell that this was a decision I would be really happy that I made!
As a real tattoo, the skin and tattoo have to heal and the tattooed layer will come off in a few days (four days it took me) and thereafter, the color of my eyebrows was completely different, way lighter than at first. I now have to wait a month and then go back to get a second round of microblading, and one thing is for sure, I am deeply in love my new microblading eyebrows, and I could list endless times where I will be so grateful for them; They look real! I look good without makeup now. I can do work out or take a swim without the fear of losing my eyebrows. They look real! 😉
I had my microblading done at Jenny's Kosmetikbar in Prenzlauer Berg and she is definitely a recommendation worthy!