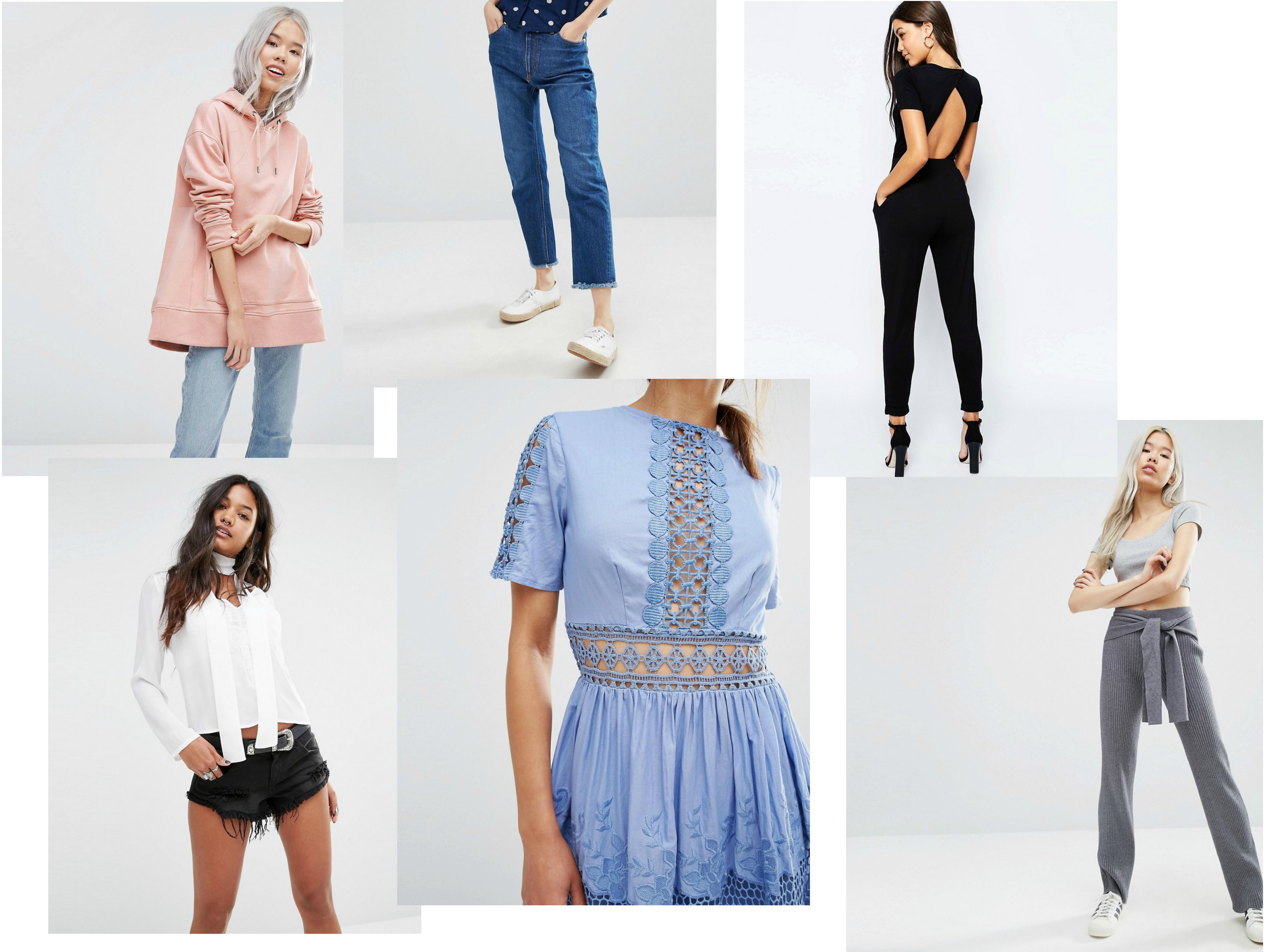 Ad links: Pink sweatshirt – jeans – jumpsuit – white blouse – blue dress – grey pants
The attentive reader will know that I am a huge fan of Asos. It is definitely the place I shop the most. I guess I am just the kind of person that prefers to shop online. When shopping online, you get a quick overview of what the store offers, what sizes are available, you don't have to wait in line to try it on to yet wait in another line to buy the stuff. The only con with online shopping is that as you are not able to try on the clothes, the worse thing when getting the clothes is if they don't fit or don't look good. Then there is the whole hassle when having to return the clothes and the costs of sending them back. Some online stores offer the option to deliver the clothes back in the store, but yet again Asos is amazing in this matter. You can send the clothes back for free! This is the main reason why I love Asos. I get to shop, and if I don't like the clothes (there is a big chance that this happens for me!), I simply just send them back. They even give you a whole month to do it.
So, today is a boring and rainy day. This is why I decided, it was time for some online shopping. I still have my whole fall/winter wardrobe in Berlin, which makes my options in dressing these days in cold and rainy Copenhagen pretty limited. The clothes will arrive just in time for next weekend where I am invited to a big birthday celebration for my friend. If the black jumpsuit is nice, I might wear that one. The blue dress is beautiful, but probably not the most suitable dress for the weather right now. But! I am planning on going away in the middle of October, and preferably to somewhere a little warmer. Thinking about Mallorca, Sicily or Marrakech. Hopefully, I will go, so I can wear that beautiful blue dress. The other pieces that I bought are pretty simple but really nice basic essentials that I hope will look good, so I can add them to my fall wardrobe. Do you like the pieces that I found?
_______________________________
Den opmærksomme læser har måske fanget, at jeg er stor fan af onlineshoppen Asos. Det er helt klart det sted, jeg shopper mest. Jeg foretrækker at shoppe online. I onlinebutikker får man et hurtigt overblik over, hvad butikken har, man kan udvælge forskellige kriterier at søge efter, og man kan lynhurtigt se, hvad størrelser, der er til rådighed. Man skal ikke vente i kø for at prøve tøjet, for derefter at stå i kø for at få lov til at købe tøjet. Den eneste ulempe ved onlineshopping er, at fordi man ikke kan prøve tøjet på eller se det i virkeligheden, kan man jo heller ikke vide, om det man køber, ser pænt ud eller er som forventet. Netop dette gør, at jeg nærmest aldrig køber tøj online fra butikker, hvor det er meget dyrt og besværligt at sende tøjet tilbage. Det er endnu en grund til, at jeg er vild med Asos. Her kan man nemlig sende tøjet tilbage gratis. Det betyder så, at Asos virkelig er min foretrukne shoppingside- og metode, for hvis jeg ikke kan lide tøjet, så ryger det bare tilbage. Man kan sende tøj tilbage til Asos inden for en måned efter, man har købt det.
I dag er en kedelig dag. Det var for mig nok til at retfærdiggøre, at jeg måtte shoppe online. Derudover er alt mit efterårs- og vintertøj stadig i Berlin, så mine muligheder for at klæde mig på til dette kedelige og regnfuldte vejr ret begrænset. Jeg har derfor bestilt ovenstående fra Asos. Tøjet vil komme inden næste weekend, hvor jeg er inviteret til stor fest hos min veninde. Jeg tænker, at hvis jumpsuiten sidder flot, så kunne den være ret oplagt at tage på. Den blå kjole er ikke særlig efterårsagtig, men den er så smuk. Jeg planlægger en tur mod lidt varmere breddegrader i efterårsferien, og hvem ved. Hvis jeg er så heldig, at jeg kommer af sted, så skal denne kjole med! Jeg håber, den er lige så flot og god i virkeligheden, som på billederne. De andre sager er ret simple, men stadig rigtig fede. Vigtigst af alt ligner de ikke noget, jeg allerede har i min garderobe, hvilket er ret væsentligt for mig. Jeg prøver nemlig at lade være med at købe ting, jeg ikke har brug for eller hvis jeg har noget lignende i forvejen. Kan I lide mine nye køb fra Asos?