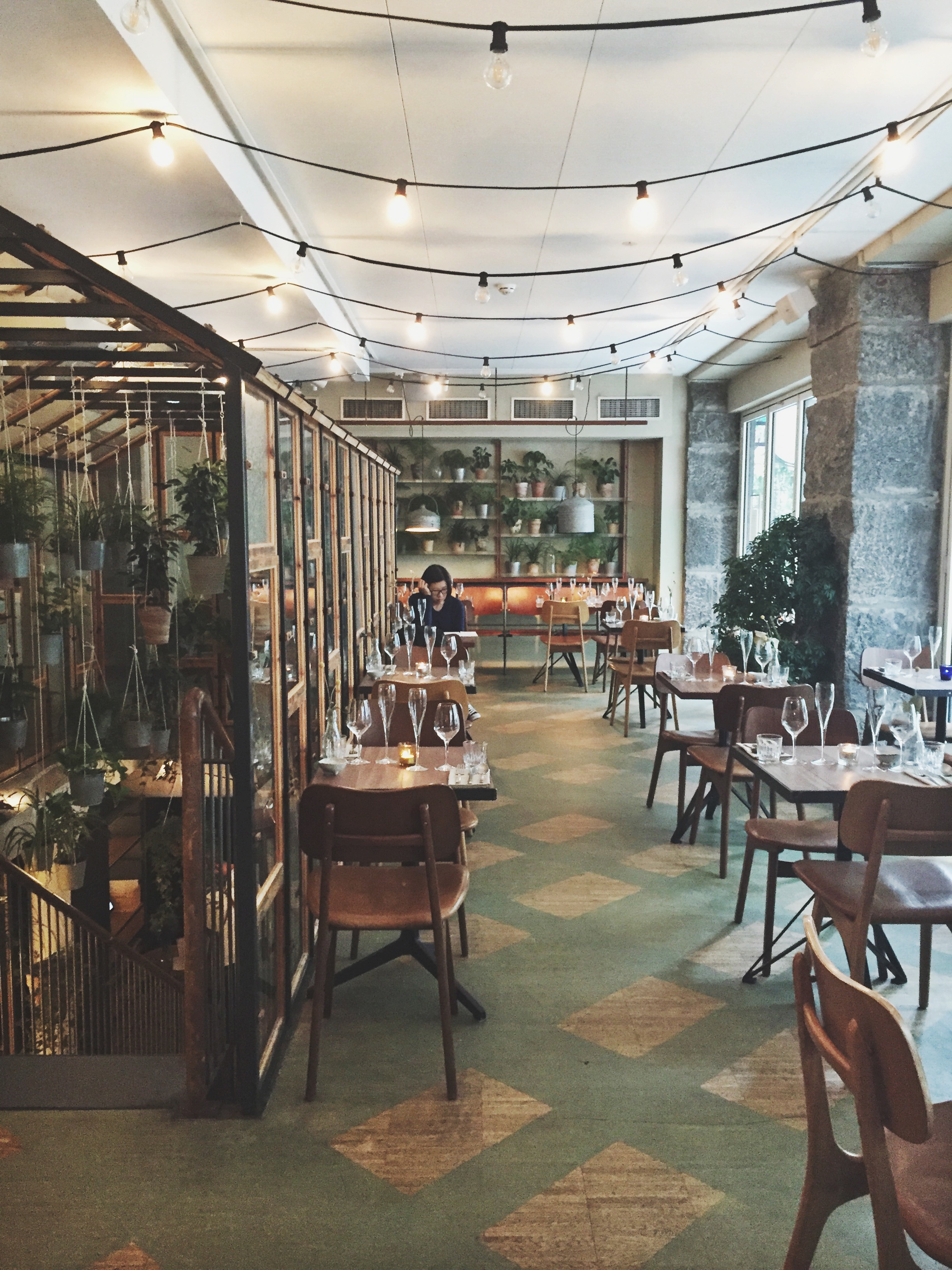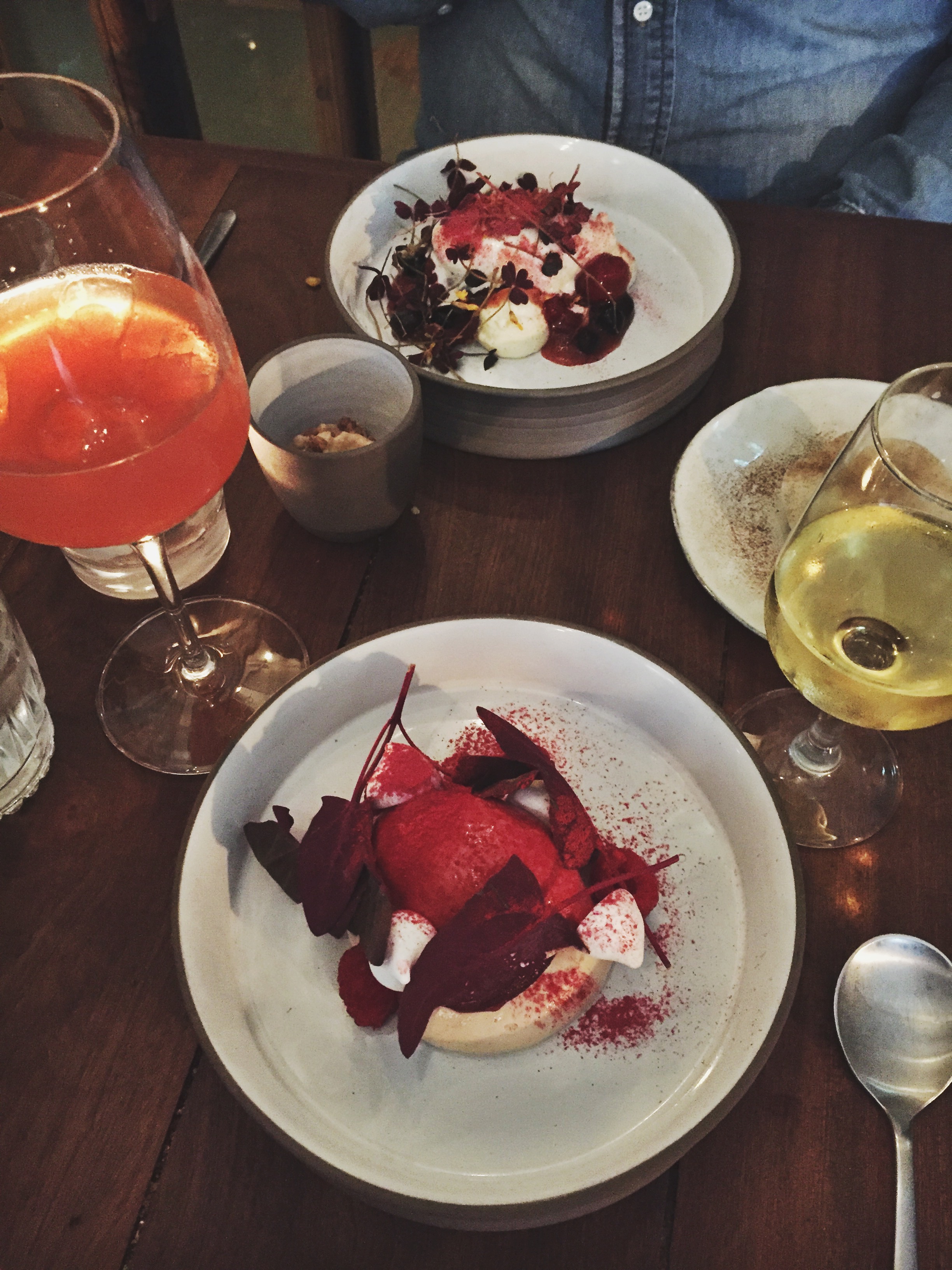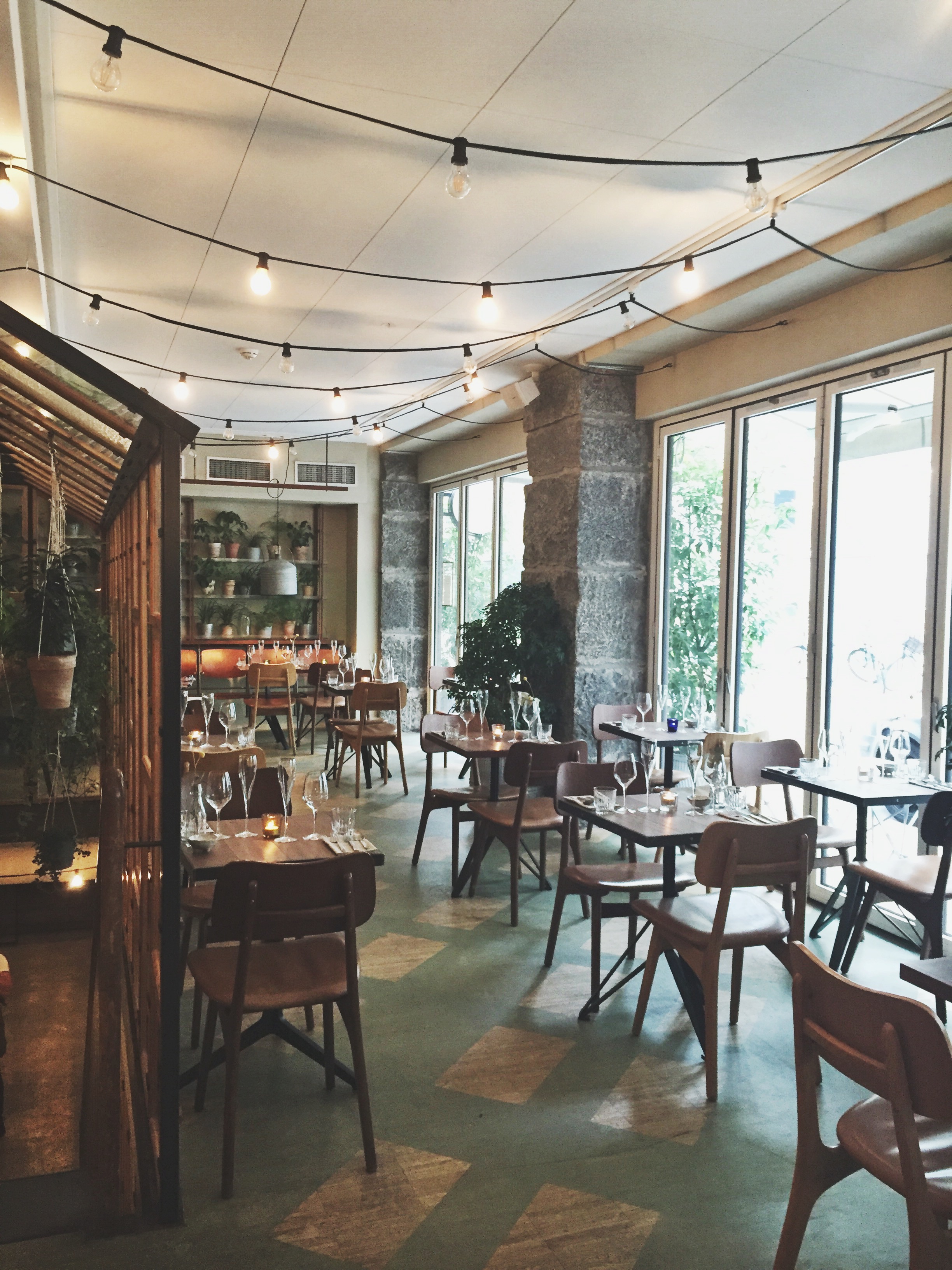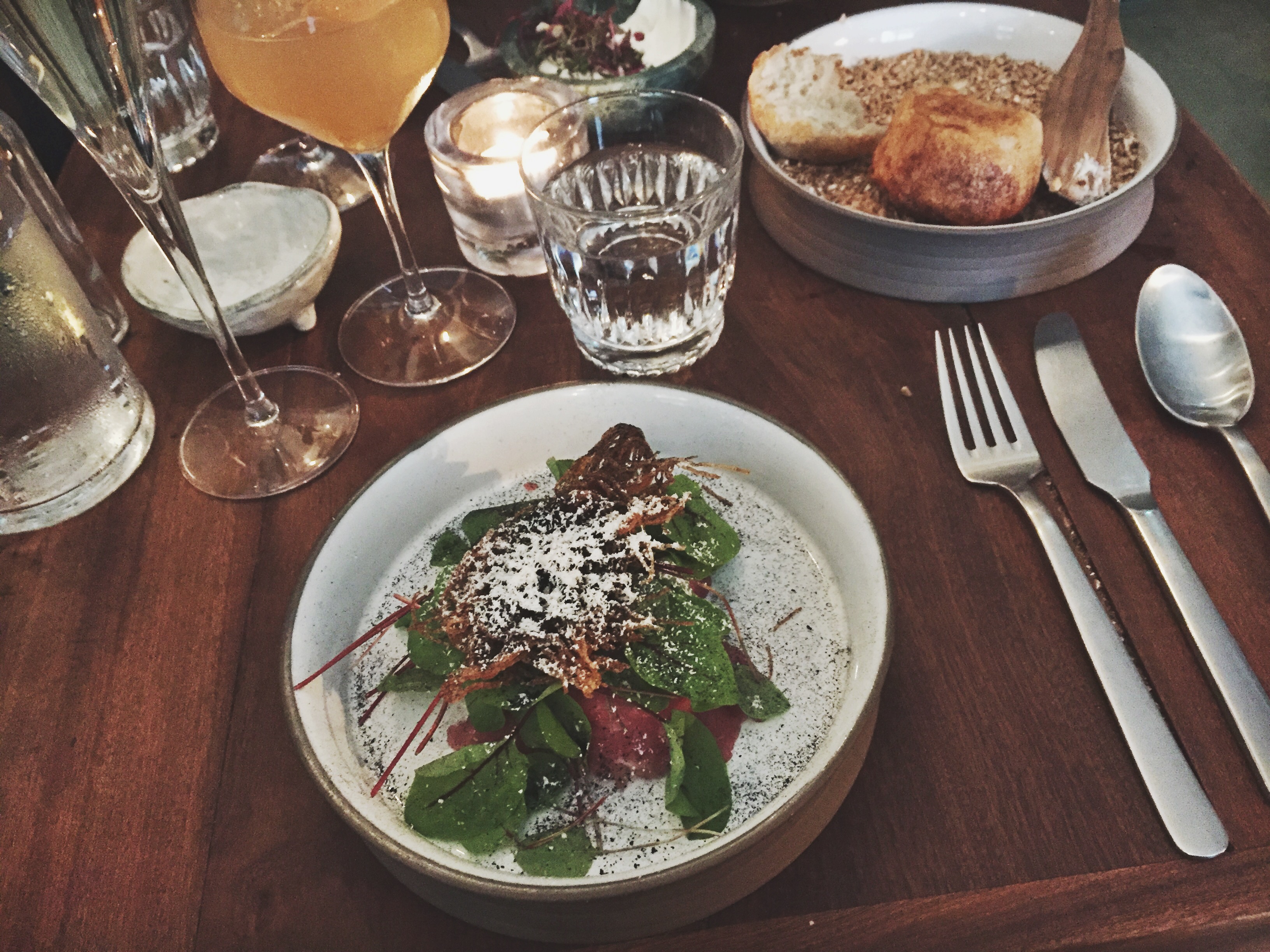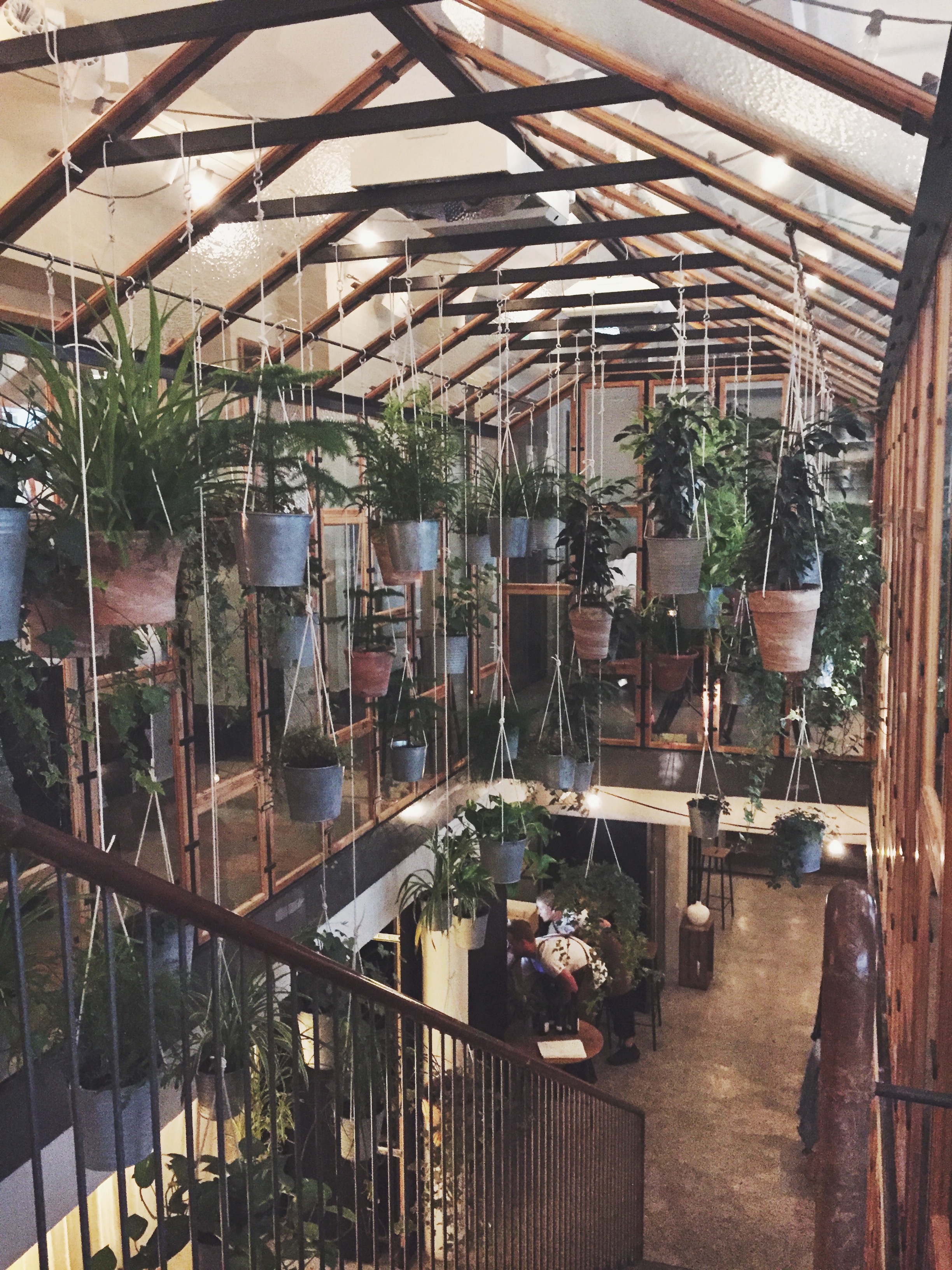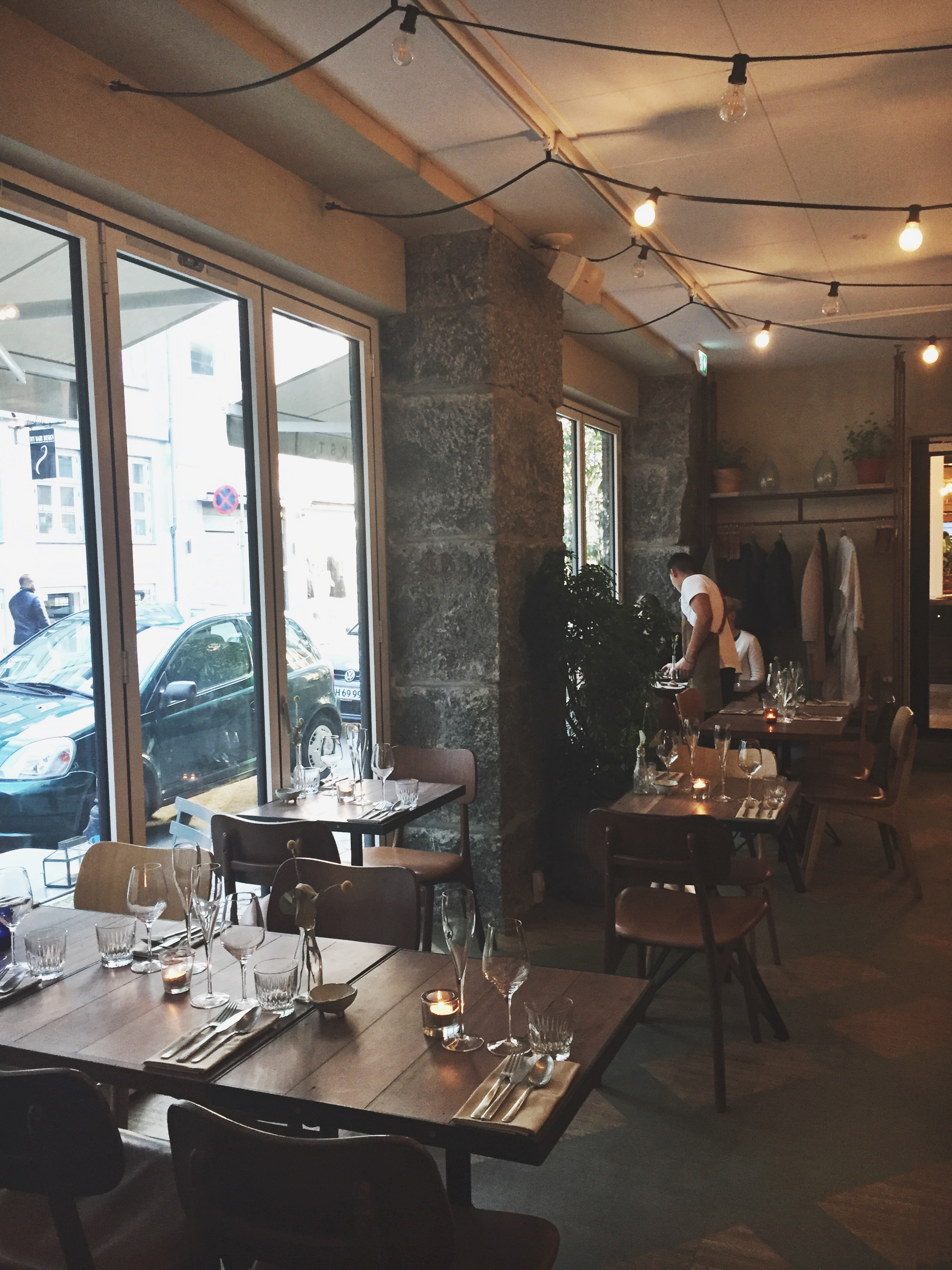 Have you ever dreamt about eating a gourmet dinner in a greenhouse? Well, your dreams can now come true. There is a (semi) new restaurant in Copenhagen, and within the restaurant, there is a greenhouse. The restaurant is called Väkst, which in Danish means Growth. I first heard about the restaurant when it opened back in spring and everyone was posting the beautiful interior on social media. Last week my boyfriend and I went to eat there, firstly to celebrate our (very exact) 21 months together, and to have a goodbye dinner before he left for New York for three weeks.
I will let the photos speak for themselves – you get the picture. The interior is on fleek. Väkst is a part of the Cofoco chain that runs several of the coolest gourmet restaurants in the city. Cofoco currently owns 15 restaurants throughout Copenhagen and is constantly growing. Those 15 restaurants serve different types of food, but they all have in common that they are hip, and they serve gourmet food and good prices. You typically get three courses for around 40 euros which is fairly ok considering that Copenhagen is in general not a cheap city.
At Väkst I was spoiled with three courses. We ordered, but then came a glass of champagne and a little before-the-starter-starter, as a little treat from the restaurant. I like! Then dinner came. I had tartar with cured veal filet as a starter. It was magical, and I am literally about to drool just thinking about that dish. As a main I had an overload of meat, but in a good way. Beef tenderloin, ox tail ragout, tarragon sauce and beetroot. As I love beetroot, this was the dish for me. The dessert was pink and beautiful – rasberry sorbet, milk chocolate cream and meringue.
I was driving, so no alcohol for me. Instead I tried the juice pairing that came with amazing, fresh and homemade juices. My boyfriend had the set menu with the wine pairing that you can get for 40 euros + 30 euros for the wine. He had flounder, tomatoes and mussel sauce to start with. Then came the main – grilled pork neck from Grambogaard, cherries, corn, chantarelles, Høgelundgaard cheese from Arla Unika. The dessert was a cute, and also pink pose geranium icecream, red berry porridge and Arla Unika 50% cream.
I could go back to Väkst right now to eat again. I guess that is a pretty good sign. The food was amazing, the decor and interior was definitely Pinterest AND Instagram friendly (double-kudos for that one), and the service was impeccable.
_______________________________
Dansk: Har du nogensinde drømt om at spise gourmetmiddag i et drivhus? Ja? Så kan dine drømme nu gå i opfyldelse! Der er nemlig en (forholdsvis) ny restaurant i København, og inde i den er der bygget et slags drivhus. Restauranten hedder Väkst, og den er på alle måder gennemført. Jeg fandt ud af, at restauranten var åbnet, fordi min Instagram i et par dage blev spammet af folk, der også var fortryllede af stedets indretning. I sidste uge var min kæreste og jeg på Väkst og spise, og jeg vil gerne dele min oplevelse med jer.
Jeg vil lade ovenstående billeder tale for dem selv. Enhver kan vel se, at Väkst er et meget usædvanligt og flot sted, når det kommer til indretningen. Restauranten er holdt i naturlige toner krydret med hyggelige lyskæder, der hænger over loftet og uendelige smukke planter. Väkst er en del af Cofoco-kæden, der driver 15 restauranter i københavnsområdet. Se en oversigt over de restauranter her. Restauranterne har forskellige temaer og serverer forskellig slags mad, men fælles for dem er, at de fleste tilbyder tre retter gourmetmad til omkring 300 kr. Det mener jeg, er en meget fair pris for en by som København.
Både min kæreste og jeg blev forkælede med tre retter hos Väkst, og udover det serverede personalet først en før-forret med tre små, fantastiske retter samt et glas sprumante, hvor der blev fyldt helt op til kanten af glasset. Jeg valgte tre forskellige a la carte retter, og min kæreste tog den sammensatte menu med vin til. Jeg var chauffør for aftenen, så jeg blev rigtig glad, da jeg fandt ud af, at Väkst serverede friske, hjemmepressede juice, der passede til min menu.
Min forret var tatar, kalvefilet, kartoffel, rygeost og løgaske. Det smagte himmelsk! Min hovedret var kødoverload, men på en god måde. Jeg fik oksemørbrad fra Grambogaard, rødbeder, estragon og oksehaleragout. Min dessert var som skabt til mig – den var nemlig lyserød og besstod af  hindbær, mælkechokolade, marengs og rød melde. Min kærestes menu lød på skærissing, tyrehjerte tomater og muslingesauce til forret. Så grillet svinenakke fra Grambogaard, kirsebær, kantareller, majs, Høgelundgaard fra Arla Unika og gule ærter. Til slut fik han også en lyserød dessert – nemlig rosengeranium is og rødgrød med Arla Unika 50% fløde. Jeg griner altid lidt indvendig, når de søde tjenere forklarer om alt den lækre mad – der sniger sig nemlig nogle forskellige typer mad ind, som jeg aldrig har smagt eller hørt om før. En ting er dog sikker – alle vores seks retter smagte skønt.
Hvis jeg havde muligheden, ville jeg gerne tilbage til Väkst lige nu. Det er vist et ret godt tegn. Maden smagte simpelthen fantastisk, servicen var upåklagelig, og indretningen skuffede ikke.
Disclaimer: I was invited to eat at Väkst, but this post is solely an expression of my own opinion.