Oh my, nine days have passed since I last did a post in here. Not good, but life has happened in between. Starting university after more than three years of not going to any sort of school is tough. It is a whole different routine that I have to get used to – the thing is that when in university, one is never really off. There is always something one could read, homework that needs to be done or an assignment that needs to be written, and on top of that, I have work, the blog, friends and family and I also try to work out once in a while. All those things make a very busy life as I am sure most of you can relate to. I am not complaining, though, I just need to get better at juggling all of them, so I have time to blog <3
Since we spoke last, I went to Berlin in the meantime. I took the plane last Thursday with my boyfriend, and Friday morning my friend also joined. We spent a few lovely days in Berlin before we took the bus back to Copenhagen on Sunday afternoon. I thought it would be nice to share a little recap of my weekend in amazing Berlin, so here you go <3
______________________________
Inden jeg ser mig om, er der pludselig gået hele ni dage siden, jeg sidst bloggede, og det har jeg det altså ikke helt godt med. Især fordi jeg er vild med at blogge. Landet ligger sådan, at når man starter på universitetet efter ikke at have gået i skole i mere end tre år, så tager det lidt omvending og der skal dannes nye rutiner og vaner. Lige pludselig skal man planlægge sine dage med tid til at skrive opgave, tage til timer det ene sted, forelæsninger det andet sted og så lige skrive en opgave i erhversøkonomi om Tesla, deres økonomi, markedsføring og strategi med en uges frist oveni. Udover det prøver jeg også at drive bloggen, arbejde, se mine venner og familie og få lidt træning lagt ind ind i mellem. Jeg klager bestemt ikke, men jeg er bare nødt til lige at finde ud af og lære, hvordan jeg multitasker og jonglerer med alle de projekter og ting, jeg skal nå.
Siden jeg bloggede sidst, har jeg været i Berlin på en forlænget weekend, og selvom det faktisk kun er en måned siden, jeg var der sidst, så var det så skønt at være tilbage. Jeg fløj torsdag eftermiddag med min kæreste, og fredag morgen joinede min veninde også. Hun havde et helt specielt formål i Berlin (udover at være sammen med mig selvfølgelig), og det kan I læse mere om i min lille Berlin-dagbog. <3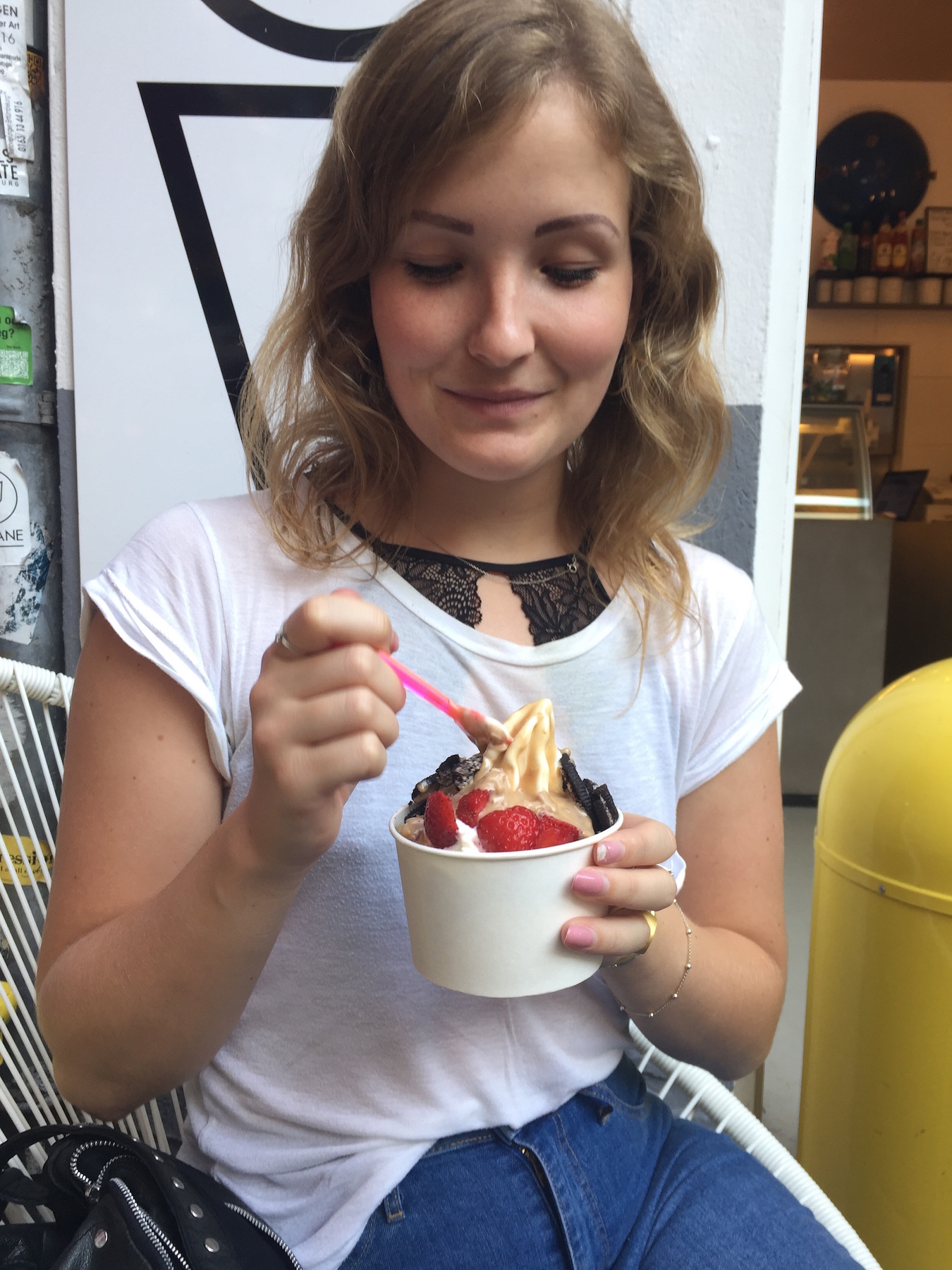 After we landed, my boyfriend and I went straight outside to enjoy the amazing weather and  (big!) frozen yogurt from just around the corner of my apartment.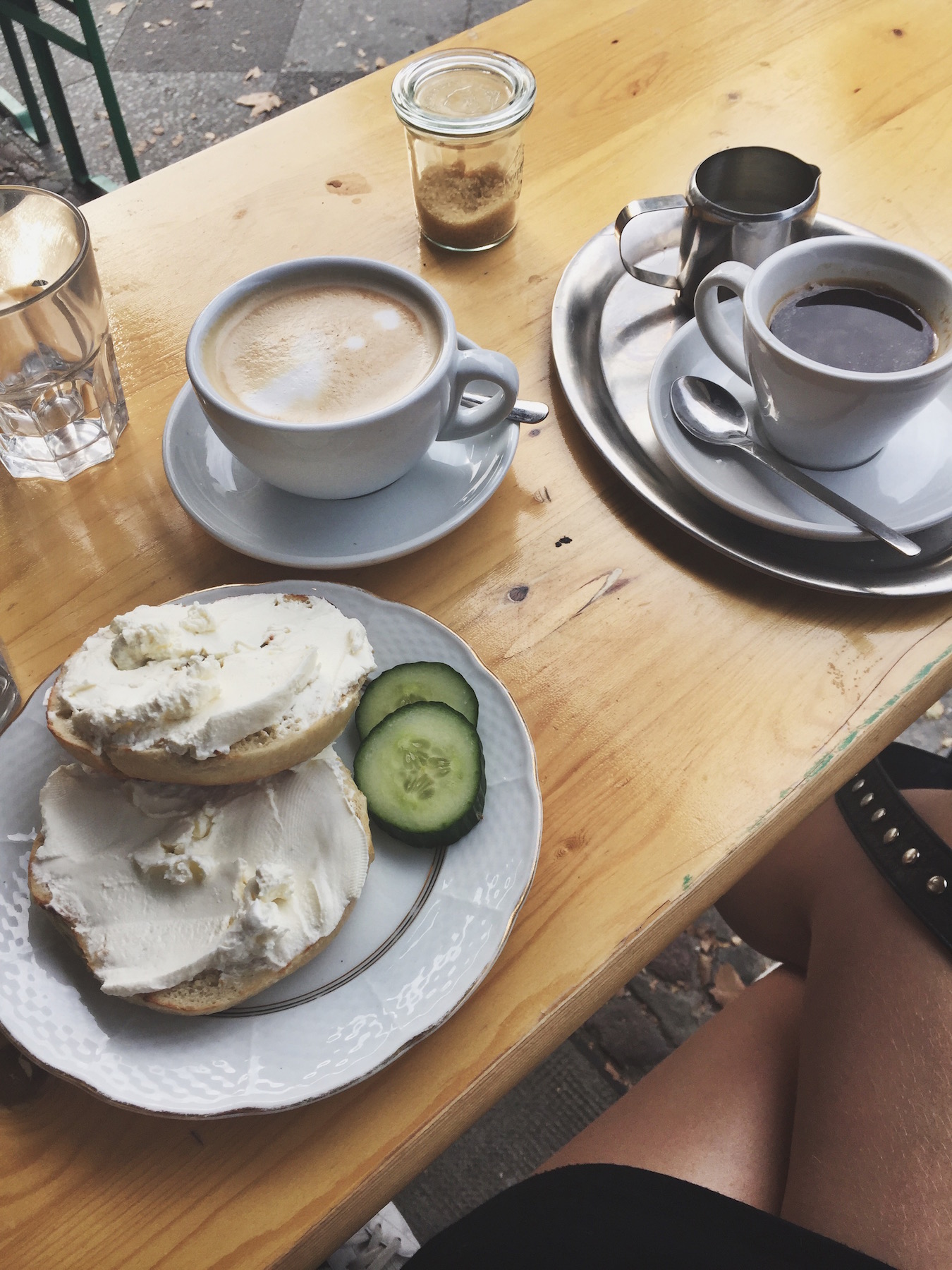 Then my friend came, we took a nice nap and had breakfast at my absolute favorite spot for breakfast and coffee (or at least one of them, it is too hard to choose) in Friedrichshain. I wrote about the place before, here. I had what I always get – a bagel with cream cheese and a cappuccino. In the evening we went to my friend's rooftop for a bbq.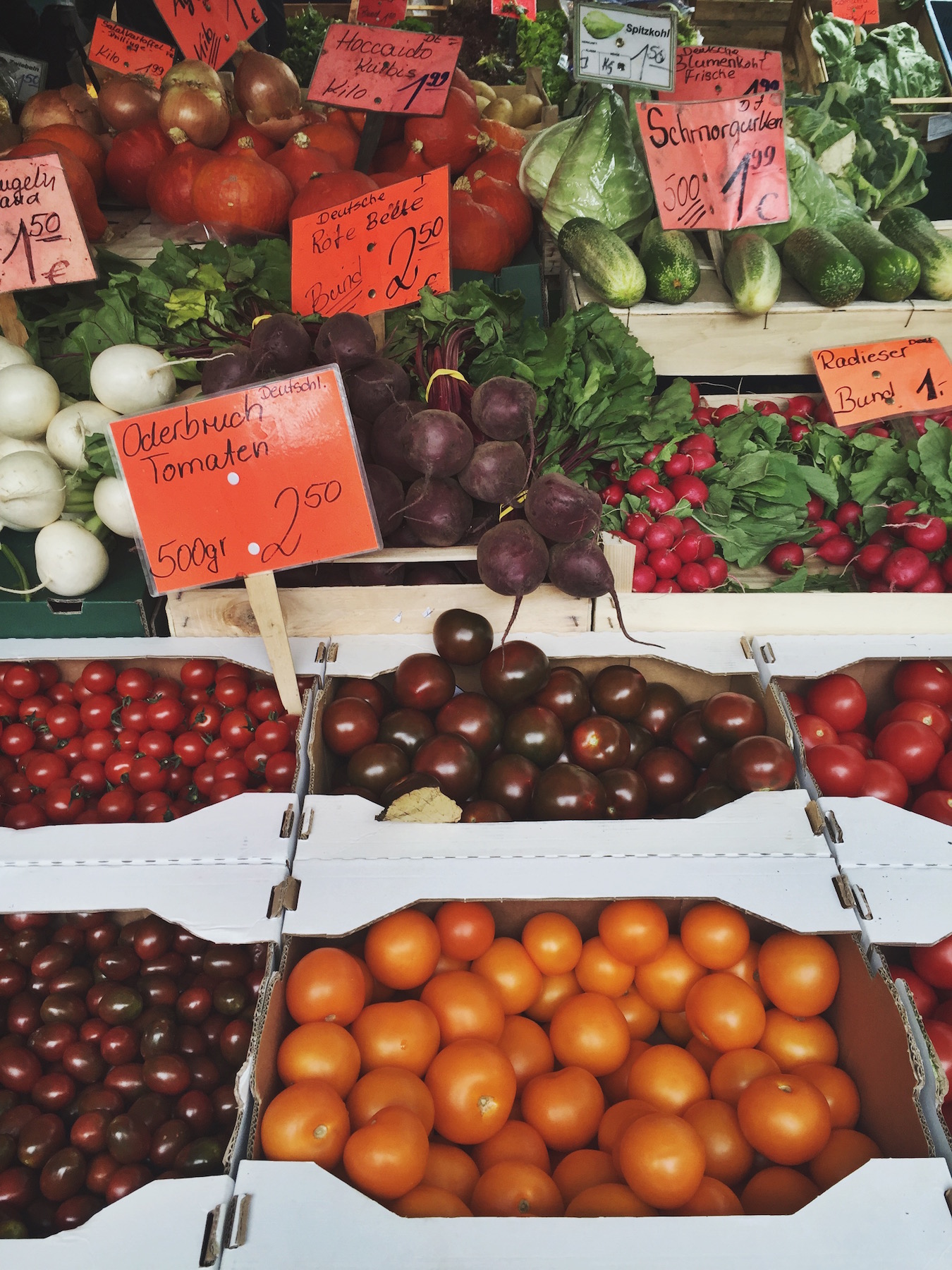 Saturday it was time for a stroll at the Wochenmarkt at Boxhagener Platz in Friedrichshain. When I lived in Berlin (wow, feels so weird writing that in past tense), I would go there almost every Saturday to get a morning coffee, maybe some breakfast and nice, local groceries such as fruits and vegetables.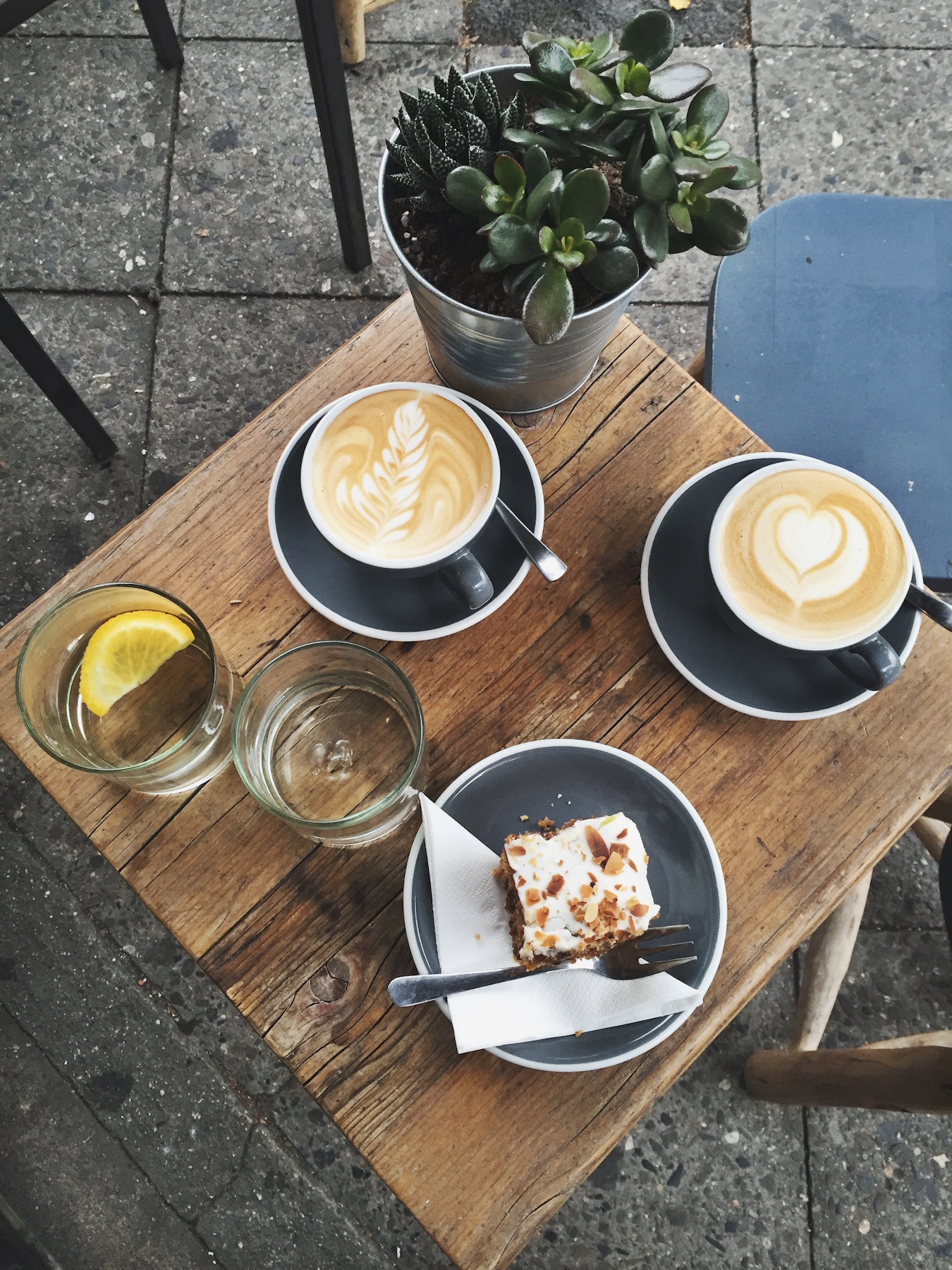 And yes, I must admit… I do like coffee.. and cake… and nice cafes… my friend and I felt that we deserved this after biking around the whole city running different errands (it is not that simple just moving from one country to another). We took a well-deserved break at Camon Cafe in Neukölln.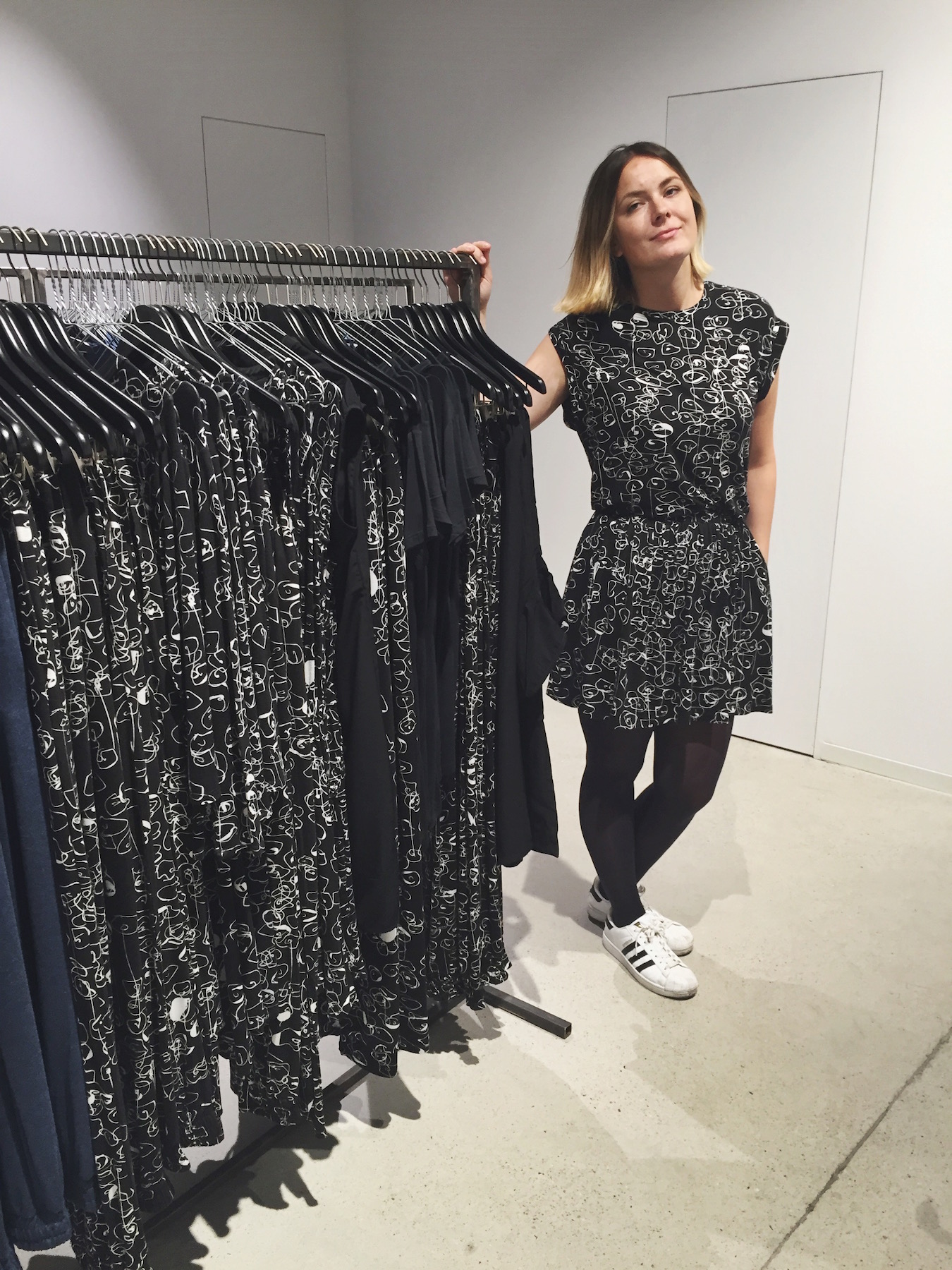 And for the most important picture in this whole post <3 Here is my friend standing in front of a clothing rack in Lunn studio (where we both worked in Berlin), but it is not just any clothes. She designed the print on the clothes herself and this was the first time she saw the clothes in real life, herself! #proudfriendoverhere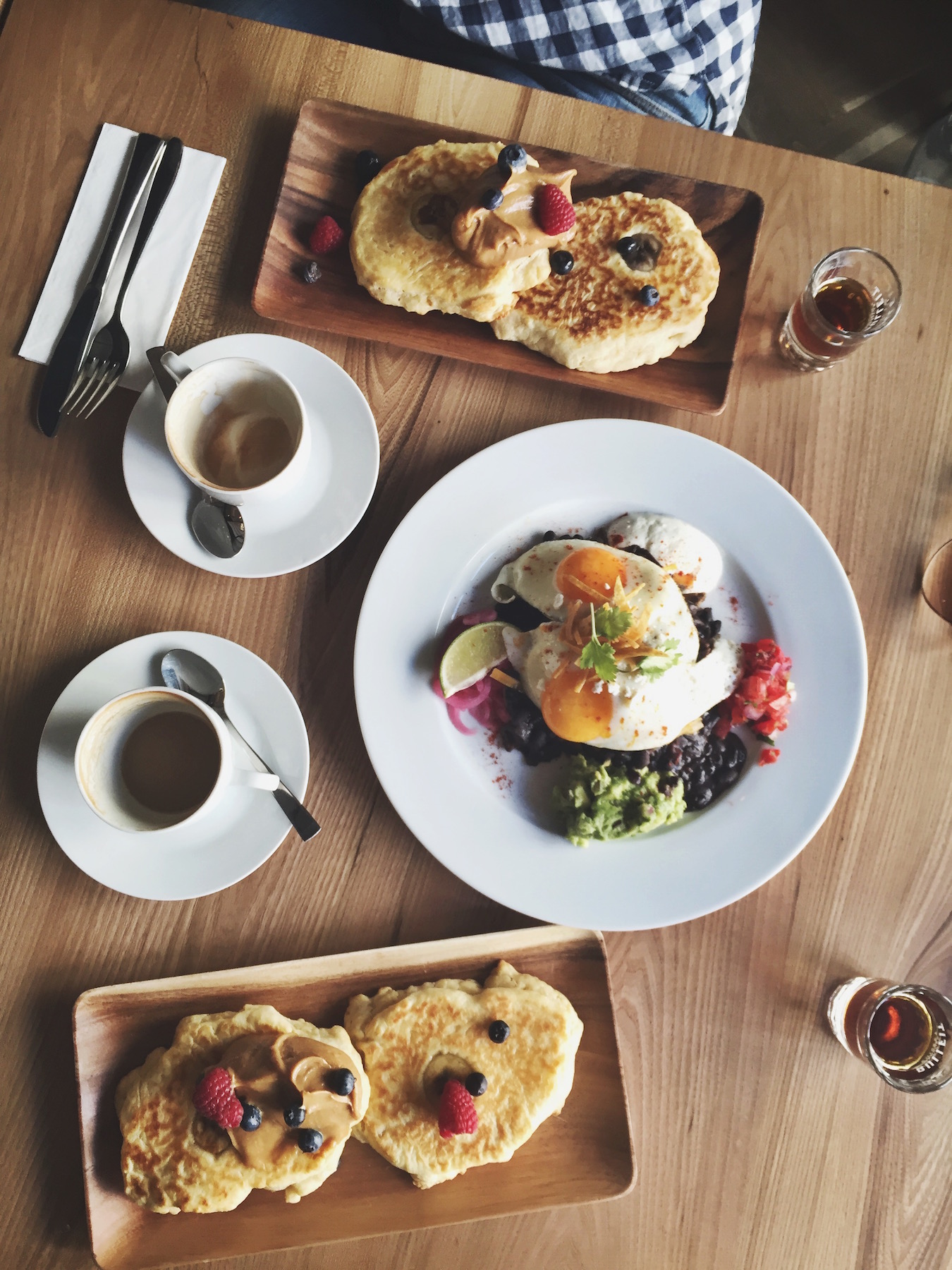 Before it was time to take the bus home on Sunday, we made time for brunch. It is not Sunday in Berlin without brunch, and that is a fact. We met up with my friend and photographer, Ira and had the most awesome, making-me-drool-just-looking-at-the-picture kinda brunch. Fluffy pancakes with whisky-infused sirup, berries and dulce de leche. Yes please.