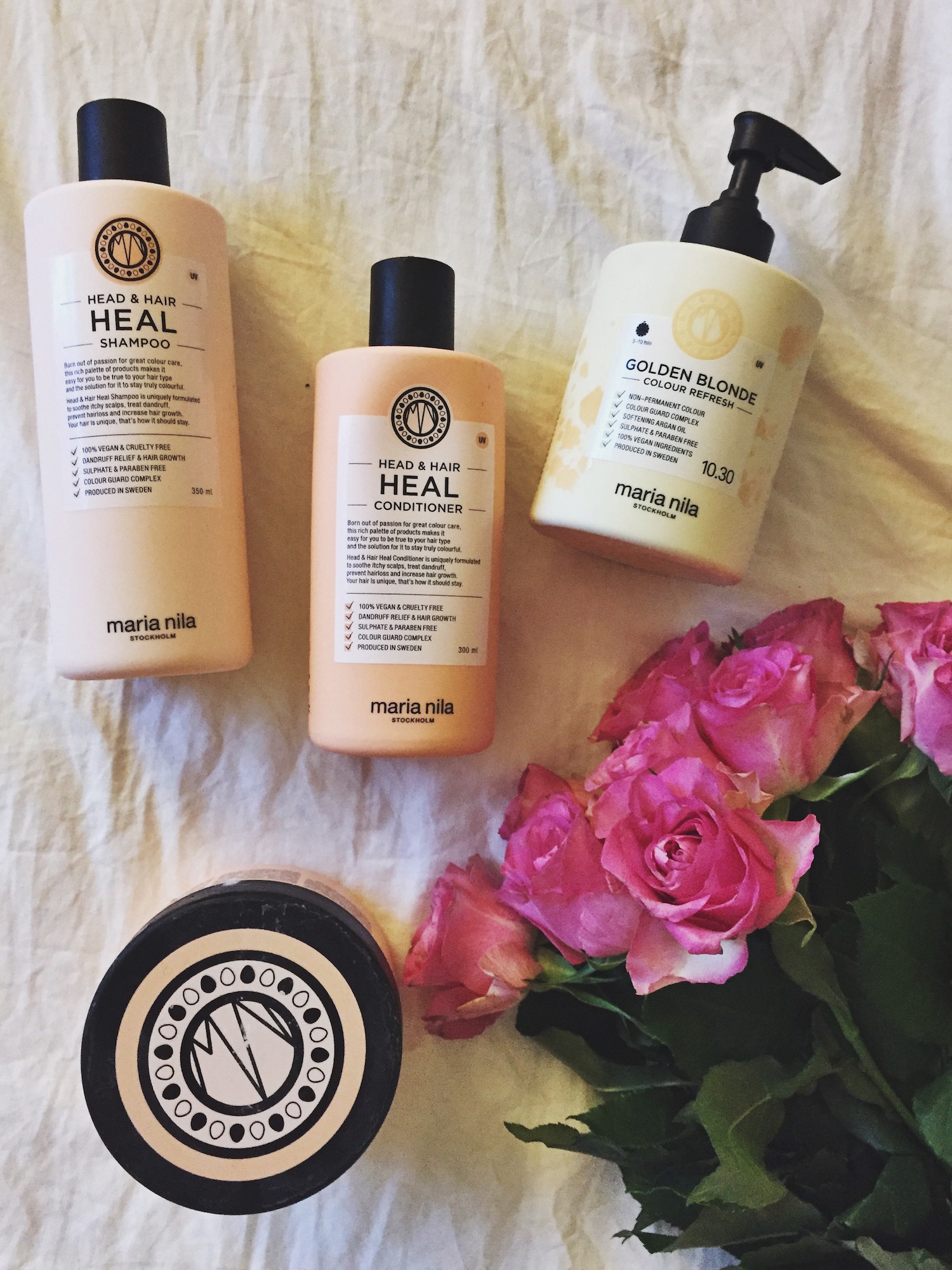 Ok, I am not that literate about my caption as it might sound… but when hearing about vegan haircare, I am definitely not one to say no to vegan. This is why I was thrilled when I received a package a few weeks ago filled with different products from Maria Nila. Maria Nila is a Swedish hair care brand that specialized in creating hair care that is vegan. Their goal is to keep your hair beautiful. That sounds good, doesn't it?
I have been testing the "heal" series from Maria Nila. First of all, the products have absolutely beautiful packaging. (A loyal reader of this blog will know that my favorite of all favorite colors is pink!). The heal series prevents hair loss system and increases hair growth. (Another loyal reader will know that one of my biggest dreams is to have hair that would start growing below my shoulders instead of splitting and breaking and thinning.)
In the package, there was also one of the products that I think Maria Nila got popular by. It goes under the name Colour Refresh. . It is a non-permanent color that you put in your hair for ten minutes just like a hair mask. It comes in a wide range of colors from pink to dark brown to green. It can help refresh your already colored hair. If you pick one of the actual colors such as pink, green or purple, you can spice up your hair and style or just the ends of your hair. The Colour Refresh washes out after 4-10 hair washes. Best of it all? It is not, in any way, harmful to your hair like real hair dying tends to be.
First, I should state all the benefits of Maria Nila.
Beautiful packaging. (It has to go first ;))
It's 100% vegan and cruelty-free. (Yay! All products we put on our bodies should be this way)
Sulphate and paraben free. (The same comment as above goes for this point!)
It is produced in Sweden. (Lots of benefits from this. One of them is that it is highly environmentally friendly to live in Denmark and get your products straight from Sweden instead of being sent from China)
The products smell absolutely amazing, sweet and fresh.
I have been using the products for around seven weeks now with great success. I use the the heal hair mask once a week and leave it on between 20 minutes- to eight hours (when I sleep). That leaves my hair silky soft! I wash my hair with the shampoo and conditioner in the heal series once-twice a week. If I use the mask, I will use the shampoo and conditioner afterwards. Besides from leaving my hair smelling amazing and being soft like silk, I have also noticed that my hair gets less greasy. Sometimes, I would have to wash my hair at least twice a week if not three times a week, but with Maria Nila, I only wash my hair once a week sometimes. Smart people say that the less you wash your hair, the better, so that is definitely a con for me! Vegan is the way people. I can definitely say let's go vegan, when it comes to hair care. It is one step in the right direction, and it doesn't even take much!
Disclaimer: The products from Maria Nila are a present. This post is written by me and states my own opinions.
___________________________
Dansk: Min overskrift er ikke helt så bogstavelig, som den måske lyder. Det veganske indspil handler om, at jeg for nogle uger siden fik øjnene op for Maria Nila, et svensk hårplejemærke, der er vegansk. Vegansk hårpleje! Det kan vi lide! Jeg fik tilsendt en lækker æske med nogle skønne produkter fra Maria Nila, og i dag vil jeg dele mine oplevelser med hårprodukterne med jer.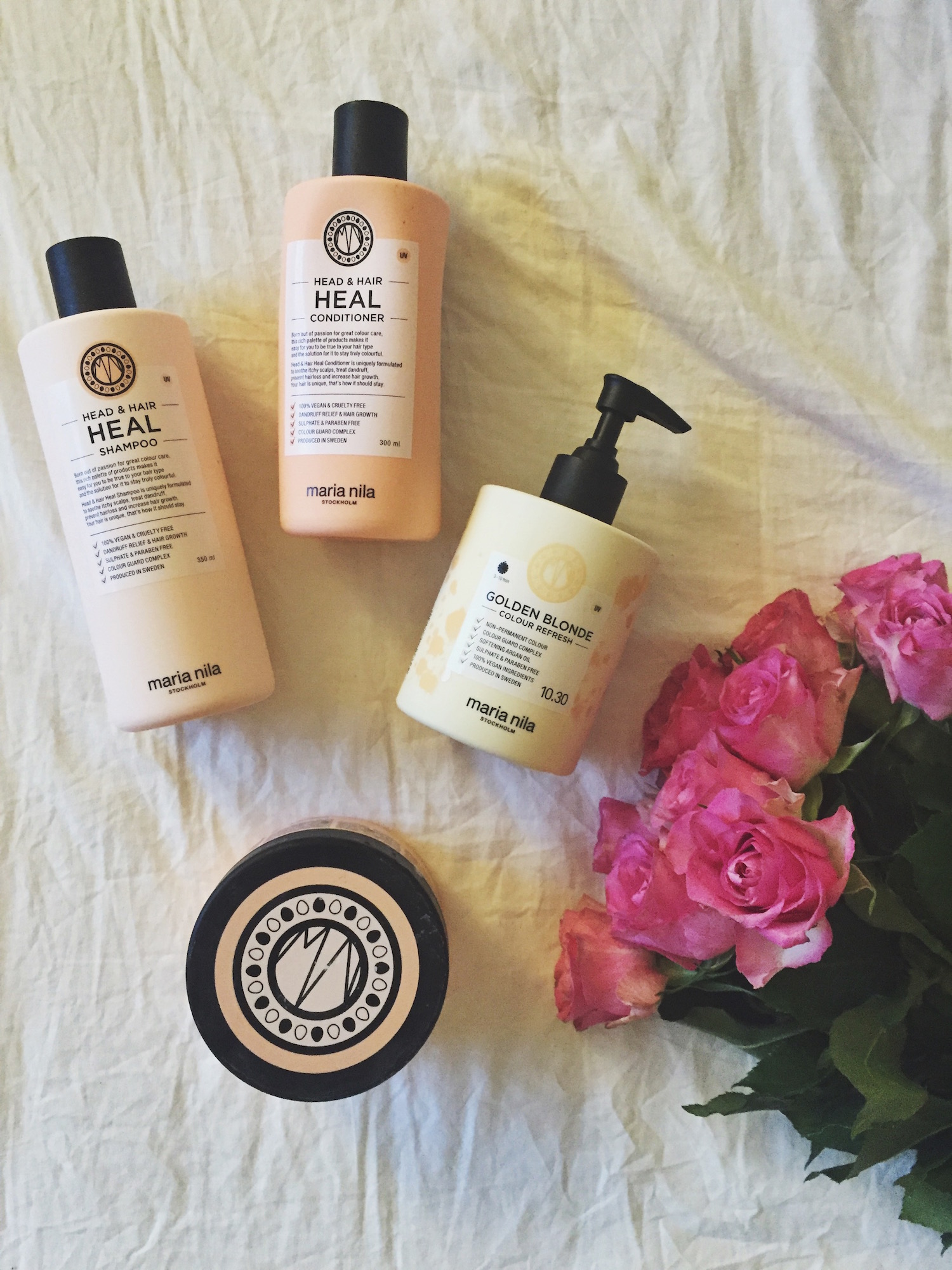 I min pakke lå "heal"-serien, som består af en shampoo, conditioner og en hårmåske. Først og fremmest vinder produkterne på deres design, der er lavet i de skønneste pastelfarver, som jeg jo (som lyserød-freak) slet ikke kan stå for. Så langt så godt. Heal-serien forebygger skæl, hårtab og øger hårvæksten. Det passer supergodt for mig, som desværre lider af tyndt hår, der knækker, falder af og er helt vildt tyndt i spidserne.
I æsken jeg fik tilsendt, lå der også et fjerde produkt. Det var en Colour Refresh, som jeg spår til at være et af Maria Nilas best-sellere. Colour Refresh er nemlig ret fedt. Det er et produkt, der fungerer ligesom en hårmaske. Så fås det i at hav af farver, lige fra pink til blå eller lyseblond til mørkbrun eller sort. Det skal så sidde i håret i op til ti minutter, og så har du altså farvet dit hår. De naturlige farver er oplagte som sidebehandling til dig, hvis du får farvet hår for lige at opfriske hårfarven, og de rigtige farver såsom lyserød og grøn er til dig, der gerne vil lege med dit udseende og prøve noget nyt – måske bare i spidserne. Det kan du gøre med god samvittighed, for farven holder kun 4-10 hårvaske. Deruder skader colour refresh ikke dit hår, hvilket er ret væsentligt, da hårfarve jo har en tendens til ikke at være så sundt for håret.
Inden jeg kommer ind på, hvordan produkterne har virket for mig, så lad mig da lige remse nogle af fordelene ved Maria Nilas produkter op.
De har den smukkeste indpakning! (Det betyder altså ret meget for mig!)
Produkterne er 100% veganske og ikke testet på dyr. (Sådan skulle alle produkter jo egentlig være)
Sulfat- og parabenefri (ja tak, igen, sådan burde alle produkter jo være)
Det er produceret i Sverige (det er jeg især glad for, for det betyder, at produkterne spiller en vigtig rolle i miljøvenlighed)
Produkterne dufter fantastisk – en blanding af friskt og sødt.
Jeg har brugt produkterne fra Maria Nila i omkring syv uger, og det har været en stor succes. Jeg har sørget for at bruge heal hårmasken en gang om ugen. Jeg har ladet den sidde i mit hår i mellem 20 minutter til natten over. Jeg er vild med at putte hårmasken i håret om aftenen, inden jeg går i seng. Så står jeg op om morgenen, går i bad og skylder hårmasken ud. Derefter vasker jeg mit hår med shampoo og balsam ligeledes fra heal-serien. Jeg vasker hår en til to gange om ugen. Udover at produkterne, og især hårmasken, efterlader mit hår silkeblødt, så dufter produkterne også så skønt, så jeg føler, mit hår aldrig har været renere. Det fører så til, at jeg samtidig kun har behøvet at vaske mit hår en til to gange om ugen efter, at jeg er begyndt at bruge Maria Nila produkterne. Det er mindre, end jeg plejer. Det er som om, at mit hår ikke bliver fedtet på samme måde efter brug af Maria Nila. Det er klart en fordel, for de kloge skønhedshoveder siger jo, at jo mindre du vasker dit hår, jo bedre. Konklusionen er, at udover at produkterne er smukke at se på, skønne at bruge, så er de altså også veganske, og det er et skridt i den rigtige retning for skønhedsprodukter. Det siger jeg ja tak til.
*Produkterne er modtaget som en gave fra Maria Nila. Dette indlæg er udelukkende mine egne holdninger.