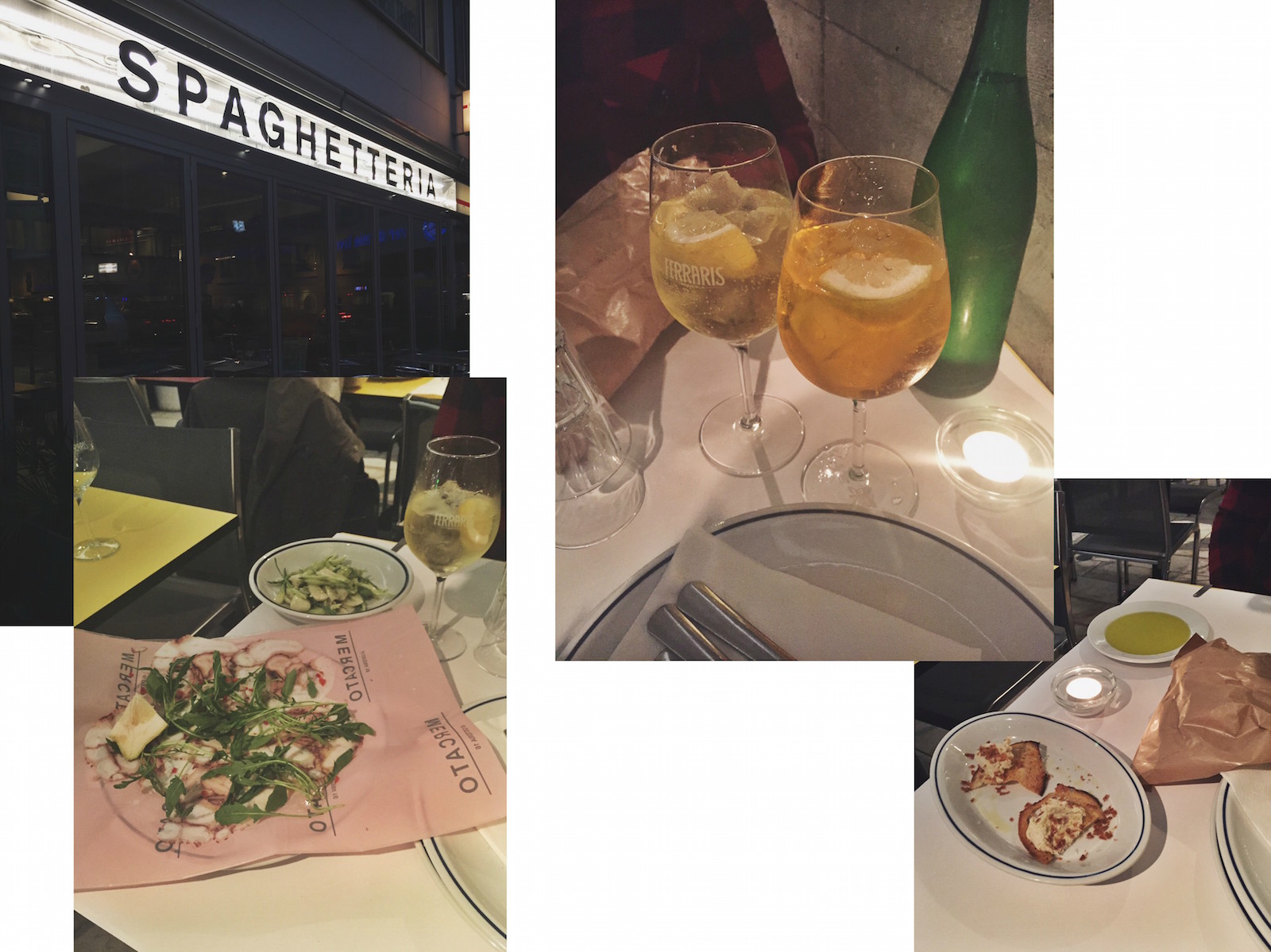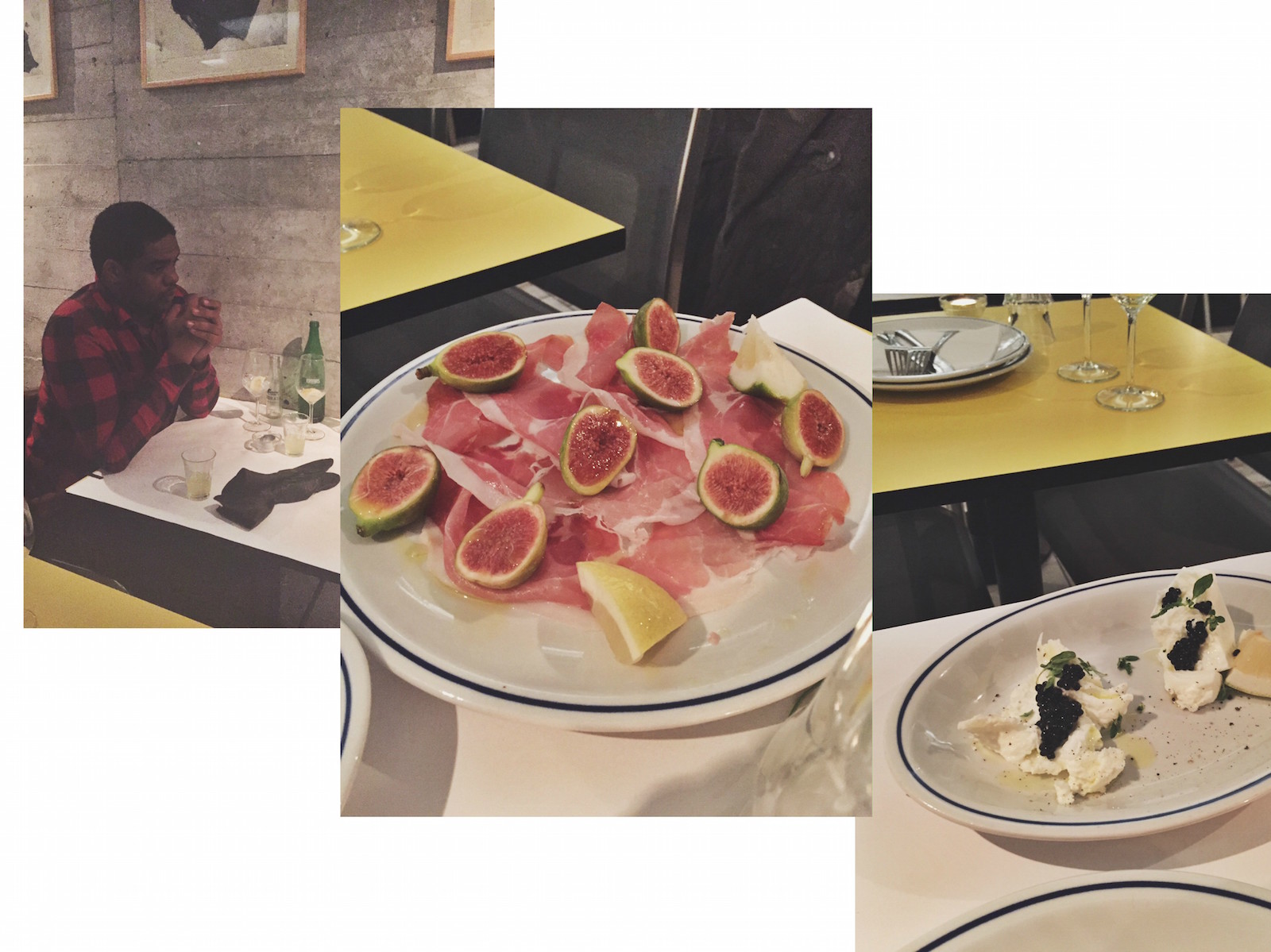 English: It is no news that Copenhagen has a plethora when it comes to good restaurants in the city. Copenhagen is especially known for the New Nordic kitchen that consists of a lot of stuff that can be found in a Scandinavian forest. Nonetheless, does Copenhagen also do a terrific job with restaurants that offer other cuisines such as the Italian cuisine.
It is also no news that I love good food. I love trying new things, and I love to write blog posts with things, tips or advice that can be of value for my readers. Today's blog post will be a tip on where you should go for a fun concept, good food and a cool ambiance if you are looking for Italian food in Copenhagen. In short; you should go to Spaghetteria! 
I can't decide whether I like the concept, the food or the place at Spaghetteria the most. Let's make a run through; the concept. There are no menus (only a wine list with good, Italian wines). The only thing the waiter asks you, is, whether you are allergic to anything. If you aren't, food will simply be brought to the table. First, a complimentary starter. We had toasted bread with tuna and oil. Then, five antipasti. Not on separate plates for each person, nope, on platters for the table to share. Depending on how many people you are, the size of the portions will be calculated. It is up to the party to share and eat and enjoy.
After the five courses, one big plate of pasta will be brought to the table in real Mama Mia Italia style. At my visit at Spaghetteria, the five antipasti were mozzarella with fish eggs and truffle oil, prosciutto with fresh figs, an Italian cabbage vegetable in creme sauce (that was beyond!), octopus ceviche and pulled beef. The menu changes regularly, which is a valid reason to go to Spaghetteria once in a while. Dessert is not included, but as one should never leave an Italian restaurant on an empty stomach, we opted for dessert too. Spaghetteria served a killer tiramisu accompanied by a big glass of complimentary limoncello. Just perfect!
I genuinely love this concept. I can't stand long menus, so the way that Spaghetteria allows you to just come, sit down and enjoy, while the employees and chefs take care of deciding what you should eat, is simply genius to me. What is better than just, once in a while, go and sit down and just getting spoiled by great service, nice employees, great food, and of course, limoncello?
Spaghetteria
Vesterfarimagsgade 2, 1606 Vesterbro
Copenhagen
______________________
Dansk: Det er ikke nogen nyhed, at København har en overflod af restauranter – og de gode af slagsen. København er intet mindre end verdenskendt for dens udvalg af restauranter, der tilbyder kvalitet, innovation og service. Det nyder jeg godt af, og selvom København ligger i Nordeuropa, nyder byden stadig godt af eksotiske cuisines såsom det italienske.
Det er heller ikke nogen nyhed, at jeg elsker god mad. Jeg elsker også at prøve nye ting, og jeg elsker, når jeg kan dele tips og tricks og nyheder her på bloggen, som I måske kan nyde godt af. Det er det, jeg også vil i dette indlæg. Jeg vil tippe om, hvor I skal tage hen, hvis I leder efter en anderledes restaurant med et sjovt koncept og skøn italiensk mad i København. Kort sagt: så skal I tage på Spaghetteria.
Jeg kan ikke beslutte, om jeg er mest vild med konceptet, maden eller stedet, der udgør Spaghetteria. Lad os begynde med førstnævnte: konceptet. Spaghetteria gider ikke menukort, så det findes ikke – udover et vinkort, der indeholder en liste med passende, italienske vine. Når du sætter dig ved bordet hos Spaghetteria, kommer der en tjener hen og spørger, om du er allergisk over for noget. Hvis du svarer nej, vil der simpelthen bare rulle mad til bordet i overflod. Italian style. Først, en lille gave fra køkkenet, en lille snack. Jeg fik ristet brød med tun og olie. Efter det, begynder den rigtige fest. Ikke mindre en fem antipasti kommer til bordet. De bliver ikke serveret på separate tallerkner til hver gæst, men istedet på fade til selskabet. Så er det op til én selv at finde ud af, hvordan maden skal deles og nydes. 
Efter de fem antipasti, kommer der mere mad. Nu et stort fad med pasta og en spaghetti–grabber, så man igen selv kan dosere og fylde på sin tallerken. Jeg har hørt, at menuen skifter forholdsvis ofte, hvilket jo bare giver en god grund til, at man skal spise hos Spaghetteria en gang i mellem. På mit besøg hos restauranten var de fem foretter mozzarella med fiskeæg og trøffelolie, proscuitto med friske figner, en italiensk kål-grøntsag i cremet sovs (så lækkert!), blæksprutteceviche og pulled beef. Pastaen var cremet, frisk og med Carl Johan-svampe. Dessert er ikke inkluderet i menuen, men når man er på italiensk restaurant skal man kunne rulle fra bordet, så vi tog lige en tiramisu med, og det fortrød vi ikke. Sammen med desserten kom der også to (store!) glas limoncello. Bare perfekt!
Min generelle mening om Spaghetteria efter mit besøg er, at jeg er helt vild med konceptet. Jeg hader lange menukort. Jeg synes, det er fantastisk, at man kan dukke op på restauranten, sætte sig ned, drikke et glas eller en flaske vin og bare læne sig tilbage og nyde, at nogen tager beslutningen for en. Lade sanserne nyde det, der bliver serveret for en. En ting er sikkert – du behøver ikke et valg om, hvad du skal spise, for det hele er godt, nøje udvalgt og tilberedt. Hvad mere kan man så bede om – måske et glas limoncello, men det har Spaghetteria jo også tænkt på…
Spaghetteria
Vesterfarimagsgade 2, 1606 Vesterbro
Copenhagen