ENGLISH (DANISH VERSION IN THE BOTTOM) I recently met Monica over a cup of coffee in Copenhagen. We had come across each other on Instagram, and we clearly got along sharing interests such as both being freelance writers, bloggers and having lived in respective cities, Berlin and Paris. We decided to share this connection with our readers. Therefore, I did a secret Berlin city guide for Monica's blog and here I share the guide to five secret tips to Paris that Monica has written. It will, for sure, make you want to go and catch the next flight to Paris!
I've only recently moved to Copenhagen, and I feel extremely ridiculous when I'm too much of a pussy to ride a bike in here, or when I don't know where Oehlenschlægersgade or Blågårdsplads is. I'm not a Copenhagener (yet) – I'm a Parisienne. I know Paris inside out. Every metro stop, every arrondissement. Paris was the city I moved to after college and have been happy to call home on/off ever since. Therefore I've agreed to give you a couple of my best tips to the city!
Paris' best coffee
If you've already read my blog, you'll know I'm quite the coffee enthusiast. My interest for coffee has evolved during my time in Paris, where the third wave coffee-revolution is thriving. There are constantly new, hip coffee shops popping up in all neighbourhoods, and I've been to, well, all of them, more or less. My favourite (so far) is La Caféothèque, which is located right beneath le Marais, by the Seine. It's slightly hidden, and although more and more people have discovered the place since I first moved to Paris, it's far from one of the city's busiest coffee shops. The coffee is a bit expensive, but the place itself is a lot bigger than the average specialty coffee shop that only houses around 8-12 seats/people (bonus!)
La Caféothèque, 52 Rue de l'Hôtel de Ville
Paris' favorite oasis 
Back when Hemingway lived in Paris, and – in the beginning – was quite poor, he used to go come in Jardin du Luxembourg a whole lot. It was the only place he could hang out where the smell of food from the bistros and restaurants wouldn't spread in the air and worsen his hunger. Although I, during my time in Paris, wasn't quite so poor that I had to skip lunch, I still very much liked spending time in Jardin du Luxembourg. At one point I lived 5 minutes away from the garden, and some mornings I would kick-start the day with a run there. In the summer I would have picnics with friends, and even on a cold winter-day I loved going for walks here. The garden seems like the perfect escape from the sometimes chaotic city.
Jardin du Luxembourg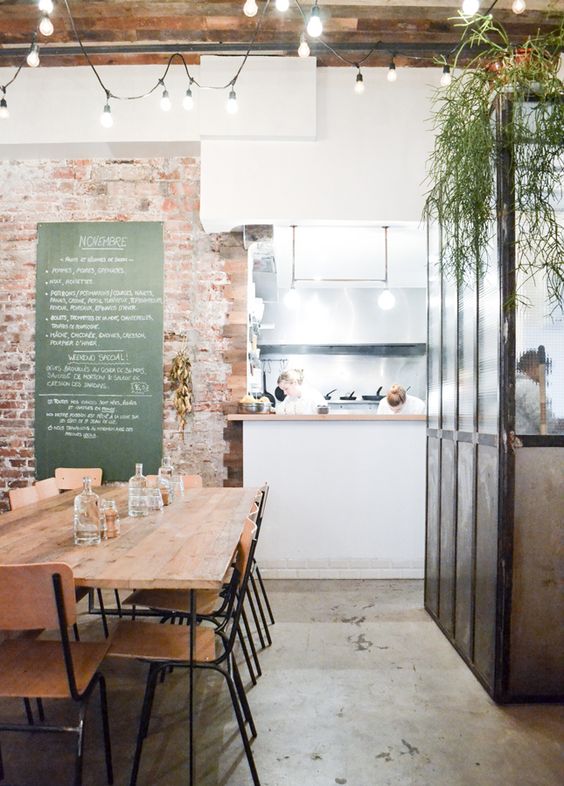 Insta-worthy brunch (Happyinteriorblog picture)
If you follow some of Paris' most well-known instagrammers, you've probably already come across Holybelly. Holybelly is pretty much Paris' best brunch-spot. It's located right next to the Canal Saint-Martin, a stones throw from Republique, in one of the city's most vibrant and hip areas. Other than the brunch menu, which will make you drool, Holybelly also makes fantastic coffee. Actually I'd say that Holybelly is Paris' Distrikt Coffee (Berlin), which also serves incredible brunch (and coffee!) – do you agree, Caroline? 😉
Unfortunately, Holybelly has become so popular that it, especially on weekends, can take quite some time to get a table. The good news, however, is that the couple who owns the restaurant are opening up a new spot! Yay!
Holybelly, 19 Rue Lucien Sampaix
Modern and experimental art museum
Everyone knows that Paris is home to numerous incredible art museums. Most people don't visit Paris without popping by Louvre and/or Musée D'Orsay. But! My advice is to check out Palais de Tokyo as well or instead. Palais de Tokyo is located in the 16th district, very close to Trocadéro (where you can see the eiffeltower from). Here you find a whole lot of abstract art in a beautiful art deco building. Entrance is 12€ and 9€ for youths under 26.
So definitely don't miss Palais de Tokyo next time you're in the city of lights!
Palais de Tokyo, 13 Avenue du Président Wilson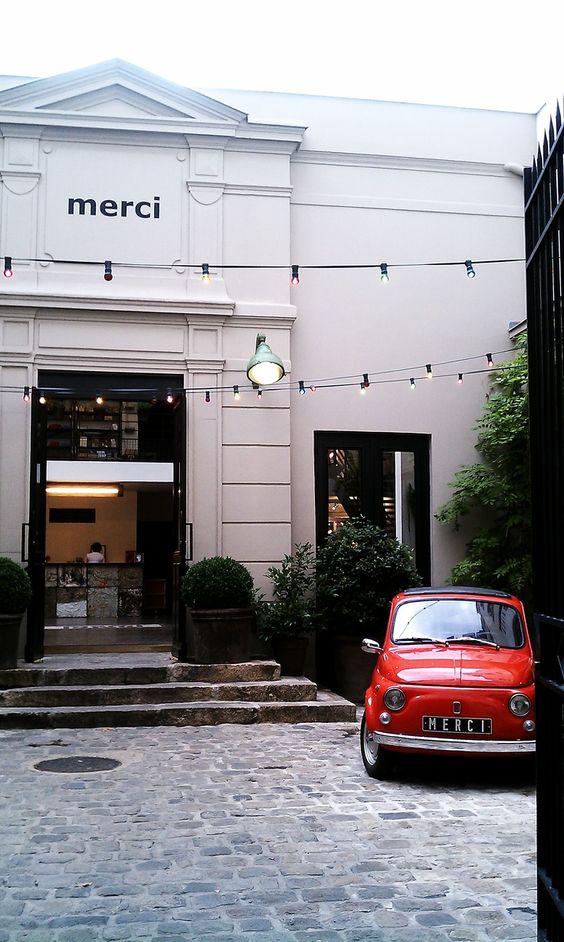 Concept store with a bookstore included (picture: Mad About Travel)
Who doesn't love a good concept store that has it all – and a little more. Paris actually has a large number of concept stores, but Merci remains amongst my favourites. Mostly because of the café attached. You see, it isn't a regular café. It's a café stuffed with books. Now, what's more cozy than coffee and books? Just sayin' 😉 In the shop you'll find an incredible selection of stationery things, gadgets, furniture and clothes. Some of it is quite expensive, buttttt you can always look, right? 😉
Merci, 111 Boulevard Beaumarchais
Make sure to check out Monica's blog here if you are into coffee and traveling <3
_________________________
DANSK:
Monica mødte jeg over en kaffe for et par uger siden. Før den kaffe var vi bare Instagram-veninder, og hun er et levende eksempel på nogle af de positive ting, sociale medier kan føre med sig. Monica er megasej. Hun er freelance rejseskribent og har desuden sin egen blog. Så har hun boet i Paris i et par år, og af de tre grunde, har vi en helt masse af tale om. Derfor blev vi også hurtigt enige om, at det ville være en fed ide at drage nytte af hinanden. Derfor bringer jeg i dag en Paris guide til bloggen med Monicas bedste tips til Paris. Jeg håber, I kan bruge guiden, og måske I kan læse med, blive inspirerede og hvem ved, måske I dernæst er på vej til at booke billetter til en tur til Paris? Det kunne jeg i hvert fald godt bruge! Ordet er Monicas: 
Jeg er først for nyligt flyttet sådan rigtigt til København, og jeg føler mig simpelthen så åndsvag når jeg ikke engang tør sætte mig op på en cykel herinde, og ikke ved hvor Oehlenschlægersgade eller Blågårdsplads ligger. Jeg er ikke Københavner (endnu) – jeg er pariser. Jeg kender Paris ind og ud. Hvert et metro-stop; hvert et arrondissement. Paris var byen jeg flyttede til efter gymnasiet, og har kunne kalde mit hjem on/off lige siden. Derfor vil jeg i dag give jer et par af mine bedste tips til byen.
Paris' bedste kaffe
Hvis man allerede har læst min blog, ved man, at jeg er ret glad for kaffe. Min interesse for den skønne drik har udviklet sig under min tid i Paris, hvor third wave kafferevolutionen for alvor har taget fart i løbet af de sidste par år. Der åbner jævnligt nye, hippe specialkaffebarer i samtlige af byens kvarterer, og jeg har gæstet – ja – dem alle sammen, mere eller mindre. Min favorit er imidlertid La Caféothèque, der ligger ved Seinen under Marais-kvarteret. Den ligger en smule skjult, og selvom flere og flere har slået øjnene op for stedet siden jeg første gang kom her, er den langt fra byens travleste specialkaffebar. Det eneste minus er at kaffen er en smule dyrere end på byens øvrige specialkaffebarer, men til gengæld er lokalerne meget større end de typiske kaffebarer, der rummer 8-12 siddepladser.
La Caféothèque, 52 Rue de l'Hôtel de ville
Mit yndlings åndehul
Dengang Hemingway boede i Paris og – i begyndelsen – var meget fattig, kom han meget i Jardin du Luxembourg. Det var det eneste sted, han kunne opholde sig, hvor duften af mad fra byens bistroer ikke ville sprede sig og forværre hans sult. Selvom jeg, i min tid i Paris, aldrig har været så fattig at jeg måtte skippe frokosten, er jeg kommet rigtig meget i Jardin du Luxembourg. En periode boede jeg 5 minutters gang fra haven, så nogle morgener startede jeg dagen med en løbetur der. Om sommeren har jeg været på adskillige picnics med venner og veninder i haven, men selv på en råkold vinterdag er det fantastisk at opholde sig i haven, der fungerer lidt som tilflugtssted fra den sommetider kaotiske storby.
Jardin du Luxembourg
Insta-værdig brunch
Hvis du følger Paris' mest famøse Instagrammere er du sikkert allerede stødt på Holybelly. Holybelly er pretty much Paris' bedste brunch-spot. Det ligger lige ved Canal Saint-Martin, et stenkast fra Republique, i et af byens unge og hippe kvarterer. Ud over en brunch-menu, der er til at savle over, laver Holybelly også fantastisk kaffe. Jeg vil faktisk sige at Holybelly er Paris' Distrikt Coffee (Berlin), der også serverer en hjernedødt god brunch (og kaffe!) – enig, Caroline? 😉
Desværre er Holybelly blevet så populær at man især i weekender må stå i kø for at få plads. Den gode nyhed er til gengæld at parret, der ejer restauranten/caféen, snart åbner nye lokaler! Hurra!
Holybelly, 19 Rue Lucien Sampaix
Moderne og eksperimentel kunst
Alle ved at Paris er hjem til utallige fantastiske kunstmuseer. Langt de færreste besøger Paris uden at slå vejen forbi Louvre og Musée D'Orsay. Men! Jeg råder altid folk til også/eller tjekke Palais de Tokyo ud. Palais de Tokyo ligger i det 16. arrondissement, tæt på Trocadéro-pladsen (udkig til Tour Eiffel). Her finder man en fantastisk masse abstrakt kunst i en smuk art deco bygning. Entréen koster 12€ og 9€ for unge under 26 år. De store, åbne lokale, der huser kunsten, gør også stedet helt særligt. Så drop de klassiske museer næste gang du rammer Paris, og giv Palais de Tokyo en chance i stedet for!
Palais de Tokyo, 13 Avenue du Président Wilson
Concept store med bogcafé
Hvem elsker ikke en god konceptforretning, der har det hele – og lidt til. Paris har faktisk mange af slagsen, men Merci forbliver blandt mine yndlings. Primært fordi den tilhørende café er så utroligt hyggelig – her er man nemlig omgivet af bøger. Overvej det lige! Hvad skriger mere "hygge" end bøger og kaffe? Man selve forretningen er også rig på gode fund; især deres stationery udvalg frister gang på gang. Både møbler og tøj er liiiidt dyrere end hvad jeg har råd til, meeeen jeg kigger som regel lidt alligevel 😉
Merci, 111 Boulevard Beaumarchais
Hvis du er interesseret i kaffe, skønne rejseguides og anekdoter fra livet, så kig forbi Monicas blog her.