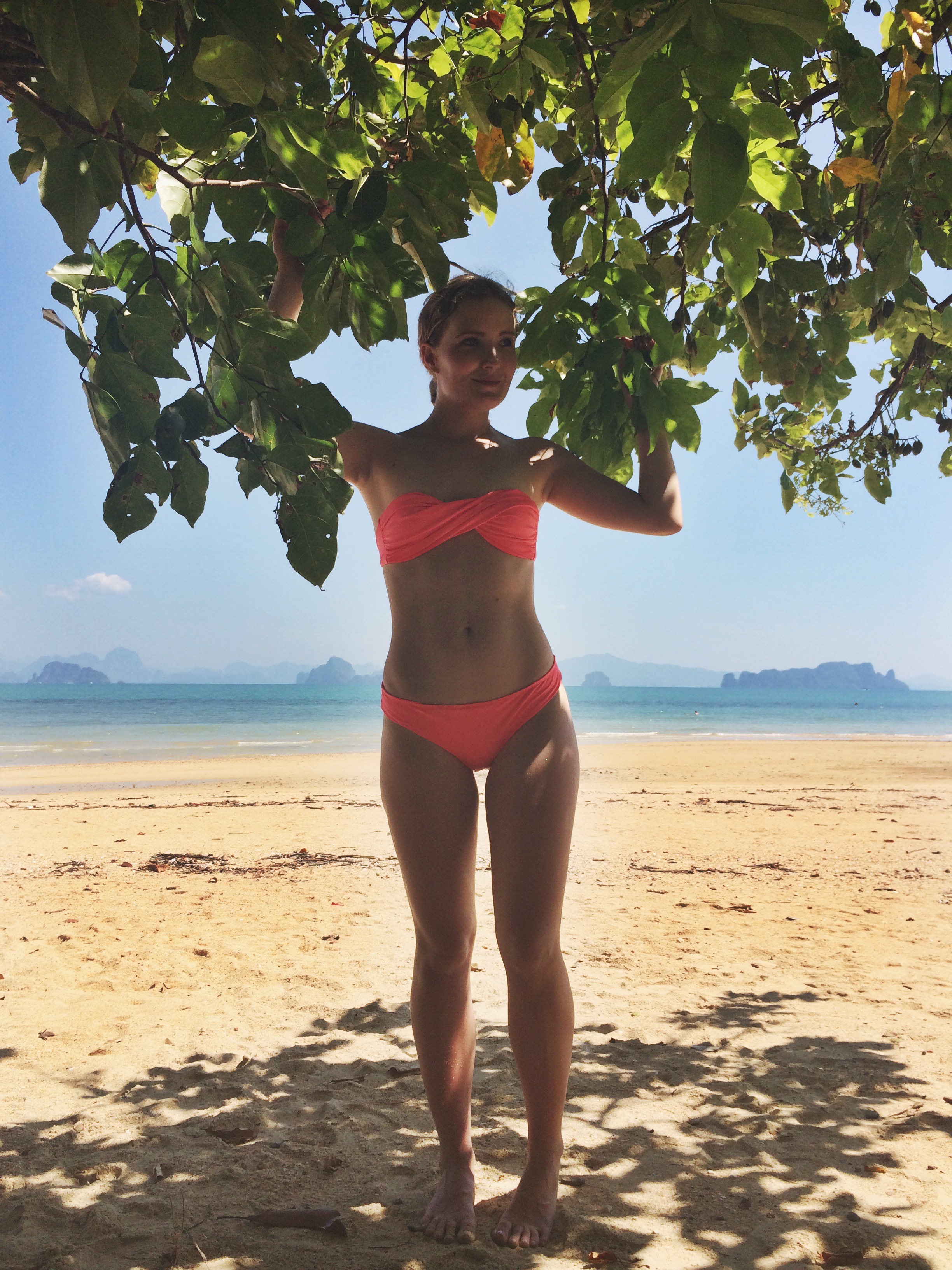 English: (Danish version below) Actually, I am really happy at the moment. Although it is dark most of the time and I am busy with university exams, I am enjoying my new apartment so much. It kind of makes up for all the bad things. None the less, I can't really help up but thinking back a year ago. A year ago I celebrated Christmas and New Years in Thailand. It was amazing and I wouldn't mind going back right now and do it over again.
In total, we had two weeks. We began the trip in Bangkok, where we had a few days. After that we took a bus to Cambodia to explore Angkor Wat. The Cambodians have made it very hard to enter the country, so the trip took from Bangkok to Angkor Wat took a day each way.
After Bangkok and Angkor Wat, we needed relaxation, beach and chill. We flew to Phuket and took a ferry to The Phi Phi islands. We stayed at the side of the island that is very quiet compared to the popular side which is overly touristy. After three nights in Phi Phi, we island hopped over to Koh Yao Noi, a more local, undiscovered island. We stayed in a beach bungalow with mostly nothing to do and it was amazing.
It was a perfect way of spending two weeks in Thailand as a first trip. I know that Thailand has so much to offer. Therefore, I would love to go back to see more of Bangkok and visit other islands. The trip above could be your inspiration, if you are planning your first trip to Thailand.
Or maybe you have already been? Tell me in the comments below! 
______________________________________
Dansk: Livet kører rimelig godt for mig for tiden. Mit happiness-level er virkelig steget gevaldigt efter, at jeg er flyttet ind i min helt egen, fantastiske lejlighed. Intet kan røre mig, selv ikke de seks eksaminer som jeg har foran mig den næste halvanden måned. Mit energiniveau er på toppen på trods af, at dagslys er en by i Rusland disse dage. Intet kan slå mig ud. Jeg er glad.
På trods af glade dage, så har man vel altid plads til lidt dagdrømmeri. Og det gør jeg mig også i. I den grad. Lige nu dagdrømmer jeg lidt om en vintertur til de varme lande. De fornævnte seks dræber-eksaminer gør det en smule svært at komme af sted, så jeg har ingen forventninger til noget. Kun drømme.
I mellemtiden drømmer jeg mig tilbage til denne tid for et år siden. Der holdt jeg nemlig jul og nytår i noget så eksotisk som Thailand og Cambodia. Det var fantastisk. At undslippe kulden og varmen og juleræset og skifte det ud med strand, frisk kokosvand fra kokosnødder, bikinier, ø-hopping og scootere.
Jeg var af sted i to uger, og det var min første rejse til Thailand. Min familie og jeg er altid meget aktive på ferier. Selvom Thailand egentlig var planlagt til at være en slappe-ferie, endte vi med at opleve en helt masse på de to uger. Herunder to gange layover i et iskoldt Rusland. Et par dage i Bangkok. En tur til Cambodia og opleve Siem Reap og Angkor Wat. Flytur fra Bangkok-Phuket. Færgesejlads til Phi Phi og yderligere en båd til vores hotel, der lå på den anden side af Phi Phi, hvor halvdelen af bådens passagerer blev meget søsyge. En speedbåd til Koh Yao Noi med nytårsfejring og den rene afslapning, vi var taget af sted for. Så hjem til minusgrader i mørke København igen.
Det var fantastisk. Og hvor gad jeg godt fejre jul og nytår i varmen igen. Måske næste år. Eller i hvert fald, når jeg ikke længere har eksaminer i december og januar.
Håber I nyder december, juletiden og måske I er så heldige at smutte sydpå om et par uger?