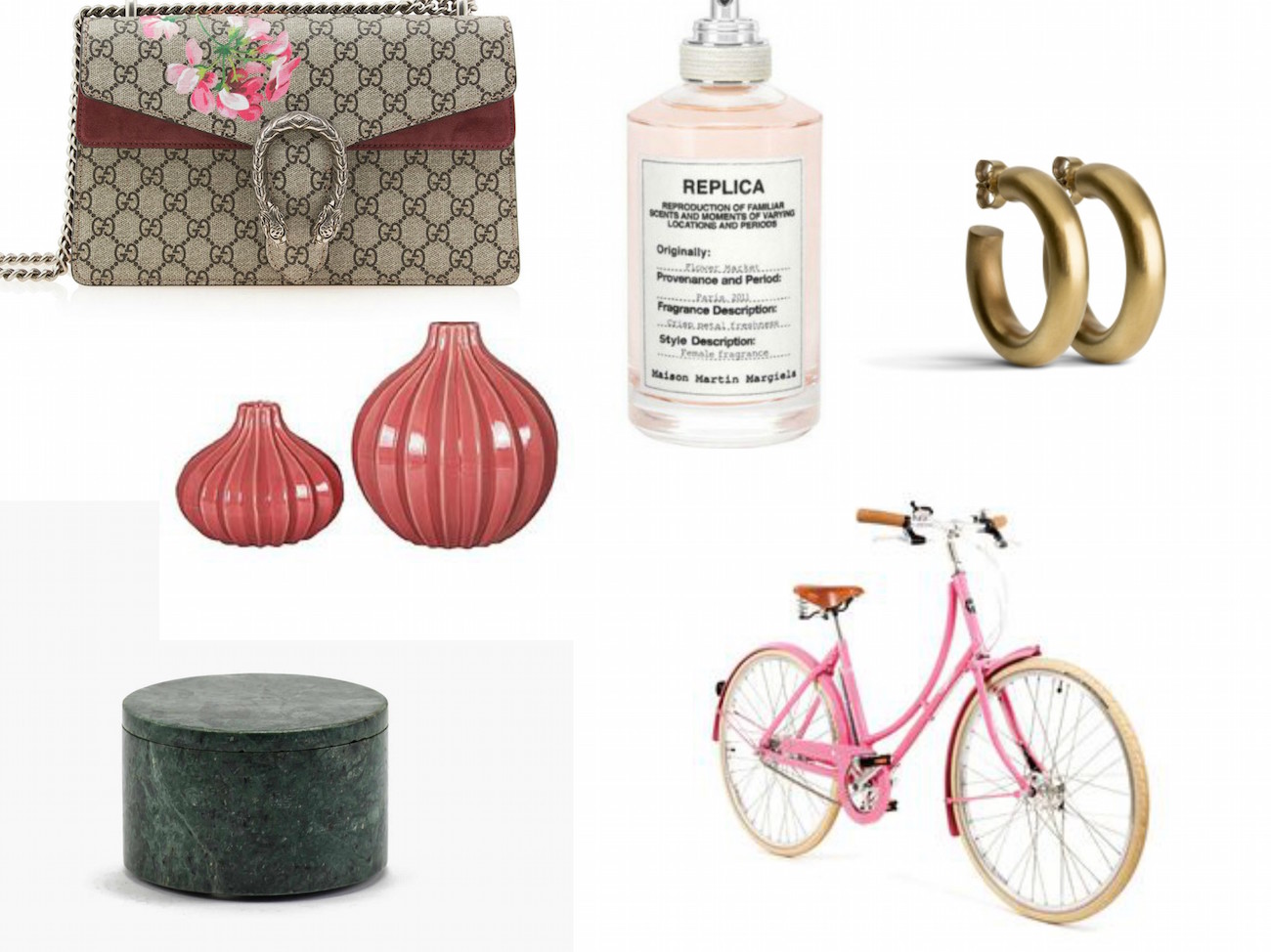 English: (DANISH VERSION IN THE BOTTOM) Is your wish list full of wishes? Or are you the kind of person that never knows what to actually wish for when someone is asking you for your wish list? Do not fear – in this blog post I will cover lots of ideas on what you should wish for Christmas. The ultimate wish list for Christmas.
Myself, I wish for the stuff above. A new perfume, lots of stuff for my new apartment, basically everything from Broste Copenhagen, everything pink, and also a bike. I am still riding my mom's bike that she is so sweet to let me borrow. I have been using it since August, and the Copenhagen lifestyle orders you to bike every day, so it would be a good idea to get my own, so my mom can get her's back. This bike is pink, beautiful and from British Pashley. The earrings are from my all time favorite Copenhagen jewelry brand Jane König that I actually told you guys about before. The bag is just beautiful, maybe not the most suitable gift for a Christmas wish list, but a girl can dream right? Dear Santa….
For creating the ultimate wish list for Christmas, I wanted to come up with some great, universal tips on what to wish for, especially if you don't really know what to wish for or feel that you have what you need. If that is the case, good for you. Feeling content is amazing. None the less, is it great to give and receive gifts, especially from loved ones.
Therefore, you should wish for: 
Something that you would have bought anyway: this can be the face cream you already use but need a refill of, a gift card to your favorite cafe where you would spend money on coffee anyway, the tea you love to drink or whatever else you can think of.
Something that you need (or your apartment needs): the list is probably long, it is just about remembering the things. Take a look at your apartment – were you thinking of buying new bed sheets? Pillow covers? Or extra pillows to make your home cozier? Or new basic t-shirts, underwear or stockings? Something for your kitchen, as that smart vegetable slicer or new kitchen knives? For sure, there is something that you can think of that would be great to add to your home, closet or cabinet.
A subscription on something that you like: Nowadays you can get subscriptions for almost anything. Do you like read fashion magazines but rarely buy them because they are expensive? Would you like a fresh bouquet of flowers delivered to your door once a week? Or even a meal plan with all groceries? Subscriptions are great and they make it easy to lead a busy life, because the subscription will take care of that extra piece of luxury in your everyday life.
Good experiences: This is something that I often use myself – I create my own gift card when it is my girlfriend's birthdays and invite them out to brunch (of course with me!). It is a great way of catching up, making sure you see each other, plus sharing a great experience and memory while doing something fun together.
Remember to bookmark wishes throughout the year: On my laptop, I have a folder where I save whatever wishes I stumble upon online. Then once in a while, I go through the list partly to see, if the bookmark I saved is still something I wish for, if I should delete it, keep it on the wishlist or even buy it myself. It is a good way to always remember what you really wish for but also if it is only a temporarily wish.
Have you already created a wish list? What is on it? 
_______________________________________________
Dansk: Er du typen, der for længst har sendt en fuld ønskeliste ud til dine venner og familie? Eller er du den, der hvert år har svært ved lige at komme i tanke om, hvad du nu ønsker dig? Lige gyldigt hvilken en type du er, så er der, i dette indlæg, gode råd at finde til de bedste ønsker at putte på dette års ønskeliste. Indlægget hjælper også, hvis du ikke kan komme på, hvad du dog skal give dine loved ones i julegave.
Til lidt inspiration ønsker jeg mig selv ovenstående. Tasken er måske et lidt overdrevet, men man har jo lov at ønske ikke? Kære Julemand… Af mere overkommelige ønsker står der en masse sager til min nye lejlighed på min ønskeliste, og jeg drømmer egentlig om alt, hvad Broste Copenhagen har, samt alt hvad der er pink. En ny cykel er også et ønske. Siden jeg flyttede tilbage fra Berlin, har jeg kapret min mors cykel. Det holder jo ikke i længden. Øreringene fra Jane König er så perfekte, og udover at Jane König er et absolut favoritsmykkemærke i min bog, så er øreringene perfekte til hverdag. Jeg skifter nemlig sjældent smykker, så jeg kunne forestille mig, at de her ville sidde fast i månedsvis.
Som lovet, så handler indlægget jo ikke kun om mig. Jeg vil give nogle tips til, hvad du skal skrive på din ønskeliste. Læs med her og find ud af, hvad du skal ønske dig i julegave:
Noget du ville have købt alligevel: her kan du helt sikkert komme på en masse ting. Det kan være, at den ansigtscreme, du bruger til hverdag er ved at løbe tør. Det kan også være, at du dagligt køber kaffe fra din skoles kantine eller en specifik café. Måske du er ved at løbe tør for din yndlingste? Ønsk dig en refill i julegave – hvor perfekt er det ikke lige, at få en gave, som du ville have købt selv alligevel?
Noget du (eller dit hjem) har brug for: kig rundt i dit hjem, i dit tøjskab eller på dit badeværelse. Har du hørt om en god hårkur, du gerne vil prøve? Hvad med den der dyre hårbørste, som alle de seje bloggere har? Er der gået hul i alle dine uldsokker, nu når du tænker over det? Trænger din vindueskarm til en fin lysestage? Eller drømmer du om at ekvipere din seng med luksussengetøj lavet af hør? Så er det nu, at du skal skrive de sager på din ønskeliste.
Et abonnement til noget lækkert: modemagasiner er efterhånden blevet røv-dyre, og personligt er det yderst sjældent, at jeg kaster penge efter dem. Det betyder dog ikke, at de er skønne at læse, især her om vinteren. Julen er en genial anledning til at ønske sig et abonnement i gave, især fordi det hører under kategorien som noget, du nok ikke ville have købt selv. Nu til dags kan man efterhånden få alt i abonnementer, så hvis modemagasiner ikke lige er dig, så findes der et hav af andre abonnementer. Som fornævnt, et kaffeabonnement til eksempelvis Emmerys, et madabonnement fra Årstiderne, et blomsterabonnement fra Posy og så videre. Hvor lækkert ville det ikke være at få leveret en smuk buket blomster til døren en gang om ugen?
Skønne oplevelser: denne her gaveide er jeg fast tilhænger af selv. Jeg giver ofte mine veninder en tur ud at spise brunch i gave. Det er der mange fordele ved. I stedet for en gave, som man egentlig ikke rigtigt har brug for, får man kvalitetstid sammen, man får en lækker oplevelse og et dejligt minde. I denne kategori kan du også ønske dig en tur til en negle-shellac-behandling, eyelashextensions eller noget mere personligt.
Trick: husk at gemme dine ønsker i løbet af året: og et trick jeg sværger ved. Hver gang jeg finder noget interessant på nettet, hvor jeg tænker "det vil jeg have!", så tilføjer jeg det til en mappe ved navn "ønsker". En gang i mellem kigger jeg så den mappe igennem, og så kan jeg vurdere, om det stadig er noget jeg ønsker mig. Hvis ikke, så sletter jeg markeringen. Hvis ja, så gemmer jeg siden, og hvis jeg virkelig ønsker mig det, og det er en mindre ting, så køber jeg det. På den måde laver du ingen fejlkøb, forhastede køb og så har du altid noget at putte på ønskelisten.
Hvordan er din ønskeliste? Gav dette lidt inspiration og hvad ønsker du dig til jul?