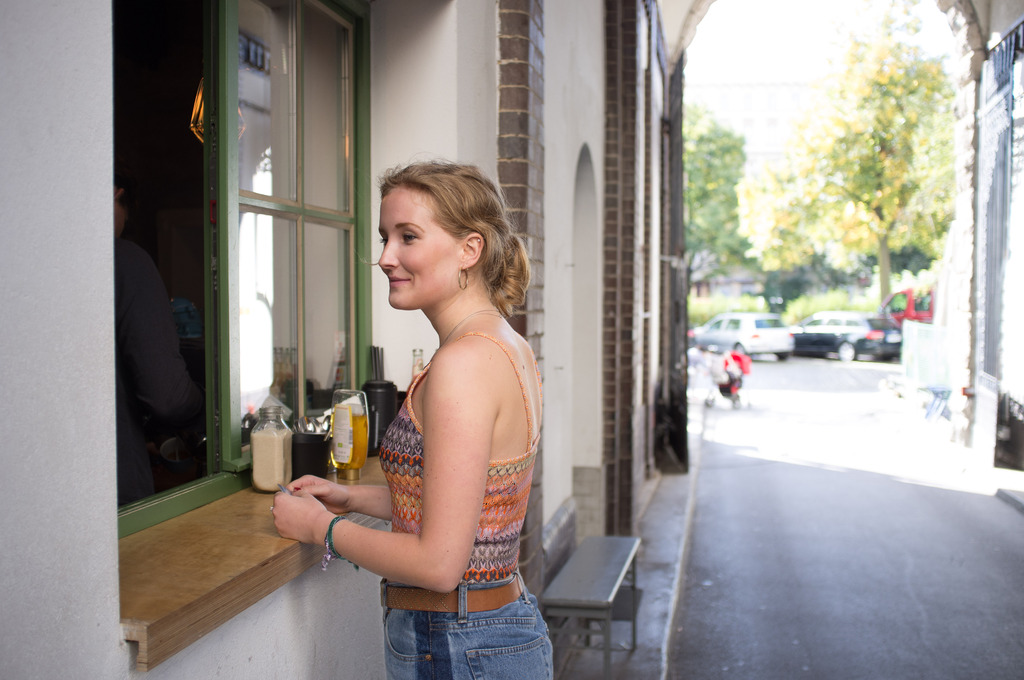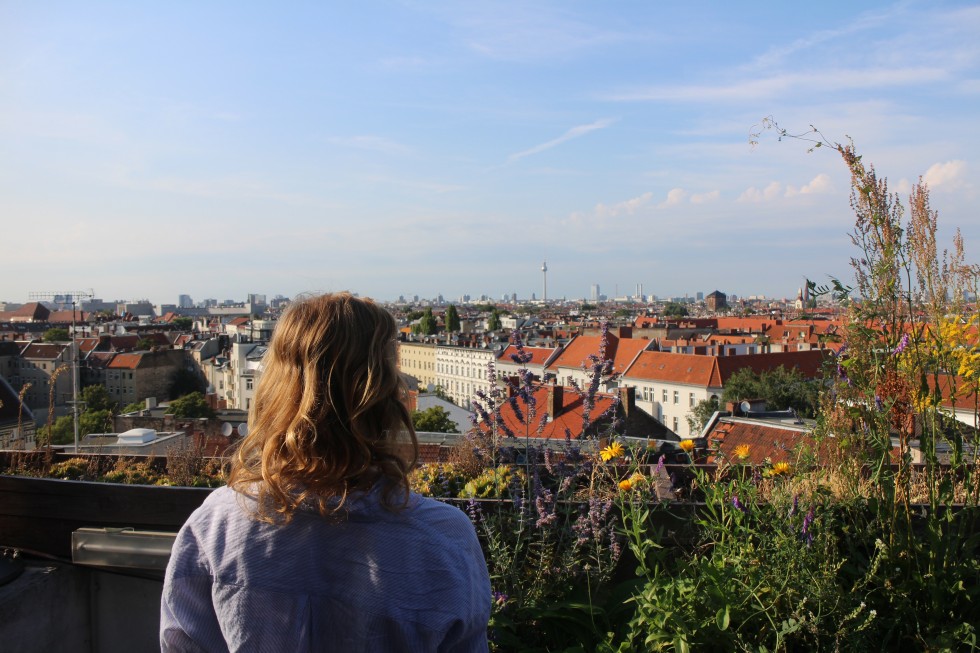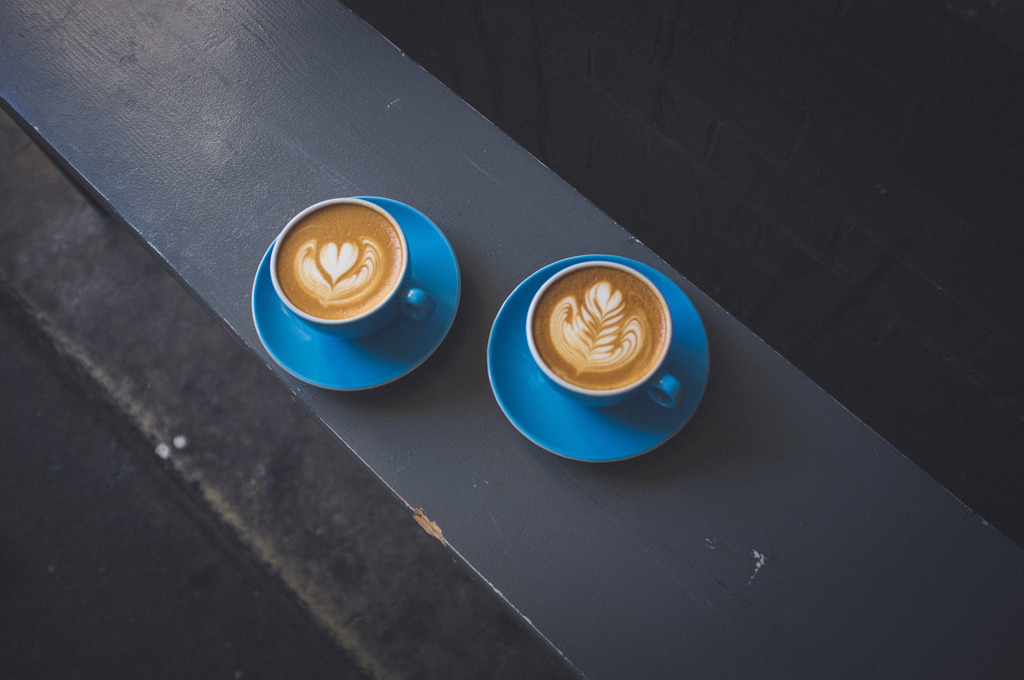 DANISH VERSION IN THE BOTTOM. Three years living in another country than your own country leaves its stamp on you. Berlin certainly did on me! And while it has actually been less painful moving back to Copenhagen than I initially thought it would be, it doesn't mean that I don't miss Berlin. I especially started missing the city right now, because it is exactly three months ago that I was there last. I am really hoping that I will be able to go for Christmas. This means that I am thinking a lot about Berlin right now. Berlin is the city I moved to when I was 18 and lived there till I was almost 22. It is the place I first moved to after moving away from home. It is the city where I first moved in with a boyfriend. It is the city where I got to know myself and found myself. And here is a (very long) list of 32 things I miss about Berlin.
♥ My apartment in Berlin.
♥ Walking down Warschauer Strasse.
♥ And my bike trips all along Karl Marx Allee.
♥ Going to Boxhagener Platz Wochenmarkt every Saturday.
♥ Crossing Oberbaumbrücke going from Friedrichshain to Kreuzberg.
♥ Getting on the tram, sitting down and just look out the window.
♥ That it is socially acceptable to drink beer anywhere, anytime.
♥ Endless cafe opportunities.
READ ALSO: The 10 best burgers in Berlin
♥ Australske baristaer på alle de gode caféer, der er kendt for a lave den bedste kaffe.
♥ Shakespeare and Son's (my favorite cafe with the best bagels in the world).
♥ Walking along the canals.
♥ Friedrichshain, my neighborhood.
♥ How cheap the food is at restaurants.
♥ And how many amazing, Asian restaurants there are.
♥ Endless fleamarkets.
♥ All the countless, different events that are taking place in Berlin.
♥ The open-mindedness to cultures.
♥ That no one looks the same, in Berlin it is okay to dress exactly how you want.
♥ How the city doesn't wake up till 1 pm on a Sunday.
♥ Quiet Sundays – all stores are closed so you are forced to chill.
♥ Watching people walking to Berghain on the weekends.
♥ Infine things to do.
READ ALSO: 10 things I love about Berlin
♥ That the city is so big, so going to the other part of the city feels like traveling to a completely new city.
♥ The German language.
♥ Speaking German.
♥ Meeting and talking to new people every day.
♥  Parks and trees everywhere.
♥ The amazingly ugly and surprising architecture.
♥ Partying. There is no better place to party.
♥ Being surrounded by history of The Second World War and GDR.
♥ Döner.
♥ Schnitzel. (Although I can count on one hand how many times I actually ate it living in Berlin).
And the list could go on…. As happy as I am to be back in Copenhagen getting my life on track (because being serious is not really a Berlin thing…), I also miss my Berlin life. I am sure that that is completely normal to feel this way after living in a different place for a long time. I am sure that a short trip to Berlin would cure my post moving-from-Berlin-sadness. Let's hope that I will be able to go very soon! <3
_____________________________
DANSK: At bo over tre år i en anden by, i et andet land, sætter unægteligt sit præg på en. Især fordi Berlin var det første sted jeg flyttede til efter jeg flyttede hjemmefra. Jeg boede der fra jeg var 18 år gammel til knap 22 år. Jeg tror især, at de år spiller en vigtig rolle i ens liv. Det er i hvert fald de år, hvor jeg rigtigt har lært mig selv at kende. Selvom jeg har skrevet, at det har været mere smertefrit at flytte tilbage til København, end jeg egentlig havde regnet med, så er det nu tre måneder siden, at jeg sidst var i Berlin. Derfor savner jeg virkelig byen lige nu. Jeg håber på, at jeg måske kan tage af sted på en weekendtur senere på måneden. Her er 32 ting, jeg savner ved Berlin: 
♥ Min egen (og første) lejlighed i Berlin.
♥ At gå ned af Warschauer Strasse.
♥ Og at cykle hele vejen langs Karl Marx Allee.
♥ Vågne op og gå ned på madmarkedeti mit hood og starte dagen med kaffe hver lørdag.
♥ Krydse den fantastiske Oberbaumbrücke + muren fra Friedrichshain til Kreuzberg.
♥ Hoppe på sporvognen og bare sidde og kigge på verden, der passerer uden for.
♥ At det er socialt acceptabelt at drikke øl, anywhere, anytime.
♥ Et mega udvalg af fantastiske caféer at besøge.
♥ I særdeleshed Shakespeare and Son's, (en af) min (e) yndlingscaféer, der især er kendt for deres koncept og bagels i verdensklasse.
LÆS OGSÅ: De 10 bedste burgere i Berlin
♥ Gåture langs kanalerne i Kreuzkölln.
♥ Friedrichshain, min bydel <3
♥ At det er så billigt at gå ud og spise.
♥ Og hvor mange, fantastiske restauranter, der findes.
♥ Loppemarkeder.
♥ Og sjove, anderledes, specielle events der altid finder sted i Berlin.
♥ Åbenheden overfor alle slags kulturer.
♥ At ingen ligner hinanden, fordi det er ok at se anderledes ud i Berlin.
♥ At byen ikke vågner før kl. 13 om søndagen.
♥ Butikkerne er også lukkede, så man er tvunget til at slappe af om søndagen.
♥  Iagtage folk der skal på Berghain.
♥ At der altid er noget at lave – et museum at gå på, et nyt sted at se, en ny bydel at udforske.
♥ At byen er så stor, så det at tage til den anden ende af byen føles som om, man er kommet til en helt anden by.
♥ Tysk.
LÆS OGSÅ: 10 ting jeg elsker ved Berlin
♥ At tale tysk.
♥ At møde nye mennesker fra andre lande hver eneste dag.
♥ Parker og træer over det hele.
♥ Den smuk-grimme og overraskende arkitektur.
♥ At feste. Berlin er det bedste sted at feste.
♥ At være omringet af kultur og historie.
♥ Döner.
♥ Schnitzel. (Selvom det kan tælles på en hånd, hvor mange gange jeg faktisk spiste schnitzel i Berlin).
Og listen kunne blive ved…. Selvom jeg er glad for at være tilbage i København, så savner jeg altså også mit liv i Berlin. Jeg er sikker på, at det er helt normalt, når man har brugt flere år bosat i en anden by. Jeg tror også, at mit savn kan kureres (i hvert fald noget af det) med en kort tur dertil. Jeg håber derfor, at jeg snart(!) kan komme til Berlin <3