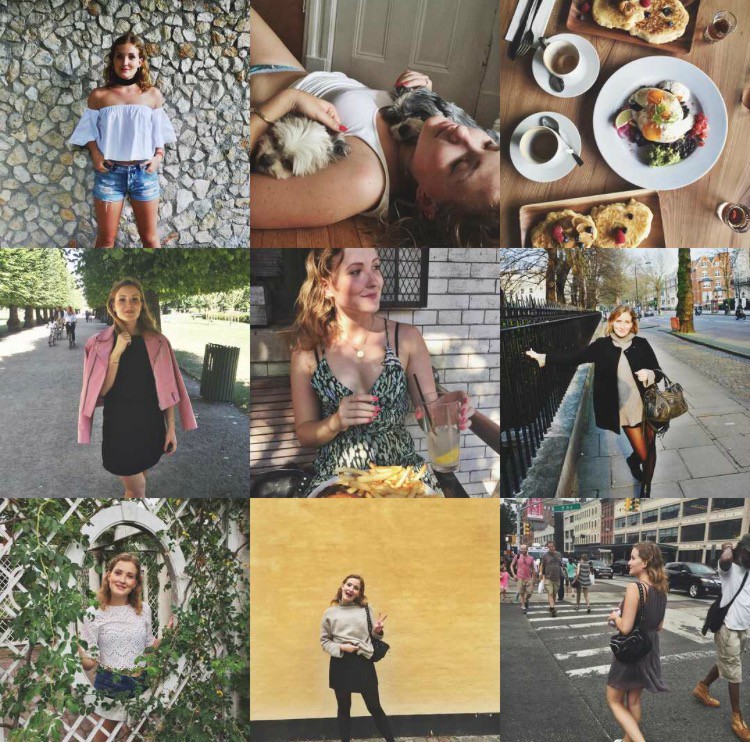 DANISH VERSION BENEATH. I stumbled upon this website "yourbestnine" that collects your nine most liked pictures on Instagram from 2016. My most liked pictures are these shown above and it is quite funny if I analyze on them, pictures of myself are the most popular, besides from one brunch picture. Yas, that brunch was good though. Another thing the most liked pictures have in common are that most of them were taken in New York City. That city is just magical, huh? Good thing is that I am back here again, so I will try to take as many good pictures while I am here as possible.
These "yourbestnine" was a pretty funny way to go through the past year because it had me scroll through my whole Instagram to find them. It also left me a bit sad because Instagram is so temporary. I think about all these pictures that I took, put passion and time into taking and editing. They are put up on Instagram, seen once, maybe twice of people, and then they are forgotten by anyone but yourself. It seems so pointless in a way, yet it is an app I spend so much time on.
Well, here are my most liked pictures of 2016! 
________________________________
Denne app gør det muligt at finde sine ni mest likede billeder fra år 2016 gennem Instagram. Det er en sjov og hurtig måde at få et lille recap over året, der gik. Så, mine mest likede billeder er ovenstående billeder. Det er ret sjovt, at de fleste af dem er fra New York denne sommer.
Som jeg skrev på Instagram i går, har mit 2016 været et år, der er præget af flere store ændringer i mit liv. Jeg flyttede tilbage til København efter tre år i Berlin. Jeg tog også min kæreste fra New York med. I august startede jeg på universitetet og jeg købte min første lejlighed. Det har været et vildt, hårdt og skønt år fyldt med oplevelser. Jeg glæder mig til at se, hvad 2017 har at byde på. Jeg håber, at I også sidder tilbage med en god mavefornemmelse og har haft et godt år med overvejende gode, lærerige oplevelser.