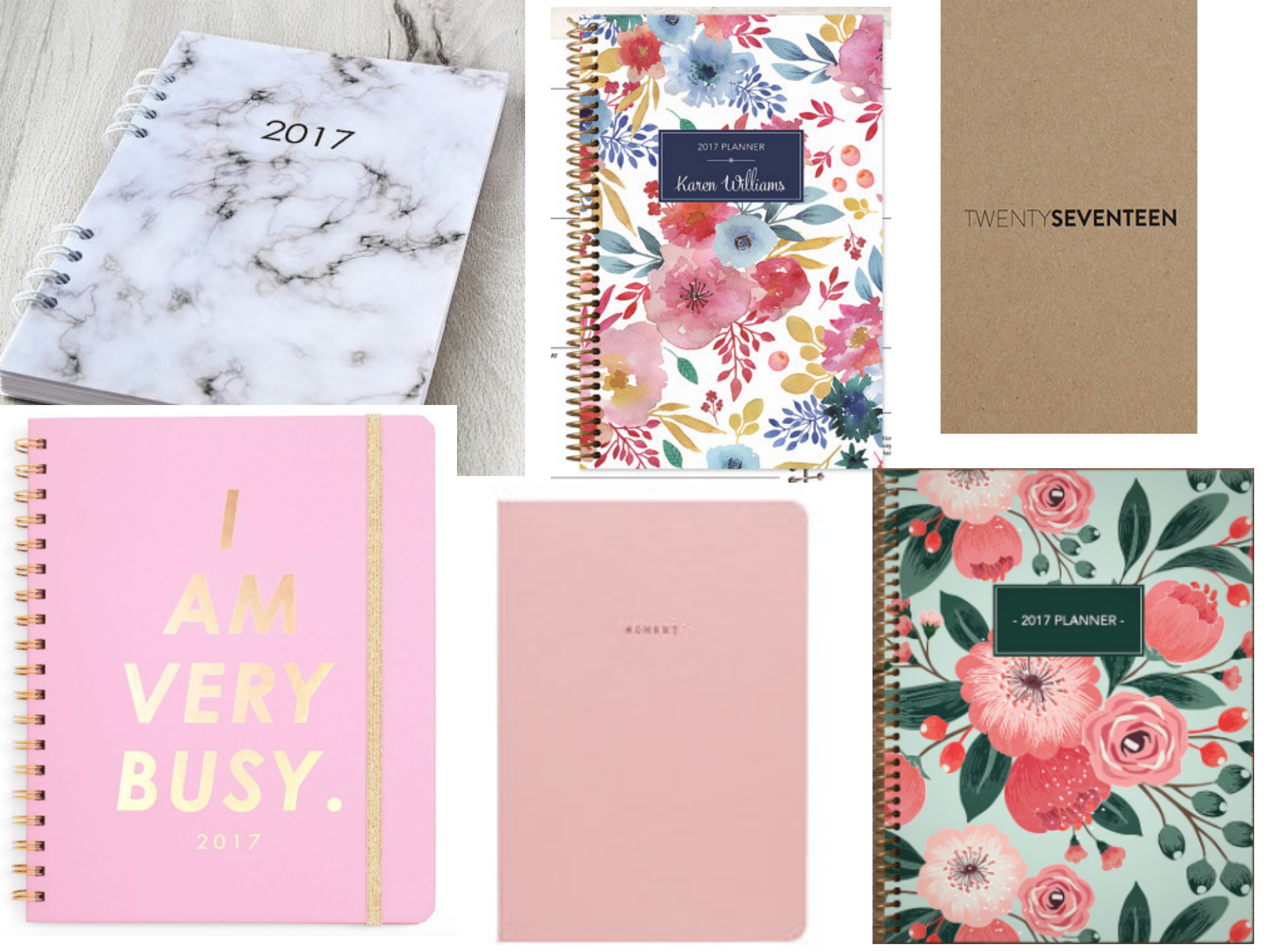 Marble planner here, flower planner here, brown planner here, I am very busy planner here, pink planner here, flower planner here
DANISH VERSION IN THE BOTTOM. Welcome, 2017! How has it been so far? How was your New Year's? Did you celebrate? I had dinner with a bunch of my boyfriend's family and friend's and it was so nice. We danced, played games, ate great food and had a good time. We got home late and best of it all must almost have been waking up with no hangover's this morning. I can't help but feel very privileged. Two years ago, I spent NYE in Berlin, last year in Thailand and this year in Berlin. I wonder where next year will be.
To kickstart the new year and get organized, I have found the prettiest planners for 2017. It is no secret that I love girly things, everything pink and flowery and this is definitely reflected in my choice of nice planners. The two flower planners can even be personalized with your name.
Many people prefer to use their smartphones as calendars. I am an old-school kinda girl that still buys a planner every year and actually use it too. I even write down what I've done every day, and it is such a nice way to keep track of days and even to look back and see what I did on a specific date. I have been doing this since I was 12 years old, so I am actually able to go back and see almost about everything I have been up to. Do you use planners? Which one above is your favorite?
____________________________
Vær velkommen herrens år, 2017! Jeg har altid lidt svært ved nytårsaften, fordi et års forsvinden og et nyt års oprindelse er en svær størrelse. Derfor passede det mig helt perfekt at fejre nytår i selskab af en håndful af min kærestes familie og venner på meget afslappet maner. Ingen fancy sit-down dinner, ingen stramme kjoler og højhælede sko og ingen fulskab, der gør, at man starter et nyt år kvæstet med tømmermænd.
Jeg havde en dejlig aften. Vi spillede spil, dansede (især til salsa-musik) og spiste lækker mad buffet-style, som sydamerikanerne foretrækker det. Jeg føler mig meget priviligeret. For to år siden fejrede jeg nytår i Berlin, sidste år i Thailand og i år i New York. Hvor mon næste år blivet fejret?
Hvad med jer? Havde I en dejlig aften? Hvordan fejrede I? 
For at sætte 2017 i gang har jeg fundet de pæneste kalendre. Klikker I ind på de forskellige links, kan I se yderligere detaljer om dem. Jeg er især vild med "I am very busy", som først og fremmest er ret ironisk. Derudover indeholder den de fineste detaljer såsom søde klistermærker og tegninger. De blomstrede kalendre kan personliggøres med navn på forsiden. Mange bruger i dag deres iPhones til at holde styr på aftaler, men jeg er typen, der stadig sværger til en rigtig kalender. Det føles fedt at kunne skrive ting ned og giver samtidig et bedre overblik. Bruger I kalendre eller bare kalenderen på jeres telefon?