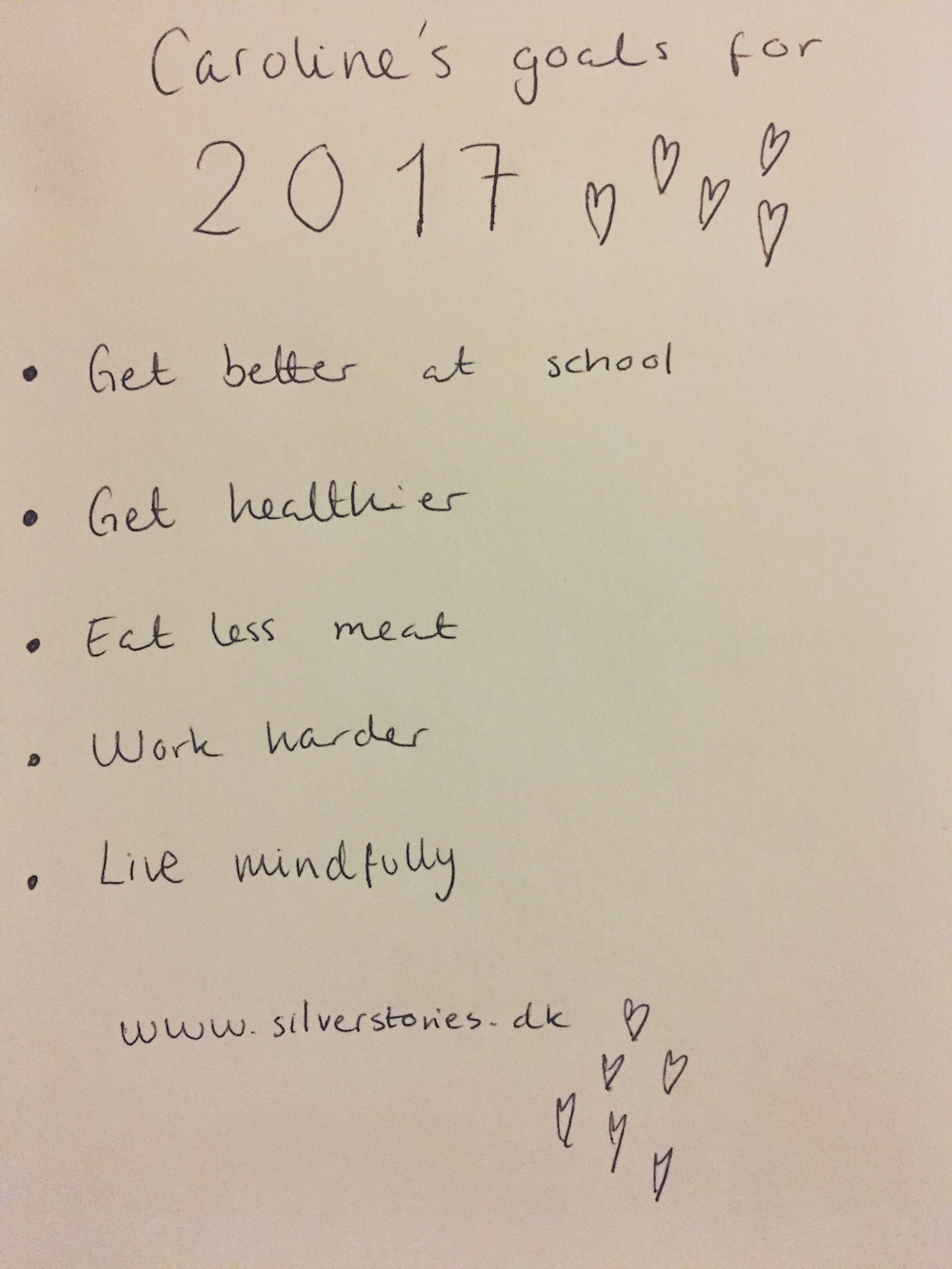 DANISH VERSION BELOW: Better late than ever, right? For what is a blog without a post stating how 2017 will be the best version of "new year, new me?". Well, I'm not better, because of course, I want to do this post too. I think that goals are important especially if one is striving to become better. A new year is a good time to stop and reflect and think about what you dream about, what your goals are and how you commit to them.
My goals for 2017 are classic, but here they are! 
♥ Get better at going to school. After three years of not going to school, it has been hard to get motivated and back to the routine of studying. My goals are that I will be more motivated and committed to go to school this year. I think it will also be more fun to go to school if I take it more seriously and spend more time learning.
♥ Get healthier – eat healthier, get a workout routine. Probably the goal that most people have on their lists. However, is it something I want to work on. I know that as soon as you turn something into a habit, it is not difficult to stick to it at all.
♥ Eat less meat. I actually don't eat a lot of meat, but my boyfriend does. This goal is kind of a joint venture project that we want to cook (read: he has to cook) more dinners with no meat.
♥ Work hard with the blog. As mentioned above, things are a lot easier to get done as soon as you turn something into a habit. I want it to be a habit to blog a certain amount of times every week, schedule posts and in general to write more posts.
♥ Learn how to take good quality photos. It would be so much fun to learn how to take good quality photos and not just with the iPhone.
♥ Live more mindfully. I am not good at enjoying the moment. Either I am already planning what to do next, where to go next or looking forward to something, or I am reminiscing about past vacations, experiences and memories. No bueno. I gotta learn to stay in the moment and enjoy it.
Have you thought about any goals and dreams you have for 2017? 
DANSK: Jeg er ikke bedre end alle andre bloggere, så selvfølgelig er et indlæg omkring mine mål for 2017 på sin plads. Jeg har faktisk altid mål og drømme, men det er som om, at årsskiftet giver en god anledning til at reflektere, overveje og få sine mål ned på skrift. På den måde bliver de pludselig mere seriøse, for så forpligter man sig nok lidt mere til målene.
Her er mine mål for 2017:
♥ Blive bedre til at studere. Efter tre år uden at gå i skole synes jeg, det har været meget svært at finde motivationen og overskudet til at læse og koncentrere mig om at gå på universitetet. Jeg tror, at det bliver meget sjovere at studere, hvis jeg tager det seriøst og bruger tid på at læse og lære. Derfor håber jeg på, at jeg kan finde motivationen til at studere ved at tage studiet mere alvorligt i 2017. Hvis nogle har tips hertil, så hit med dem 😉
♥ Leve sundere – spise sundere og skabe en træningsrutine. Det klassiske nytårsforsæt, der nok står på listen hos de fleste. Når jeg først har gjort det til en vane at spise sundt og indkorpereret fast træning, så bliver det meget nemmere at holde en sund livsstil. Det er min plan at skabe gode vaner. Det giver mere overskud i hverdagen og gør mig gladere. Det handler bare om, at jeg tager mig lidt sammen og får dannet nogle sunde vaner.
♥ Spise mindre kød. Jeg er egentlig ikke særlig kødspisende, men det er min kæreste tilgengæld. Derfor er dette et fælles mål om, at den aftensmad vi laver hjemme skal indeholde mindre kød. Den umiddelbare plan er, at vi i hvert fald én gang om ugen undlader kød til aftensmad.
♥ Arbejde hårdt med bloggen. Som ovenstående gør gode vaner det meget nemmere at få tingene gjort. Det gælder også for bloggen. Selvom jeg nyder at skrive og skrive indlæg, så kan jeg mærke, at jo længere tid, der går mellem mine indlæg, jo sværere er det at "komme tilbage". Hvis jeg først skriver indlæg hver anden dag, er det meget sjovere. Derfor skal det være en vane for mig at skrive indlæg fast.
♥ Lære at tage gode billeder. Jeg vil bruge mere tid på fine opstillinger og billedtagning, hvor iPhone altså ikke gælder. Måske jeg endda skal kigge på at investere i en ny linse?
♥ Leve more mindfuldt. Jeg er ikke særlig god til at nyde øjeblikket. Det betyder, at jeg er rigtig slem til altid at se frem til noget, jeg skal i fremtiden. Altid at planlægge den næste rejse, selvom jeg allerede er af sted. Hvis jeg ikke har travlt med at glæde mig til fremtiden eller planlægge den, så finder jeg på at mindes tidligere oplevelser, rejser og minder. Jeg ser melankolsk tilbage på dem, som om, at jeg havde det meget bedre på det tidspunkt, end jeg har nu. Og det passer jo ikke. Jeg skal derfor fokusere på at nyde nuet og nyde øjeblikket i stedet for at fokusere på fortiden og fremtiden.
Har I nogle drømme, nytårsforsæt eller planer for 2017?