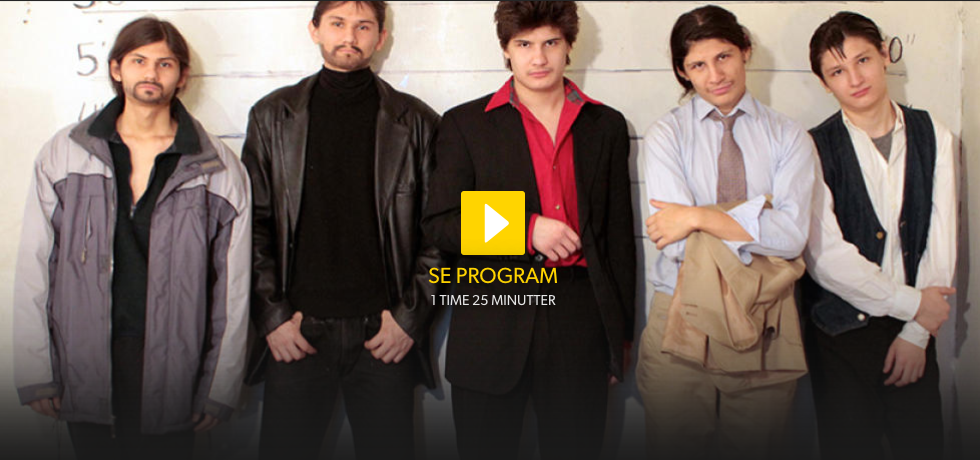 DANISH VERSION BELOW. I have watched my fair share of TV shows and I know a lot of people love watching TV shows as much as I do. Therefore, I figured it would be fun to share my TV show recommendations on the blog, whenever I have a tip to share. Today will actually be a documentary recommendation and not an actual TV show, but it is really a must watch documentary.
SEE ALSO: THREE TV SHOWS YOU HAVE TO WATCH
The documentary is called The Wolfpack and is set in New York City. It is an award-winning documentary from 2015, and I understand why. The film depicts a group of six brothers – the Angulo brothers. They are not like any other group of siblings. They have never been outside their NYC project apartment in Lower East Side. Their father won't let them out and has kept them as captives inside the apartment for 15 years. The boys are homeschooled and the father tells them that he keeps them inside to save them from the evil outside world.
The father is very strict, the sons must obey his words and stay inside the apartment. The only relation the boys have to the outside world is their movie collection of 5000 movies that they watch over and over again. Their favorites include Pulp Fiction, Batman, Gone with the Wind, and The Godfather. To escape boredom, the boys reenact the movies with themselves as main characters and it is seen that these boys are all amazing actors. Not only do they know all lines by heart, they also build and create all props out of trash such as old yoga mats and cereal boxes.
One day, one of the brother's escape the apartment and the rest you will have to find out yourself…. The Wolfpack is a must watch!!!
_______________________
DANSK: Jeg ser en rimelig andel TV-serier og dokumentar-film. Jeg tænkte derfor, at det kunne være sjovt at dele dem med jer, når jeg har et godt bud på en serie, I skal gå i gang med. Måske I kan få inspiration til nye TV-serier og måske I kan dele jeres yndlings med mig?
LÆS OGSÅ: TRE TV-SERIER DU SKAL SE
Denne gang skal det faktisk handle om en dokumentarfilm, så vi ryger lidt uden for feltet. Dog synes jeg ikke, at det gør noget, for denne dokumentar er i særklasse. Den hedder The Wolfpack (eller på dansk: børnene i den låste lejlighed). Dokumentaren udkom på dr.dk for nogle dage siden.
The Wolfpack er en dokumentarfilm, der udkom i 2015 og den har vundet flere priser. The Wolfpack består af seks brødre – The Angulo Brothers. Dokumentaren finder sted i Lower East Side på Manhattan i New York City. Mere præcist befinder vi os i familiens lejlighed i et socialt boligbyggeri. Brødrene har ikke været ude for en dør i 15 år, for det vil deres far ikke tillade dem. Han er imod systemet og fortæller sine sønner, at de skal blive inde for. Han beskytter dem nemlig fra den onde verden, der findes ude foran deres hoveddør.
Drengene bliver hjemmeskolede af deres mor, der heller ikke må forlade lejligheden. Deres eneste relation til virkeligheden og livet uden for, er deres samling af 5000 film, som de ser igen og igen og igen. Deres yndlingsfilm tæller The Godfather, The Dark Knight, Gone with the Wind og Pulp Fiction. Efter at have set tusindevis af film i tusindevis af timer har alle drengene udviklet et helt vildt talent.
Brødrene begynder nemlig at genskabe filmene med dem selv som hovedpersoner. De er fabelagtige skuespillere, kan huske alle replikkerne udenad og er derudover så kreative, at de genskaber scener og rekvisitter med skrald såsom morgenmadsæsker og yogamåtter. Det er så gennemførte og talentfulde. Tjek bare ovenstående billede, hvor de genskaber filmen The Usual Suspects.
En dag flygter en af brødrene fra lejligheden. Mere kan jeg altså ikke røbe uden at komme til at ødelægge det. Jeg synes, at I skal klikke ind og se dokumentaren med det samme, for den er altså helt enestående. Og vanvittig. Se den her.