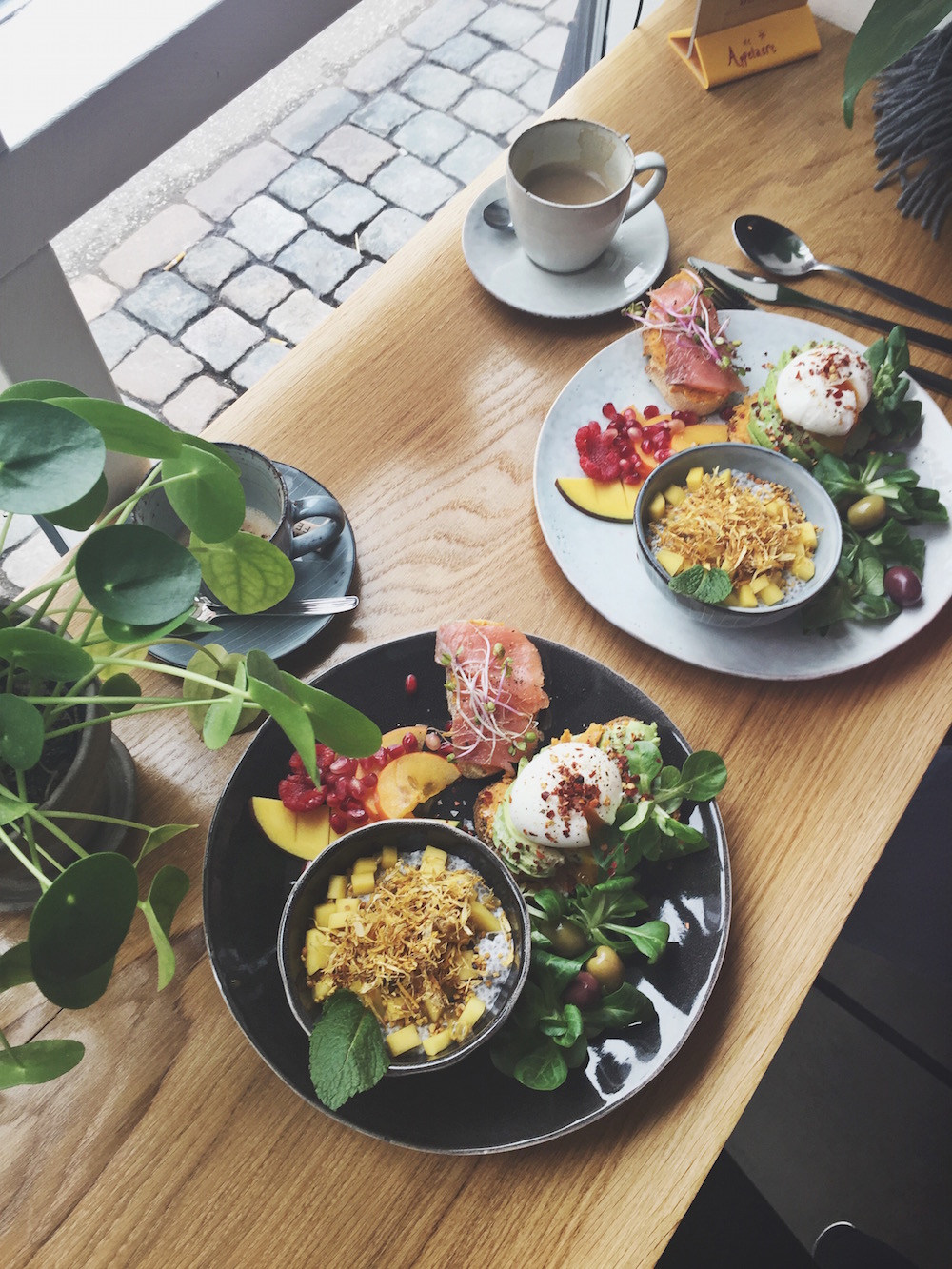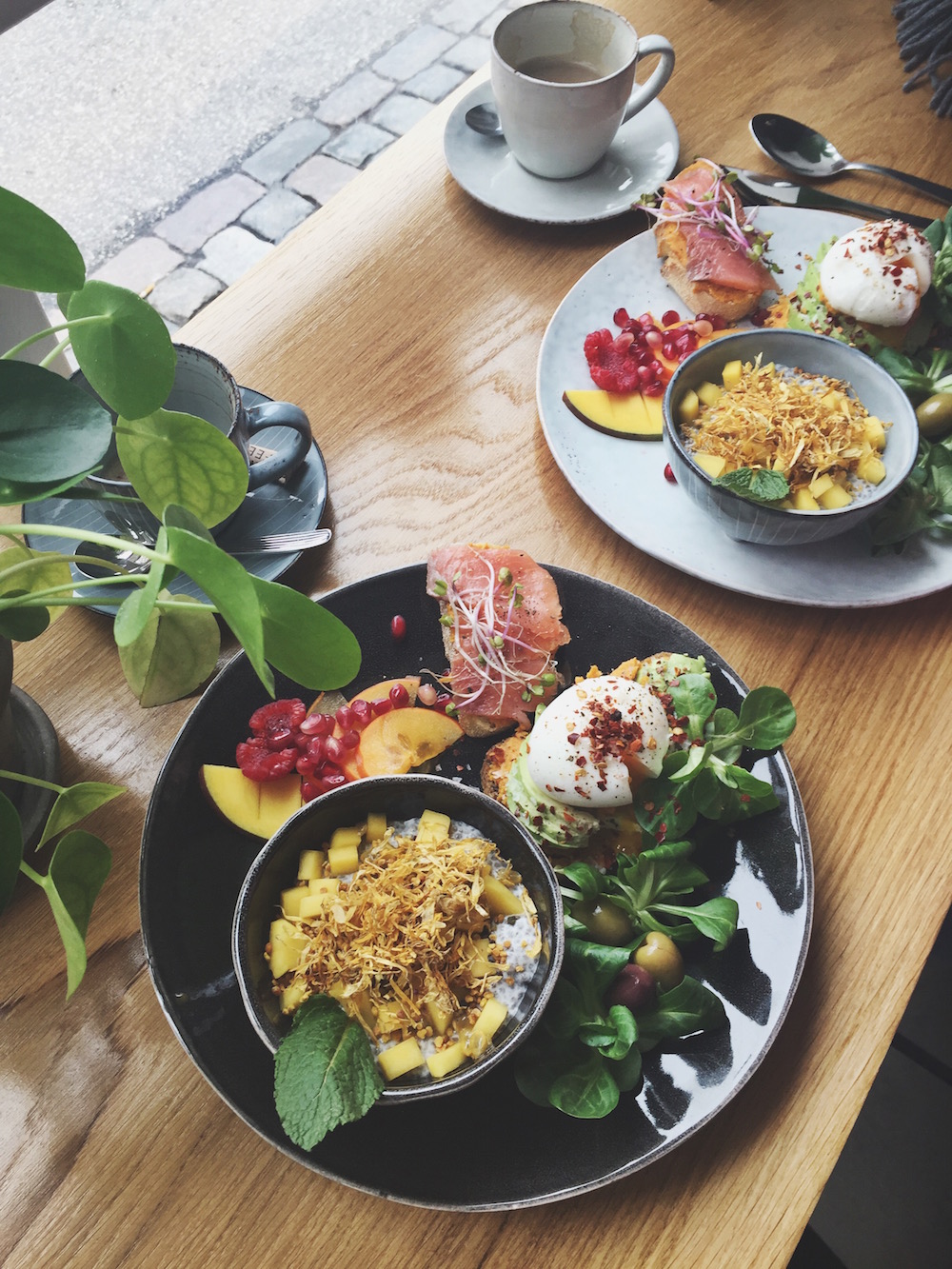 ENGLISH: There is a new cafe in town…. This is nothing new but rather a weekly occurrence in Copenhagen and other big cities nowadays. The thing that is new is that Baryl brings some serious competition to the existing brunch and cafe market in Copenhagen. They offer a seriously good brunch and what is so amazing about is apart from being delicious is that it is seriously cheap.
For 80 dkk (approximately 10,5 euros) you get a Baryl plate which is the one you see in the pictures. It is full of delights. The plate is served with fruit, a small salad, egg, avocado, and hummus on a great piece of Danish rye bread and salmon on a piece of white bread. Last but not least, you get to chose between a bowl of chia pudding with mango and passion fruit or a bowl of skyr (Icelandic healthy yogurt full of proteins).
Baryl also serves the different options alone, and they cost from 30-45 kroner. Depending on how hungry you are, you can choose the full Baryl plate or just pick whatever you would prefer off the plate. Besides from the breakfast, brunch and lunch options, Baryl also brews a good cup of coffee and has great window seat for some people watching. Besides from that the food at Baryl is definitely very photogenic, which is, of course, really important 😉
BARYL
GRIFFENFELDSGADE 24B
2200 COPENHAGEN NØRREBRO
_________________________________
DANSK: Min dag startede rigtig godt i dag. Jeg mødtes nemlig med søde Amalie i morges, og jeg havde glædet mig helt vildt. Både til at se Amalie men også til at prøve Baryls brunch, som jeg har drømt om i et par uger. Og ja, den var ligeså god, som den ser ud. Derfor synes jeg også, at den fortjener et par ord på bloggen.
Baryl slog dørene op og åbnede på Nørrebro for få måneder siden. Det er der ikke noget nyt i, for det virker efterhånden som om, at det er dagligt, at der åbner en ny café eller restaurant i København. Det fede ved Baryl er dog, at de bringer noget seriøs konkurrence til det eksisterende brunch-marked i København. Først og fremmest serverer de ikke den klassiske "sammensæt-din-egen-brunch-af-mikroskopiske-brunch-retter", som er blevet så typisk i København. Derudover er priserne hos Baryl lave, hvilket gør det muligt at spise brunch og drikke kaffe selv sidst på måneden uden dårlig samvittighed.
Mere præcist kan du få ovenstående brunch-tallerken for 80 kroner og en cappucinno for 25 kroner. En Baryl Tallerken består af rugbrød med avocado, humus, æg, franskbrød med laks, en lille salat, en lille frugtsalat og så skal du vælge, om du vil have skyr med frugt eller chia-grød med frugt til. Så lækkert, sundt, og som Amalie sagde, så ligner sammensætningen noget, man kunne indtage på en eksotisk ø såsom Bali. Det må da være et kompliment.
Hvis man ikke er til den helt store omgang, så kan man også få alle ovenstående dele seperat, altså eksempelvis bare avocado- og æggemaden eller en skål yogurt. Baryl ligger desuden på Griffenfeldsgade med udsigt til Folkets Park. Derfor er det oplagt at snuppe vinduespladsen, så man kan kigge ud og foretage noget people-watching. Her er lyset til dit Instagram-billede også bedst. Det er, hvis du altså ikke vælger at tage din tallerken med uden for til et lille photoshoot. Det er noget, Amalie og jeg faktisk vidnede, at en kunde gjorde. Ganske sjovt. Vi dømmer ikke, vi grinede mere af, at det ikke var os, bloggerne, der lige tog tallerkenerne med ud for at få det helt rigtige billede af den meget fotogene mad 😉
Jeg har hørt en fugl synge om, at hvis man vil spise brunch hos Baryl i weekenden, så er det en god ide at reservere bord.
BARYL
GRIFFENFELDSGADE 24B
2200 KBH NØRREBRO