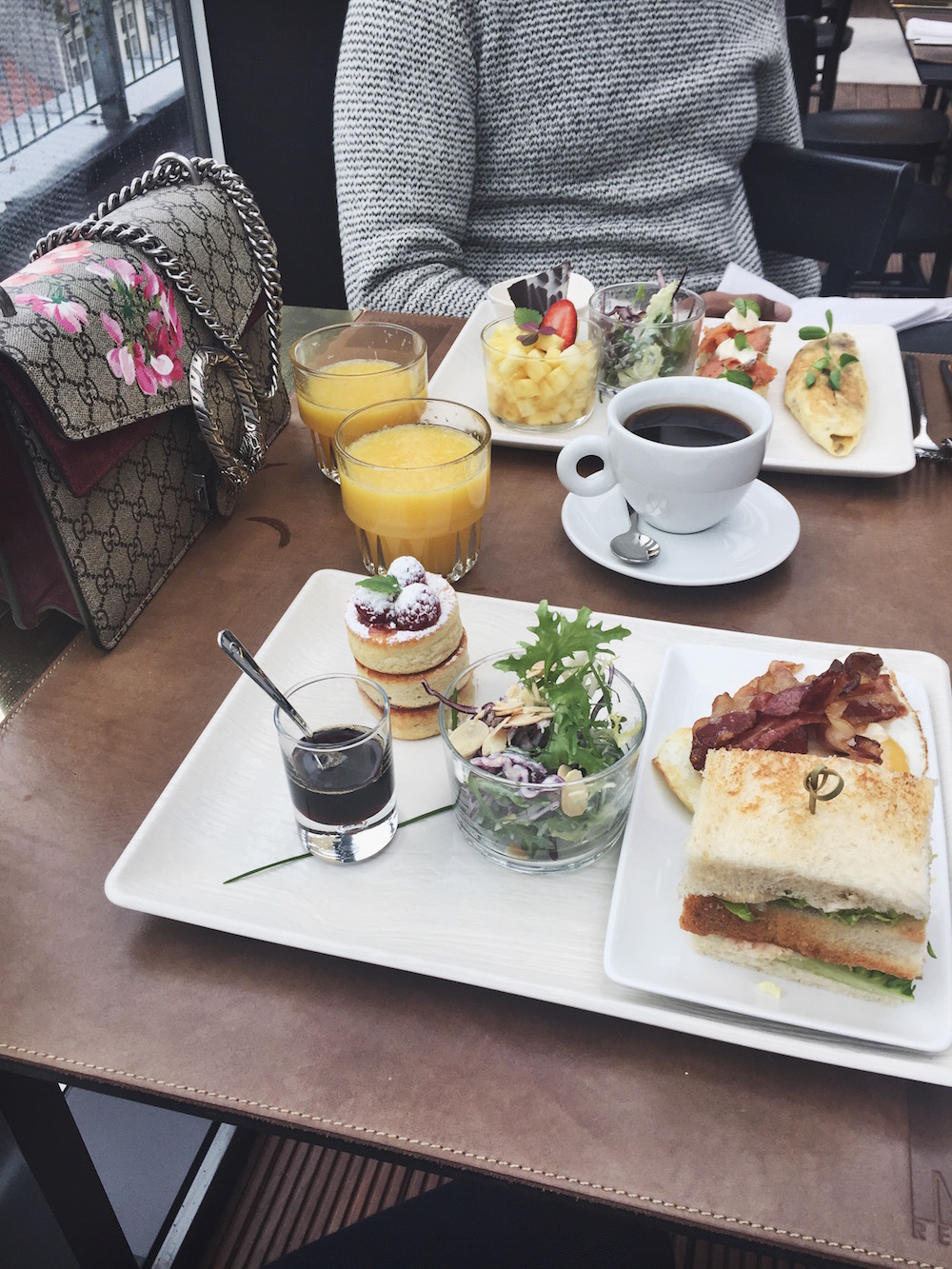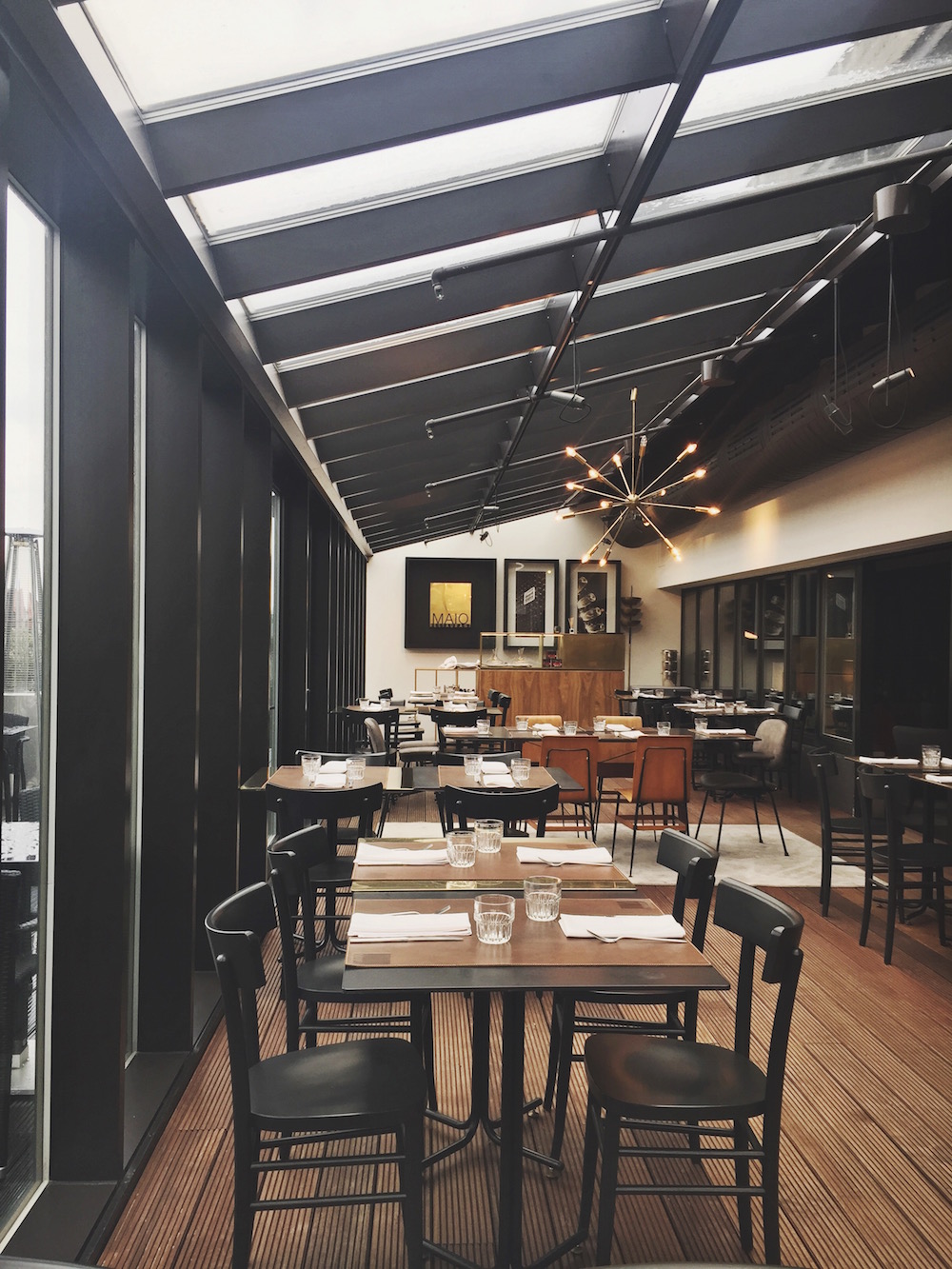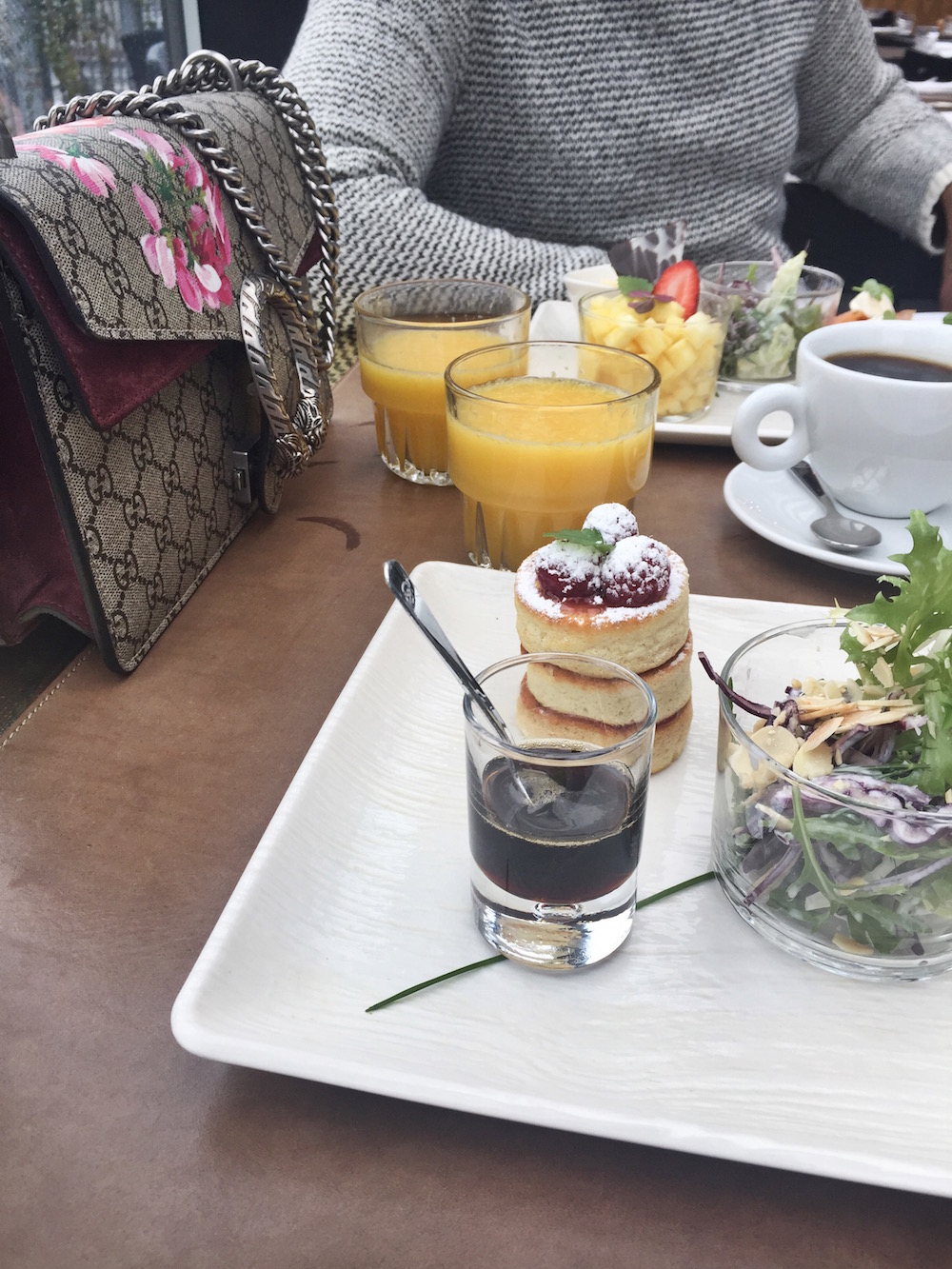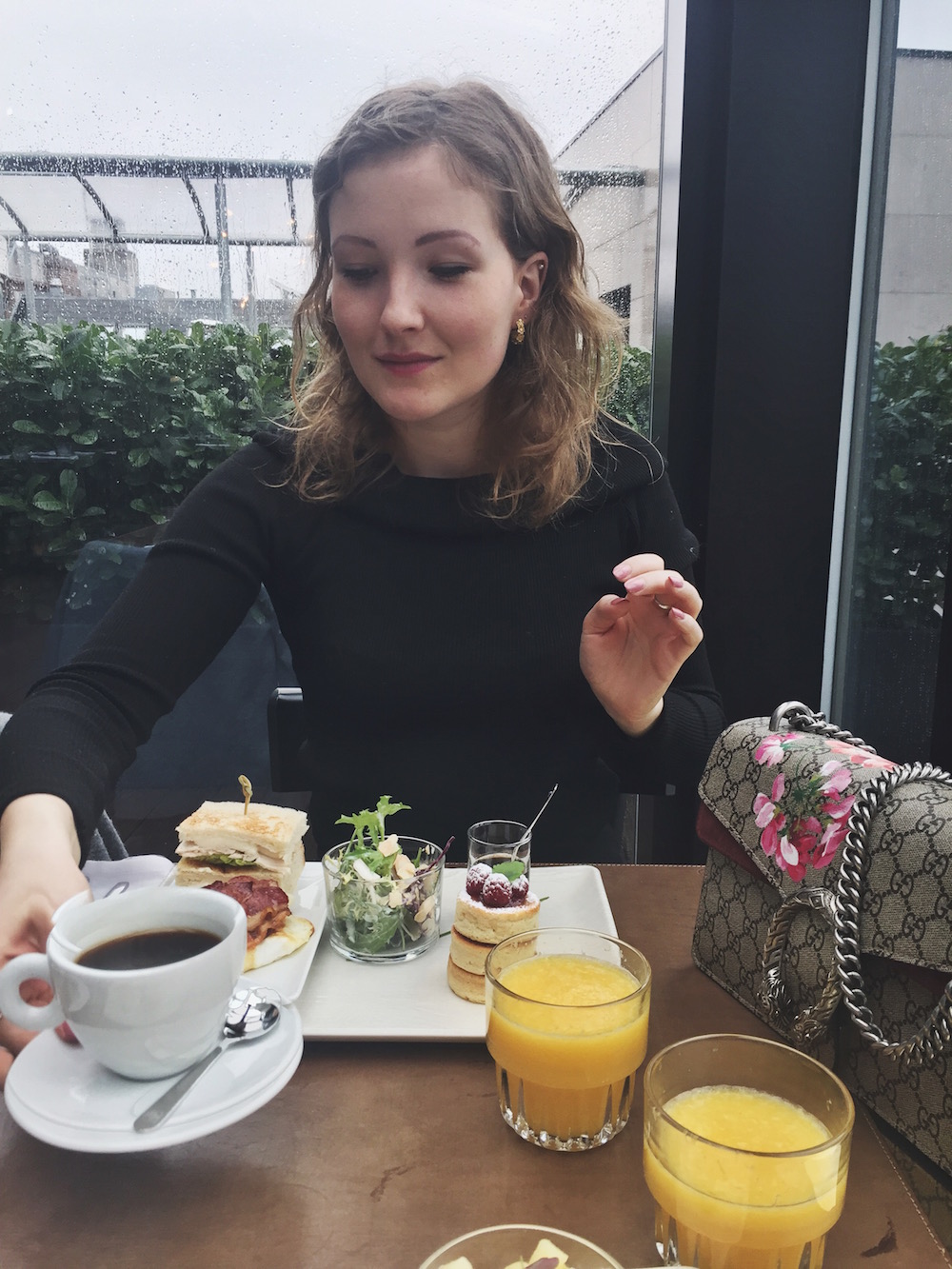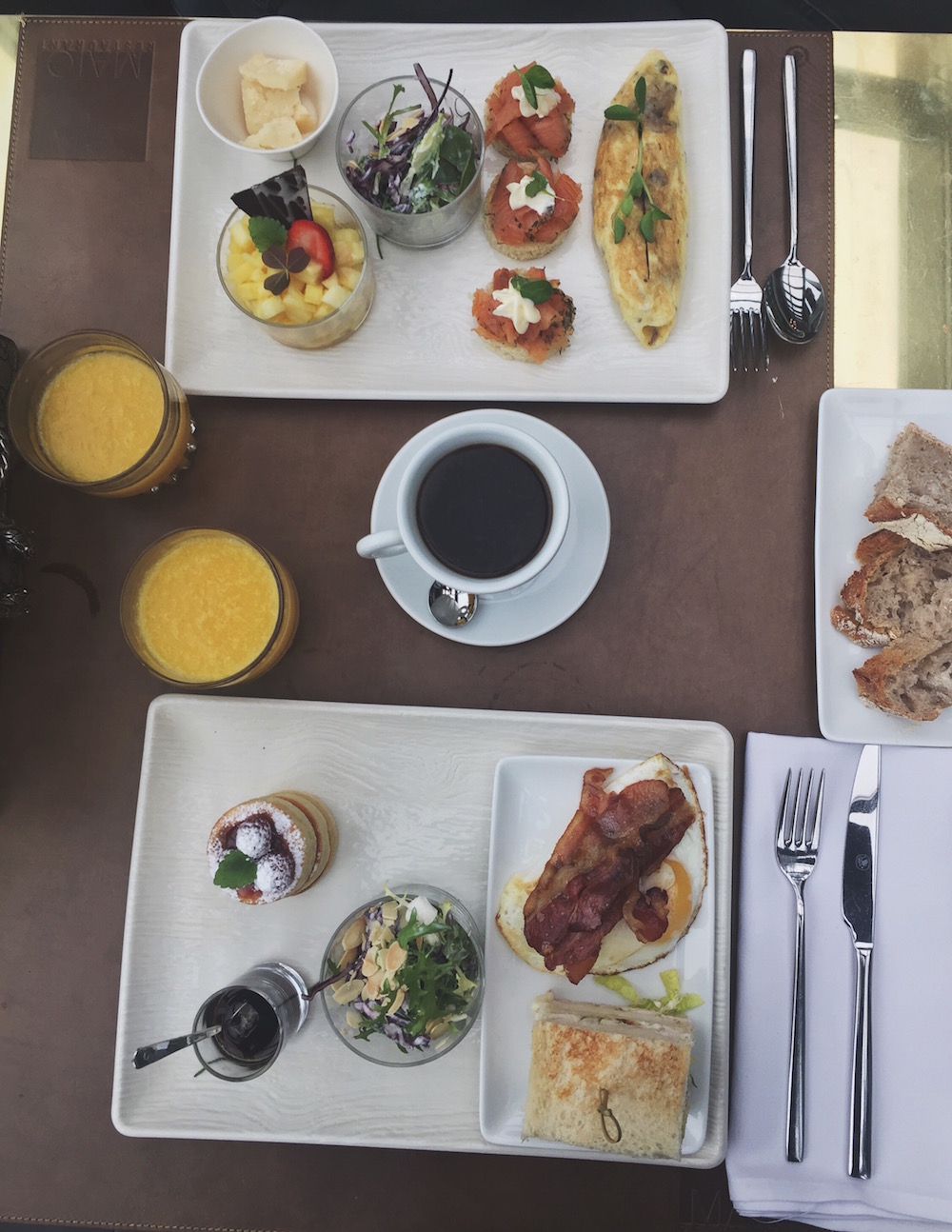 ENGLISH (DANISH VERSION BELOW) Is there anything better than starting the day with the man you love, coffee and brunch? In my book, there is not. And this is how I was lucky enough to start my day, as the sweet staff from Maio had been so nice to invite my boyfriend and me to try out their brunch.
Maio is located at the department store in Copenhagen, Illum's rooftop. About a year ago, Illum went through a complete renovation and their turned their top floor into what I would call a luxury food court. Overlooking the "skyline" of Copenhagen, a dozen of different, cool, classy restaurants serving delicious food are located. One of them is Maio. Maio is an Italian restaurant that also serves brunch every day.
Besides from a beautiful restaurant with stylish interior, Maio also has outdoor serving on the great rooftop at Illum. Seated at the best table, though inside, as it was raining in Copenhagen, we started off with a cup of coffee. Cappuccino for me, Americano for him. A bonus is that both coffee and fresh orange juice are included in the brunch options. We then ordered from the brunch menu which contains three options. I picked the Energy menu and my boyfriend went for the Ferrari Bubbles menu.
READ ALSO: BRUNCH IN COPENHAGEN – SONNY & BRUNCH IN COPENHAGEN – BARYL
My brunch had the cutest little pancakes cut into perfect, round, tiny shapes. A perfectly fried egg. Lots of bacon. A chicken and cheese sandwich and a little salad. The other menu included an omelet with mushroom, salmon on round cut toast, pineapple, and cheese. Both were delicious and what I also like is that although there was enough food, I didn't leave the restaurant feeling overly full which is often the case with brunch, in my opinion.
If you are in Copenhagen, a visit to the luxury food court in Illum is a must and so is brunch at Maio! It is served all the way till 2pm and 3pm on weekends. I hope to try their dinner too as I am sure it is amazing. One day! 😉
_____________________________
DANSK: Findes der noget bedre end at starte dagen med ham du elsker, en kop kaffe og brunch? I min verden, så er svaret nej. I dag var jeg så heldig at starte dagen på ovenstående måde, i det jeg var blevet inviteret til at prøve brunch hos Maio.
Maio ligger på toppen af Illums nyrenoverede madmekka. Her finder du en håndfuld restauranter, den ene mere tjekket end den anden, og altså også Maio. Maio er egentlig en italiensk restaurant åbnet af to brødre. Derudover serverer de også brunch hver dag, hvilket er dejligt, for hvem har egentlig bestemt, at brunch skal være forbeholdt weekenderne?
 Udover at have en smuk restaurant med smuk indretning, så råder Maio også over en terasse. Her er jeg sikker på, at man sidder skønt på en varm sommerdag, som vi desværre ikke har mærket i København endnu. Der er en skøn udsigt over Københavns tage herfra. Man sidder dog også lækkert indenfor, og vi fik et bord lige ved vinduet, så vi stadig kunne nyde udsigten på trods af regnen.
LÆS OGSÅ: BRUNCH IN COPENHAGEN – SONNY & BRUNCH IN COPENHAGEN – BARYL
Vi startede med en kop kaffe hver. Cappuccino til mig, americano til ham. Bonus er, at både kaffe og friskpresset juice er inkluderet i brunchmenuerne, så ingen grund til at spare her. Atter bestilte vi fra brunchmenuen, hvor jeg valgte "Energy"-menuen, og min kæreste gik efter "Ferrari Bubles"-menuen.
Min brunch indeholdte de sødeste små og perfekte, runde pandekager. Æg og bacon (og nok af det!). En kyllinge/ostesandwich. Og en lille skål salat. Ferrari Bubles menuen, min kæreste fik indeholdte en omelet med champignon. Laks på brød. Salat, ost og ananas med mørk chokolade. Det hele var sirligt opsat, og så fint og lækkert. Det var beliggenheden og stemningen også, og jeg følte næsten, at jeg var i udlandet. Brunchen serveres endda helt frem til kl. 14 og kl. 15 i weekenderne.
Jeg kan kun anbefale at forkæle dig selv med en fin brunch-oplevelse hos Maio, især hvis du er ude efter en brunch, der er lidt udover det sædvanlige. Jeg synes også det var lækkert, jeg gik fra brunch uden at føle mig overmæt, hvilket ofte er tilfældet. Tak for en dejlig oplevelse, Maio <3