ENGLISH (DANISH VERSION BELOW) Are you over these kinds of posts yet? I know from myself that I love these posts – lots of pictures, not so much text. It is time for a photo diary of day three in amazing Budapest.
SEE ALSO: BUDAPEST DAY 1 & BUDAPEST DAY 2
______________________
DANSK: Er I snart trætte af den her slags indlæg? Eller synes I, de er hyggelige? Jeg elsker selv de her indlæg, der typisk ses hver mandag i blogland, når diverse bloggere deler "hverdagsmomenter, små ting og hverdagsglimt". Det er så hyggeligt. Billeder og en smule tekst. Her er mine små glimt fra trejdedagen i Budapest.
LÆS OGSÅ: BUDAPEST DAG 1 & BUDAPEST DAG 2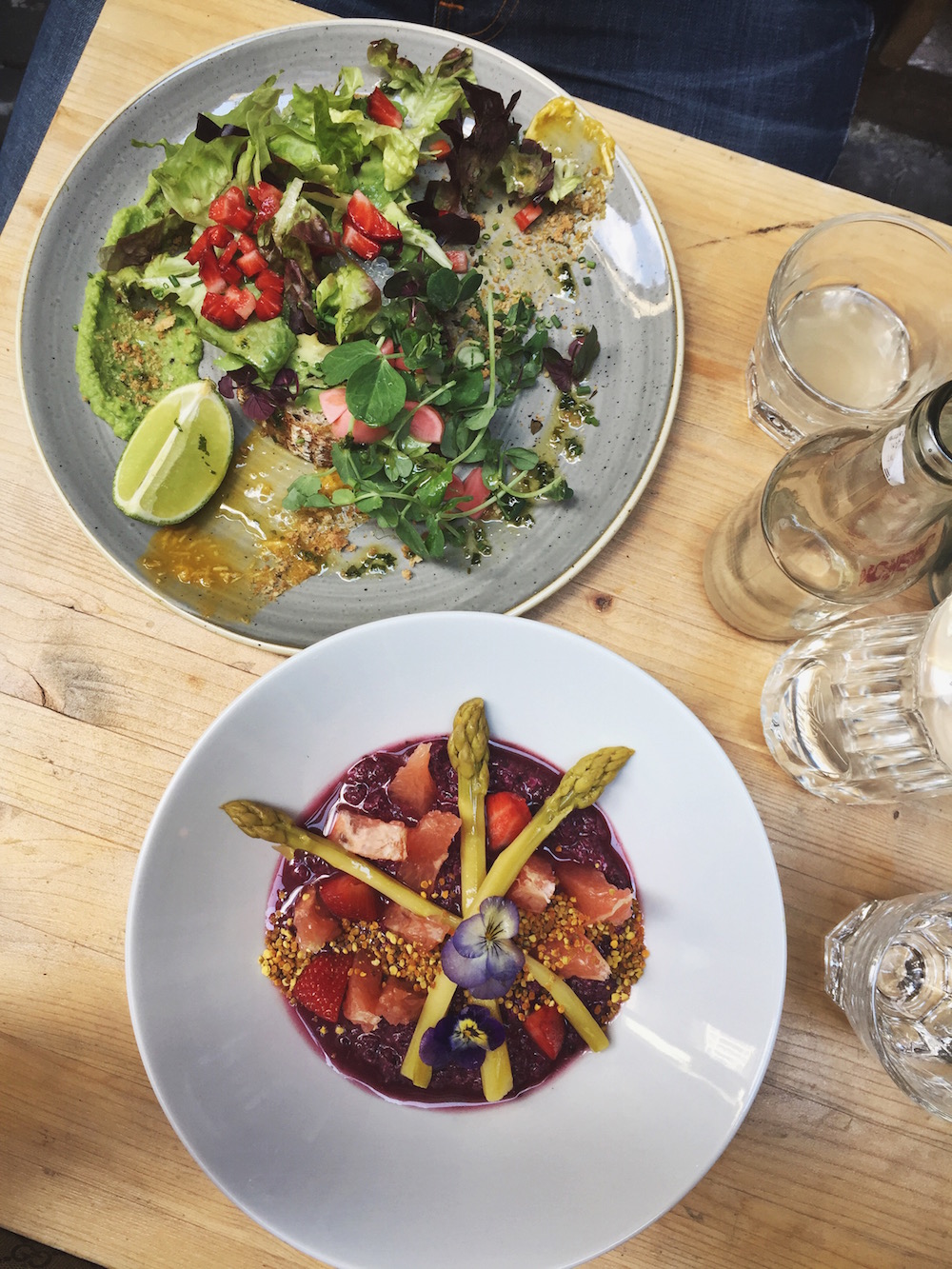 Is there any better way to start the day than with brunch? Nein, definitely not! Especially not when it is as beautiful as this one. I'll, of course, add this place to my Budapest guide coming soon. / Brunch – selvfølgelig! Min yndlingsmåde at starte dagen på, og især når maden er så pæn som ovenstående. Jeg deler helt sikkert dette sted i min Budapest-guide, jeg er ved at skrive til jer.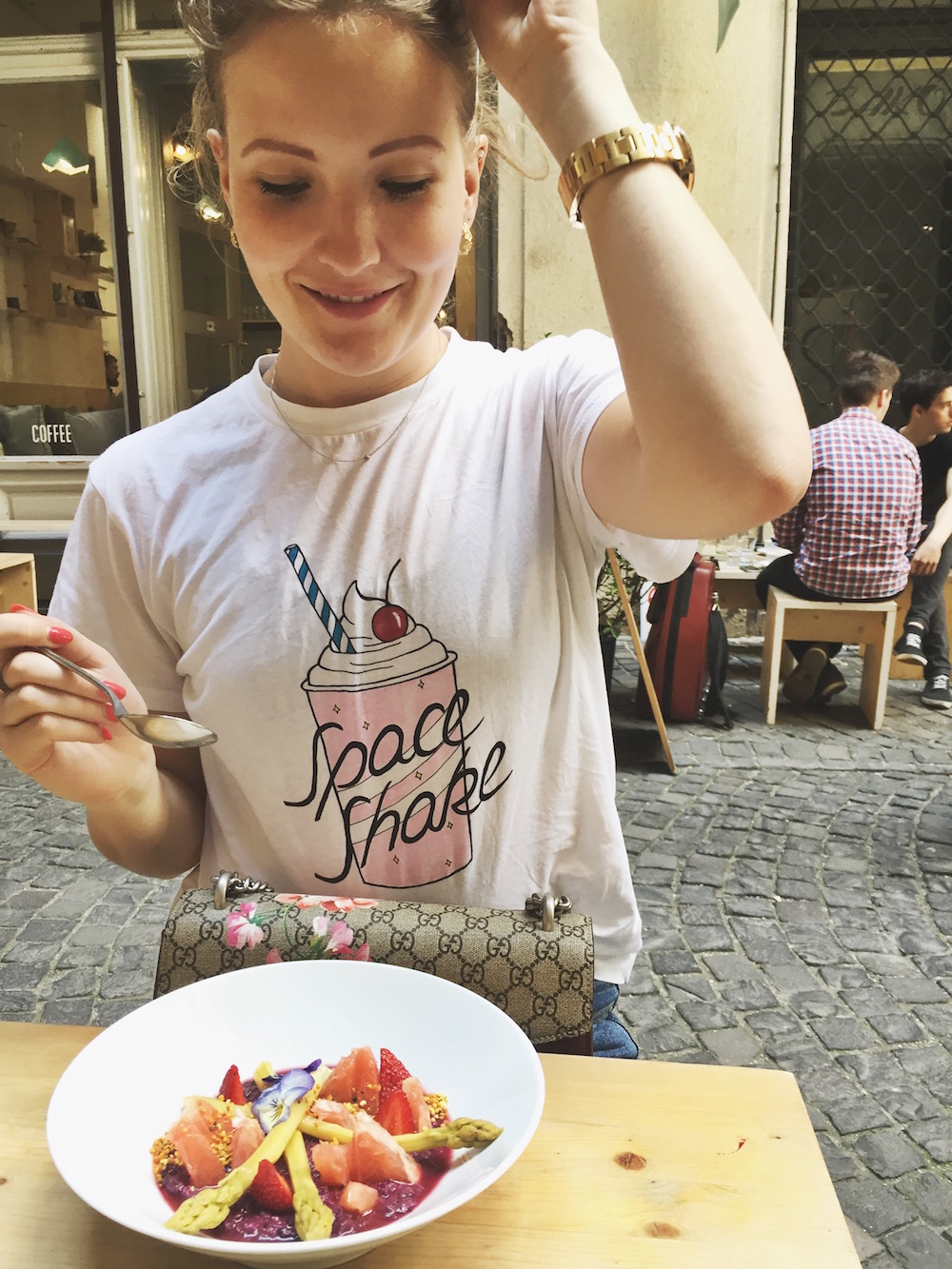 Happy girl at brunch. / Sådan ser jeg ud, når jeg spiser brunch. Jeg fik noget meget kreativt – acai rice pudding med bipollen og syrlige asparges. Min kæreste så ikke glad ud i hovedet, da han smagte det. Jeg indrømmer, at det var meget specielt og jeg ville nok vælge den fantastiske avocado-mad, hvis jeg skulle besøge stedet igen, haha!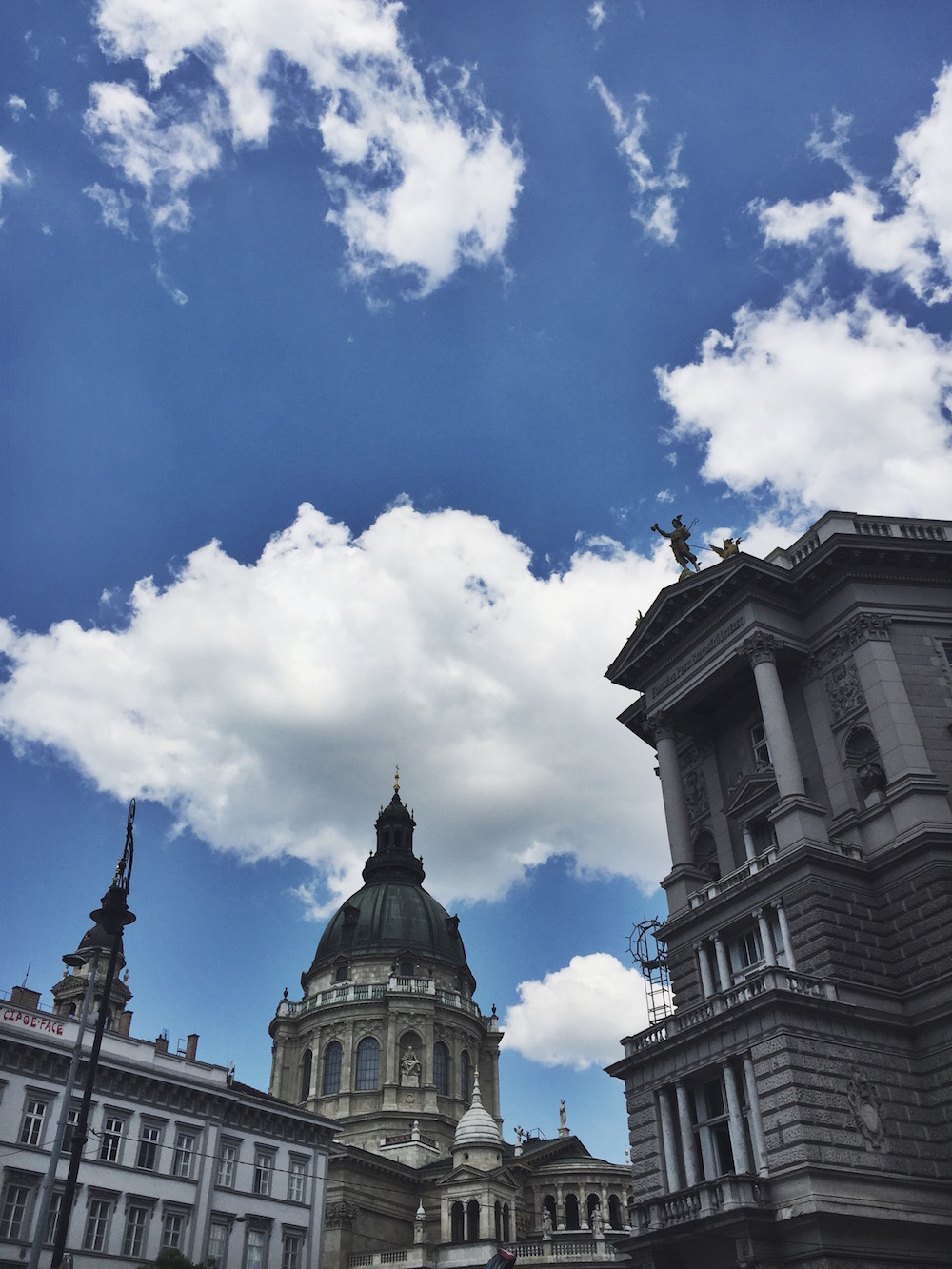 Always remember to look up. The city center of Budapest is incredible and we were so lucky with the weather of around 23 degrees. On city trips, it should not be hotter than that! / Husk altid at kigge op. Budapests bymidte er utrolig smuk og præget af klassisk arkitektur. Vi var så heldige med vejret – omkring 23 grader. Ifølge mig, er det helt perfekt for storbyferie – hvis det bliver meget varmere, er det ikke sjovt at gå rundt uden for hele dagen.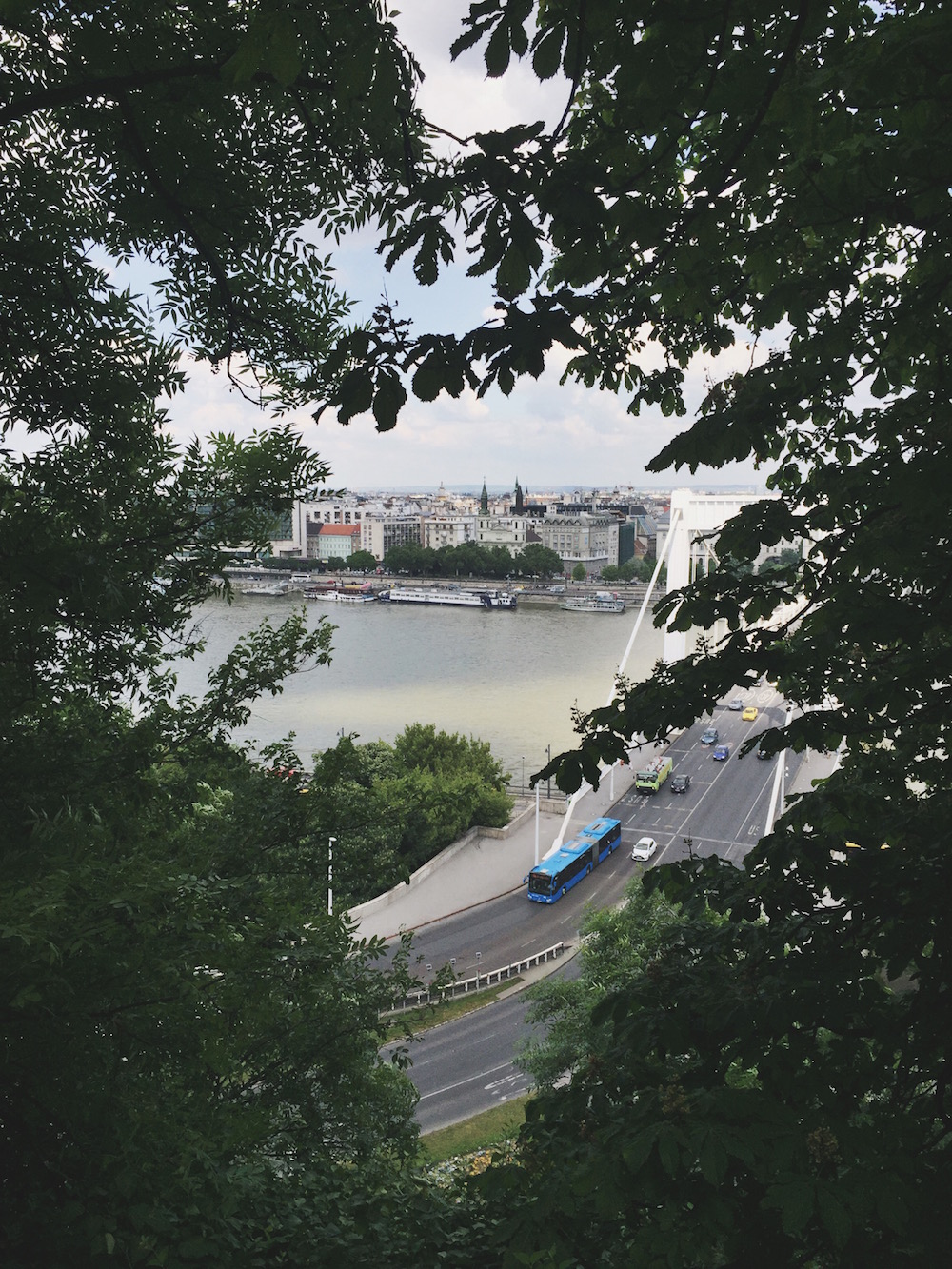 We hiked the Gellert Mountain and found this great view. / Vi steg lidt af Gellert bjerget og fandt dette skønne udsigtspot, der også viser, at Budapest er en smuk by.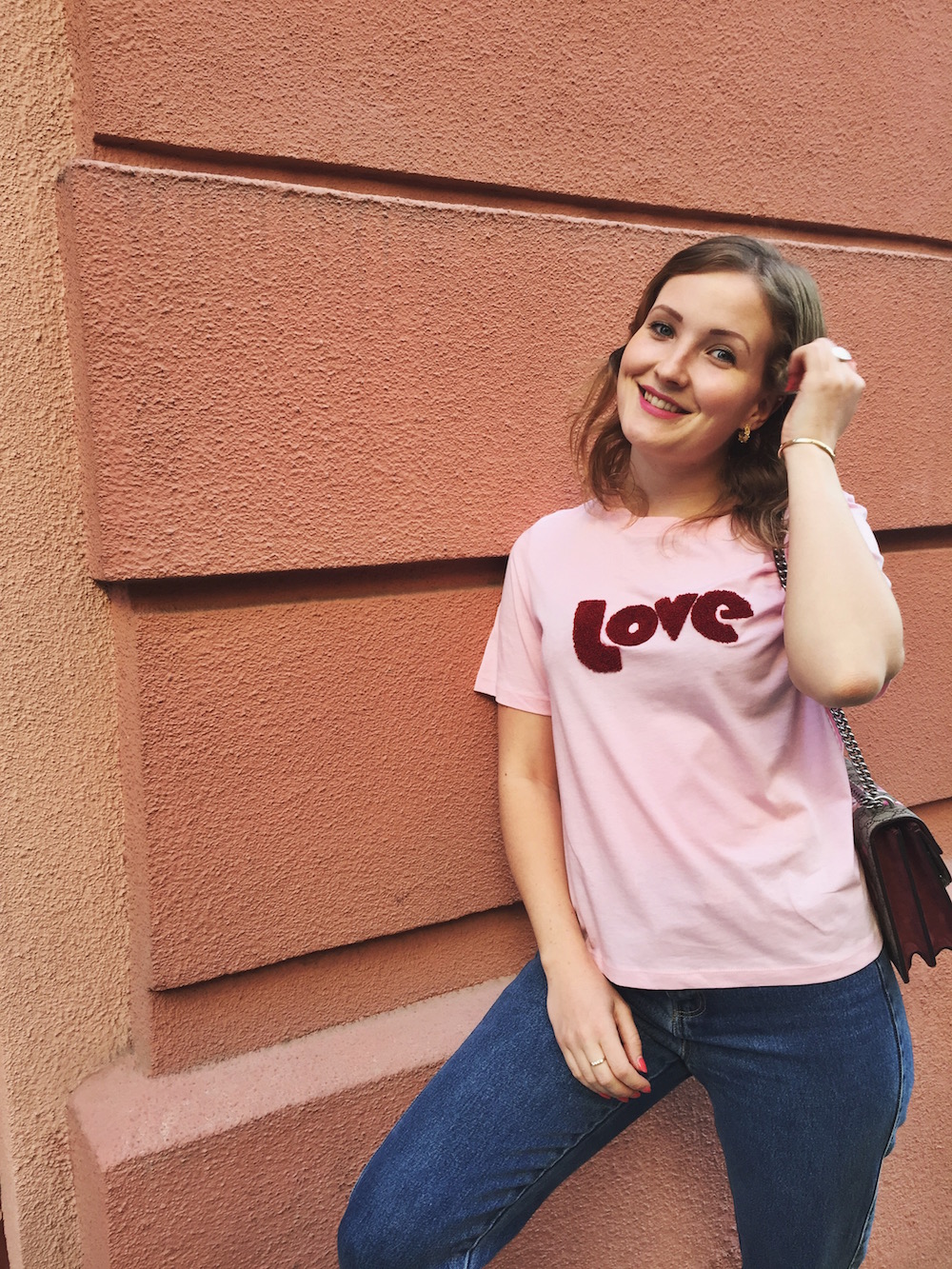 Back to the hotel for a t-shirt change. I bought this cute t-shirt in H&M and I love it. Pink makes me happy. / Et hurtigt smut tilbage til hotellet for lige at skifte t-shirt. Fra space shake til love, som der står på min nye, yndige t-shirt fra H&M. Pink gør mig så glad, haha.
Selfie from one of the Biergartens in Budapest after a beer or two 😉 Goodnight from Budapest! / Selfie fra en af de hyggelige biergartens i Budapest, hvor man kan få snacks og øl. Dem havde vi også indtaget et par af her 😉