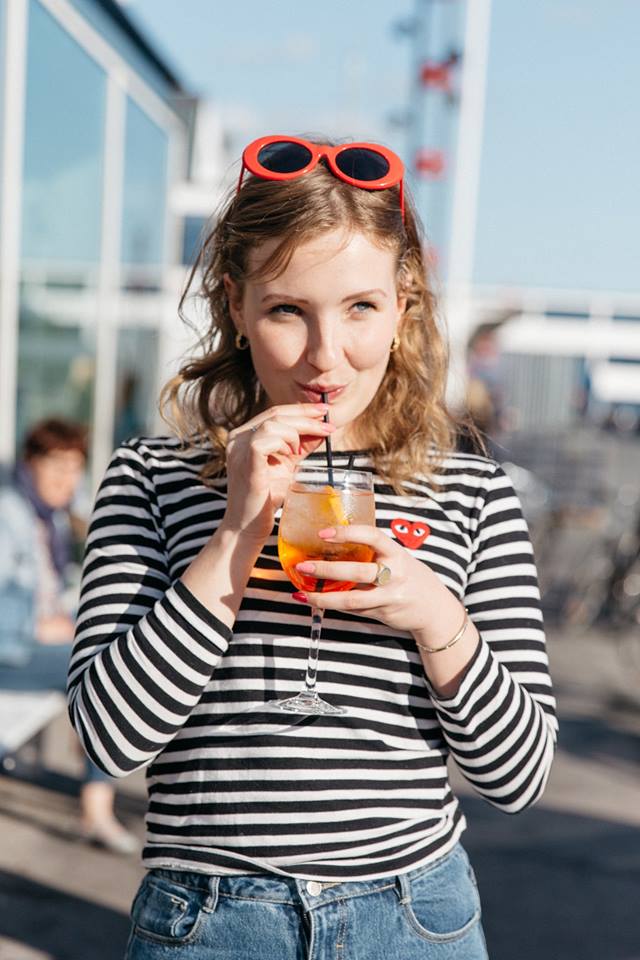 ENGLISH (DANISH VERSION BELOW) Photo by Meredith Braden, my friend from Berlin who came to visit Copenhagen a few weeks back. We had a great time in the city and ended the day by sipping Aperol's in the Meatpacking Area.
My brain has turned into mush after reading about 300 pages of marketing notes in four days. I am in need of another procrastination task, and this blog post is it! Here you go: a few things I wonder at on a Tuesday night.
Why it is so goddamn hard to study for exams?! I am currently in the process of reading my curriculum for my oral exam in marketing on Thursday days and NOTHING sticks….
If you also have that friend who always says no? "You want to come with me to Berlin?", "No". "You want to come with me to New York City?" "No". Maybe, I should learn the lesson and just stop asking!
Why I am not one of those people who magically wake up on their own at 7 am. I wake up naturally after 12 hours of sleep and I hate it!
Why chocolate is not as healthy as carrots…. Wishful thinking!
If I will pass my oral exam in managerial economics, and why I didn't just make a little effort to learn just a little bit about managerial economics a few months ago….
_________________________________
DANSK: Selvom ovenstående billede faktisk er mig for ikke mindre end tre uger siden, føles det som lysår siden, og situationen med solbriller, solskin og Aperol Spritz på mit dejlige Vesterbro er virkelig ønsketænkning lige nu. Jeg befinder mig nemlig i et eksamenshelvede udover det sædvanlige. Det betyder altså: kalder alle overspringshandlinger! Et random blogindlæg om ting, jeg undrer mig over p.t.? Perfekt overspringshandling!
Hvorfor er det seriøst nærmest umuligt at læse til eksamen? Jeg har brugt de sidste par dage på at læse omkring 300 A4-siders noter fra marketing, og INTET sidder fast. Så snart jeg vender siden, har jeg glemt, hvad der stod på den. Håber på at en ordentlig omgang adrenalin i blodet til den mundtlige eksamen, vil give mig alle de svar, jeg skal bruge.
Om I også har en ven, der siger nej til ALT! "Vil du med til Berlin?" "Nej". "Vil du med til New York?" "Nej". "Skal vi ikke snart arrangere en tur i dit sommerhus?" "Njaaa". Seriøst. Burde nok indse, at denne ven ikke rigtigt gider at bruge mere tid end en kop kaffe på mig. Reality check much!
Hvorfor jeg ikke er et af de (heldige!) slags mennesker, der på magisk vis vågner af sig selv klokken 7 om morgenen, lige meget hvad tid, de er gået i seng. Undertegnede er en natteravn udover det sædvanlige og vågner af sig selv 12 timer efter, jeg er gået i seng. Det er ikke fedt.
Hvorfor chokolade ikke er lige så sundt som gulerøder. Ønsketænkning!
Om jeg mon består min mundtlige eksamen i erhvervsøkonomi. Kryds lige fingre for mig. Jeg er nervøs udover det sædvanlige. <3