ENGLISH (DANISH VERSION BELOW) Berlin, meine Liebe! It has been SO amazing being back in my second home, to say the least. What hasn't been amazing, though, is the weather. Before leaving for Berlin, I checked the forecast which said sun and +30 degrees. I packed my suitcase with summer dresses. I get to Berlin, and it has been rainy, gray, and pretty cold most of the time. Needless to say, I haven't worn my summer dresses at all. Only one day, where I inaugurated my new cherry dress… With leggings underneath!
I am not complaining. The weather has forced me to really chill after some intense weeks of exams. Just what I needed. Here is a little recap of my days in Berlin, where I have, honestly, not been doing much.
_________________________________________
DANSK: Berlin, meine Liebe! Hvor har jeg savnet denne dejlige by, mit andet hjem. Det har været intet mindre end skønt at være tilbage. Vejret har dog ikke vejret så skønt. Inden jeg tog af sted, tjekkede jeg vejrudsigten. Den sagde sol og +30 grader. Jeg fyldte altså rejsetasken med sommerkjoler én masse og pakkede badetøj til alle de ture til Berlins badesøer, jeg havde planlagt i mit hoved. Sandheden var lidt en anden. Det har været den koldeste sommer i Berlin, jeg har oplevet de sidste fire år. Gråt i gråt, regn og vind.
Jeg klager dog ikke. Udover, at jeg ikke har fået brugt mine sommerkjoler overhovedet. Kun en dag, hvor jeg ikke kunne dy mig, men det blev med leggins inden under. Vejret har dog gjort, at jeg har slappet af, læst bøger, hygget mig. Det var nok også lige, hvad jeg havde brug for. Nu har jeg én dag tilbage i Berlin, da jeg først flyver sent tirsdag aften. Den skal bruges på lidt praktiske opgaver, inden jeg flyver hjem til København og starter sommerskole (YES! mere skole!) på onsdag. Her er lidt billeder af mine dage i Berlin. Der er ikke sket det store.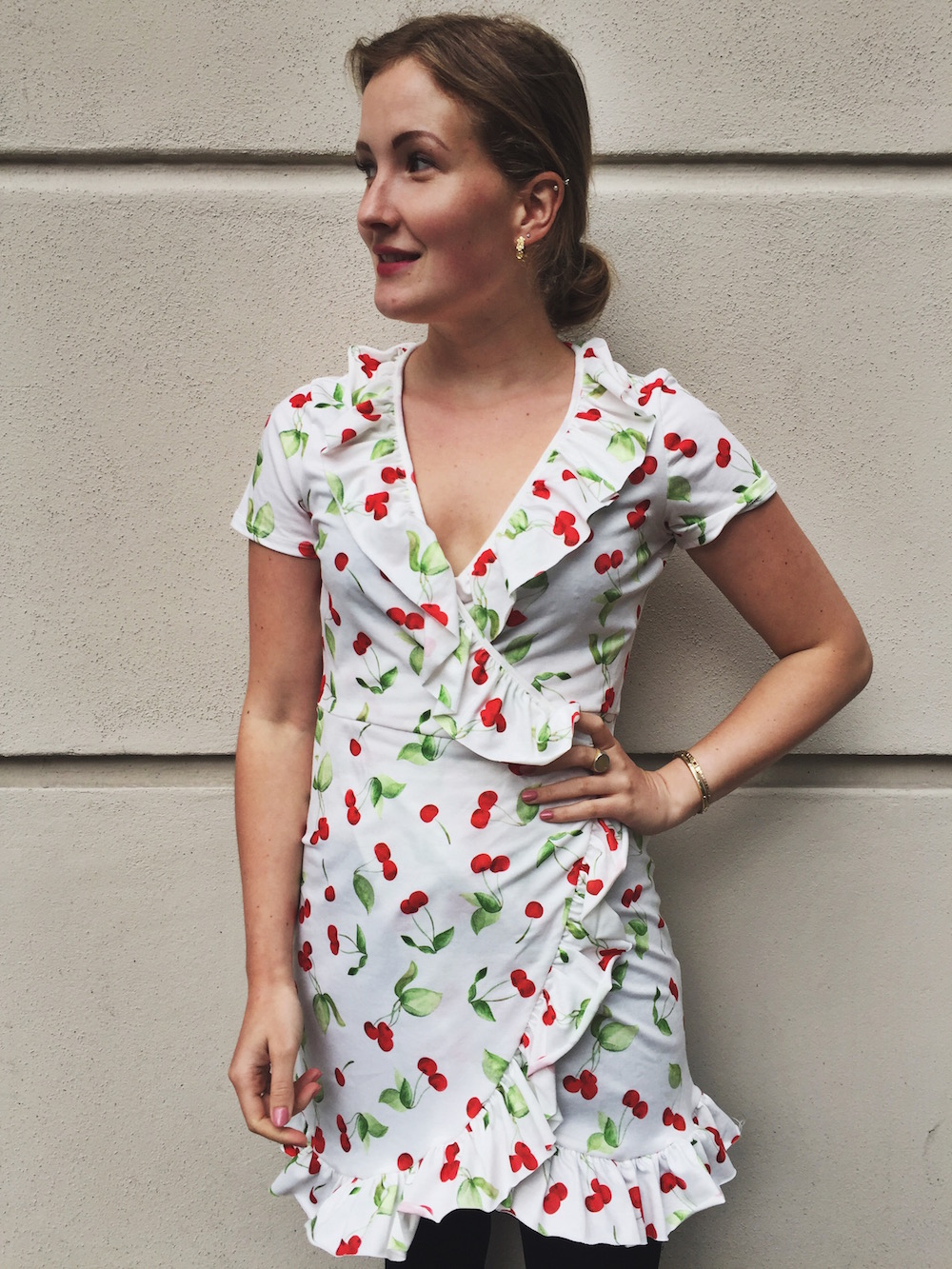 And the one Summer dress I just had to wear is this cherry one. Isn't it cute? Here is a link to it. (Affiliate link)/ Den sommerkjole jeg bare måtte have på, er min nye, kirsebærmønstrede kjole fra ASOS. Er den ikke skøn? Jeg fik i hvert fald mange spørgsmål om den på Instagram, så her er et link til den. (Affiliate).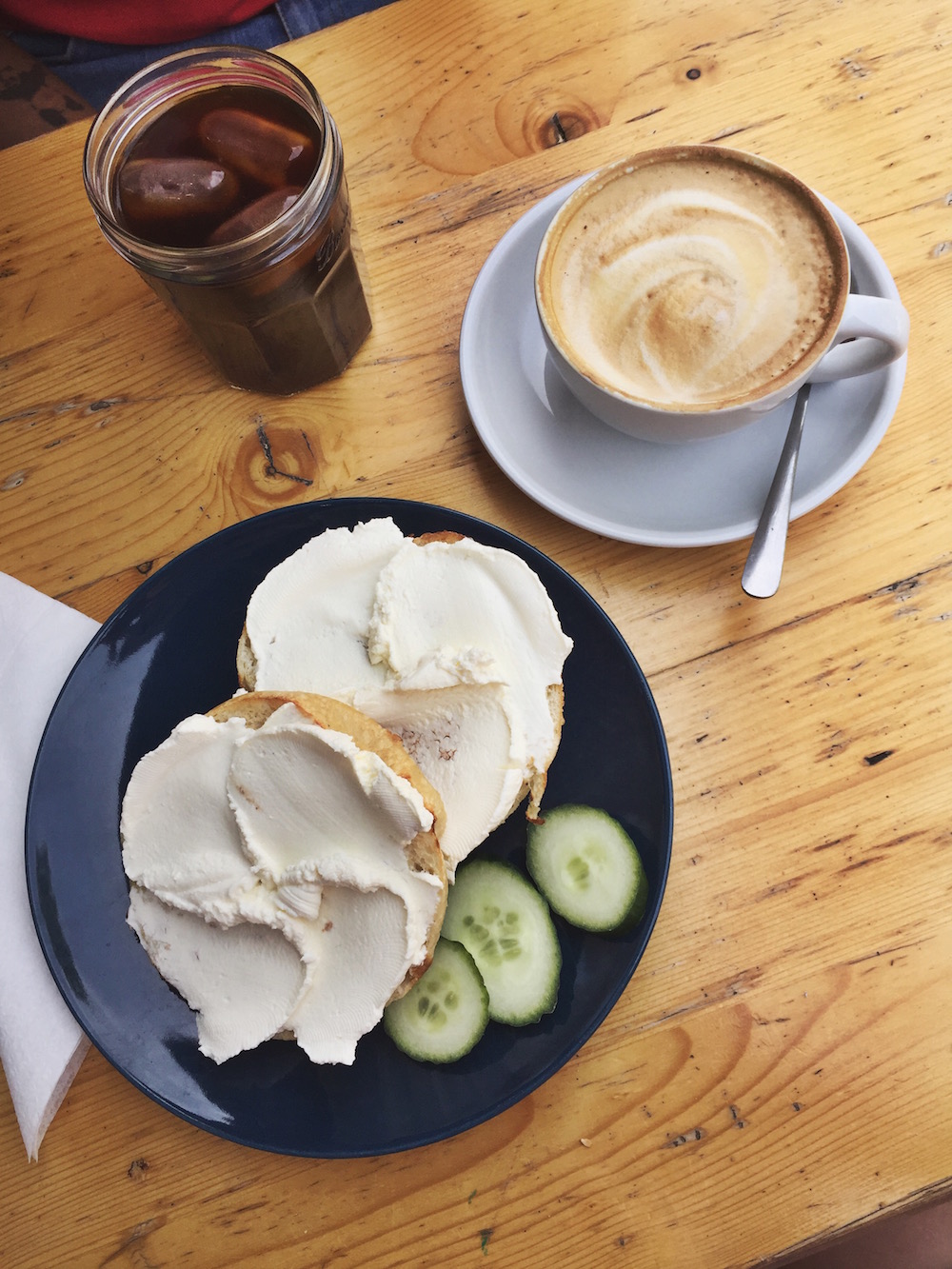 First things first: one of the first things I do in Berlin is to go to my favorite cafe. They are always changing the name, but I still call it what it was first called: Shakespeare and Sons in Friedrichshain. I think it is called Books and Bagels now. It is a bookstore, workspace, and cafe. They sell the best books, the best bagels, and the best cookies. Chocolate chip and salt. I always get the cappuccino and cream cheese bagel. I am sure, I am one of their best customers and have been since they opened in 2013. / En af de første og vigtigste ting jeg gør, når jeg kommer til Berlin er et smut forbi Shakespeare and Sons, der vist har mange navne. Nogle kalder dem også Books and Bagels eller Fine Bagels. Det er underordnet. Det der er vigtigt er, at Shakespeare and Sons kan en masse fede ting. De er en kombination af hip boghandler, café hvor man kan sidde med sin computer og arbejde og normal café, der både serverer de lækreste bagels, bedste cookies og god kaffe. Jeg får altid en plain bagel med cream cheese og en cappuccino, og er min kæreste med, deler vi en chocolate chip/salt cookie. To die for! Jeg har lagt rigtig mange besøg her siden 2013, hvor de åbnede.
Another must every Saturday morning: Wochenmarkt at Boxhagener Platz in Friedrichshain. They have everything and I love talking a slow walk, trying out samples, getting delicatessen from the nice booths, looking at flowers…. / Et andet must hver lørdag morgen: et smut på Wochenmarkt på Boxhagener Platz, to minutters gåafstand fra min lejlighed. Her findes der små, fine boder, der sælger lige fra lokale, økologisk frugt og grøntsager, økologisk sæbe, smukke blomster og delikatesser. Jeg køber en kop kaffe fra en af boderne og slentrer rundt i mit eget tempo. Da jeg boede her, brugte jeg ofte markedet som supermarked og købte ind. Blomster til lejligheden, grøntsager til ugens løb og delikatesser til en god middag.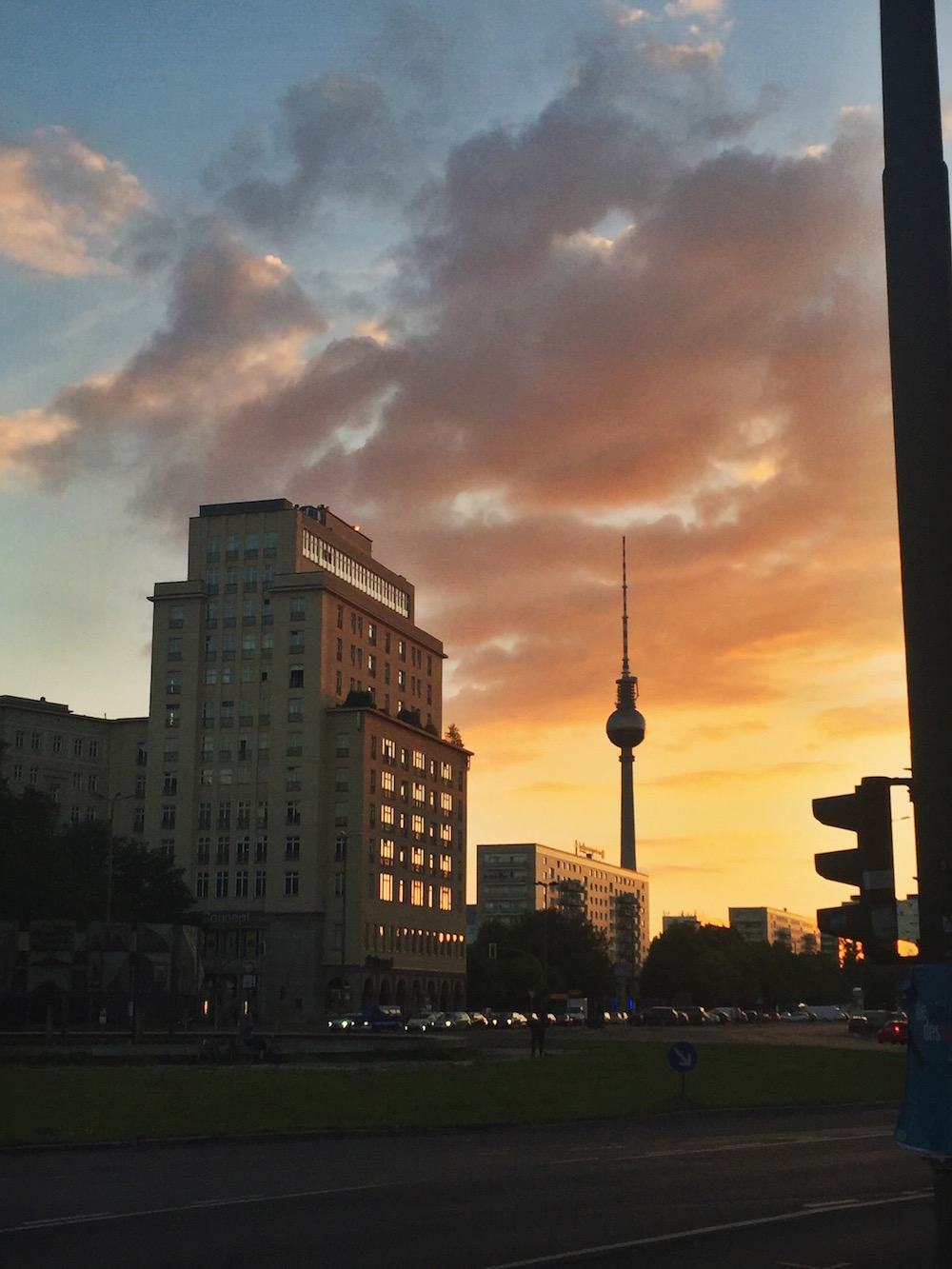 My favorite tower in the whole wide world looking even more beautiful one night when I was biking along gorgeous, crazy Karl-Marx-Allee. The sky was on fire. / Mit favorit-tårn i hele verden! Fjernsynstårnet tog sig endnu bedre ud en aften, hvor jeg cyklede langs vanvittige Karl-Marx-Allee, og der var ild i himlen.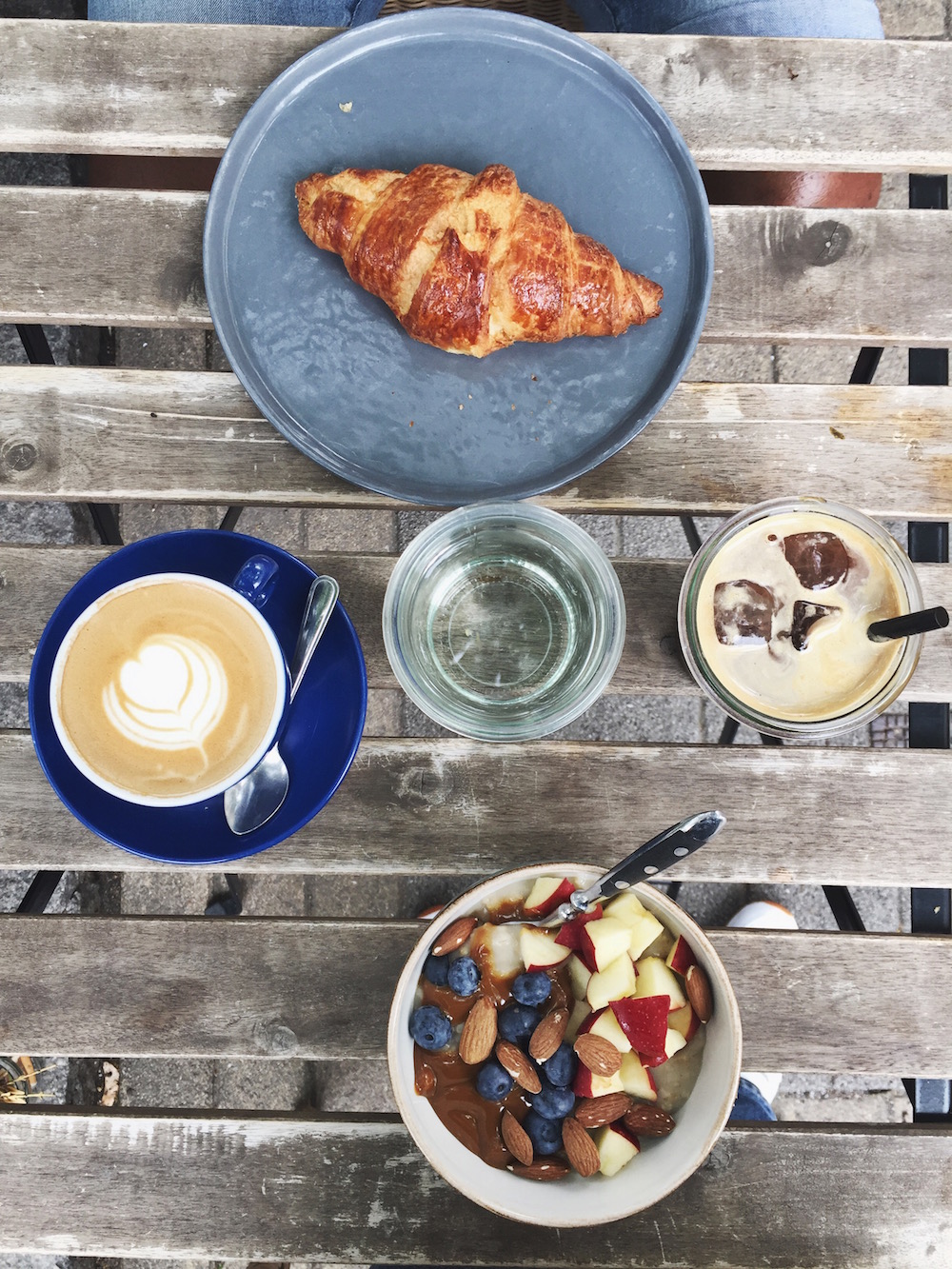 More eating and a visit to another one of my favorite spots. Haferkater in Friedrichshain. The cutest little cafe with outdoor seating. They serve porridge with different toppings and croissants and cakes for the not-so-porridge-loving-people. / Endnu mere spisning og et andet af mine yndlingssteder i Berlin (nærmere betegnet Friedrichshain). Haferkater! Konceptet minder om københavnske GRØD. Her kan du få havregrød med forskellige toppings samt bagværk. Her får jeg havregrød med karamel, blåbær, mandler og æbler. Deres croissanter er også lækre, hvis man ikke er til grød.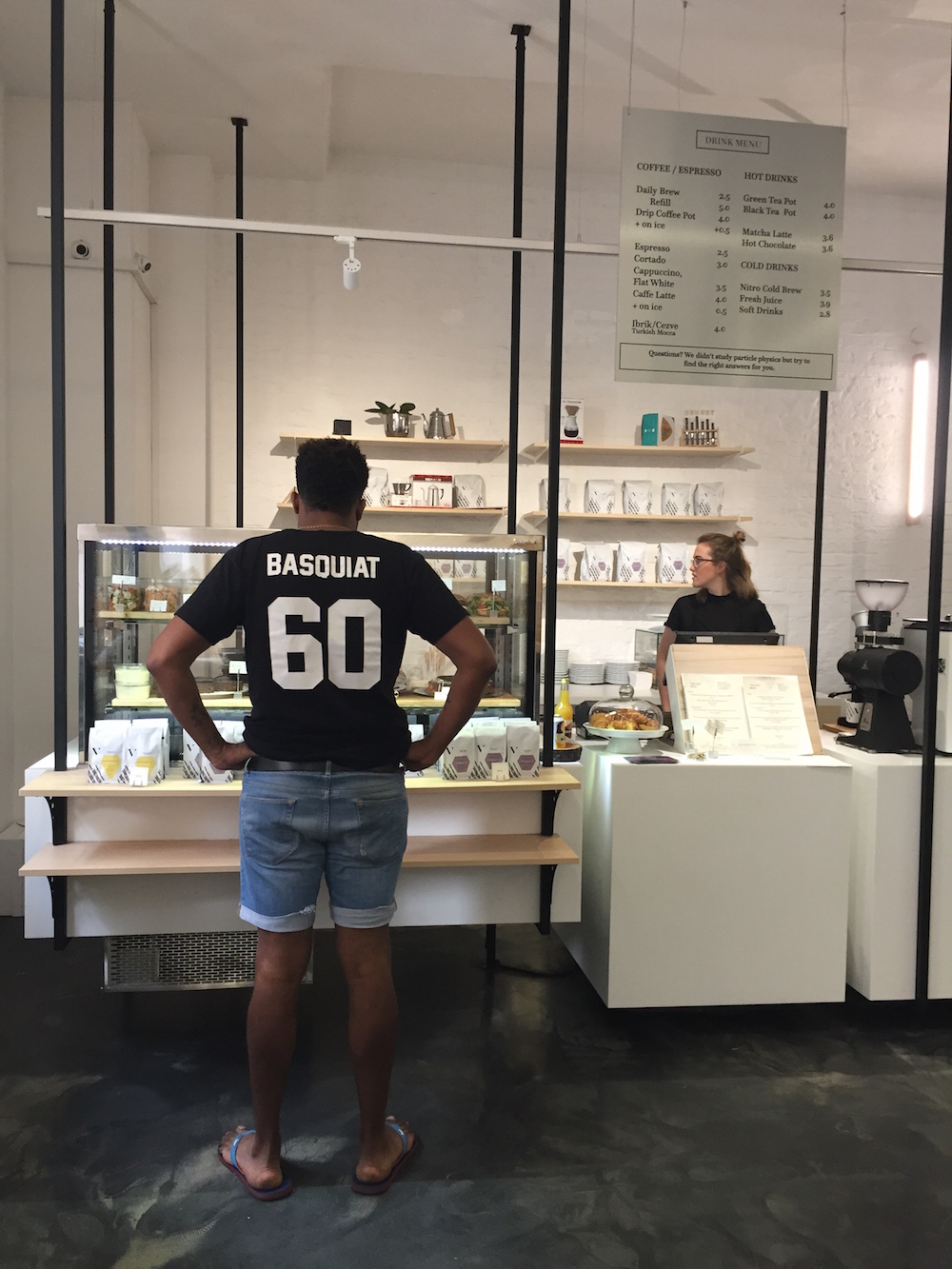 And more coffee: a very hip(ster), and new spot in Kreuzberg – The Visit Coffee Roastery. Awesome space. I tend to never check prices in Berlin because food and drinks are usually so cheap. However, when I was paying 14 euros for a brownie and two ice lattes I was a little shocked. 4,5 euros for a little ice coffee. In Berlin?! Nah. That is a little too much, I'd say. / Og mere kaffe: et nyt, meget hip(ster) spot i Kreuzberg – The Visit Coffee Roastery. Sejt sted! Jeg tjekker for det meste aldrig priser i Berlin, fordi alt er så relativt billigt i sammenligning med København. Her blev jeg bedt om 14 euro for en brownie og to iskaffer. Det fik mig til at vågne op – 4,5 euro for en lille is-latté. Det synes jeg alligevel er overkill i Berlin, især fordi konkurrenter i samme liga og stil altså ikke tager 4,5 euro for en iskaffe.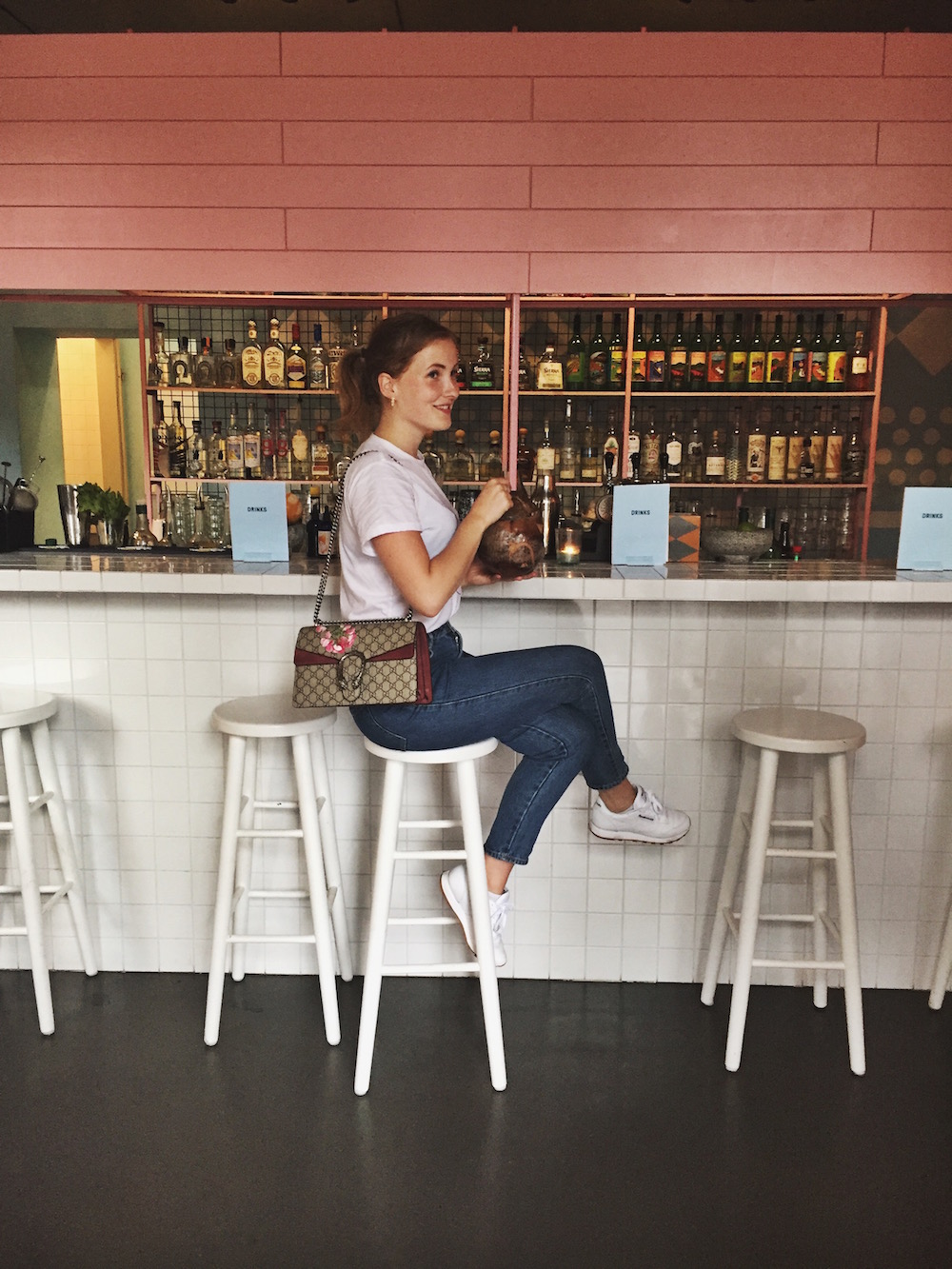 I couldn't be happier. Drinking pina colada in a pink bar with my Gucci bag. (Sorry, to my mom and friend who said I wear it in to many pictures, haha!) / Caroline i sit és. Med en pina colada i en pink bar med min lyserøde Gucci-taske. (Undskyld mor og veninde, der synes, at jeg har den på på for mange billeder!)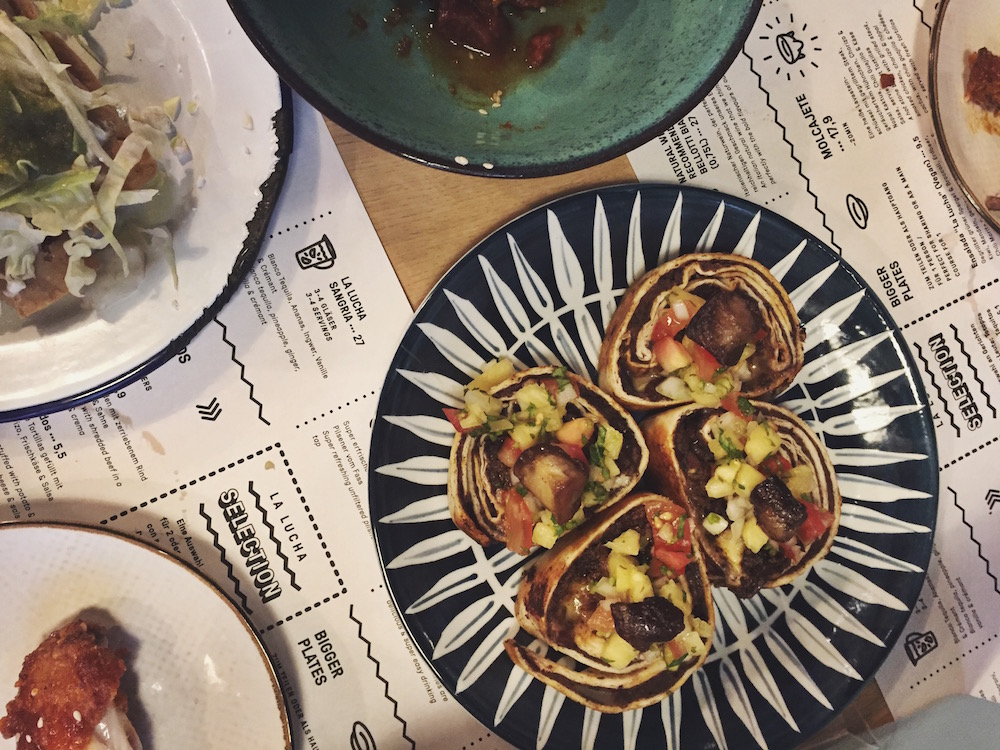 Dinner at La Lucha in Kreuzberg. Modern, Mexican and so delicious! I will share more about this new Berlin-restaurant in an up-coming post. / Middag på La Lucha i Kreuzberg, moderne mexicansk og så lækkert. Jeg deler mere om denne restaurant i et andet indlæg.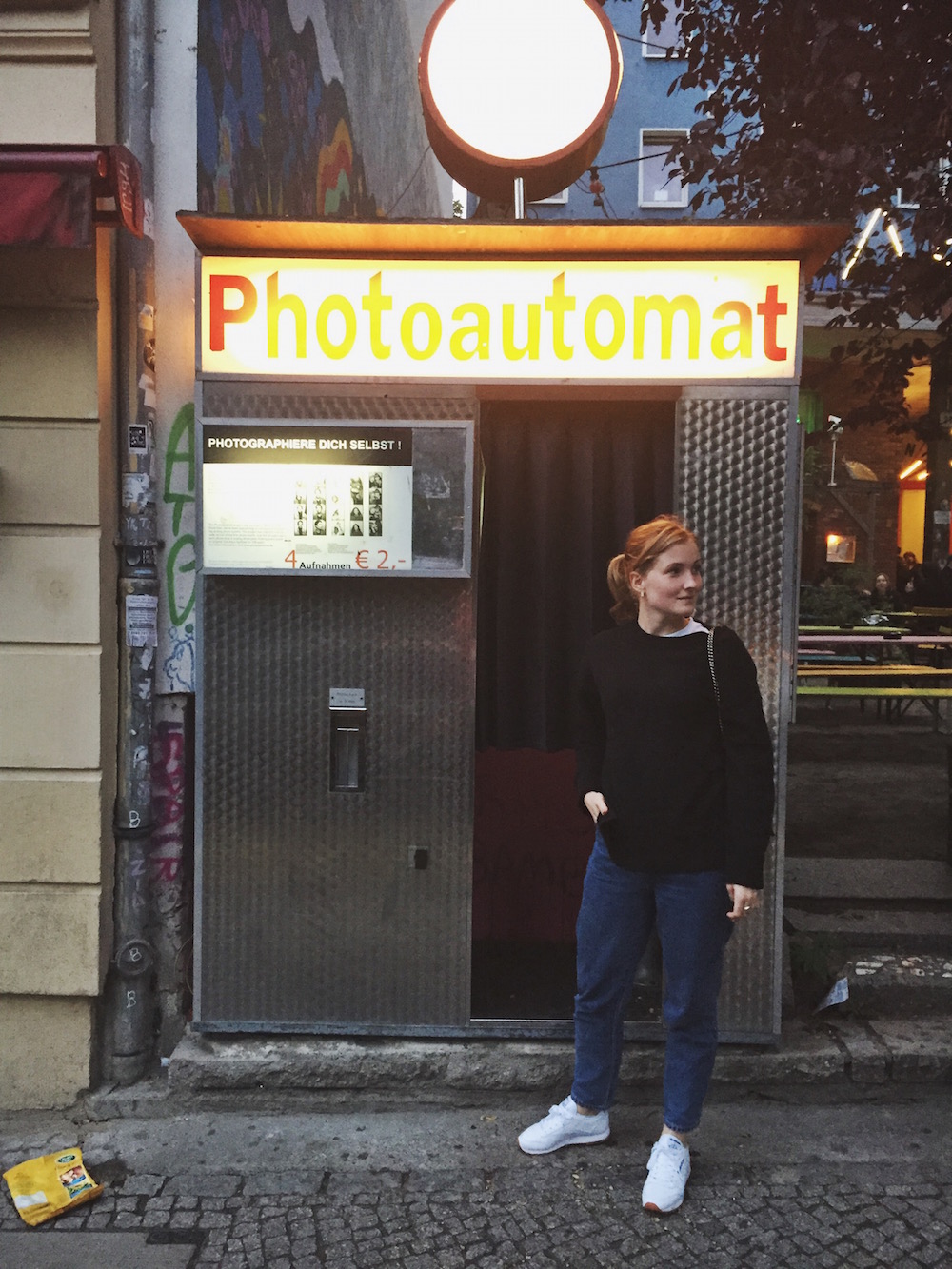 Another MUST in Berlin: get a two euro photo strip taken in one of the classic "photoautomaten" you find all over Berlin. / Et andet MUST DO i Berlin: tag et billede i en af de mange fotoautomater, du finder rundt omkring i Berlin. Jeg gjorde det til en tradition, at hver gang jeg selv var i Berlin, inden jeg flyttede her til, og hver gang jeg fik besøg af venner, efter jeg var flyttet hertil, så skulle jeg eller de tage et billede. Den dag i dag, har jeg den fineste samling af billeder fra diverse photoautomaten.