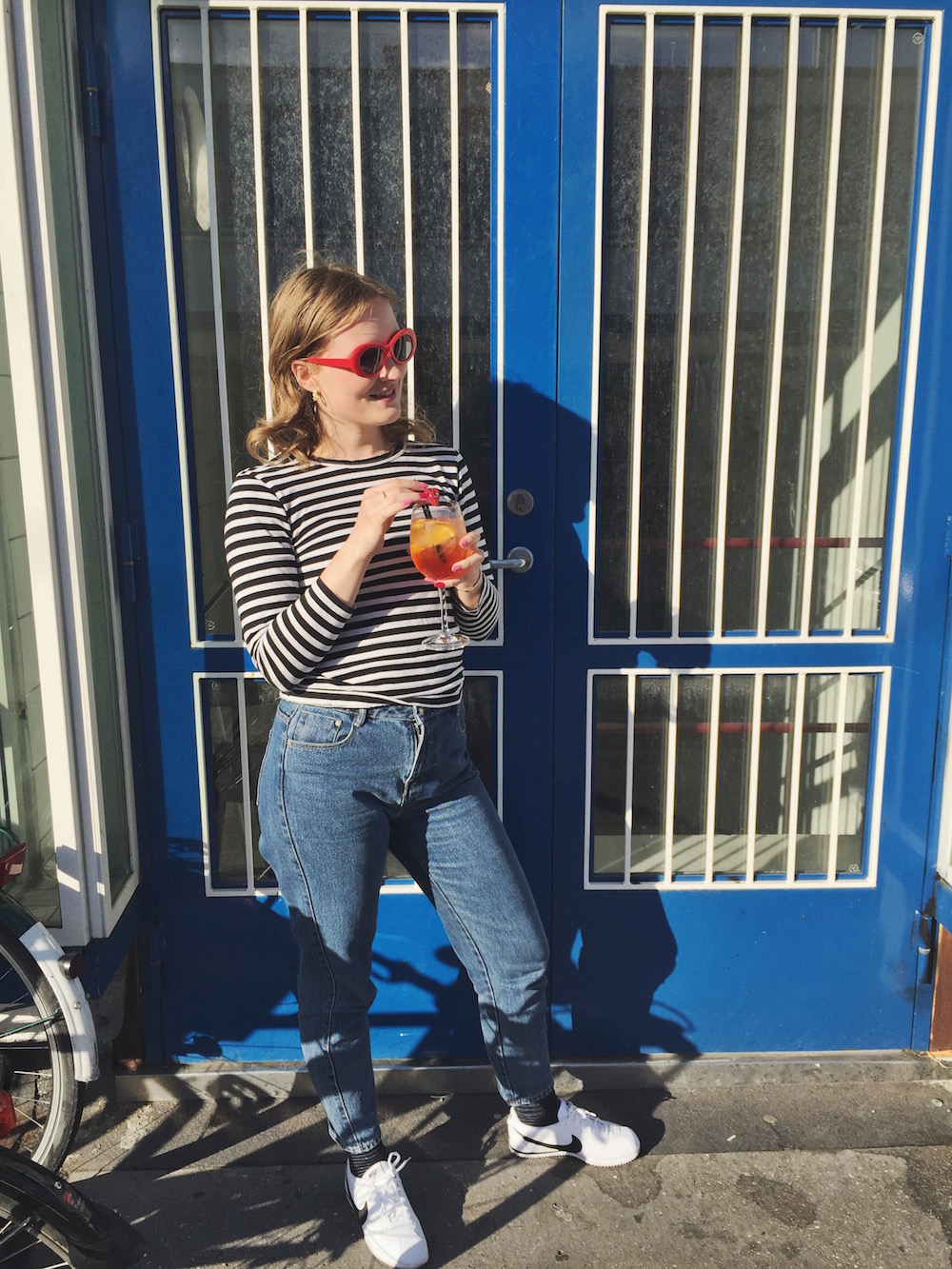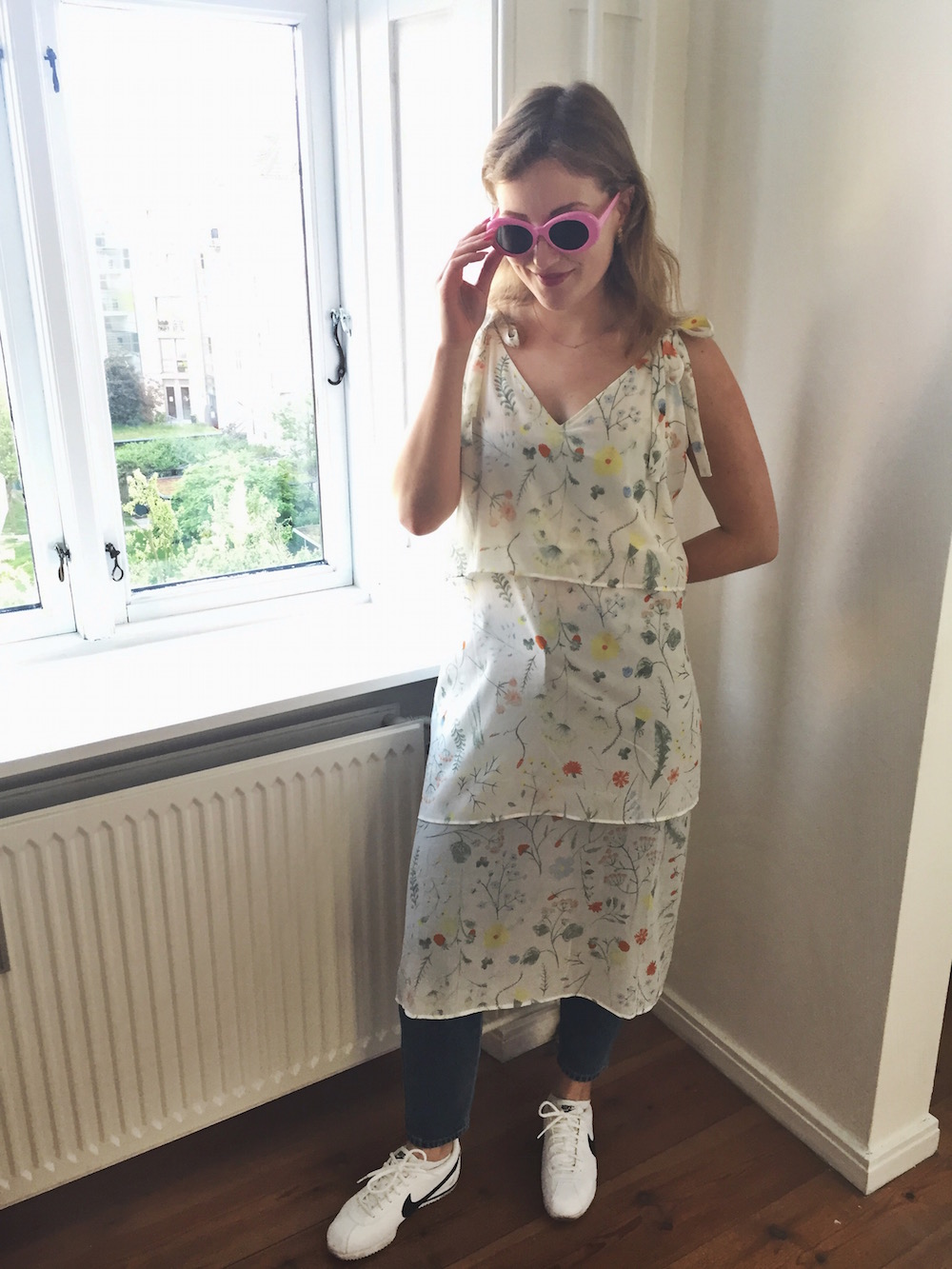 ENGLISH (DANISH VERSION BELOW): Sponsored: I have been living in outfits similar to these for the past two months. A long, flowy dress, a pair of jeans and sneakers. These ones are the retro Cortez from Nike that I got from Def-Shop, Germany's biggest online shop for streetwear for both men and women. They are so cool, classic and fit every outfit. The best part is that when my mom saw me wearing them she said: "Oh my goodness, do they still exist?! I had these sneakers when I was 14 years old". This just underlines how classic they are. I mean, it was 1979 when my mom was 14 years old.
MY PLANS FOR THE SUMMER
Since we last talked, summer has not arrived in Copenhagen… Today has been very sunny, but it is still not anywhere close to summer. The sun might be shining, but it is still cold AF. Simply not good enough! So we have taken matters into our own hands. In a week, on the 12th of July, we are flying to New York. My boyfriend gave up his apartment, so instead of staying in Brooklyn as we always do, we will be staying around 3,5 weeks in a friend's apartment in Soho. Although I love Brooklyn, I am super excited to try and stay in Manhattan.
We don't have anything particularly planned for our 3,5 weeks in NYC. We will hang out with my boyfriend's friends and family and that is about it. I am sure we will come up with more stuff to do as we are there, but it will be a true vacation and just seeing what we feel like doing on that particular day. I will bring loads of work, though. Luckily, NYC is a perfect city for working from home at hip cafes.
After NYC we haven't quite figured out our plans. We have to be in Barcelona in mid-August. I also want to go back to Berlin, as it was such bad weather the last time I was there. Then, I have a video shoot in Copenhagen in the beginning of August. We are still trying to plan and organize everything, but hopefully, we will manage to go to both Copenhagen, Berlin, and Barcelona. Barcelona will be the real vacation spot where we will get sun and beach time. I am excited! Now, eight days left in Copenhagen with summer school.
What are your plans for the summer?
_______________________________________________
DANSK: Sponsoreret af Def-Shop. Noget lignende af ovenstående outfit har jeg haft på de sidste to måneder. En lang, løs kjole, bukser (så skal man ikke bekymre sig om, at noget måske er gennemsigtigt) og et par fede sneakers. Jeg er ultimativ sneaker-pige, og selvom jeg synes, at høje hæle er flotte, så kan jeg slet ikke forestille mig at have sko på, der ikke tillader mig at gå op til 20 kilometer på en dag uden smerter og bevæge mig frit omkring. Def-Shop er en onlineshop fra Tyskland, der forhandler streetwear til både mænd og kvinder, og de var så søde og sende mig et par sneakers i modellen Cortez fra Nike.
Jeg har været vild med den model, siden Forrest Gump blev min yndlingsfilm, da jeg var yngre, for ja, Forrest Gump løber nemlig i et par Nike Cortez. Da min mor så mig i ovenstående outfit udbrød hun: "Gud! Sådan et par havde jeg, da jeg var 14!". Uden at røbe for meget om min kære mor, så var året altså 1979, da hun var 14. Det siger lidt om, hvor klassiske og tidsløse et par Cortez er. De passer altså perfekt i min garderobe.
MINE SOMMERFERIEPLANER
Og hvad skal jeg så i min sommerferie, spørger I så? Jeg er både træt af vejret og liiiiidt træt af, at jeg ikke har rigtig sommerferie endnu. Jeg går jo på sommerskole på universitetet, og selvom faget har været over al forventning indtil videre, så går jeg jo stadig i skole. Der laves der dog om på i næste uge. Der sætter jeg mig nemlig på en flyver med kurs mod Atlanten. Jeg skal til New York! Jeg glæder mig helt vildt, på trods af, at det er min niende eller 10. tur til byen. Vi plejer altid at bo i Brooklyn, men denne gang skal vi på i Soho på Manhattan. Selvom Brooklyn er skønt, glæder jeg mig til at opleve at bo i et af New Yorks absolut mest kendte og populære områder.
Vi skal være i New York i cirka 3,5 uge. Vi har ikke nogle faste planer, men jeg er sikker på, at vi nok skal finde på en masse at lave. Efter det er vi ikke helt sikre på, hvad der skal ske. Vi skal nemlig lige have nogle datoer og planer til at gå op. Vi ved dog, at vi skal til Barcelona i midt-august, og så vil jeg rigtig gerne til Berlin, fordi min sidste tur var seks dage med regn og blæst.
Jeg har dog også en filmoptagelse i København, jeg skal være med til, og den ligger i starten af august. Der er altså lige en rejsekabale, der skal lægges og gå op. Jeg håber dog, at vi finder ud af det, så vi både kan få et par dage i Berlin, en smuttur til København og så videre til Barcelona. Barcelona bliver nok det sted, hvor vi får rigtig sommerferie, altså med strand, sol og sene nætter.
Hvad er jeres sommerferieplaner?