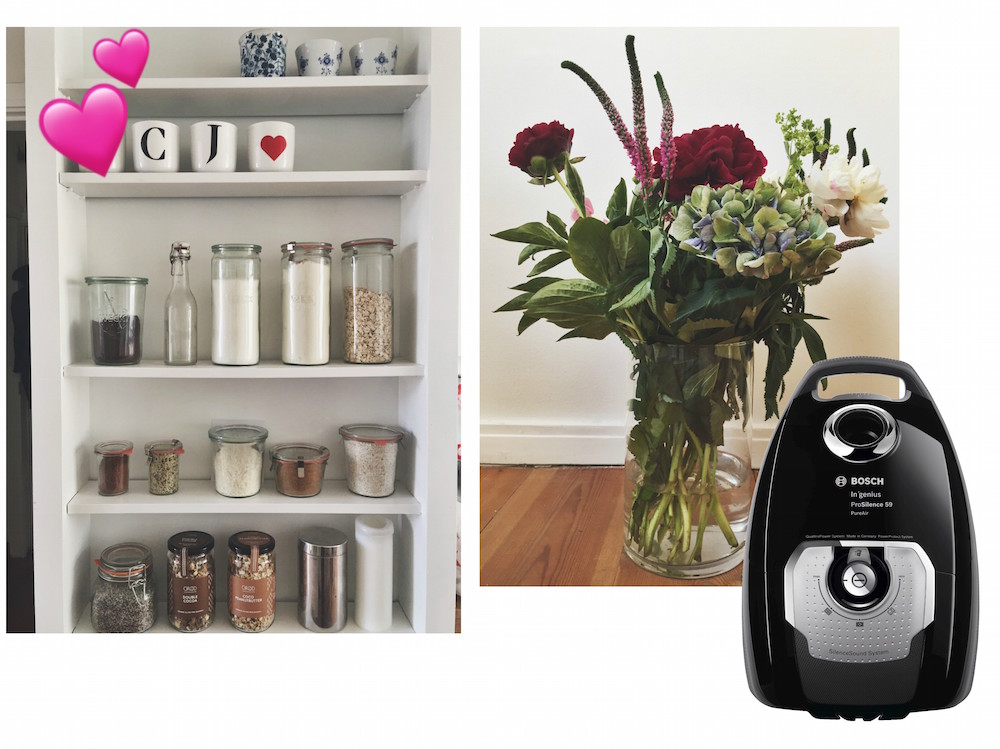 ENGLISH (DANISH VERSION BELOW) It's funny sometimes how everything just seems to go right. It doesn't happen too often, but sometimes the universe just smiles at you. Also, my mom is right when she says that I was born under a lucky star. I don't always feel it myself because it is way easier to focus on the negative, (and why is that?!), but when I focus on the positive, I can see that I am pretty lucky.
That is how I felt when I got an awesome apartment in Copenhagen some months ago after searching for a long time. Moving into a new apartment when all (literally all!) your stuff is in your apartment in Berlin means getting a whole lot of stuff. From the fun things such as pillows, candles, and lamps to the more boring things such as a holder for toilet paper, pots and pans and a vacuum cleaner. 
Sponsored by Bosch. Now back to the whole "when everything goes right", and it is actually kind of funny. So, a few months ago I went out and bought a vacuum cleaner in order to clean up the apartment that we were still renovating. The morning after buying it, I get an email from a PR company that saw on my blog that I got an apartment in Copenhagen. They also read that the apartment was rather tiny and that I was going to live together with my boyfriend. In that connection, they thought it would be fun for me to try the new Bosch In'genius ProSilence 57. A loyal reader will know that I have a thing for German quality, hereby also the brand Bosch. It is German which ultimately means that it can only be good. 
The Bosch In'genius ProSilence 57 is the most silent vacuum cleaner on the market. The whole idea for me to get it, is, that in the future I won't be restricted to clean my apartment in regular day hours. I won't have to mind neighbors or my sleeping boyfriend if I want to vacuum at 2 in the morning as they simply won't be able to hear it. I was excited to hear how much sound the Bosch In'genius ProSilence 57 actually makes. Now, I have tested the vacuum for a few months, and I can confirm that it really is silent. 
The messenger came with the vacuum cleaner along with a little basket full of things that will give me a hyggelig night cleaning at home. From the basket I got soft cashmere socks, a scented candle, a face cream, some sleepy time tea, a bathrobe and the cutest little notebook. I had to pinch myself because yes – my mom is right and yes – I am born under a lucky star. I moved into the best apartment with my boyfriend that we renovated ourselves. Yes, I am a blogger and I love it! And yes, now I am able to clean my apartment whenever I want. This will definitely be handy the night time I can't sleep (which is always!) and feel like doing something in the middle of the night. 
________________________________
DANSK: Nogle gange har man lov til at være heldig. Nogle gange tilsmiler lykken en, og alt går den rigtige vej. Sådan kører det lidt for mig for tiden, og det hele går ret godt. Selvfølgelig bakser jeg med det normale – f.eks. skole (sommerskole lige nu), og alt det andet der hører til at være milennial. Når min mor siger, at jeg er født under en heldig stjerne, så har hun nok lidt ret. Det er svært altid at se selv, fordi det er nemmere at fokusere på det negative, og det, der ikke går godt. Når jeg prøver at fokusere på det positive, kan jeg dog godt se, at jeg ikke har noget at klage over. Note to self: du har det ret godt, Caroline! 
Sponsoreret af Bosch: Jeg er jo flyttet ind i min 'nye' lejlighed, hvor jeg efterhånden har boet i omtrent syv måneder. Hvor bliver tiden af? Jeg har fået de basale og nødvendige sager, men jeg for eksempel ingen lamper endnu. Eller en gryde i normal størrelse. Det virker åndssvagt at skulle gå ud og købe det hele, når jeg ved, at jeg har lækre sager i min lejlighed i Berlin.
En af de ting, der er kedelige at bruge penge på ifølge mig, er en støvsuger. Ikke desto mindre er en støvsuger meget nødvendig. Jeg købte altså en støvsuger næsten med det samme, mens jeg renoverede lejligheden. Og nu kommer vi til det der med, at lykken tilsmiler mig. Det skal, sjovt nok, handle om støvsugere. Morgenen efter at jeg købte støvsugeren, dumper der en mail ind i min indbakke. Det er fra et PR-bureau, der arbejder sammen med Bosch. De havde set, at jeg er ved at flytte i lejlighed, en lille en af slagsen, sammen med min kæreste. 
De ville derfor høre, om jeg ikke kunne tænke mig at teste Bosch' nye støvsuger ved navn In'genius ProSilence 57. Jeg tænkte igen, (ligesom da jeg fik min lejlighed), at der må være noget mere mellem himmel og jord. Hvor vildt er det lige, at under 12 timer efter, at jeg har købt en støvsuger, bliver jeg kontaktet, om jeg vil teste den nyeste og sejeste støvsuger på markedet. 
Tilbage til støvsugeren fra Bosch. Som navnet antyder, er støvsugeren med sine 57 dB er den mest lydssvage på markedet. Eftersigende larmer den ikke mere end en normal samtale gør, og den er derfor genial til sådan en som mig. Jeg er en natteravn, og jeg går sjældent i seng før klokken 2. Jeg får utrolig meget energi om aftenen til at lave mærkelige ting – som at støvsuge. Det har dog hidtil været lidt svært, for når man bor i lejlighed, på 3. sal og med sin kæreste, så er der altså mange omkring en, der nok ikke ville synes, at det er superfedt, hvis jeg begynder at støvsuge midt om natten. Det bliver imidlertid intet problem med min nye støvsuger Bosch In'genius ProSilence 57. 
Støvsugeren kom med et bud, og jeg åbnede den straks for at undersøge, om den nu var så stille som lovet. Jeg har nu testet den i et par måneder og kan bekræfte, at ja, støvsugeren er så stille, at jeg godt ville turde støvsuge midt om natten på 3. sal på Vesterbro med min kæreste sovende ved siden af. Det siger da ikke så lidt. 
Sammen med støvsugeren kom der en lille kurv fyldt med lækre sager. Sager, der skal gøre det hyggeligt at gøre rent om aftenen. Det var sager, som jeg ville bruge, hvis jeg skulle forklare begrebet "hygge" i objekter til en amerikaner. En lækker badekåbe, sove-the, et lækkert duftlys, en yndig notesbog og en skøn ansigtscreme. Jeg så det lidt som min første indflytningsgave. Hold op, hvor er det lækkert at kunne støvsuge min lejlighed på alle tider af døgnet. Min lejlighed er så ren! 😉