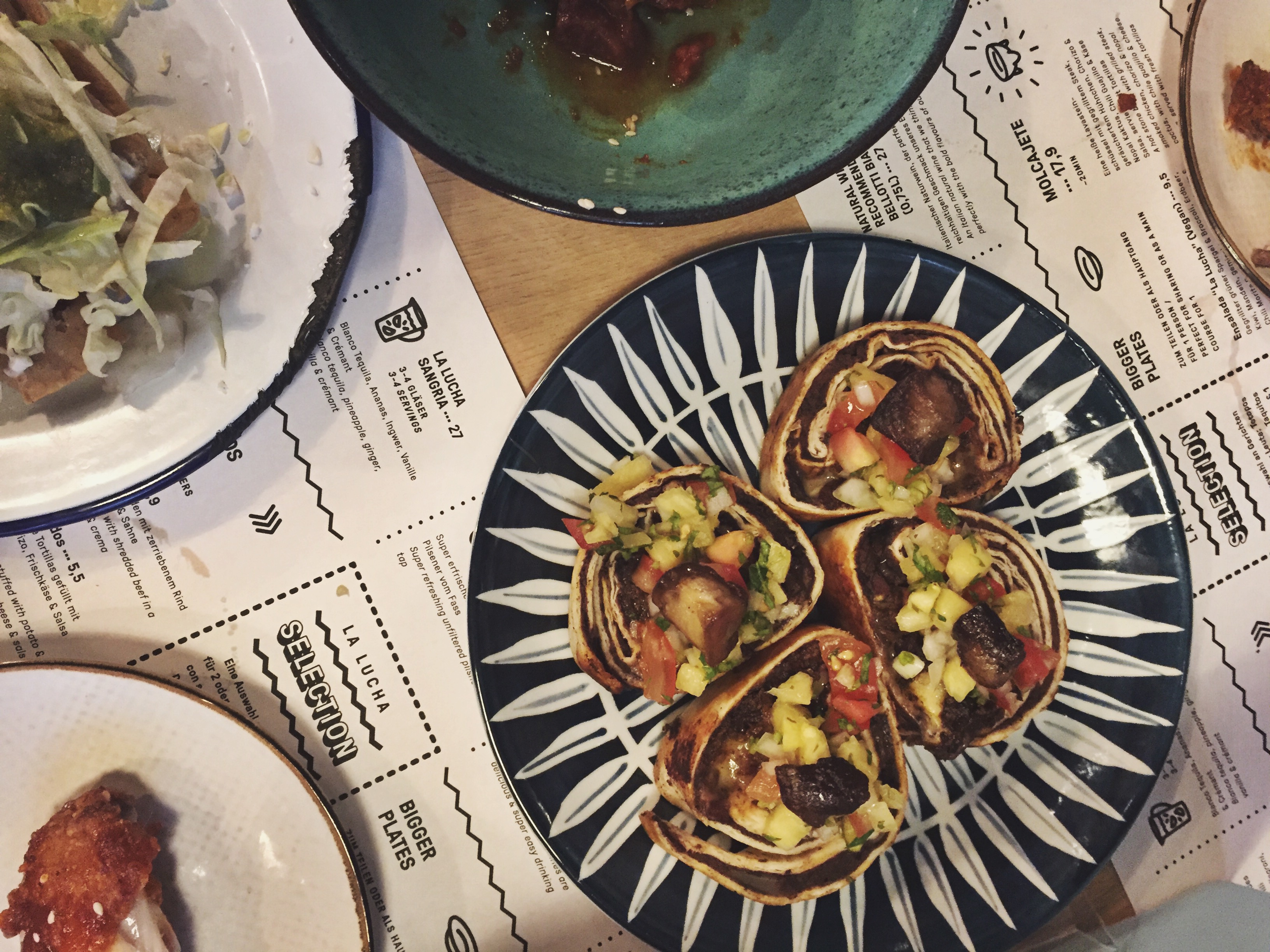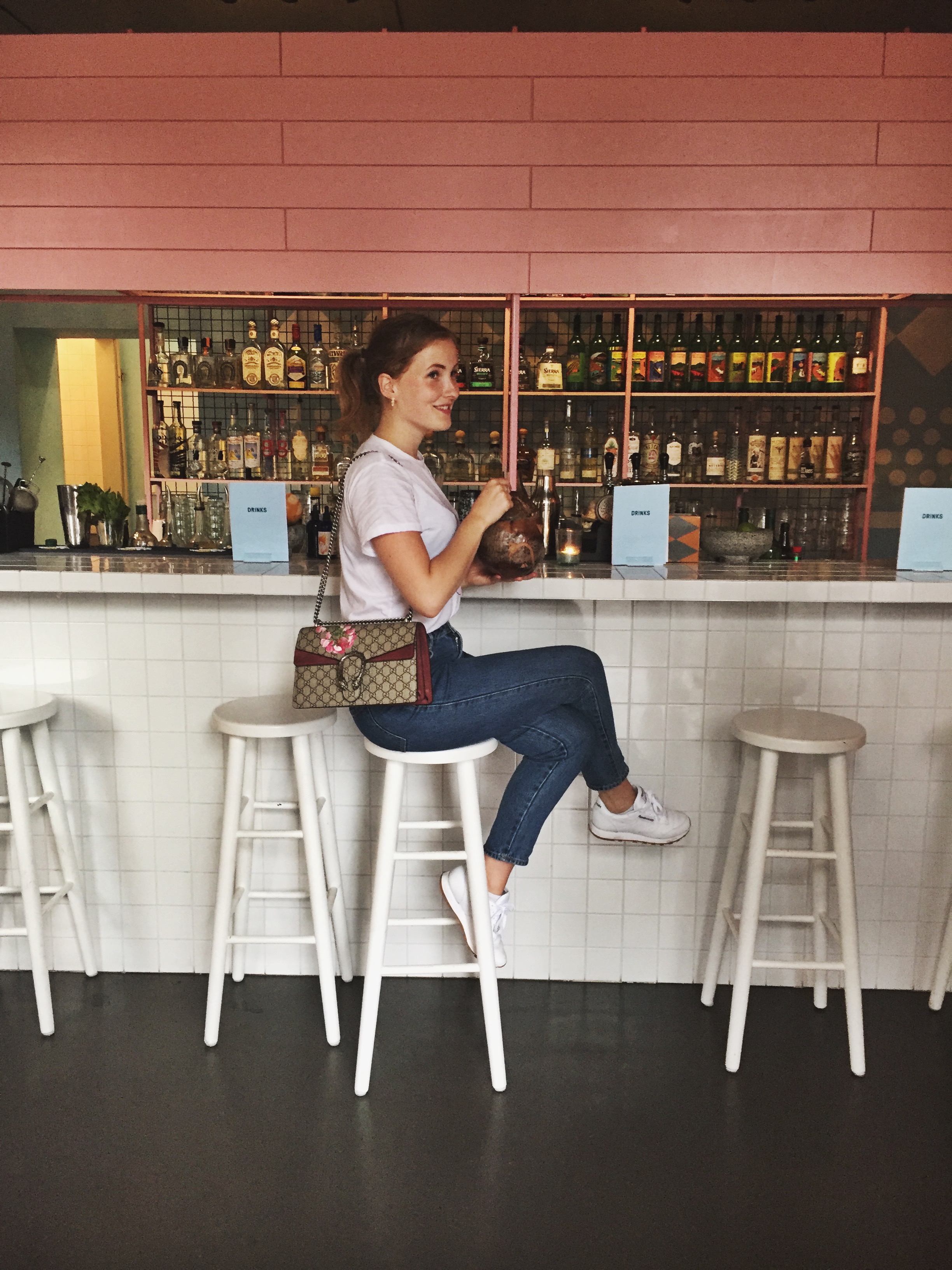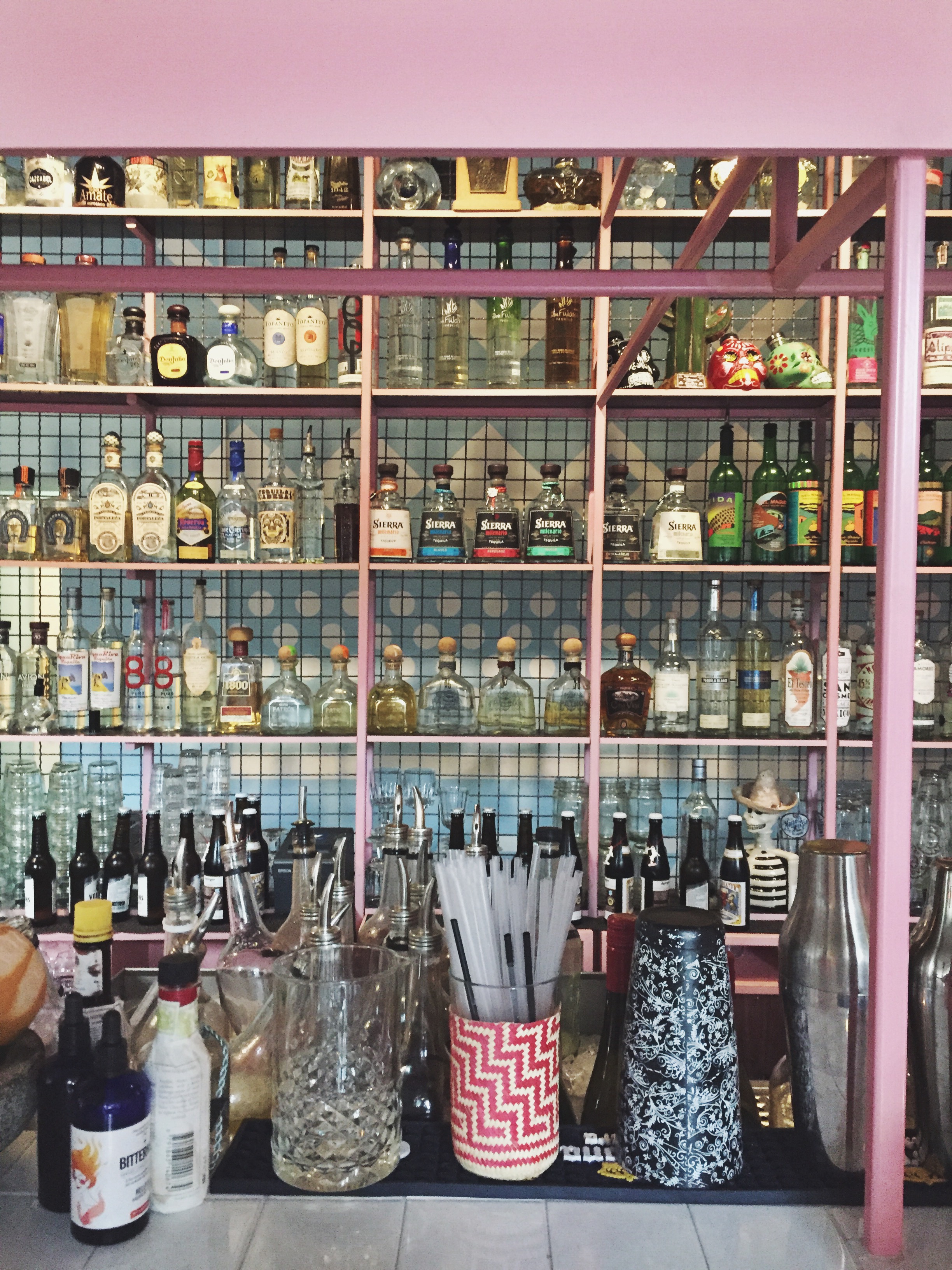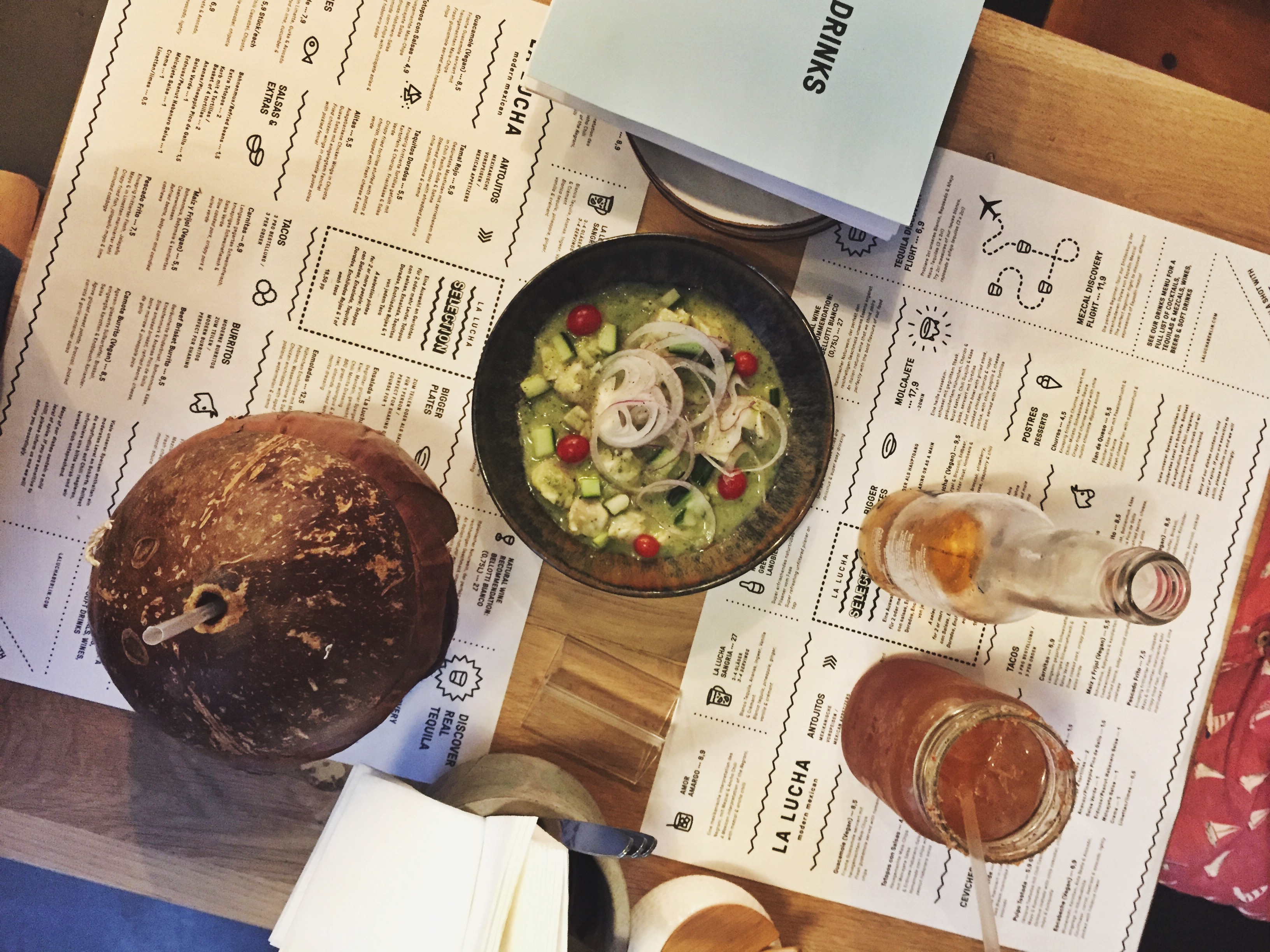 English (Danish version below): I am the queen of eating out. At least, that is what my friends think, and I sometimes look at my Instagram feed and that is when it occurs to me: "dammmnnn, I eat out a lot!". That was the same case when I was in Berlin two weeks ago. I went back to all my favorite restaurants, had my classic bagel, coffee and oatmeal at my favorite neighborhood breakfast spot. Having favorite places that you go back to is a good thing. Buuut! Trying out new places is also very important.
Sponsored: This is why I was very excited to be invited to try La Lucha. La Lucha is a new, hip restaurant located on Paul-Lincke-Ufer, by the canals in Kreuzkölln, which also happens to be a favorite location of mine.
Another thing I was excited for, prior to my visit at La Lucha was that they serve Mexican food with a modern take. Yay much, I LOVE Mexican food and I could eat burritos and guacamole with a side of Pina Colada for breakfast, lunch, and dinner.
What is great about La Lucha besides from their awesome location and hip, decoration was the food. Duh, obviously. But let's talk about their interior design that is so cool and mixed with pink details – even the bar is pink! The five-year-old inside of me was literally clapping her hands of excitement), or who am I fooling, I still love everything that's pink!
The food, however, was very interesting. If you expect huge burritos and that typical tex-mex food, you will be disappointed. If you are open to a new take on Mexican food, a more modern one, and a great culinary experience that goes beyond ordering a burrito at Chipotle, this is it!
The food is meant to be shared, meaning you are encouraged to order a few dishes and share it around the table. My favorite was the beef brisket burrito, a soft, cheesy burrito cut into four pieces, perfect for sharing. Other great dishes on the menu were the ceviche and the taquitos dorados. Basically, everything was delicious. To quench my thirst, I opted for a pina colada. It was strong, sweet and served in a coconut. Sipping that, it sure didn't feel like I was in Berlin (meant in a positive way)!
The staff was awesome, outgoing and spoke every language possible. It was quite fascinating. La Lucha is a perfect restaurant to go to with friends, maybe even before a night out. It was also great for a date night 😉
LA LUCHA
Paul-Lincke-Ufer 41
10999 Berlin
____________________________________
DANSK: Jeg spiser går ret meget ud og spiser. Det synes mine venner i hvert fald. Hvis jeg kigger min Instagram og kamerarulle igennem, er jeg også enig og tager mig selv i at tænke "shit, jeg går faktisk ret meget på café og restaurant." Det samme gjorde sig gældende, da jeg var i Berlin forrige uge. De fleste dage brugte jeg på at spise på mine yndlingscaféer. Tapas et sted, asiatisk et andet sted, og min favoritbagel og kaffe et trejde sted. Dog prøvede jeg også noget helt nyt! Nemlig en ny restaurant ved kanalen mellem Kreuzberg og Neukölln, som for de inviede så smukt kaldes Kreuzkölln. Et af mine absolut yndlingsområder i Berlin <3
Sponsoreret: Jeg var nemlig blevet inviteret til at prøve La Lucha, en ny, ret hip restaurant, der serverer moderne mexicansk mad. Det er ikke nogen hemmelighed, at jeg elsker mexicansk mad. Jeg spiste gerne burritos og guacamole og drak pina colada hver dag.
Det fede ved La Lucha, udover deres perfekte beliggenhed og seje indretning var deres mad. Dog lige hurtigt om indretningen; det meste er lyserødt. Selv baren samt alle udendørsmøbler. Min indre femårige klappede højlydt, og det gjorde Caroline 22 år også. Intet er ændret på 17 år – jeg elsker stadig alt, der er lyserødt.
Maden hos La Lucha var meget spændende og lækkert. Hvis du forventer den typiske mexicanske mad, tex-mex-stil, altså store burritos og tortilla-chips, er La Lucha ikke stedet. Maden her er eksperimenterende, og de kalder den selv moderne mexicansk. Hvis du er åben over for nye madoplevelser, der er lidt anderledes, men stadig lækkert, så er La Lucha stedet. Du får en kulinarisk oplevelse, der stikker lidt dybere, end når du bestiller en burrito hos den lokale mexican-biks.
Tjenerne forklarer, at menuen er lavet med tapas-tænkning i baghovedet, altså du bliver opfordret til at bestille nogle forskellige retter og dele dem med bordet. Det gjorde vi så. Min yndlings var beef brisket burritoen, en lækker burrito, delt op i et par stykker, så den var nem at hapse. Ikke noget med en stor, fuldfed, snasket burrito her. Derudover var ceviche og taquitos dorados også super lækre. Min kæreste og jeg delte fem forskellige retter, og det var rigeligt. Mindre kunne også have gjort det. Det kunne mere også 😉 Jeg slukkede tørsten med en perfekt pina colada, serveret i en kokosnød. Det føltes meget eksotisk!
Tjenerne var så søde, hjælpsomme, og ret imponerende talte de, hvad der føltes som alle sprog. Dog ikke dansk! La Lucha er et oplagt sted for en lidt-udover-det-sædvanlige-oplevelse, middag ved venner, måske inden en bytur. Restauranten fungerede også super til date night.
LA LUCHA
Paul-Lincke-Ufer 41
10999 Berlin