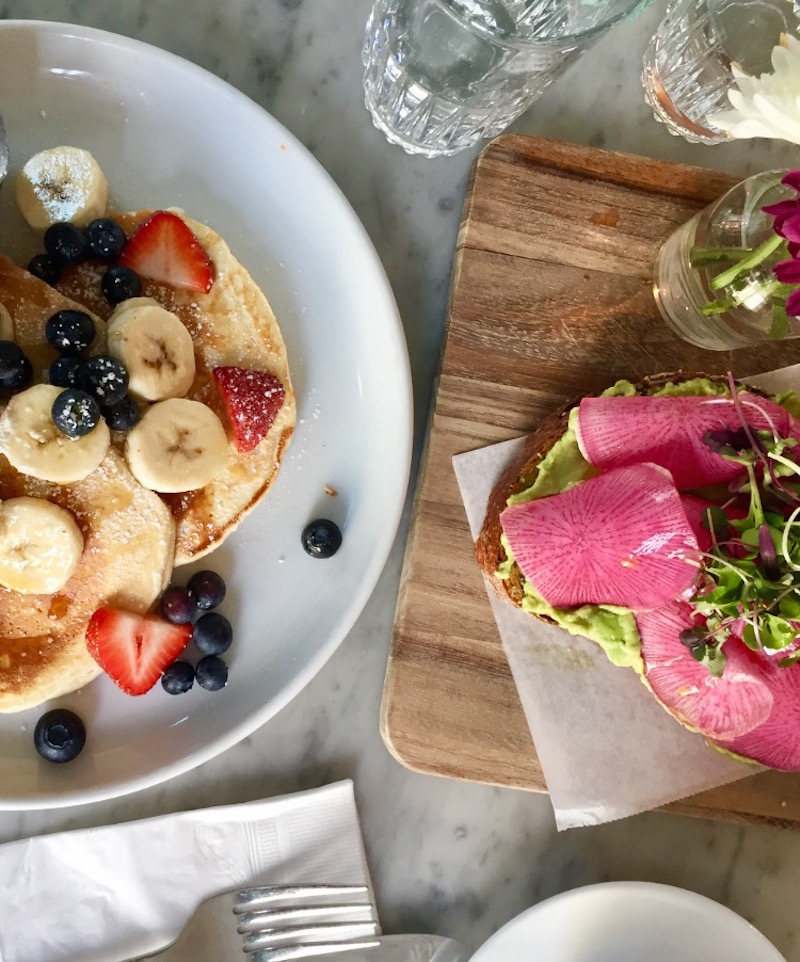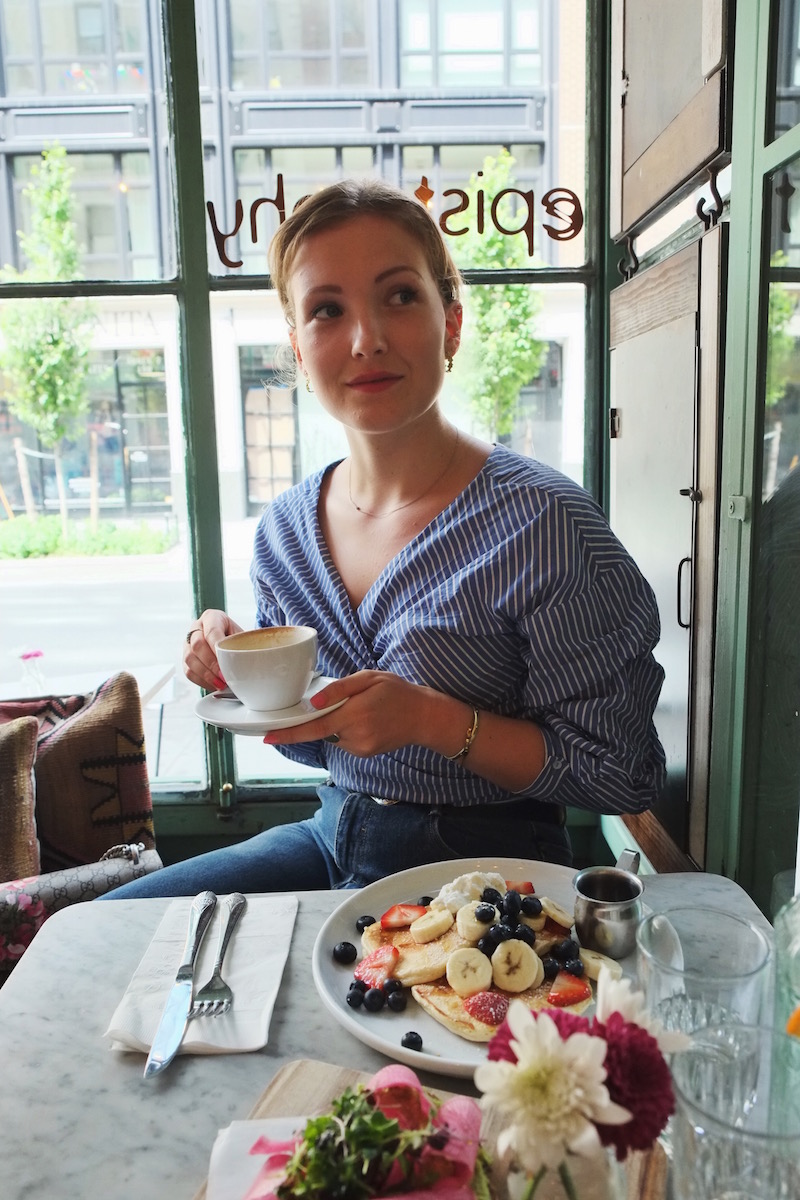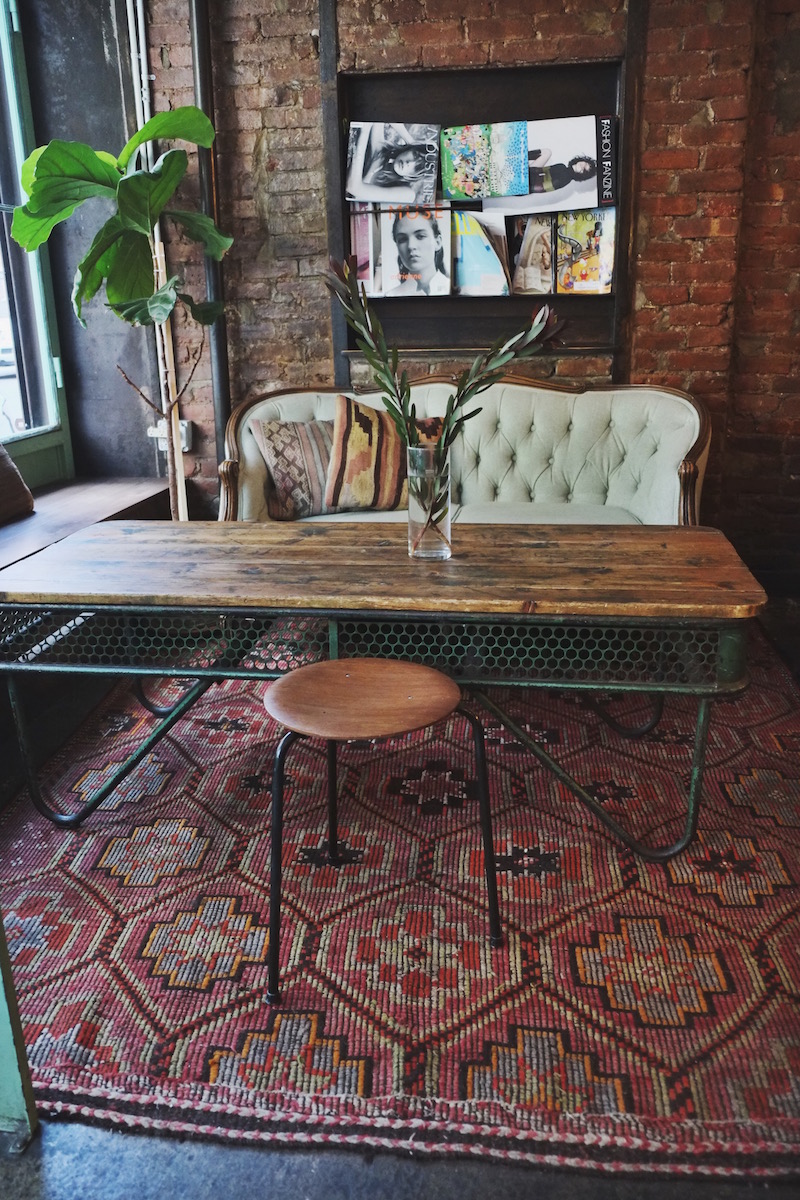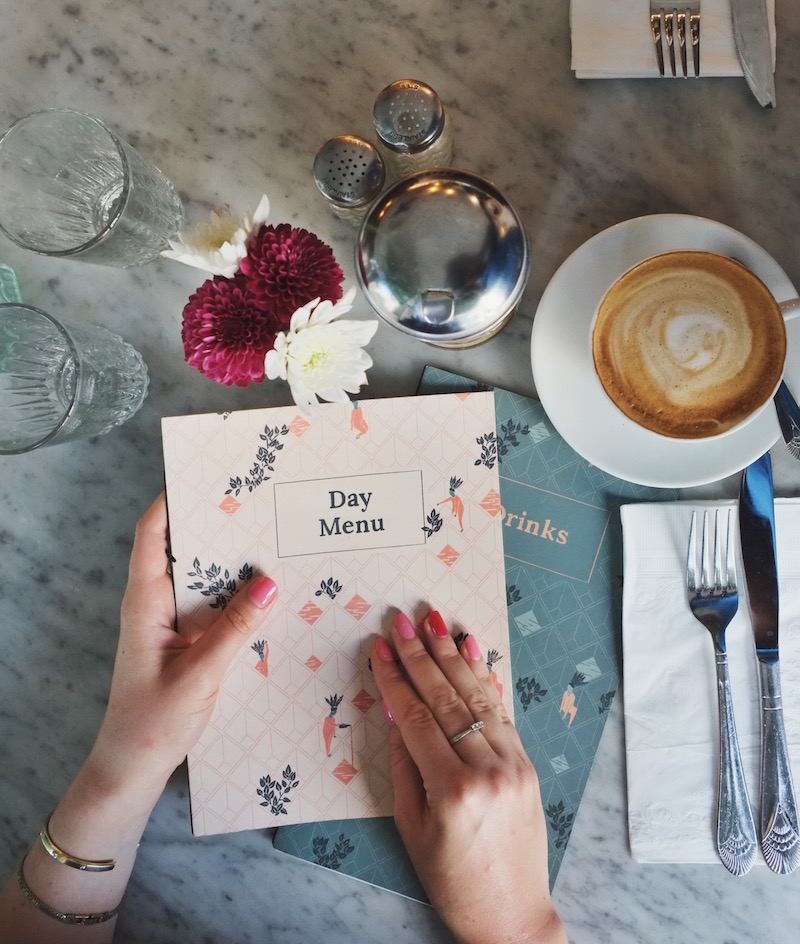 ENGLISH (Danish version below): You know that I love giving you inspiration and tips for the best places to visit around the world, and Epistrophy is one of them. A spot you should definitely keep in mind when searching for brunch in NYC. Epistrophy does a little bit of everything – breakfast, brunch, lunch, dinner, coffee, and drinks.
Brunch is a very important event in New York City, and it must be done every Sunday. However, do New Yorkers love brunch to the point where it is not limited to being served on weekends only but every day. I love that and any frequent reader of this blog will know that I love brunch. A plus when brunching in New York City, is that it is almost mandatory to have drinks with your brunch.
Earlier today, we walked down the block from our Soho-apartment to Nolita, to try out brunch at Epistrophy, a neighborhood-classic when it comes to brunch and delicious pasta dishes. It is located right by Little Italy, after all!
I ordered the avocado toast and lemon-ricotta pancakes together with a cappuccino. My boyfriend opted for the orecchiette, as he simply couldn't resist a dish that combined pasta, cream, and pancetta. Luckily, I got to taste it. It was so delicious.
Like the pasta, my lemon-ricotta pancakes served with syrup and berries were yummy, and so was the avocado toast served with the very photogenic watermelon radish. The waiter even commented that the avocado toast was perfect for Instagram. Funny, how food and cafes nowadays have to make sure their food is photogenic. I loved it though, it was tasty AND looked great in my photos 😉
Epistrophy
200 Mott Street, New York, NY
Open every day from 9-00
__________________________________________________
DANSK: Jeg er vild med at finde gode, smarte og lækre steder rundt i verden og anbefale til mine læsere her på bloggen. Især i en by så stor som New York, og hvor udvalget af caféer og restauranter er enormt, kan det være svært at navigere og finde de bedste steder at besøge. Epistrophy får klart mine anbefalinger og de kan tilmed lidt af hvert. Morgenmad, kaffe, brunch, drinks, frokost og aftensmad.
Brunch er en meget vigtig begivenhed i New York. Selvom den for det meste afholdes i weekenden, er new yorkerne faktisk så vilde med brunch, at man på de fleste cafeer kan få brunch alle ugens dage. Trofaste læsere af bloggen ved, at jeg elsker brunch. Og jeg elsker New York. Det passer altså ret perfekt. Desuden, er der endnu et plus. New yorkerne drikker drinks, når de bruncher. Helst mimosa – champagne blandet appelsinjuice eller bloody mary.
Tidligere i dag gik vi en block fra lejligheden, vi bor i i Soho og for at spise hos Epistrophy beliggende i Nolita. Epistrophy er en yndig café-restaurant, der har åbent hele dagen. Grundet beliggenheden tæt på Little Italy, bliver der selvfølgelig serveret italienske retter samt lækker pasta.
Som den brunch-elsker jeg er, bestilte jeg avocado-toast og amerikanske pandekager med citron og ricotta, serveret med sirup og bær. Min kæreste kunne ikke modstå retten, der kombinerede pasta med flødesovs og pancetta. Det fik han.
Alt smagte himmelsk. Pandekagerne var fluffy på den perfekte måde og smagen af citron gjorde dem endnu bedre. Pastaen var syndig på den gode måde. Avocado-toasten var smuk, og som tjeneren kommenterede, perfekt til billeder. Det er sjovt, hvordan mange restauranter i dag tænker meget over, hvordan maden serveres, så den tager sig godt ud på billeder. Det klager jeg ikke over, for se lige, hvor pæn den er!
Epistrophy
200 Mott Street, New York, NY
Åben hver dag fra klokken 9-00