It is about time that I check in and do a little update from my time in New York City. I have actually been here eight days by now. It is UH-MA-ZING so far. Remember how I told you that I would be staying in Soho, Manhattan? Usually, I always stay in Brooklyn where my boyfriend is from, but this summer is different. I am staying in the center of Soho on a beautiful, quiet street. Although I love Brooklyn, it is so much fun to try and stay in a different location.
Soho is fun, because as you step out the door you are in the middle of everything. Every cool cafe, store, restaurant, flagship stores on Broadway and very fashionable people. Every day there is a long line in front of some store, and you ask people what they are waiting for. Their answer? To meet someone famous. The other day it was Kendrick Lamar, and the day before that some Youtube star named Logan Paul. That is when you know you are in NYC!
Here is a little recap of moments from the last few days in New York City.
________________________________
Det er vist på høje tid, at jeg tjekker ind og skriver lidt hjem om min ferie i New York. Jeg har allerede været her i ni dage, og jeg ved ikke, hvor tiden bliver af. Jeg vil mest af alt bare gerne have, at tiden stopper, så jeg kan være her for evigt. Jeg gad altså godt at blive her lidt længere end bare en måned…
Jeg bor jo i Soho denne gang. Det er så vildt. Jeg plejer altid at bo i Brooklyn, hvor min kæreste jo er fra. Jeg holder meget af Brooklyn, men det er nu altså også ret fedt at prøve at bo i Soho, der jo et af allermest eftertragtede områder i hele NYC. Når jeg går ud af hoveddøren, er jeg omgivet af de fineste cafeer, sejeste butikker og kendisser over alt.
Der er dagligt lange køer af mennesker rundt omkring. Så spørger jeg dem, hvad de venter på. I går ventede de på at møde Kendrick Lamar. Et par dage før det, ventede de på at møde en YouTube-stjerne ved navn Logan Paul. Så ved man altså, at man er i New York.
Her er et lille recap med billeder fra de sidste par dage.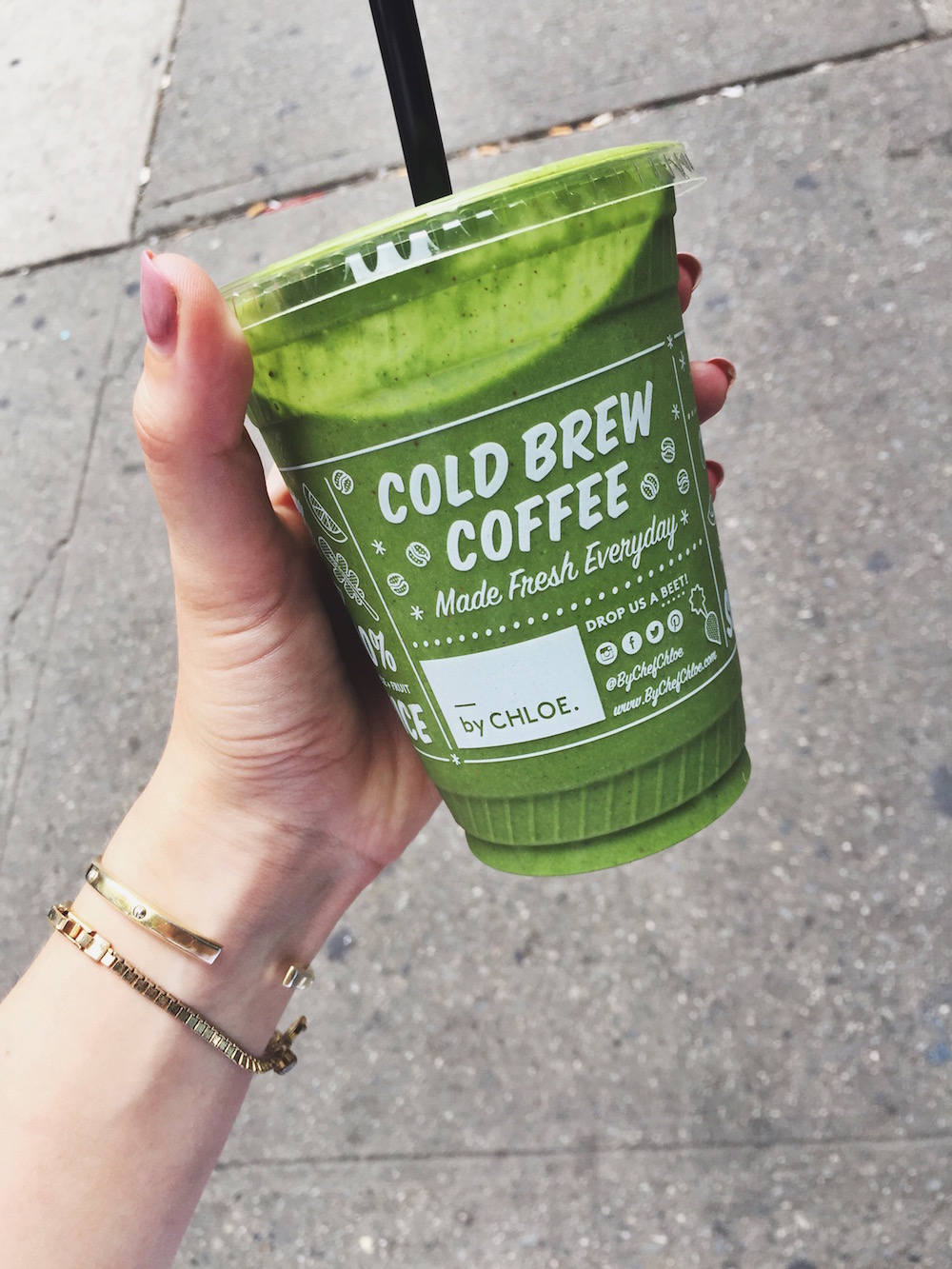 I love the green smoothie from By Chloe. I wish I could start every day by drinking one of those. The store is located right by my apartment, so technically, I could. However, at 9 dollars, I am not sure it would be the best idea. / Jeg elsker By Chloe's grønne smoothie, og jeg gad godt at starte hver dag med at drikke én. Deres veganske café ligger lige ved siden af lejligheden, så jeg kunne godt drikke en hver dag. De koster dog 9 dollars, så det er nok bedre for min bankkonto, at jeg ikke gør det hver dag.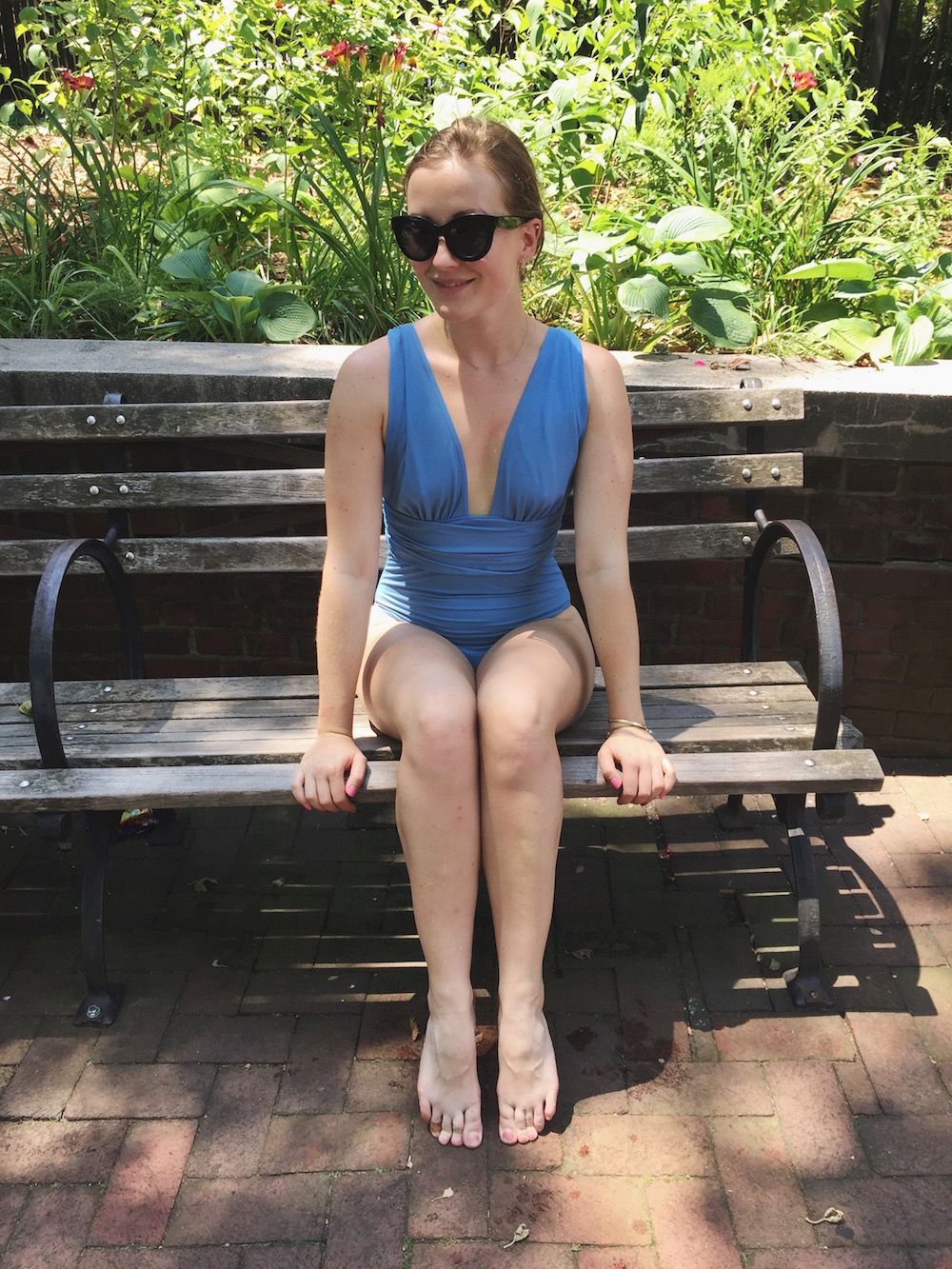 It is 34 degrees and humid AF in New York. Right by the apartment, there is a public pool and it is awesome. We have been there a few times, not for long, just for a dip. / Det er 34 grader i New York, og for at holde det ud har vi et par gange været forbi en offentlig pool, der også ligger lige ved lejligheden. Ret belejligt. Selvom amerikanerne bryster sig af at være så frit et land og folk, så er det ironisk og paradoksalt, at de har regler for alle og alting. Man må ikke have noget med ind i poolen, det gælder både tøj, telefoner, tasker, sko, you name it. Jeg spurgte, hvorfor jeg ikke måtte tage min telefon med ind, for det måtte vel være mit eget ansvar, hvis jeg tabte den, og den gik i stykker. Deres svar var "you are a pretty girl, and maybe some crazy men would take pictures of me". Hvad??? Paranoide er de altså på mange måder.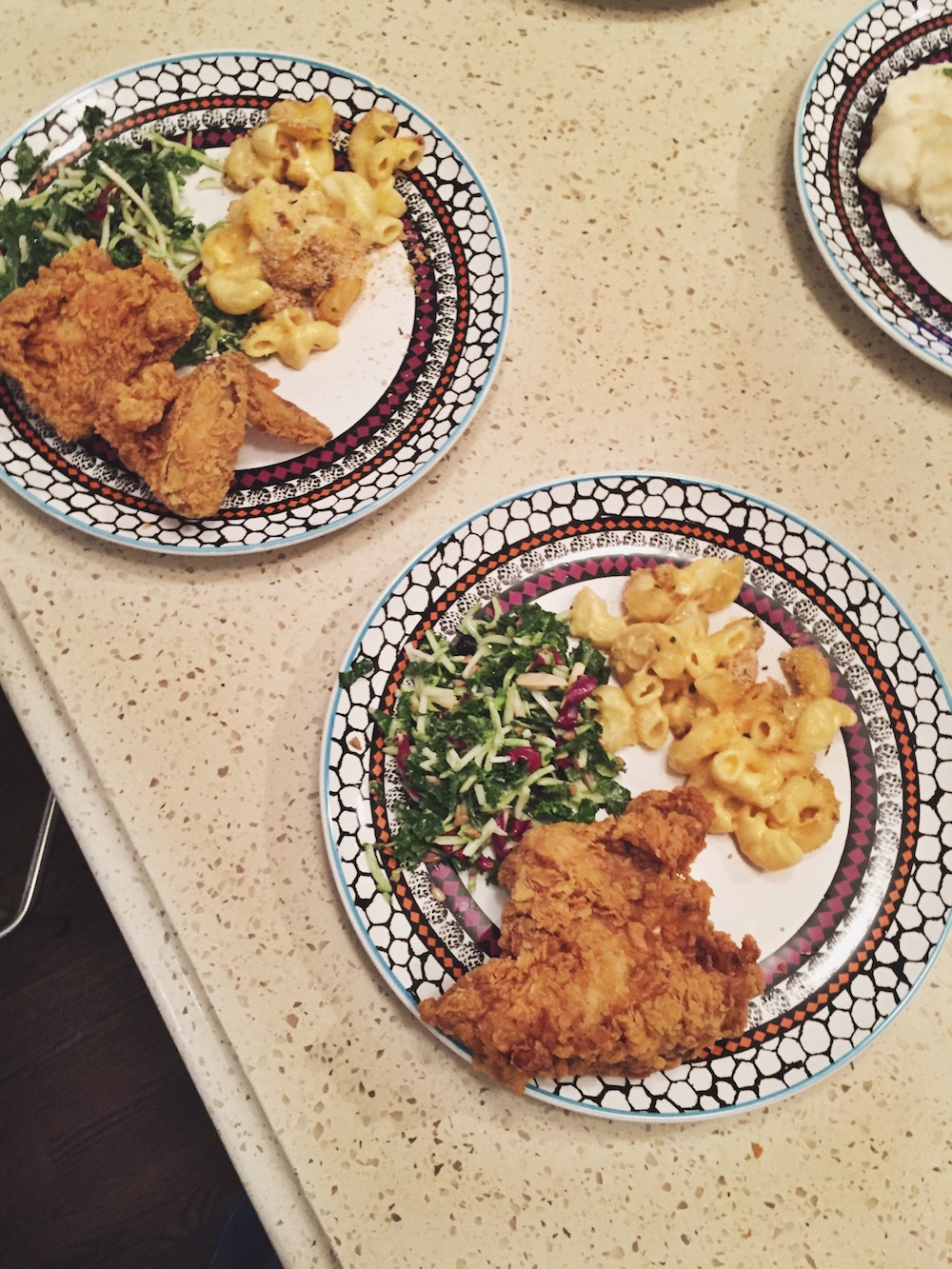 American meal at my boyfriend's sister. She cooked delicious macaroni and cheese, kale slaw and fried chicken from Popeyes. / Et ægte, amerikansk måltid. Macaroni and cheese, kål-coleslaw og fried chicken.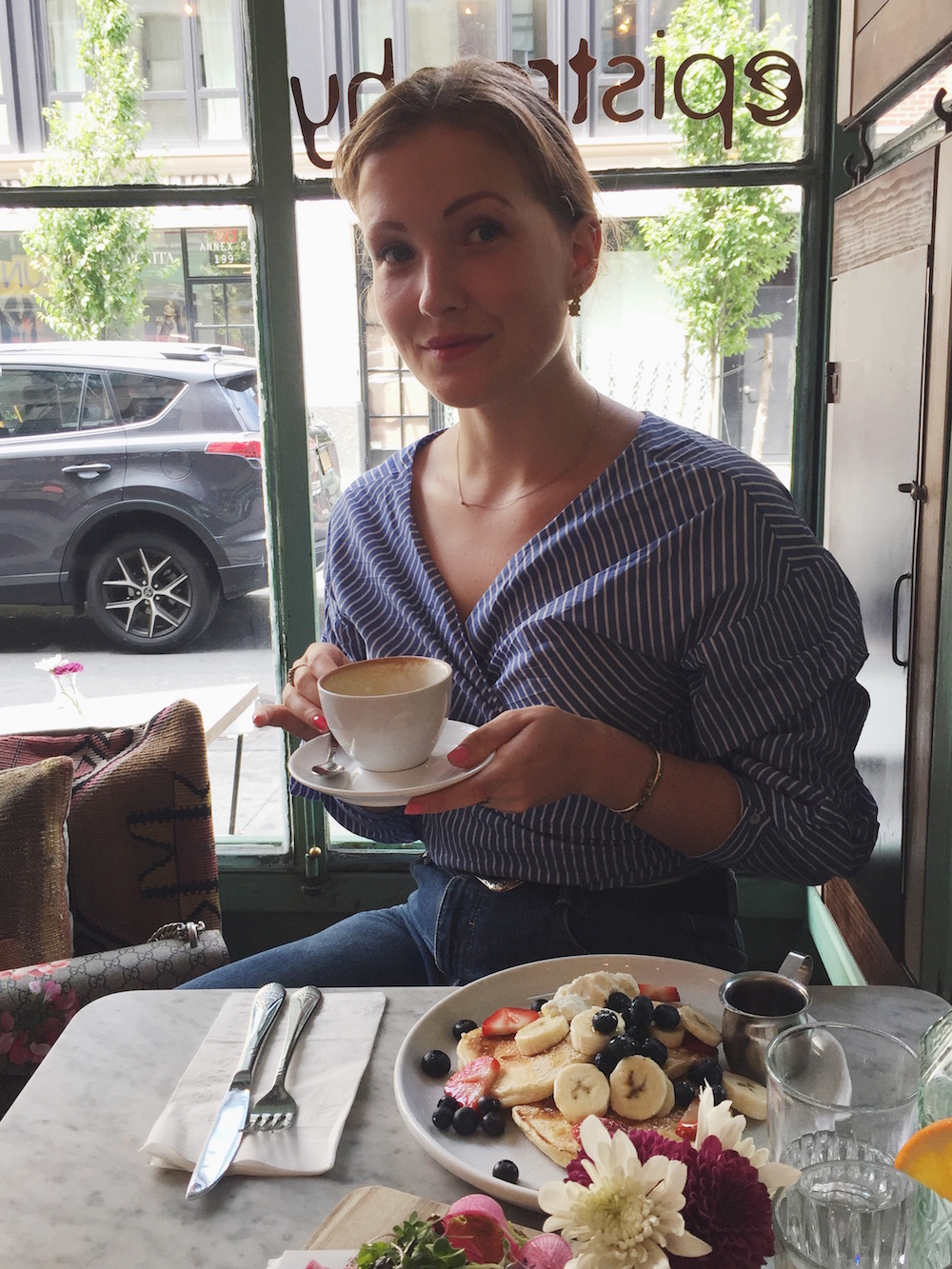 Brunch is a must in NYC. Here at Epistrophy in Soho and it was yummy. / Brunch skal der til, når man er i NYC. Her på Epistrophy i Soho, og det var så lækkert.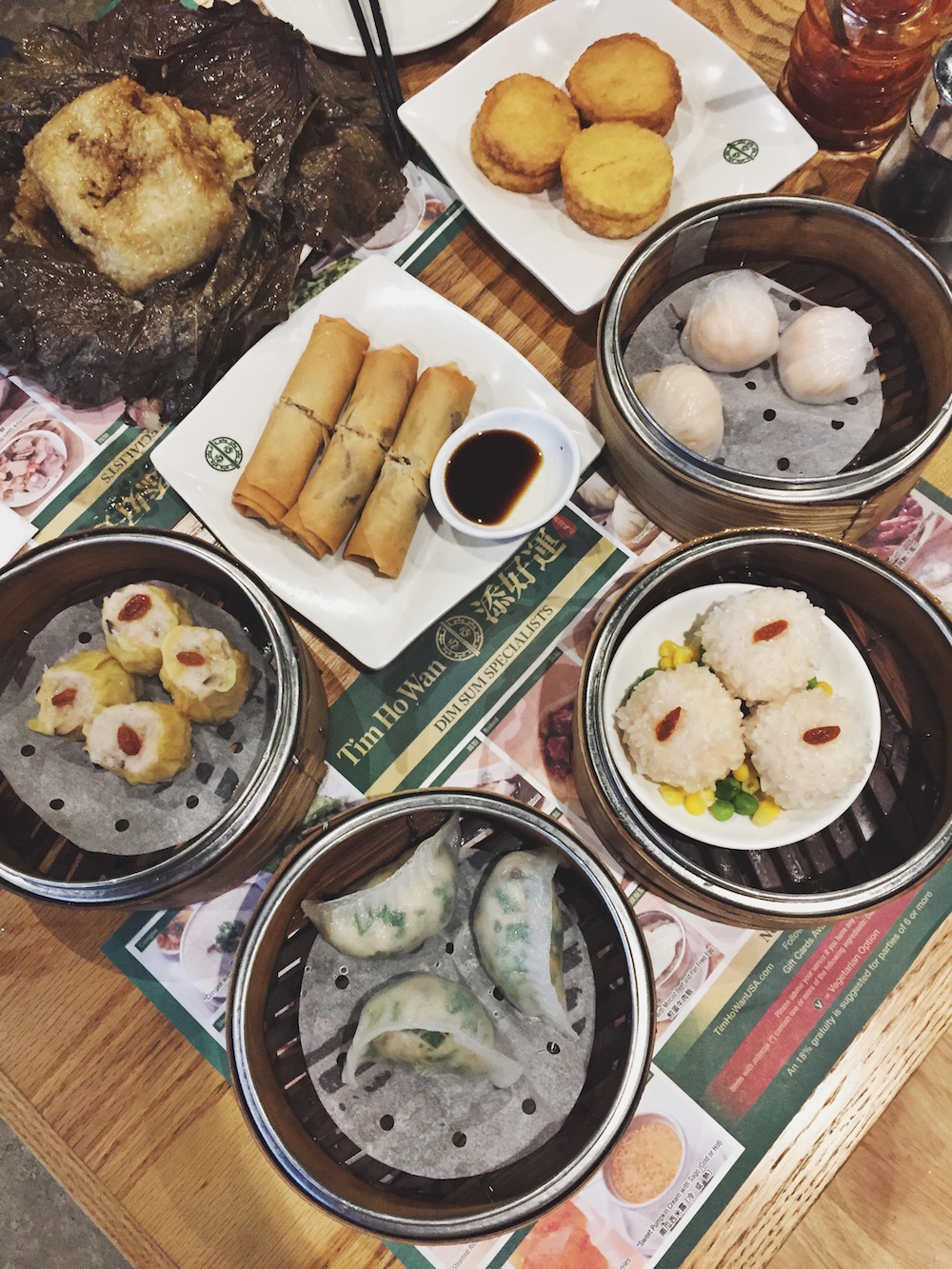 Dinner is important too. I went to Tim Ho Wan for amazing dim sum, and it was glorious. I will write a seperate post about this spot soon! / Middag er også vigtigt… Her er vi på Tim Ho Wan, en af de billigste Michelin-restauranter i verden, og det smagte så lækkert. Jeg skriver et seperat indlæg om stedet snarest!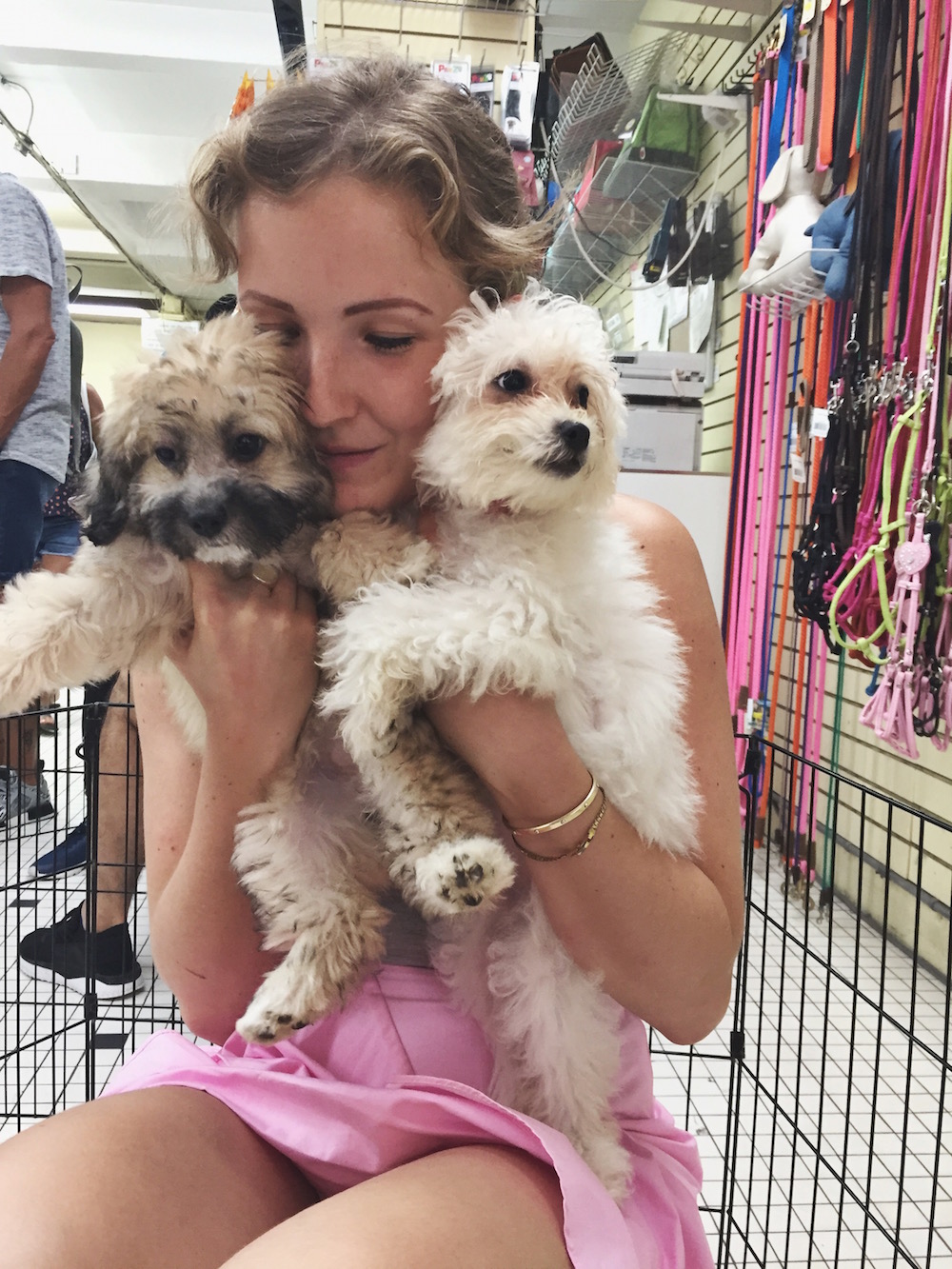 Cuddling with puppies from a pet store in Chelsea. / Leger med de smukkeste, sødeste, mest bedårende hundehvalpe i en hundeforretning i Chelsea. Jeg elsker hunde. Det er en anden vanvittig ting ved USA. At de sælger hunde direkte fra en butik, hvor enhver lige kan gå ind og shoppe en hund….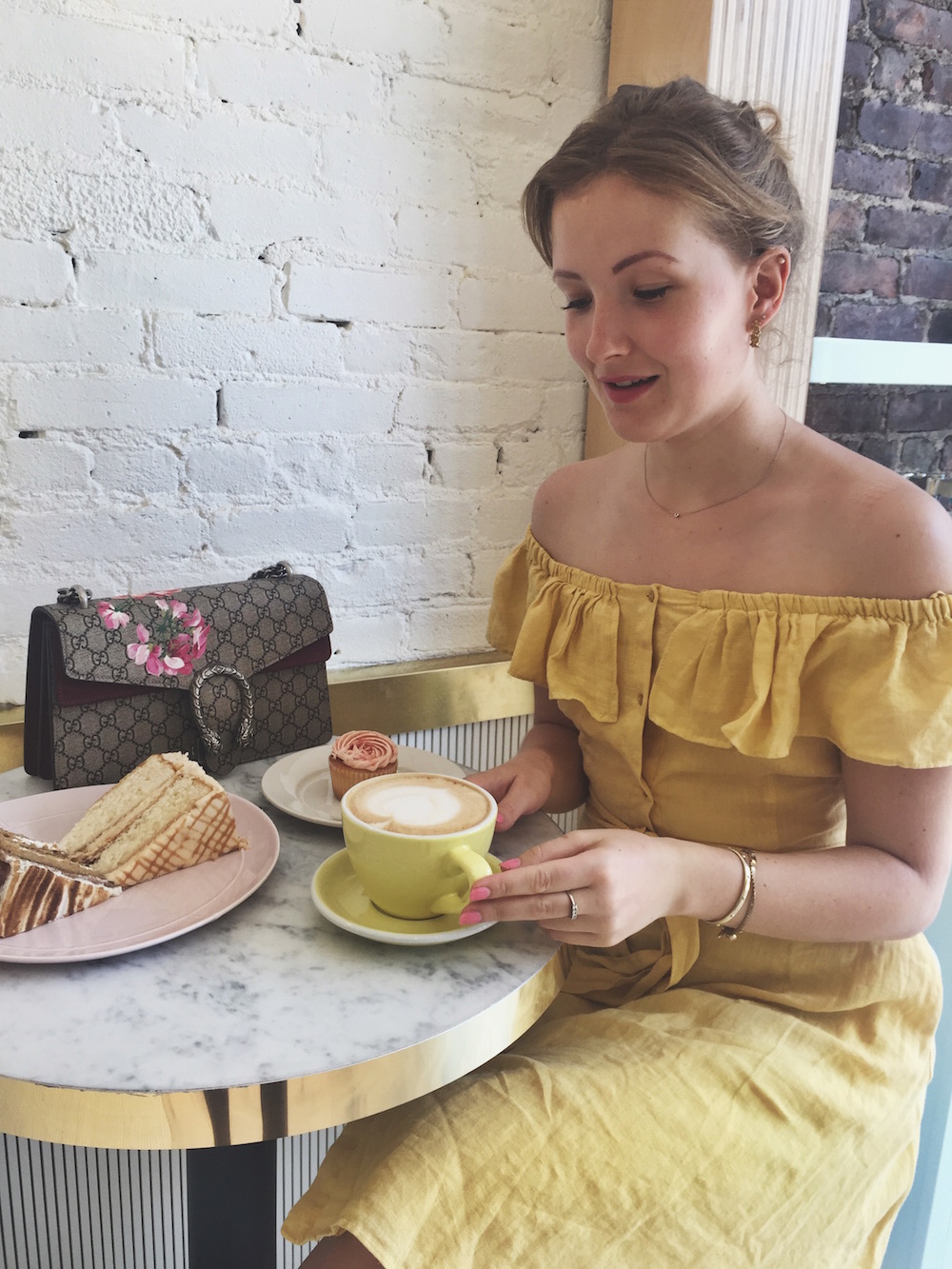 Cake, cake, cake! At Ovenly in Brooklyn for cake (and lots of it!). I will also include this spot in a blog post soon <3 / Hos Ovenly i Brooklyn fik jeg aaalt for meget kage, men det smagte så lækkert.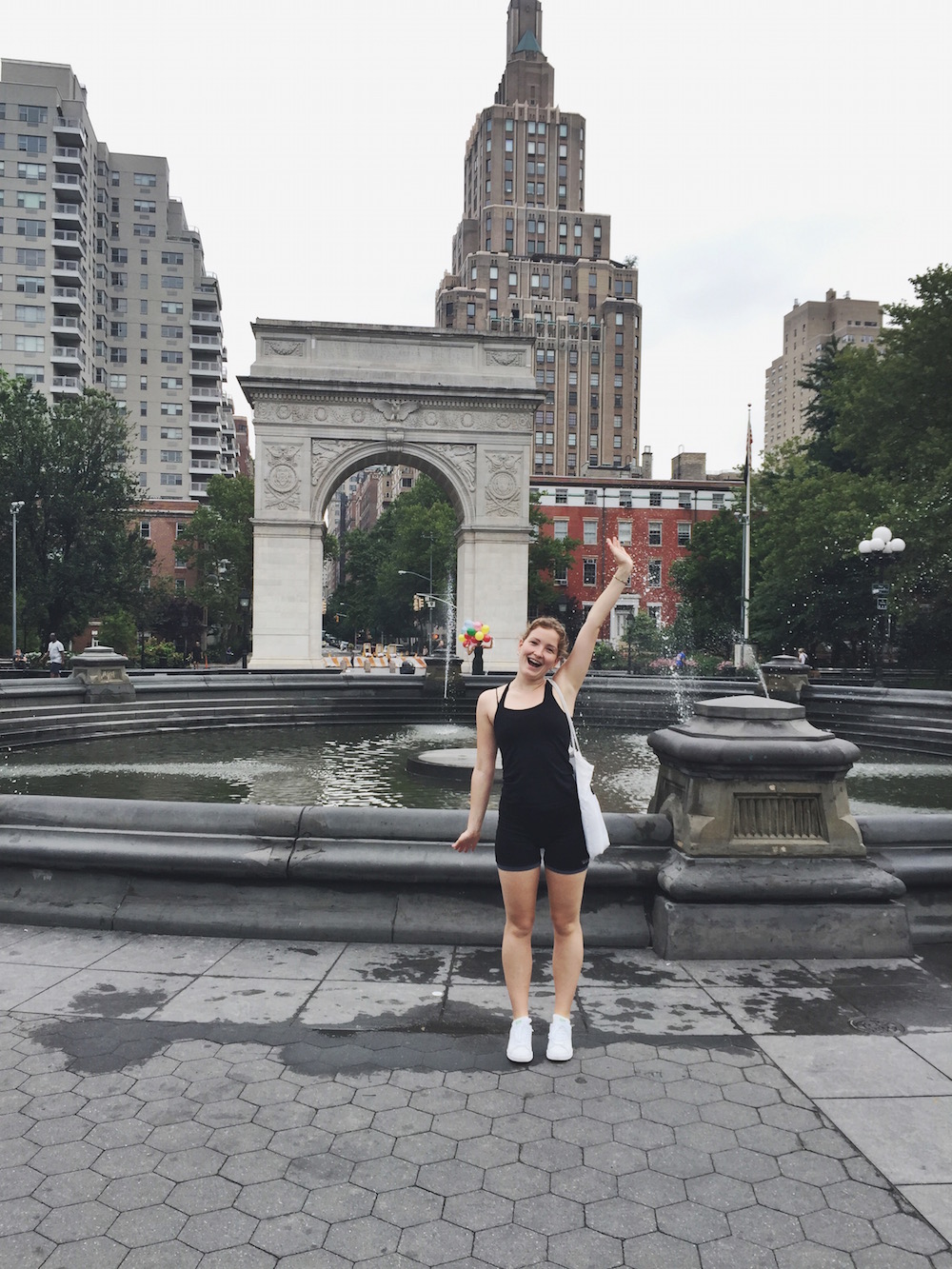 And to compensate for my dim sum and cake consumption, I have managed to work out. Actually four times in nine days! Here, I worked out very early in the morning as I was jetlagged. Washington Square Park is usually super crowded, so it was a lot of fun seeing it this empty that early morning. / Og for at kompensere lidt for mit dim sum- og kageindtag, så har jeg også fået trænet. Hele fire gange er det blevet til på ni dage. Her var jeg jetlagged og trænede i et mennesketomt Washington Square Park. Har man været der, ved man, at der normalt er propfyldt. Jeg ville ønske, jeg stadig var jetlagged, der er ikke noget bedre end at vågne op klokken fem om morgenen, frisk og veludhvilet. Dagene er så dejligt lange.